For the first Crafting Cues post, please click here!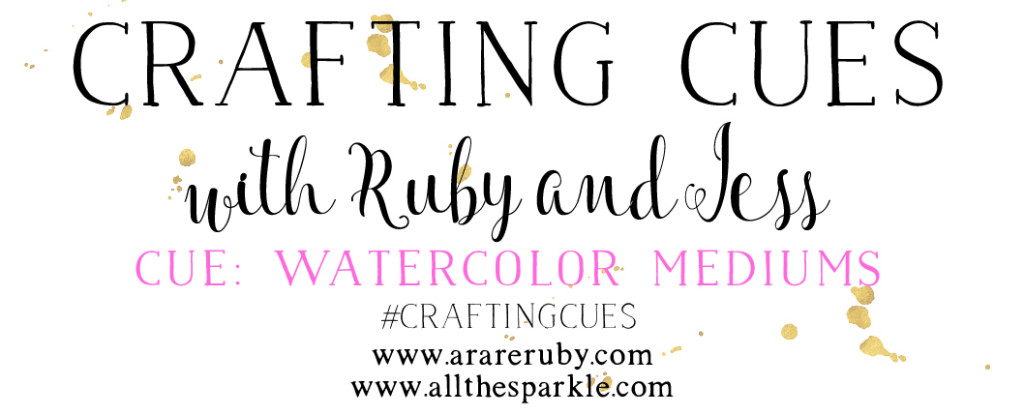 Good morning!  I'm back with my good friend Ruby, of A Rare Ruby Crafts, for our second installment in our Crafting Cues collaboration!  A few weeks ago we shared our ideas for using Brusho watercolor powders!  We had so much fun that we decided to devote our second collaboration to watercolor mediums!!  We split the various mediums: Ruby is focusing on Gansai Tambi watercolors, Distress inks, Gelatos, and Peerless watercolors.  For my cards I used Zig Clean Color Real Brush markers, Ken Oliver Color Burst powders, Twinkling H2O's, and the Finetec Gold Palette.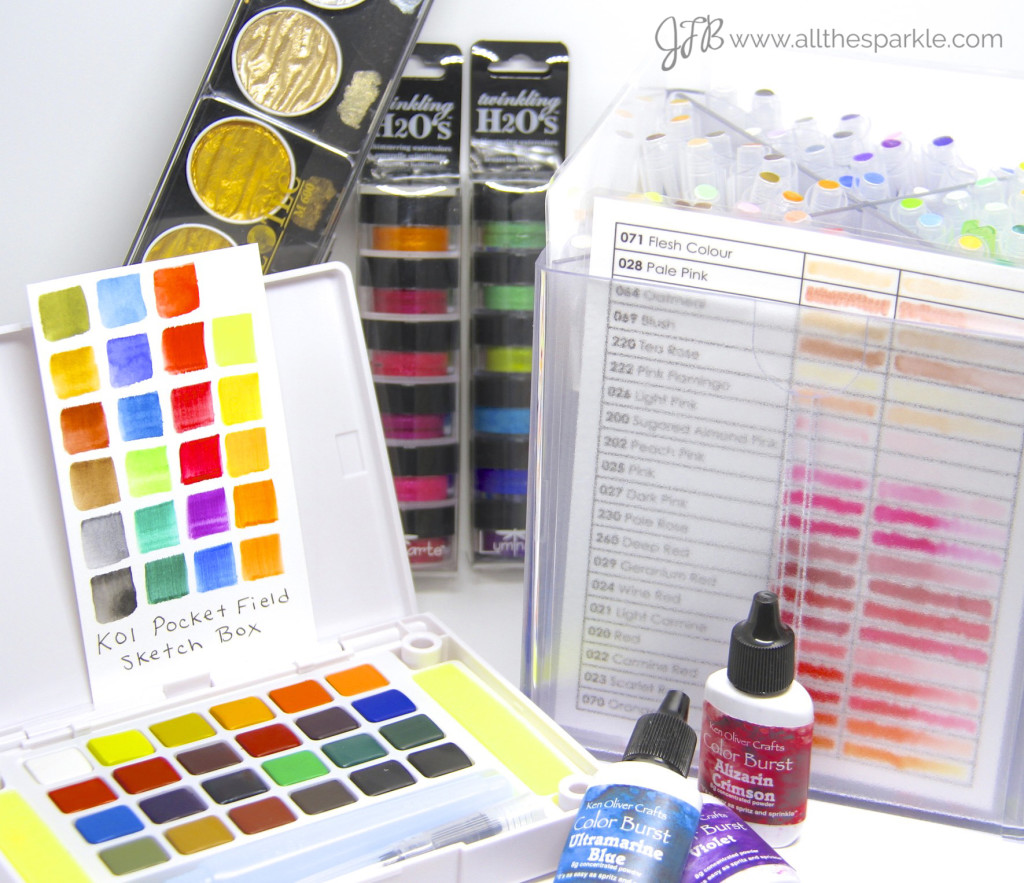 To make things a little more interesting we decided to use the same stamp set, Altenew's Wild Hibiscus!  So here goes…
Zig Clean Color Real Brush markers:
For my first card I stamped the flowers and sentiment onto a piece of Canson watercolor paper and heat-embossed them with gold tinsel powder.  I took a zig marker and started off by drawing streaks radiating from the center of the flowers.  Then I took a waterbrush and pulled the color from the center of the flowers to the tips which softened the streaks and filled the petals with a shade of soft pink.  I repeated this process until I was happy with each flower.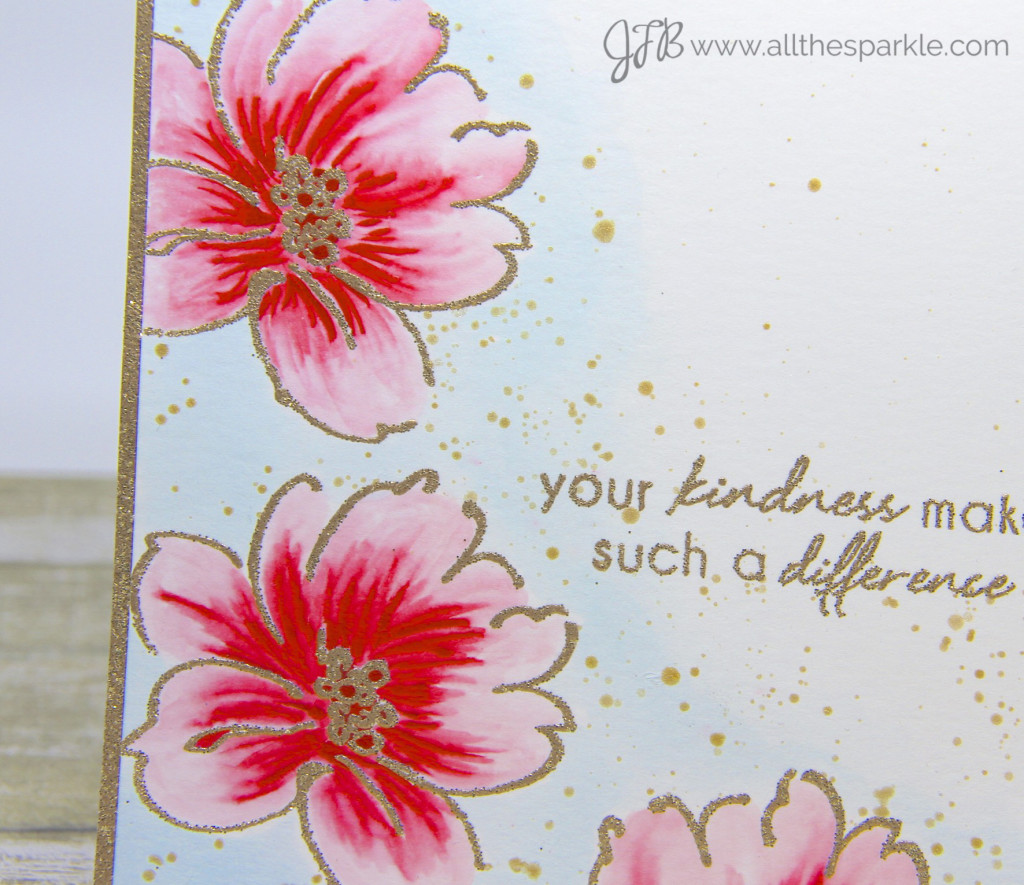 Then I scribbled a blue marker onto an acrylic block, spritzed it with water, and painted the soft blue background.  Finally I masked the flowers and flicked on some gold paint from my Finetec palette.  I let everything dry completely and then I mounted it to a top-folding card base layered over a thin stripe of gold glitter paper along one side.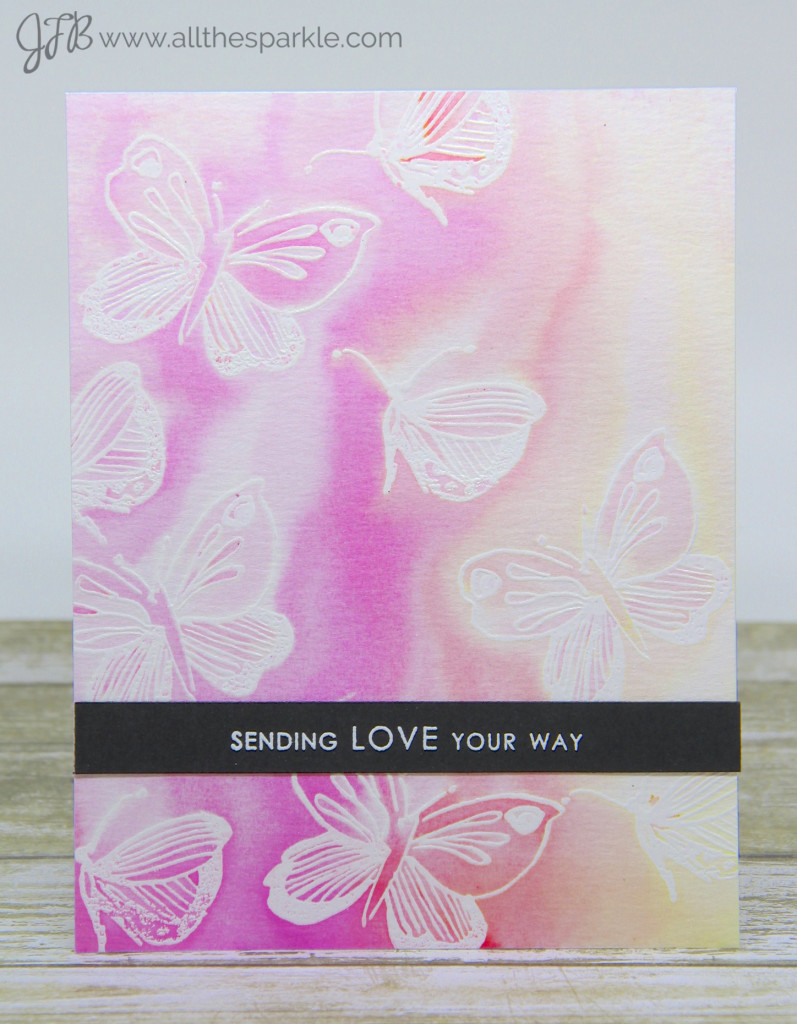 The second card uses a variation on a technique that I recently used on this card for A Blog Named Hero!  I started off by stamping and heat-embossing the butterflies with white embossing powder on a 5″x6″ piece of Canson watercolor paper.  Then I taped the paper to a tiltable surface (a glass cutting mat), and scribbled a few markers at the bottom of the panel.  Next I turned the glass mat around so that the colored portion was at the top.  I placed a paper towel under the edge of the glass mat to catch the drips and tilted it until it was almost vertical.  With one hand I supported the glass mat and with the other hand I heavily spritzed the paper with a water bottle.  The wetter the paper got, the more the color ran down the panel.  I put enough water down so that the color would be able to get over the embossed edges to get color in the image.  You can also see how the colors blended and flowed around the images.  Once I was happy with the spread of color I rested the mat at an angle and let it dry naturally.  When it was dry I trimmed down the paper to the standard A2 size.  I like doing watercolor backgrounds on a slightly larger piece of paper because watercolors are unpredictable.  Using an oversized piece of paper gives you the opportunity to trim down the panel to get rid of edges that might be muddy-looking or areas with spotty coverage.  I stamped and heat-embossed the sentiment from Altenew's Quotes and Sentiments with white embossing powder on black cardstock and used foam mounting tape to pop it off the background.
Finetec Gold Palette: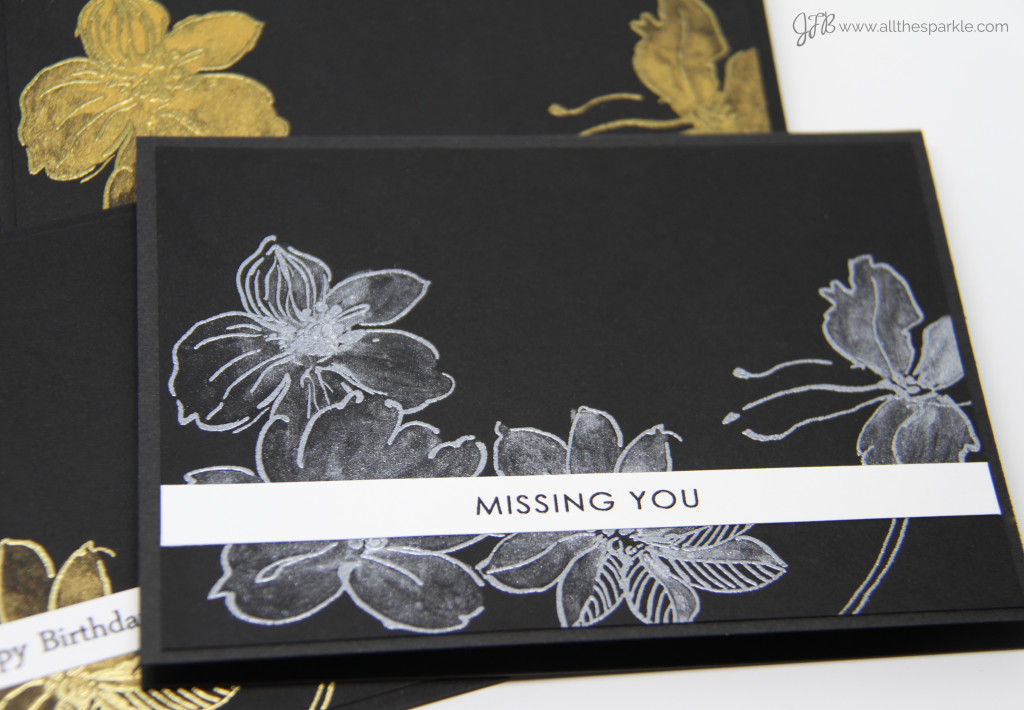 I love my Finetec palette…the metallic colors are SO rich and shimmery!  They're beautiful on white cardstock but even more stunning on black cardstock so I decided to make a set of black cards to show off the effect.  The Finetec palette is six colors, five shades of gold, and one shade of silver.  To create these cards I started off by matching my metallic embossing powders to the various metallic shades in the palette.  I wanted as close a match as possible so that the embossing powder wouldn't clash with the metallic watercolor paints.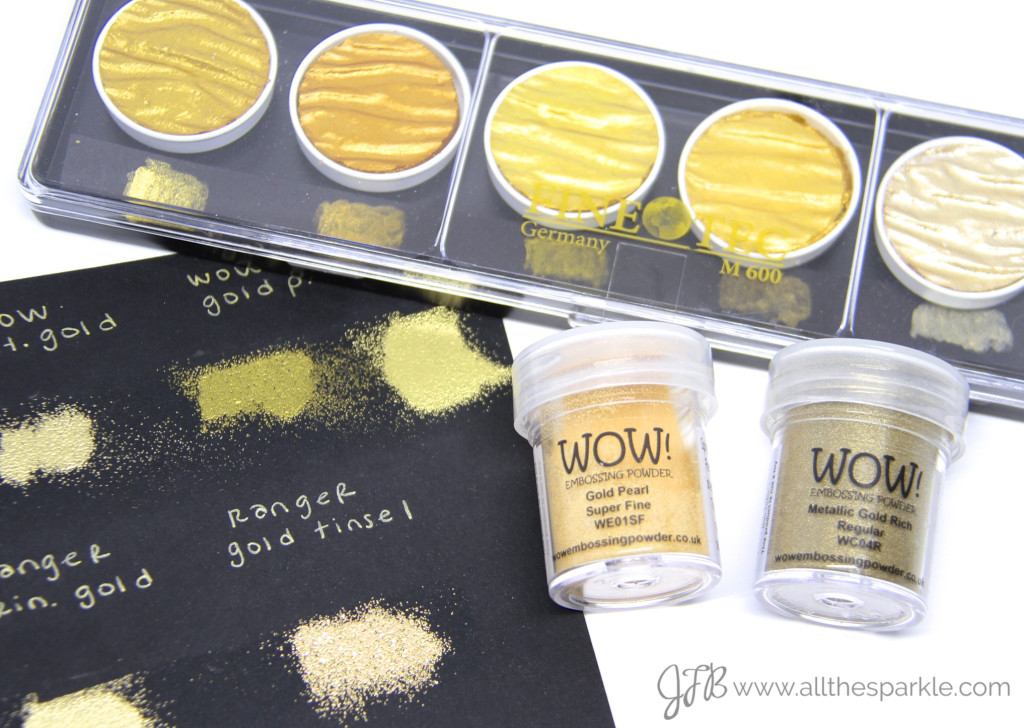 Once I had them all matched I stamped the flowers onto black cardstock and heat-embossed them.  Then I wet the watercolors and painted each flower.  I wasn't really concerned with shading…I just wanted to add that metallic shimmer to each flower.  I trimmed down each panel and adhered them to a black card base.  Finally I stamped the sentiment from various Altenew sets onto white cardstock and adhered them to the card fronts.  I used my Misti to stamp the flowers so every card is identical.  Since this is already a long post I'm not going to share every variation but you can see the different shades of gold in the photo above as well as the group photo at the top of the post!
Ken Oliver Color Burst Powders: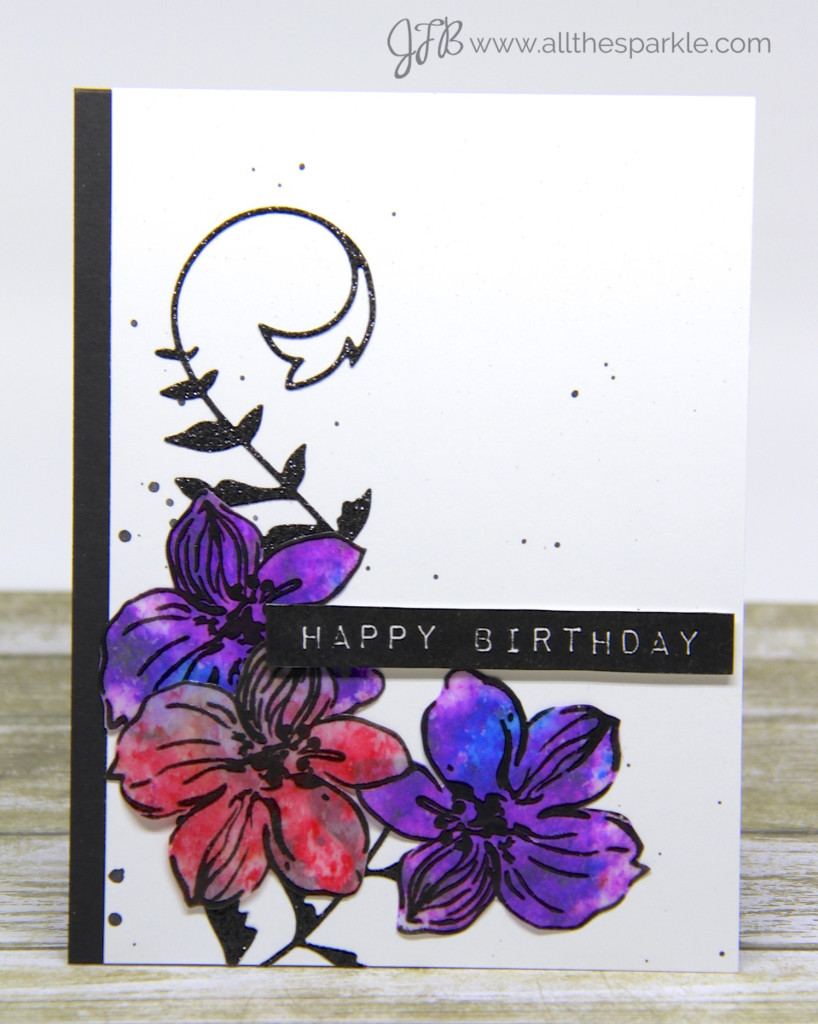 And now, for something totally different! 😉 The Color Burst powders are most closely related to the Brusho powders we used last time with one big difference: the Color Burst powders are amazingly bright and vibrant!  To create these cards I stamped the flowers onto vellum with Versafine and heat-embossed them with clear powder.  Then I turned the vellum over, sprinkled purple and red Color Burst powders over the flowers, and spritzed them with water.  The powders instantly react with water and a very little goes a long way.  I also like how there are so many different colors in each powder.  Once I was happy with the spread of color I let the vellum dry on it's own and then fussy cut each flower.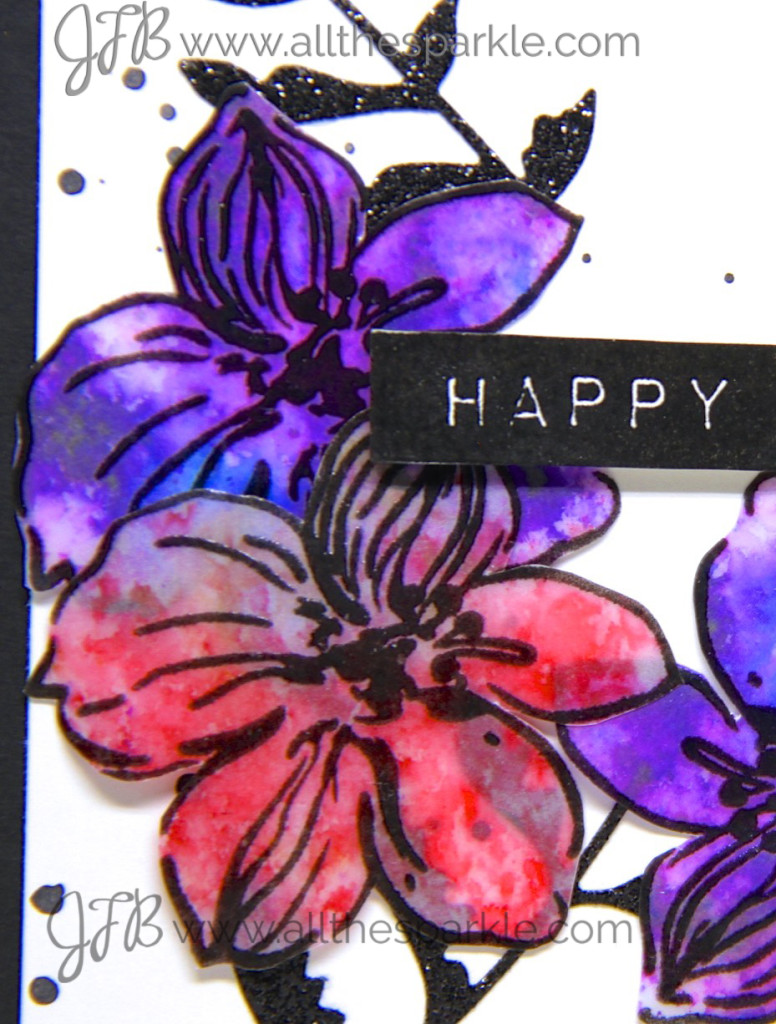 To create the card I flicked a little black paint onto a white card base and added a flourish from Memory Box die-cut from black glitter paper.  I layered the vellum flowers over the flourish and then added a sentiment from Altenew's Label Love.  I popped the sentiment up with foam mounting tape to give it a little separation from the colorful background.  I added a black strip of cardstock and mounted it on a white card base.  I also create a second card using orange and red powders.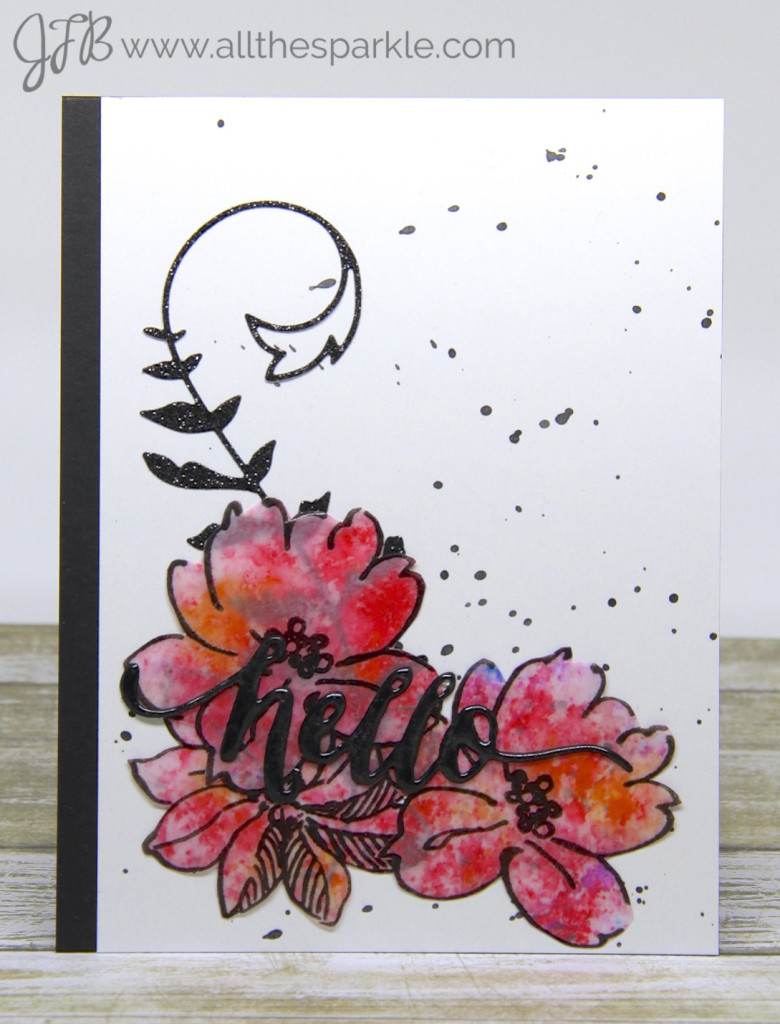 And last but certainly not least,
Twinkling H2Os: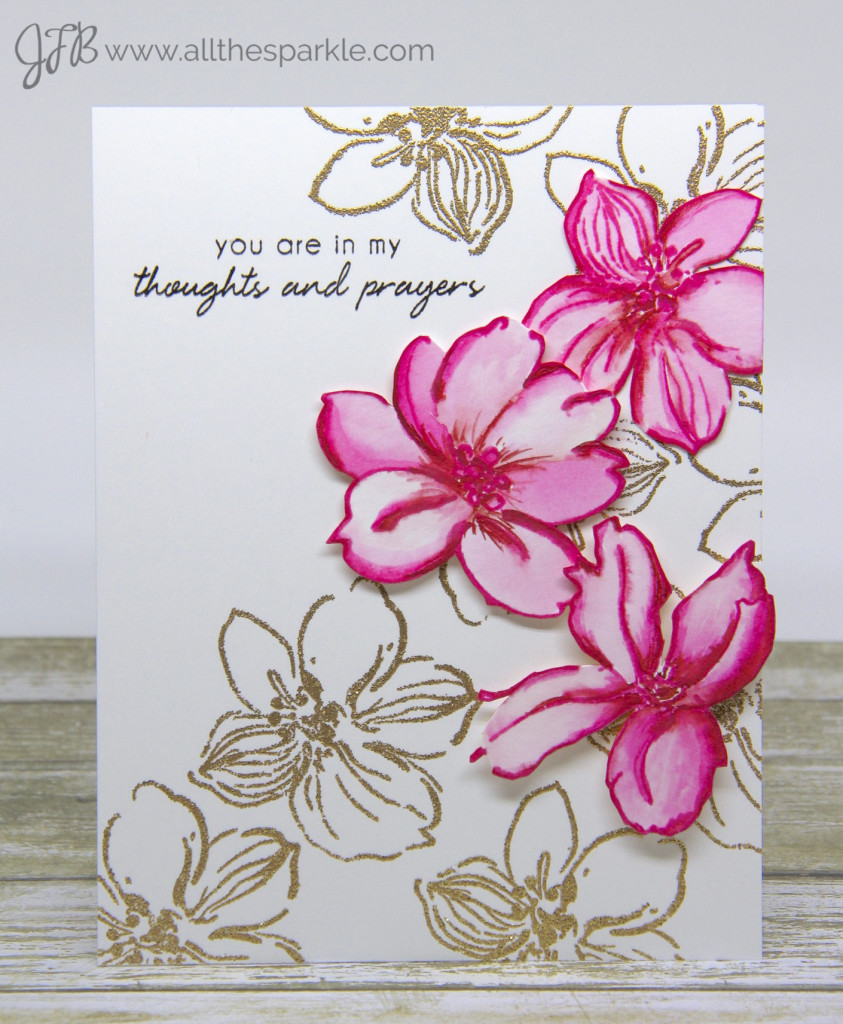 I'll admit upfront, I've owned Twinkling H2Os for over a year and never tried them.  I mostly planned to use them once for this collab to help me decide whether or not I wanted to give them away.  I certainly did not expect to create a card that would become my favorite!  I started by stamping the flowers with versamark and heat-embossing them with gold tinsel powder to create the card base.  Next I prepped my watercolors by adding a LOT of water to two different shades of pink.  While the water was soaking into the paint I stamped the flowers onto a piece of Canson watercolor paper with a second generation stamping of antique linen distress ink.  I started off by tracing the lines of the stamp with the darkest pink paint and then I let it dry.  Next I took a little of the paint and put it on an acrylic block before adding a lot more water to dilute the color.  I used a very wet paintbrush to apply that color to each petal and then blended in some of the darker pink.  I let it dry between each layer and finished it up with just a little bit of dark red paint in the centers.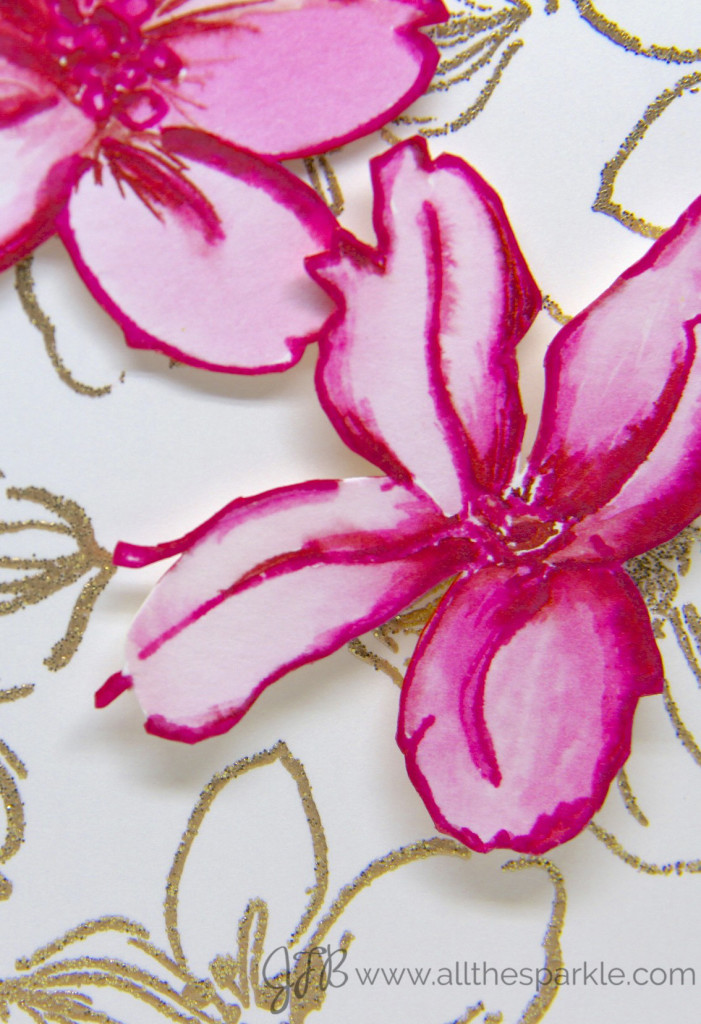 Once they were totally dry I fussy cut each flower and then adhered them to the embossed background.  For additional interest I adhered one flower with my ATG gun, one flower with a single layer of foam mounting tape, and the last flower with a double layer of foam mounting tape.  Finally I stamped the sentiment with versafine and heat-embossed it with clear powder.
There you have it…my foray into my watercolor stash!  Make sure you head over to Ruby's blog to see what she created with Gansai Tambi watercolors, Gelatos, Distress ink, and Peerless watercolors!
And we'd love to hear what you'd like us to do next!  Leave a comment and give us some ideas!!  Thanks so much for visiting and have a fabulous weekend!  If you're celebrating World Card Making Day make sure to visit The Ton blog tomorrow for the design team's blog hop AND the first ever challenge link-up for The Ton!!
I'm also entering these cards into Virginia's View Challenge #19: Coloring, Altenew's September Challenge, and Kathy Rac's The Daily Marker 30 Day Coloring Challenge 3!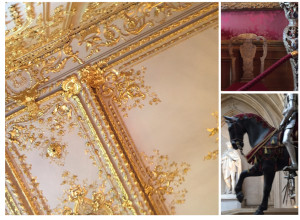 Supplies:
Interested in the products I used?  To make them easy for you to find, I have listed them below. (Affiliate disclosure can be found here). Your purchases help keep my blog running and I thank you for the support!