Hooray!  30 days in a row of blogging and happy mail going out everyday…that's a record for me! 🙂  I thought it would be fun to finish the month by trying a new technique and trying some new supplies!  Recently I've been experimenting with calligraphy and I wanted to try a faux-calligraphy technique that I've seen but not attempted yet.
There are several aspects of this card that are "new to me" experiments.  I'll admit that this isn't one of my most favorite creations but I am happy that I tried something out of my comfort zone.  I started off by stamping the cat and shelf from My Favorite Things with a light colored ink and then I did a little no-line watercoloring with Sakura Koi watercolors.  Next I stamped the sentiment from Simon Says Stamp with the same light ink and used a #2 to watercolor over the sentiment.  It gives you the look of hand-written calligraphy but with the security of knowing exactly where to paint the lines since you're just copying over the stamped sentiment!  Someday I hope to be brave enough to do the calligraphy on my own…but for now I'm content to use Kristina Werner's hand-writing as a guide! 😉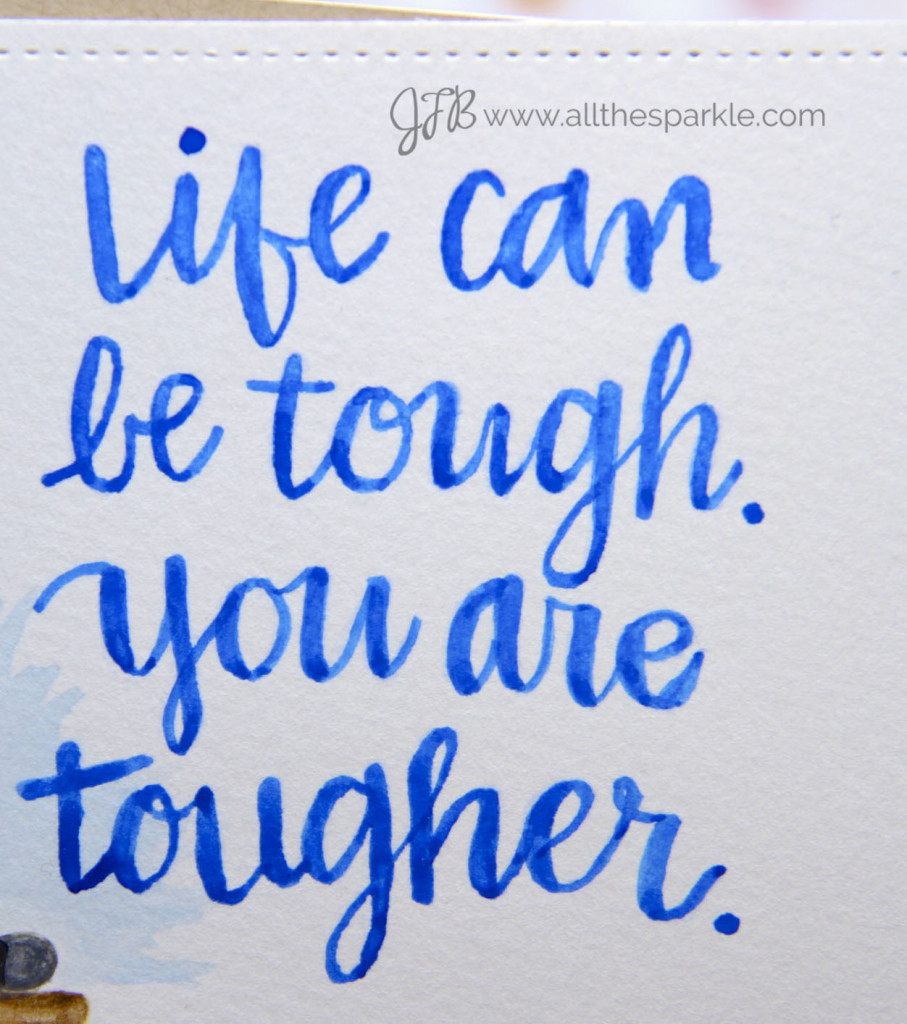 I think my biggest disappointment with this card was the layout I used…I wish I had made this a vertical layout with the sentiment over the cat.  I ended up with weird space at the bottom of the tag so I added a strip of patterned paper and because the tag was so large I didn't really have room to add ribbon or string so I went with staples instead.  I think this is the very first time I've used staples on a card and the very instant I stapled the card, I regretted it…but oh well…the creative process is always a learning process!
And I've got a second card to share…this one uses a stamp from Sweet Stamp Shop that I've never used before and one of the dimensional Next Level embossing folders from We R Memory Keepers that I've also not used before.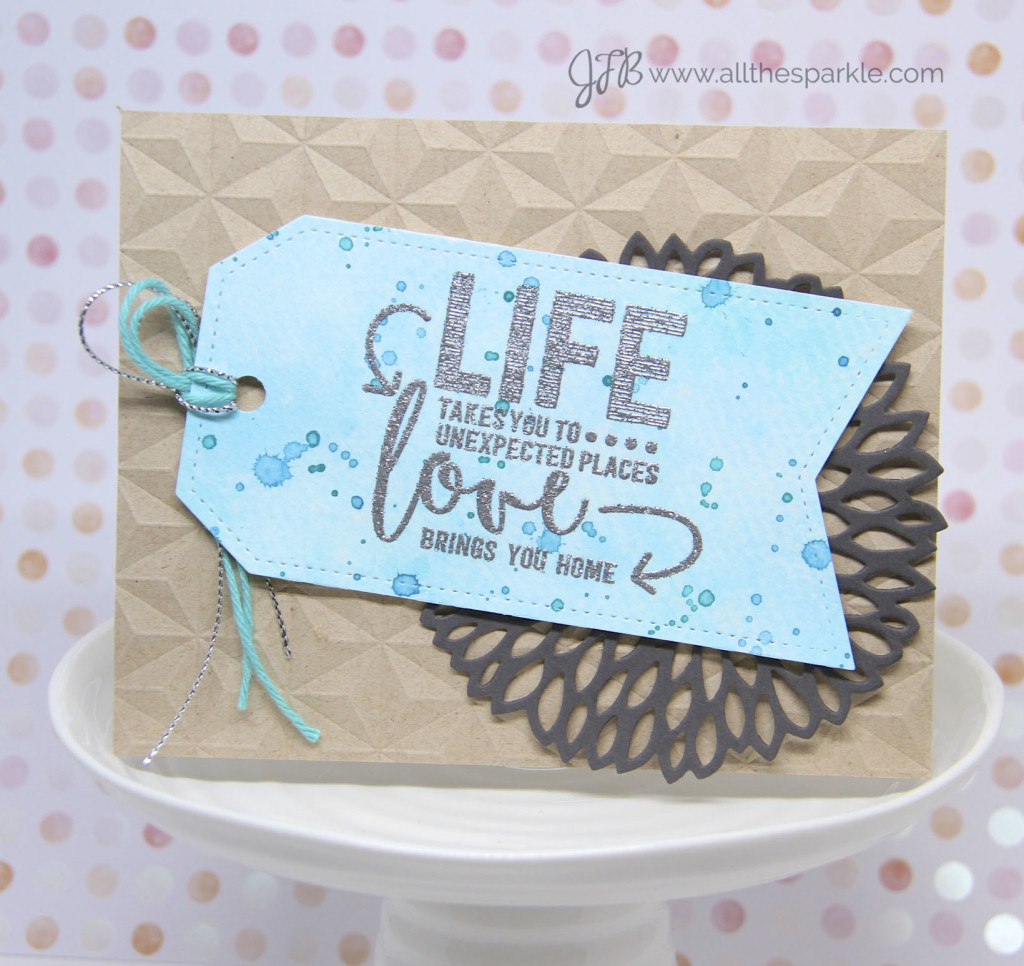 For this card I watercolored a piece of watercolor paper with salty ocean and peacock feathers distress ink.  Then I heat-embossed the sentiment with silver sparkle embossing glitter and added string to the tag.  I decided to add the die-cut chrysanthemum from Hero Arts for a little interest and then used foam mounting tape to attach the tag to the embossed background.  Again, a little different than my usual style but it was fun to use things that have just been sitting around in my craft room! 😉
Destash Sale and Cyber Monday:
And…the reason I was finding so many unused things is because I spent a good part of yesterday cleaning and decluttering my craft room!  And part of my decluttering included finding stamps and dies to destash!  So, head over to my instagram page, @jesscraftydestash, to check out the new additions!  If you don't have instagram you can view them here.  If you're not on instagram and find something you'd like to purchase it's probably easiest to just contact me here and let me know what you'd like and the country where you're located!
And of course, since it's Cyber Monday I thought I'd throw in a little extra incentive!  Free shipping for all US orders over $30 that are placed today!  International orders over $50 will also receive free shipping today!  In order to receive free shipping your order must be placed before 11:59 pm EST on November 30th and must be paid for via Paypal 'Friends and Family' before 11:59 pm EST on December 1st!  Happy shopping!
Last but not least, unfortunately I was not able to finish all of my happy mail this month but I'm excited to send out 4 more cards today and I will keep working on my list!  As you can see I've also been collecting and playing with vintage stamps!  It's fun to mix them up and add them to envelopes! 😉
November 2015 Total Cards Mailed: 60
Anyway, thanks so much for visiting and have a fabulous day!  I will probably take a break from blogging tomorrow but will be back soon with lots of exciting December surprises!!