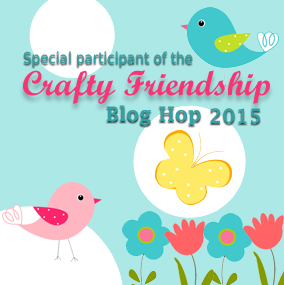 Thanks again to everyone for the sweet comments left on my blog during the Crafty Friendship Blog Hop!  I loved your feedback on The Ton's upcoming release and I can't wait to share the rest of it with you next week!  And also a huge, HUGE thanks to Heidi for putting this whole hop together!!
I finally had the chance to play with my new Hero Arts ombre ink pads so I thought I'd put together a quick thank you card! 😉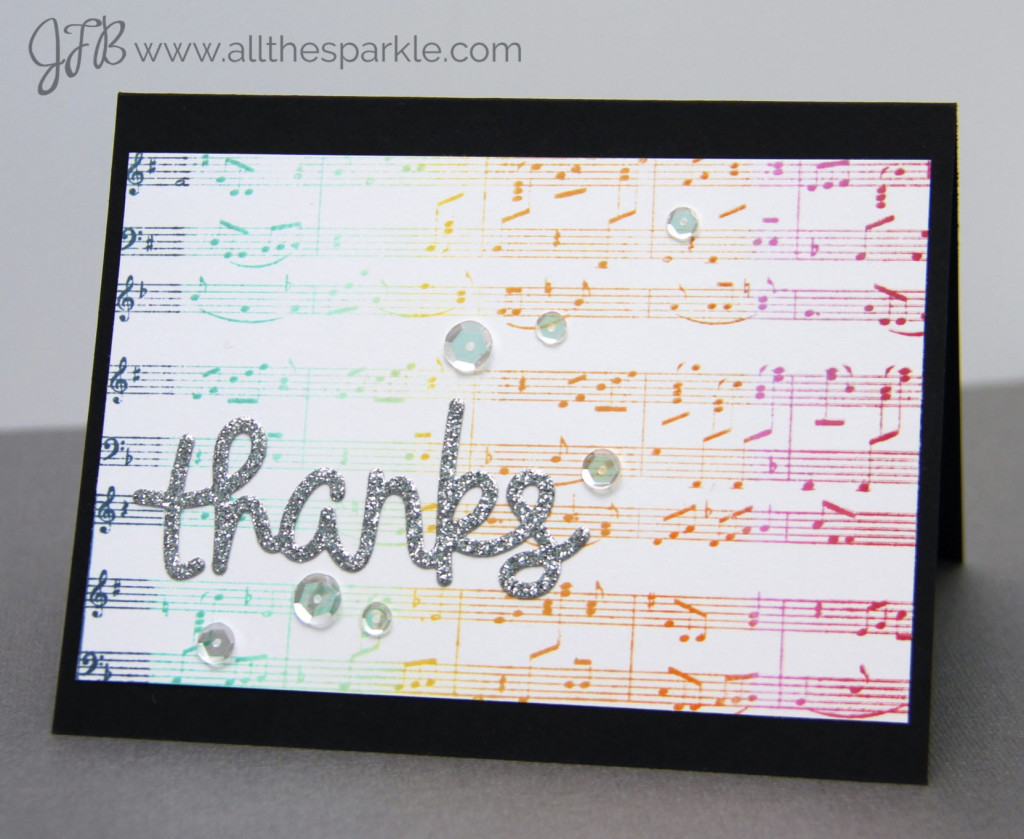 As a professional musician I'm a little ashamed to admit that I wasn't paying close enough attention to the staves when I was inking the stamp which is why my rainbow is backward.  Oops…
Anyway, thanks again, and without further ado, here are our winners!!  Winners, please email Heidi at craftytime4u 'at' gmail 'dot' com!
Newton's Nook Winner: #17
Lori (March 20, 2015 at 6:25 AM) – The cats are so presh, and your copic coloring is amazing!
Lawn Fawn Winner: #22
Isabel Casañas (March 20, 2015 at 10:16 AM) – Ay, madre, qué tarjetas tan bonitas. Son 100% Lawn Fawn y eso me gusta. Son preciosas
Paper Nest Dolls Winner: #139
Katie (22 de marzo de 2015, 23:33) – This is absolutely darling! I love how you layered the front of the card with the dies! So cute! You have inspired me with those monster stamps!
Marker POP Gift Card Winner: #12
Ro (March 20, 2015 at 8:33 am) – OMG, it´s magic!!!!! Both are so cute!!!!!
Imagine Crafts Winner: #2
Corilyn Noreen (3/20/2015 2:27 AM) – The dimension you added to the sunflower petals is so clever!
CDD Stamps Winner: #10
Designbydonna (March 20, 2015 at 5:23 AM) – Gorgeous! I really love that big paw shaker card.
Marker POP Twine Gift Set Winner: #73
Denise Bryant – Darling shaker card! Love that adorable panda!
La Pareja Creativa Gift Card Winner: #21
Eva (March 20, 2015) at 11:22 AM – Beautiful and fresh card!!! I love it!!!  Kisses;)
The Ton Couture Sequin Winner: #51
D (March 21, 2015 20:40) – Awww what a cute card. Tanks for sharing. Crafty hugs, Dawn
Tombow Adhesive Package Winner: #37
Elizabeth Sarkisyan (March 21, 2015 12:07 AM) – Wow! I'm in love with this card and love the spotlight you did inside the square…fantastic coloring and design.
Congrats to ALL the winners and thanks again for hopping along with us! 🙂