Good morning and Happy Easter!  This is kind of a hodge podge post but hopefully not too hard to follow! 🙂 First off, I have a few winners to announce!  My Starbucks winner is:
And my Watercolor winner is:

Ladies, please send me an email via the contact button on the menu bar and I'll get those prizes out to you ASAP!  And to everyone, thanks for your comments and for sharing your favorite spring flowers!
Next I've got a quick CAS one layer Easter card to share! (I know I know…CAS and one layer are not usually terms you'll see on my blog…at least not in reference to my cards!)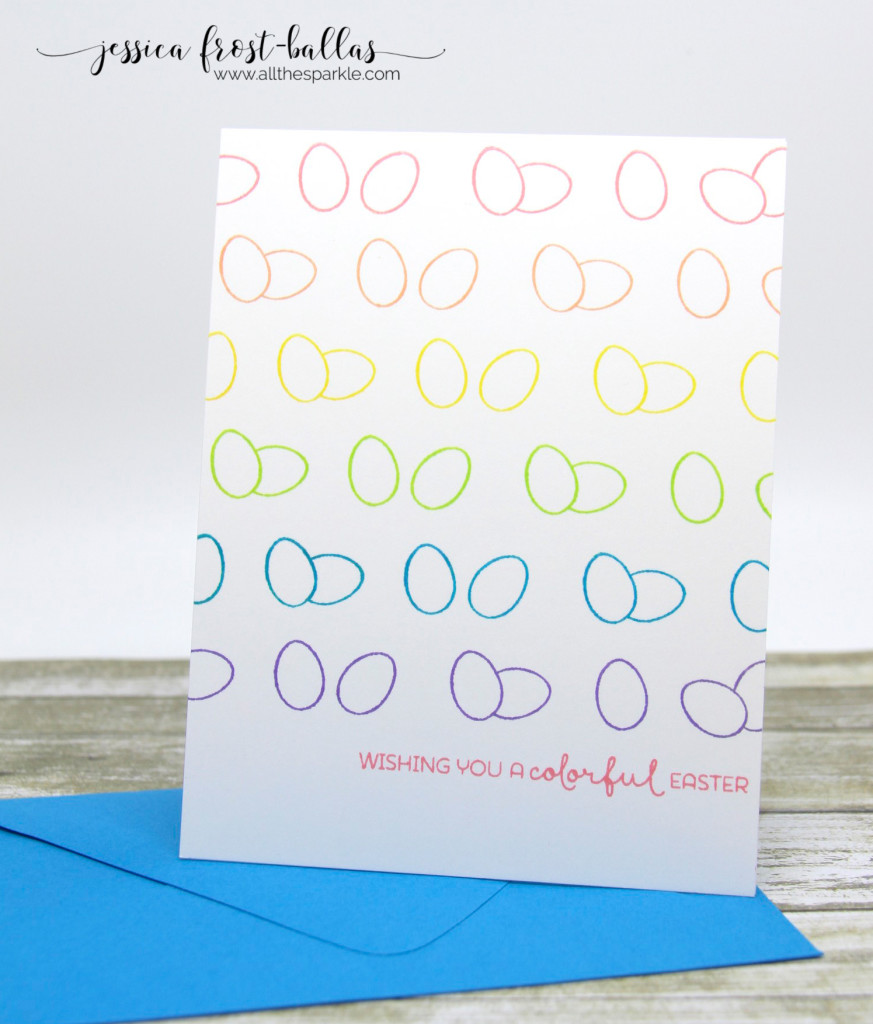 I love the Spring Borders set from Papertrey Ink!  I simply attached the egg border stamp to my MISTI, inked it with a pastel rainbow of inks from The Ton and stamped them in lines down the front of my card panel.  Finally I added the sentiment (also from Spring Borders).  Simple but cute and perfect for my husband's Easter basket!
Yep, Steve and I still exchange Easter baskets…no kids so we spoil each other!  Plus today is our 13 year dating anniversary so we have even more to celebrate!  It's pretty crazy that we've been together that long!  It does not feel like it's been 13 years!  But here's to another 70!  This is one of our first photos together from my freshman year of college! 🙂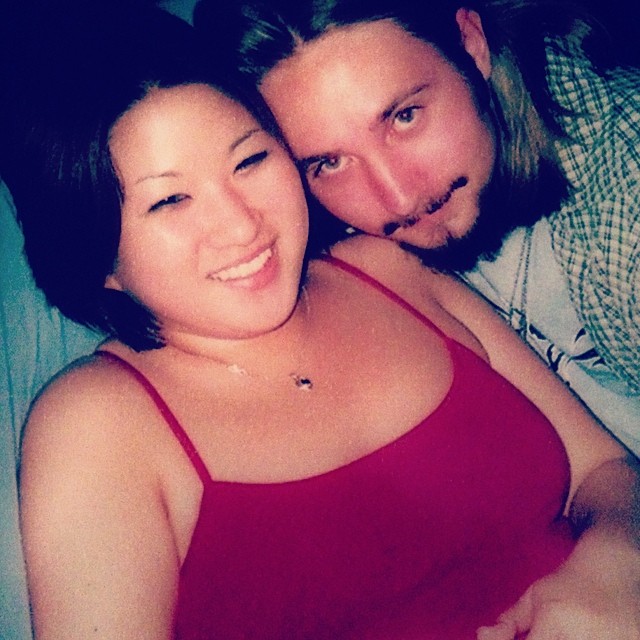 Finally, I haven't shared any peeks of our house in over a year and thought I'd share a little of our Easter table this year as well as a look at our dining area.  You can find the rest of our house that we've shared here.  I hope to finish the rest of the house tour later this spring and summer!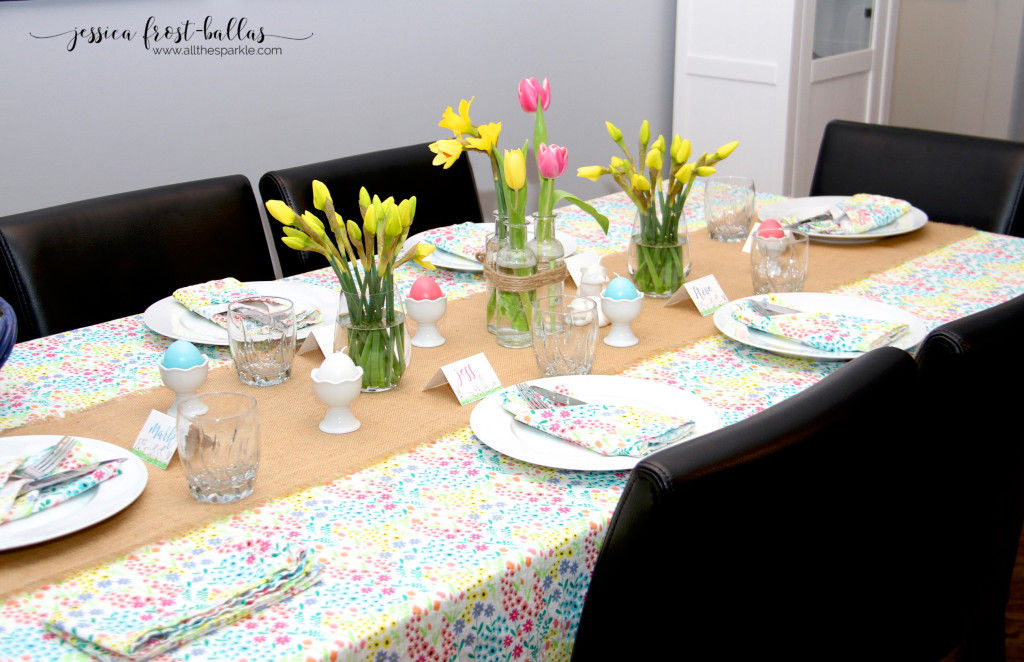 Our living area is open concept so there are no walls separating our kitchen, living room, and dining area.  Our previous home had a similar layout but walls separated the three areas making them seem much smaller.  When we were designing this house I knew that I wanted the same layout but no walls!  Our dining area is right next to our kitchen and is perfect for us!  It's fairly straightforward…we've got two Ikea Hemnes hutches that flank our dining room table.  Someday I'd like to add some faux crown moulding to them so they look a little less like Ikea furniture.  In the photo below you'll see our kitchen island at the bottom of the photo.
I think my favorite aspect of this room is the artwork on the wall!  When we first moved in I saw all of the Pinterest ideas for using engineering prints for artwork and thought it'd be fun to use sheet music instead of a photograph.  I decided to use a piece of music, Introduction and Variation by Virginia Johnston, that Steve and I performed together for one of his graduate music recitals.  Not only does it make a fun conversation piece, it's also a fun memory for Steve and I to share!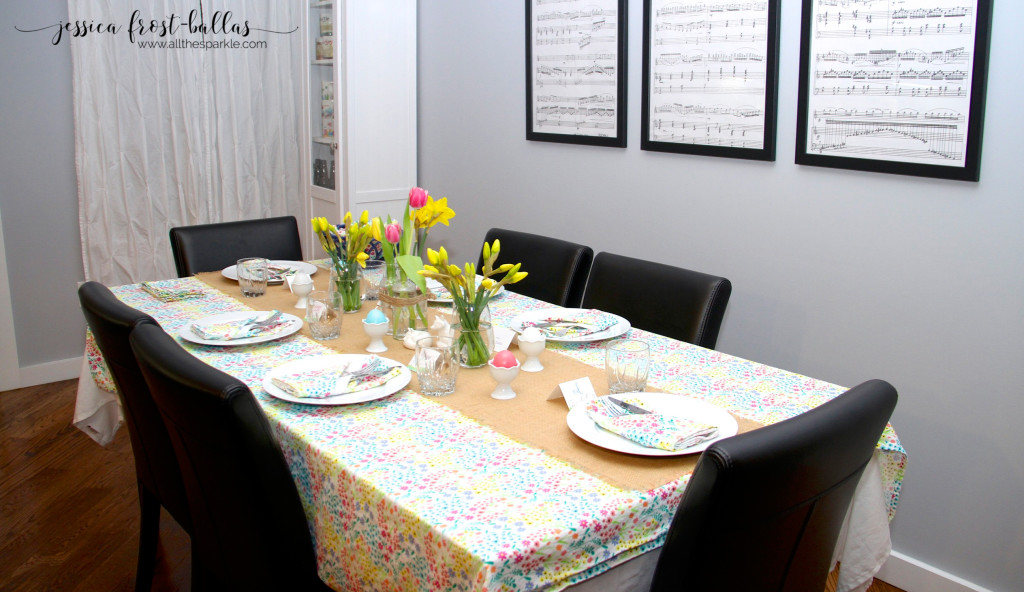 We will host my parents and in-laws for Easter today and I hope my daffodils will open a little more than they had when I took these photos on Friday!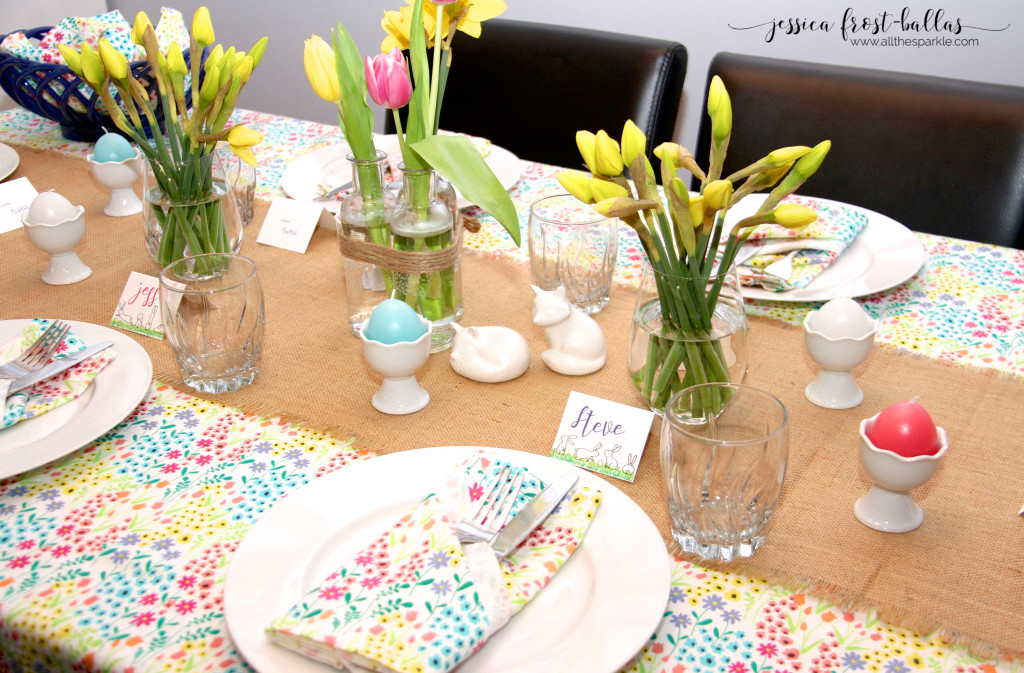 I sneaked a peek at my placeholders on instagram a few days ago but I used the Spring Borders stamp set from Papertrey Ink to create those as well!  I stamped the grass and bunnies and then added the names with Concord and 9th's Sophisticated Script set!  The table cloth and napkins are from Target and the runner, egg cups, and egg candles are from Pier One!
Since I have church commitments in the morning we do a potluck dinner for Easter.  My parents will bring breakfast and a London broil and my in-laws will bring ham, tarhonya (a traditional Hungarian side dish), and a pie!  My husband baked a citrusy Easter cheesecake and I took care of the side dishes: a strawberry and candied almond salad with honey poppyseed vinaigrette, smashed potatoes, brussels sprouts au gratin, honey roasted carrots, and rolls.  Just typing the menu makes my mouth water! 😉
Anyway, that's our holiday and a little look at our home!  Thanks so much for visiting and I hope you all have a wonderful day!!