For my first release post please click here!

Good morning!  I'm back with a trio of cards featuring Zombie Kids with a few other stamps from the September 2016 release of Lil' Inker Designs.  I apologize in advance because they're all Walking Dead themed and if you don't watch the show you probably will think I'm really odd…and my cards will make no sense to you.  But the show is awesome, so you should go watch it!  And I promise my cards tomorrow were created for a more general audience again! 😉
Okay, so I'll try to explain my cards to those of you who don't know the show.  First up is a card using Zombie kids with the All About Ampersand set!  In the show, the son of the main character is named Carl…however whenever an adult (especially his father) yells his name it almost always sounds like they're yelling Coral.  And in a particularly memorable scene with a major character death the "Coral" is so pronounced that it birthed a viral meme.  Just google 'coral walking dead'…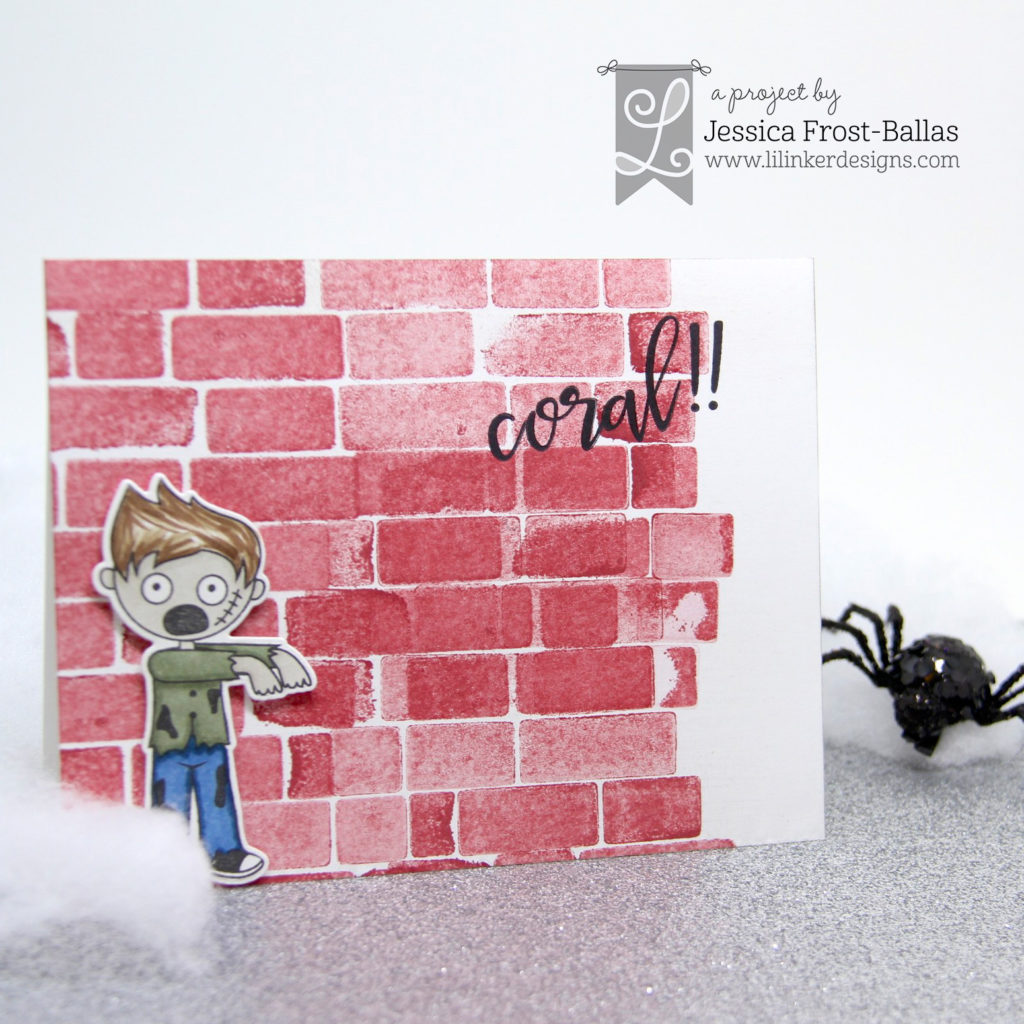 I wanted to do my own version of that scene but with a zombie Carl (he's not a zombie in the show).  In the show the scene takes place in a prison so I needed to create the look of a brick wall.  I was looking through my stamps and realized that the All About Ampersand label stamps would make perfect bricks if I turned them over! 😉 To create a little texture I inked them in a dark red ink, stamped them off once on scrap paper and smeared them a bit before stamping them on my card base.  I overlapped some for a darker look and left some blotches to give it an imperfect look.  Then I spelled out my sentiment using Sassy Script.  Finally I colored my zombie kid with copic markers, die cut him with the coordinating dies, and adhered him to my scene with a little foam mounting tape.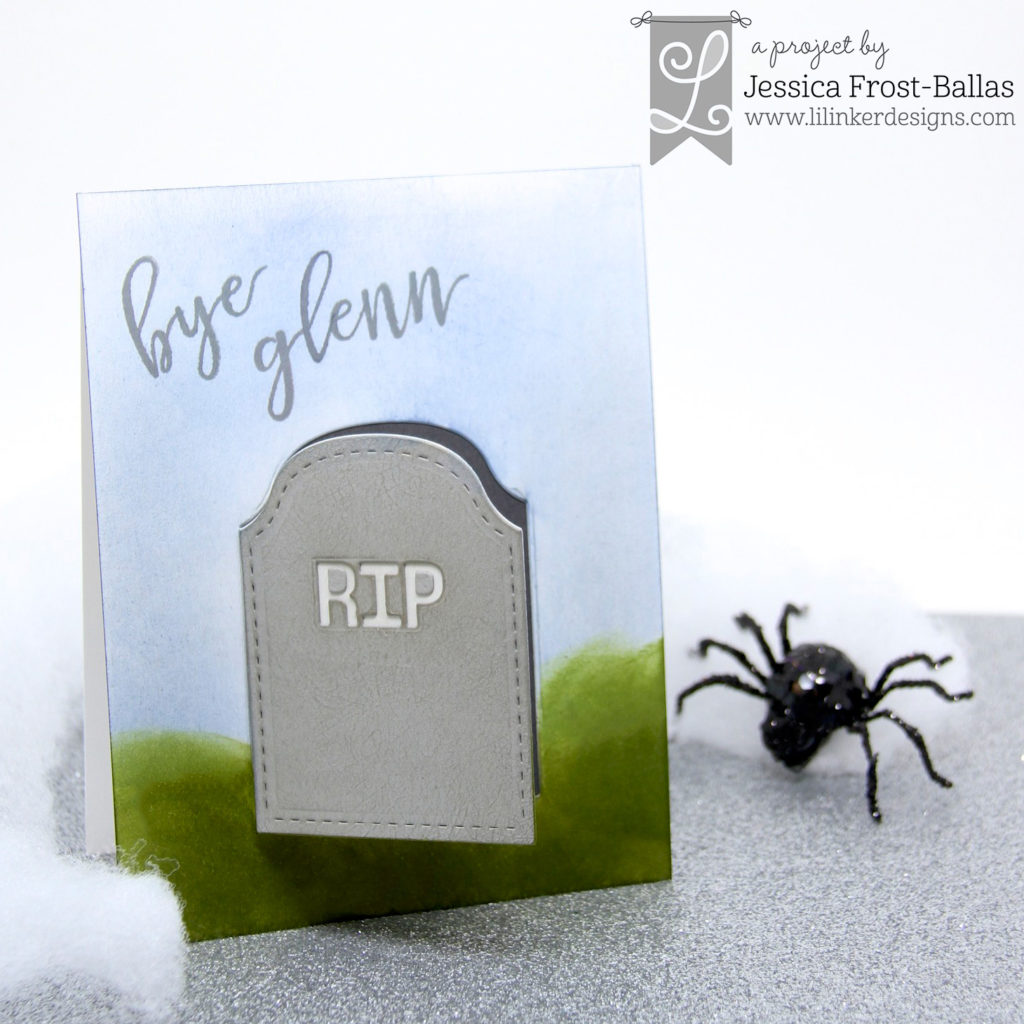 My next card is my personal guess on the big upcoming season premiere death.  I hope I'm wrong but I've got a strong feeling we're going to be saying goodbye to Glenn.  Sigh.
Anyway, I wanted all three of these cards to look a little grungy…I mean we're dealing with zombies, right?  Which made for three very fun but very out of my comfort level cards…for this one I started by blending peeled paint and stormy sky distress inks onto a piece of white cardstock.  I deliberately made my blending a little messy and a little uneven (SO hard for someone as OCD as me!!).  Then I stamped my sentiment using Sassy Script and a dark grey ink.  Next I die-cut the Tombstone Peek-A-Boo die from the background and from a piece of grey cardstock.  I blended pumice stone distress ink over the tombstone and adhered it over the background.  Then I stamped the zombie boy and colored him with copics to resemble the character.  I blended a little pumice stone distress ink around the edges of the zombie to dirty him up a bit before I tucked him inside the tombstone!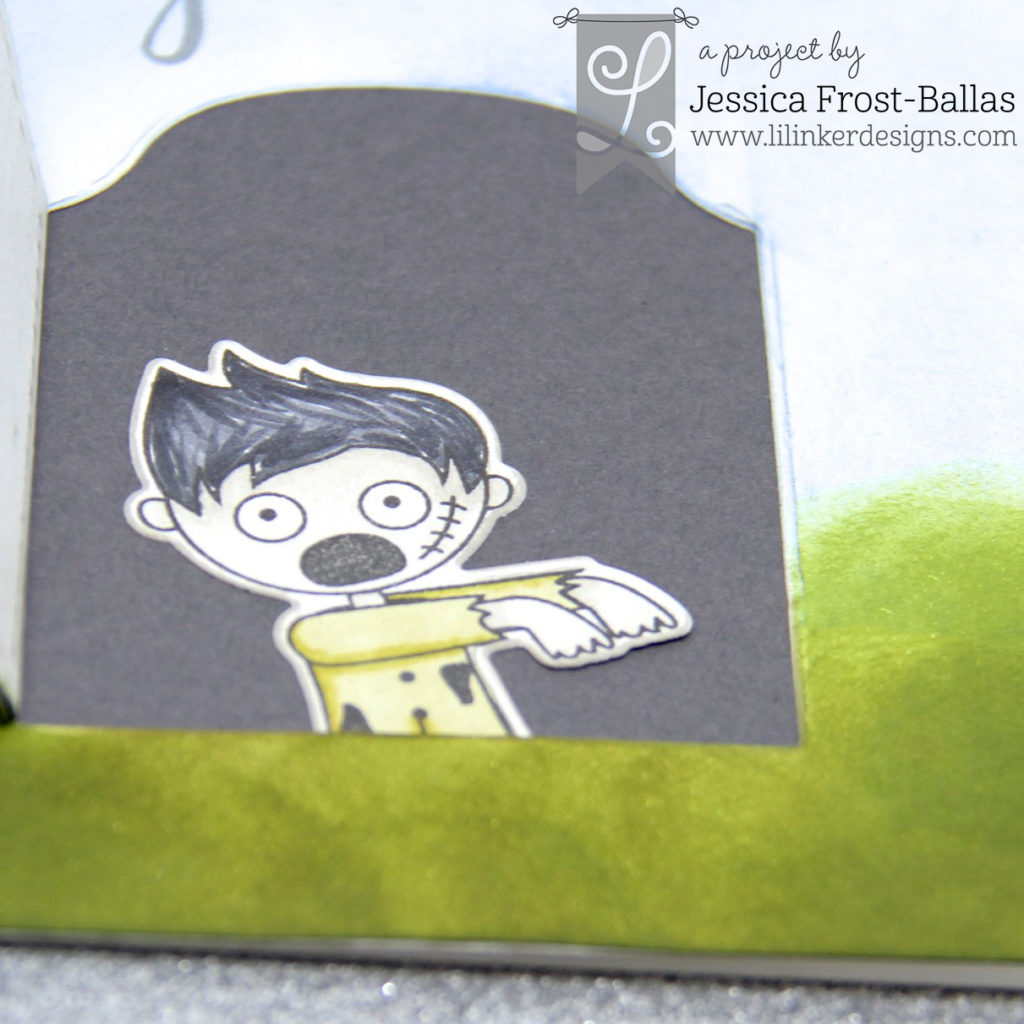 My last card is a little darker…if you search that sentiment you'll find all the details of that scene but the general gist is that a young tween girl displays fairly sociopathic and emotionally damaged tendencies post-apocalypse (which I suppose is to be expected in the middle of a zombie outbreak).  After she murders her younger sister and appears to be a danger to the greater community another adult character compassionately kills her while telling her to "look at the flowers."  It makes sense in the show…I promise. (And if you're a first time visitor, please do come back tomorrow…I promise I usually post happy, bright, and sparkly cards!)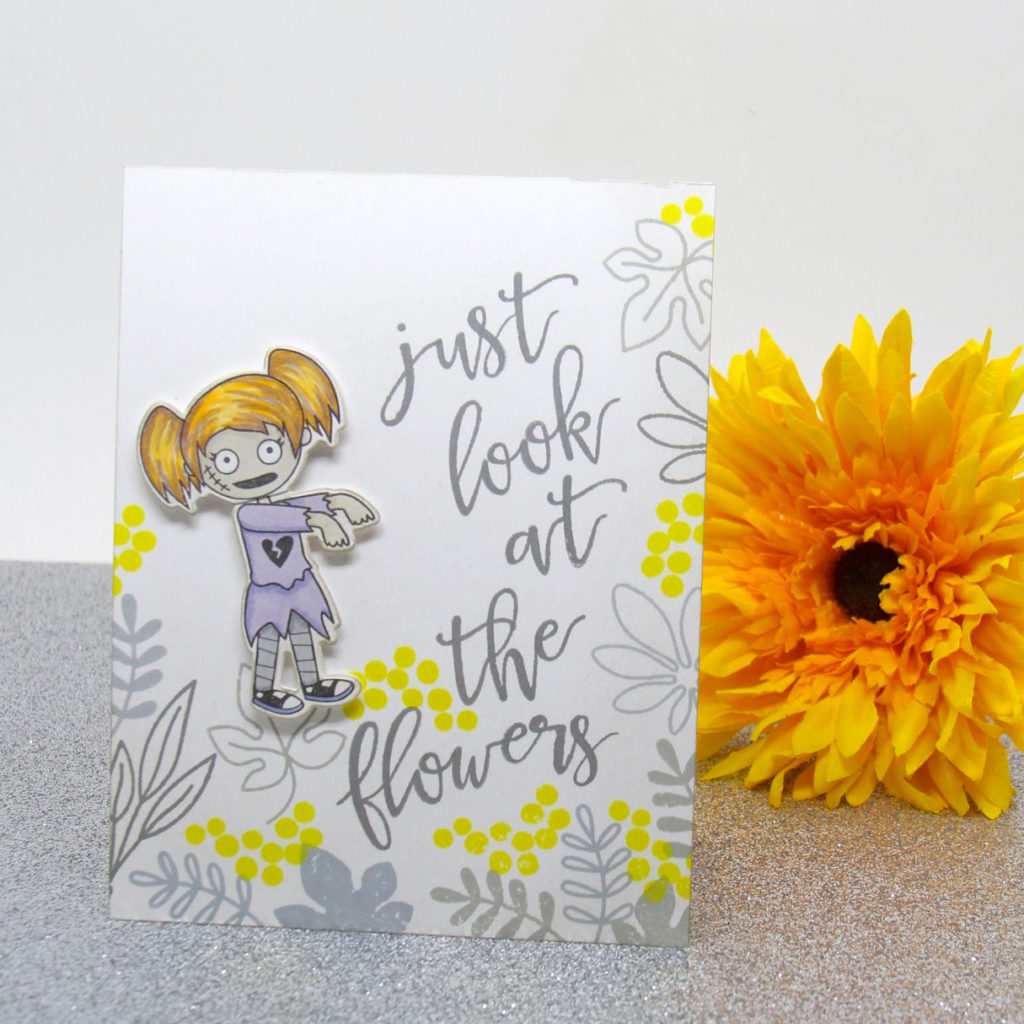 For this card I stamped and colored my little zombie girl and added a little pumice stone distress ink to her edges before die-cutting her with the coordinating dies.  I stamped the sentiment using Sassy Script and a dark grey ink.  Then I stamped the greenery from Reap a Harvest all around the card with grey and yellow inks.  Again I 'grunged' up the edges of the card with pumice stone distress ink.
And that's it for me for day one!  I'll be back tomorrow with a few more Halloween and Thanksgiving themed cards!
You should have arrived from the Lil' Inker Designs Blog and Chrissy is your next stop.  If you get lost you can find the full hop list below!  Leave a comment on each stop along the hop and three random commenters will win $15 gift certificates to Lil' Inker Designs!
Happy hopping! ?
LID Blog
Jessica Frost Ballas  —-> You Are Here!
Chrissy Larson
Jennifer Carter
Heather Hoffman
Stephanie Gold
Amy Kolling
Angel Rivera
Sarah Jay
Lisa Henke
Joy Taylor
Karen Baker
Shop the new release!
Thanks so much for visiting and have a wonderful day!
Interested in the products I used?  To make them easy for you to find, I have listed them below. (Affiliate disclosure can be found here). Your purchases help keep my blog running and I thank you for the support!)