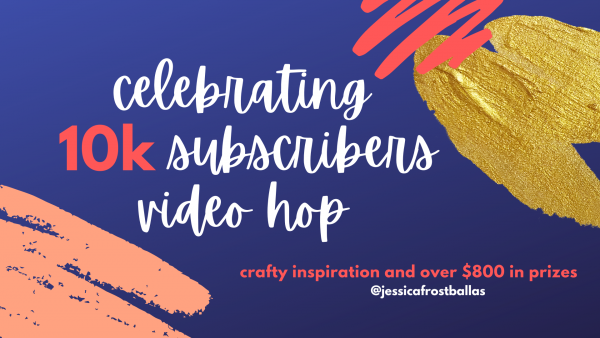 Good afternoon!!  Today I'm sharing a new video and the winners of my recent Celebrating 10K Subscribers Video Hop!  You can find the full list of winners below!  If you won, please send me an email at JessicaAFrost@gmail.com with 'Video Hop Winner' in the subject and I'll get those prizes out to you ASAP!  Thank you all so much for your overwhelming support and excitement for the hop!  It's still a bit unbelievable but I actually gained 1200 subscribers during the hop!!  I know my crafty friends were also really thankful for your views, comments, and subscriptions as well and I hope you got lots of crafty inspiration!!
One repeated comment on my video was a request to see an alcohol ink background in real time so today I'm sharing a video of my process!  I actually created it at the same time I created my hop card but hadn't quite figured out what I wanted to do with it at the time.  You can watch the video below or over on my YouTube channel!
IF THE VIDEO IS NOT VISIBLE, PLEASE CLICK HERE!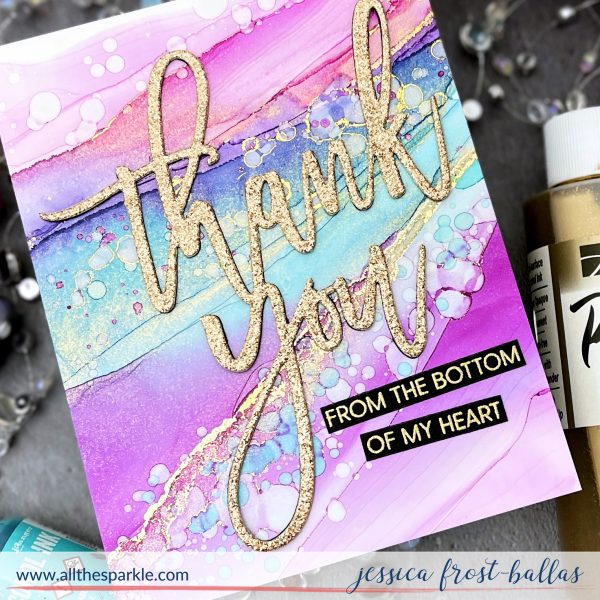 Congratulations to all the hop winners!  I randomly chose comments from every stop on the hop, so the more videos you watched the better your chances of winning! Again, if you're a winner please send me an email at JessicaAFrost@gmail.com to claim your prize.  Please do not contact the video creator because they're not responsible for sending out prizes.
Jessica Frost-Ballas: $100 gift card – ThankfulGrandma (Jess)
Chibitronics: 3 Starter Kits – Cynthia Poudrette (Aheba), Lana D. Tabor (Sandy), Alyson Gold (Sharna)
Concord and 9th: 2 $50 gift cards – Ankes Art (Laura), Carol Wortman (Rebecca)
Ellen Hutson: $25 gift card – Ginger McDonald (Chari)
Erin Lee Creative: $25 gift card – Patricia Dunbar (Angelica)
The Gray Muse: $50 gift card – Ana Reyes (Maria)
Heffy Doodle: $45 gift card – Char K (Michelle S)
Hero Arts: $50 gift card – Robin Haw (Channin)
Honey Bee Stamps: $30 gift card – Karla Bostic (Ardyth)
Ink Blot Shop: $25 gift card – Mary Ann Reilly (Erica)
Jennifer McGuire: Prize pack and $50 to Gina K – Nina Cantelmi-Cicchi (Arjita)
Kit & Clowder: 3 $20 gift cards – Tikru34 (Ilina), Lady Fair (Mona), BethGray2626 (Alberto)
Lawn Fawn: $50 gift card – K30gentle (Michelle L)
Organize More: $75 gift card – J Koehler (Christy)
Purple Onion Designs: $25 gift card – Manny Kao (Cathy)
Reverse Confetti: $25 gift card – Brenda Burfiend (Daniel)
Scrapbook.com: $50 gift card – Amy Cairns (Marine)
Waffle Flower: $50 gift card – Laurie King (Mindy)
I hope you enjoyed the hop!  Thanks so much for stopping by and have an amazing weekend!!

Interested in the products I used?  To make them easy for you to find, I have listed them below. (Affiliate disclosure can be found here). Your purchases help keep my blog running and I thank you for the support!

Conair 2-in-1 Hot Air Curling Combo

15ml Needle Tip Plastic Bottle (30…

Plastic Dispensing Bottles (pack of 30)

Jacquard Pinata Colors – Brass, 0.5 oz

Jacquard Pinata Colors – Brass, 4 oz

Solimo 99% Isopropyl Alcohol (pack of…

Ranger Ink – Tim Holtz – Adirondack…

Ranger Ink – Tim Holtz – Adirondack…

Ranger Ink – Tim Holtz – Adirondack…

Spellbinders – Glimmer Hot Foil…

Legion Yupo Paper 9×12

50 Disposable Plastic Pipettes

11-well Plastic Palettes (pack of 15)

Waffle Flower Crafts – Craft Die and…

AF419 Clear Embossing & Watermark Ink…

Hero Arts – Embossing Powder – Gold