Good afternoon!  It's been a very long time coming but I'm so excited to share a look at my craftroom with you today!  And I'm super thankful to two of my favorite organizational companies: Organize More and Lotsa Style for providing generous giveaways and exclusive discount codes for you!  I'll share more about those at the end of this post! 😉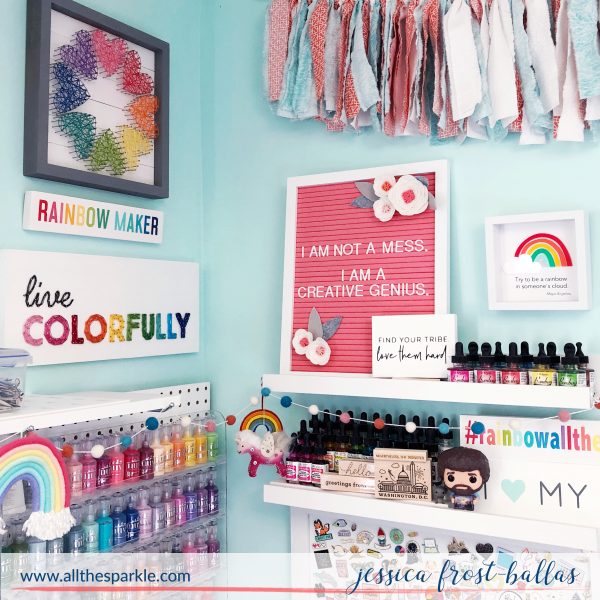 You can watch the tour below or over on my Youtube channel:
In order to keep the video a manageable length I decided to split my tour into two videos: my desk area and the rest of the room.  Today I'm focusing on my desk and basically everything that's within an arms reach of my chair.  In two weeks I'll share a look at the rest of the room!
As you can see my room isn't super large…it's only about 10'x10′ but I've done my best to pack it full with equal attention to items that are functional and those that are aesthetically pleasing!  I love to organize by rainbow order and that helps to add some color to my room but I also really love to add artwork and personal touches that really show my personality and the things that I love.  I feel like there's a good balance of organization, function, and personality and honestly I can't help but smile everytime I open the door!
…Unless I've left a huge mess from the night before…then there's a grimace followed by a smile! 😉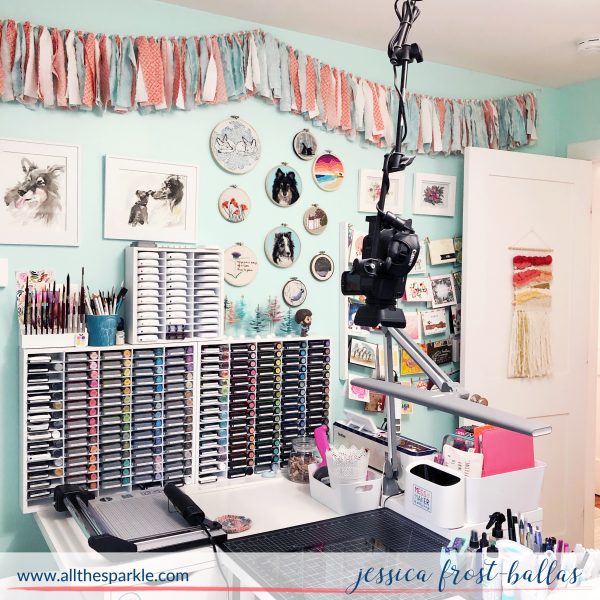 I hope this tour gives you some ideas for your craft space!  I've linked as many items as I could below but if you're looking for something specific please leave a comment and I'll try to help you source it!  There are a few things that have been redesigned, discontinued, or retired but most of the important organizational items are linked!
And on a final note I just want to remind you that crafting is my job so I do have a lot of products.  Products that have been given to me for work and also products I've budgeted and saved for over the last 7 years to help me with my work (your support by shopping through my affiliate links always helps with this and I am so very grateful for that!).  If you're a regular subscriber or viewer you know that the items I'm sharing are items I love that you see me use regularly; but I also think it's really important that no one ever feels like they need all or even most of these products to create and do what they love!  Find what works for you and your budget…but always try to make sure you include a few things that just make you smile (like a Bob Ross Funko or an otter enamel pin)! 🙂

I have two fantastic giveaways and exclusive discounts to share with you today!
Organize More is generously gifting a $75 gift certificate and offering 10% off the entire shop through the month of August with the code SPARKLE10! Shop Organize More here!
Lotsa Style is giving away a Make Up Organizer (like the one I use on my desk) and offering a generous 30% discount on that specific product through the month of August with the code 30JESSICA30!  Shop Lotsa Style here!
To enter to win, head over to my video and like, subscribe, and comment on the video with your favorite crafting product!  You can also share my video for an extra chance to win.  If you share it please leave a comment letting me know where you shared it! 🙂  I always appreciate blog comments but I'll be choosing the winner from the video comments so make sure to comment over there!  The winners will be announced on the next part of my craft room tour video so like, subscribe, and comment before 11:59pm EST on Friday, August 21st!
Thanks so much for visiting and make sure to come back for the rest of my tour and two new giveaways! 😉

Interested in the products I used?  To make them easy for you to find, I have listed them below. (Affiliate disclosure can be found here). Your purchases help keep my blog running and I thank you for the support!
| | | |
| --- | --- | --- |
| LotsaStyle Organizer – Save 30% with… | Lotsa Style Original Mini Countertop… | Mini Ink Tray – OrganizeMore |
| 36 Ink Pad Organizer (fits IKEA) -… | 72 Standard Ink Organizer – OrganizeMore | 4 Cubby Drawer Caddy – OrganizeMore |
| 6 Cubby Drawer Caddy – OrganizeMore | Distress Ink Spacer Kit – OrganizeMore | Custom Pegboard |
| LINNMON Tabletop, white – IKEA | ADILS Leg, white – IKEA | ALEX Drawer unit, white – IKEA |
| KALLAX Shelf unit, white – IKEA | RÅSKOG Utility cart, white – IKEA | MOSSLANDA Picture ledge, white – IKEA |
| SKURAR – IKEA | KUGGIS Box with lid, white – IKEA | Nail Polish Organizer |
| Acrylic Nail Polish Organizer | BTSKY Portable Canvas Zippered… | BTSKY Multifunction Marker Case -… |
| BTSKY Handy Wareable Oxford Colored… | BTSKY 160 Slots Pencil Case | Wooden Thread Rack |
| Sistema Rectangular Collection | Sistema Square Collection | Manfrotto 196B-3 143BKT 3-Section… |
| Avenger F805 6-Inch Baby Wall Plate | Canon GX10 UHD 4K Camcorder | Dahle Vantage Self-Healing Cutting… |
| Tim Holtz Glass Media Mat, Black | Wendy Vecchi MAKE ART… | Rotatrim 12 inch Paper Trimmer |
| Trinity Stamps – Bartender Magnetic Tray | Acrylic Mini Sorter | Royal Sovereign 9″ Laminating Machine |
| Brother P-touch Label Maker | Hanging Photo Display | Kitty Cot |
| Scotch Desktop Dispenser, Mint | LetterBoard | Letterboard Felt Flowers |
| Dani Ives – Fiber Artist | Outlander – Embroidered Hoop on Etsy | Whimsical art by OneSleepyOtter – Etsy |
| Modern Hand Embroidery on Etsy | Embroidery Hoop Art on Etsy | Chunky Rainbow Paintings – Josie… |
| Modern Bougainvillea Hoop Embroidery… | Fox Embroidery — Madeleine Barnes | AWW Animals With Watercolour… |
| Sarah Coey Artwork | String Art Paint Palette Sign by… | Just Add Sunshine on Etsy |
| Wood Signs for your Heart & Home by… | Destination Washington, DC – Hero Arts | nevertheless, she persisted. | bossy… |
| Ink Pad Label Stamps – Planet Label | ChromaLabel 1/4 Inch Round Dot Stickers | Silhouette Printable White Sticker… |
| Large tier glue holder on Etsy | Enamel Pins – The Gray Muse | Enamel Pins – Holly Pixels Studio |
| Hand Over Your Fairy Cakes Enamel… | Enamel Pins by The Grumpy Unicorn Co… | Enamel Pins by PinPartyPost on Etsy |