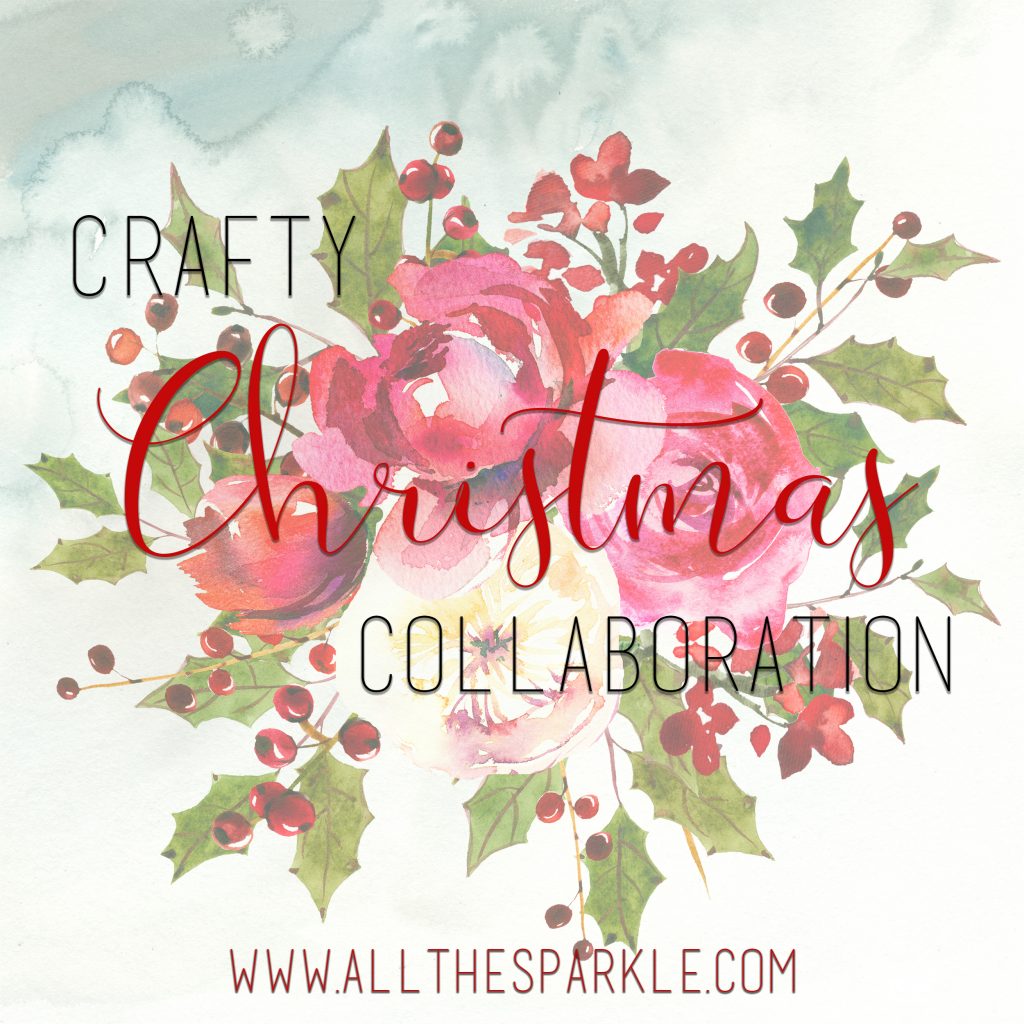 Good morning!  I'm excited to announce a new holiday card series on my blog!  Last December, for the first time ever, I sent out every single Christmas card I had in my stash and actually had to make a few last-minute cards.  Seriously not a fan of the last-minute Christmas card hustle.  So this year I am determined to make sure that I'm making Christmas cards throughout the year so that I'm stocked and ready to go come December 1st!
But sometimes it gets a little boring making Christmas cards (especially in January!) so I wanted to come up with something different and thought it'd be fun to include my crafty friends!  Each month a crafty friend and I will send each other something to help make a Christmas card…it might be a watercolored panel, a few die-cut images, a few stamped images, embellishments, etc.  At the same time we will use the same items to create our own card and we won't share what we've created with each other until after the cards are finished.  And don't forget to check out the bottom of my post for details on how you can join in the fun and enter two giveaways!   My first guest is the amazingly talented Emily Midgett!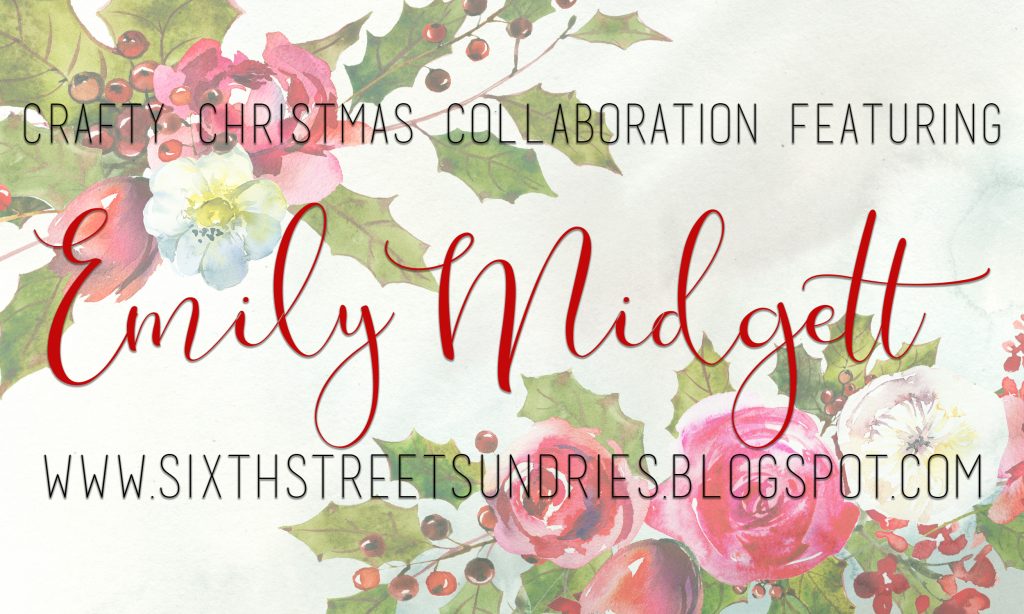 Emily first caught my eye a few years ago with her gorgeously watercolored floral cards and I'm so thankful that we've become such good friends since then.  I wanted to challenge her by sending her something totally outside of her comfort zone: critters! 😉 This was what I sent to Emily: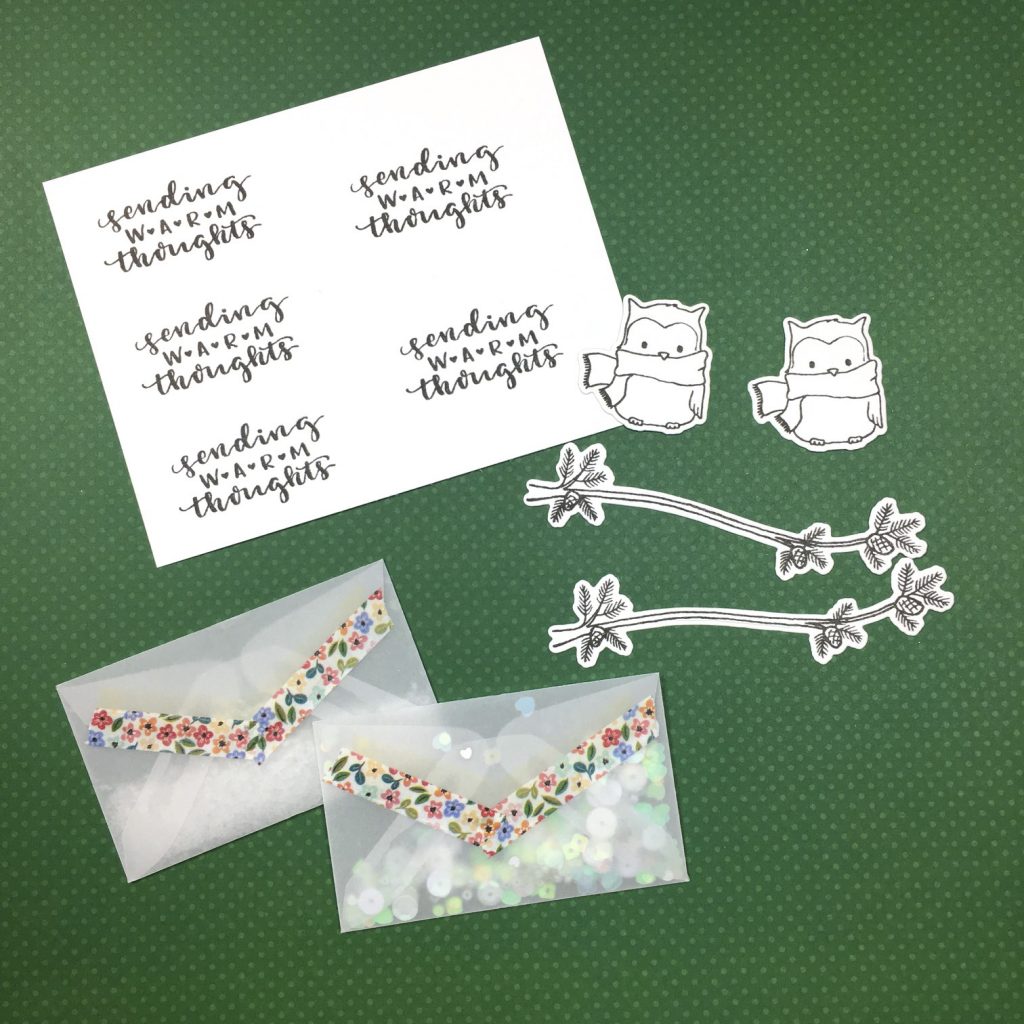 Knowing that I don't own much from Papertrey Ink, this is what Emily sent to me: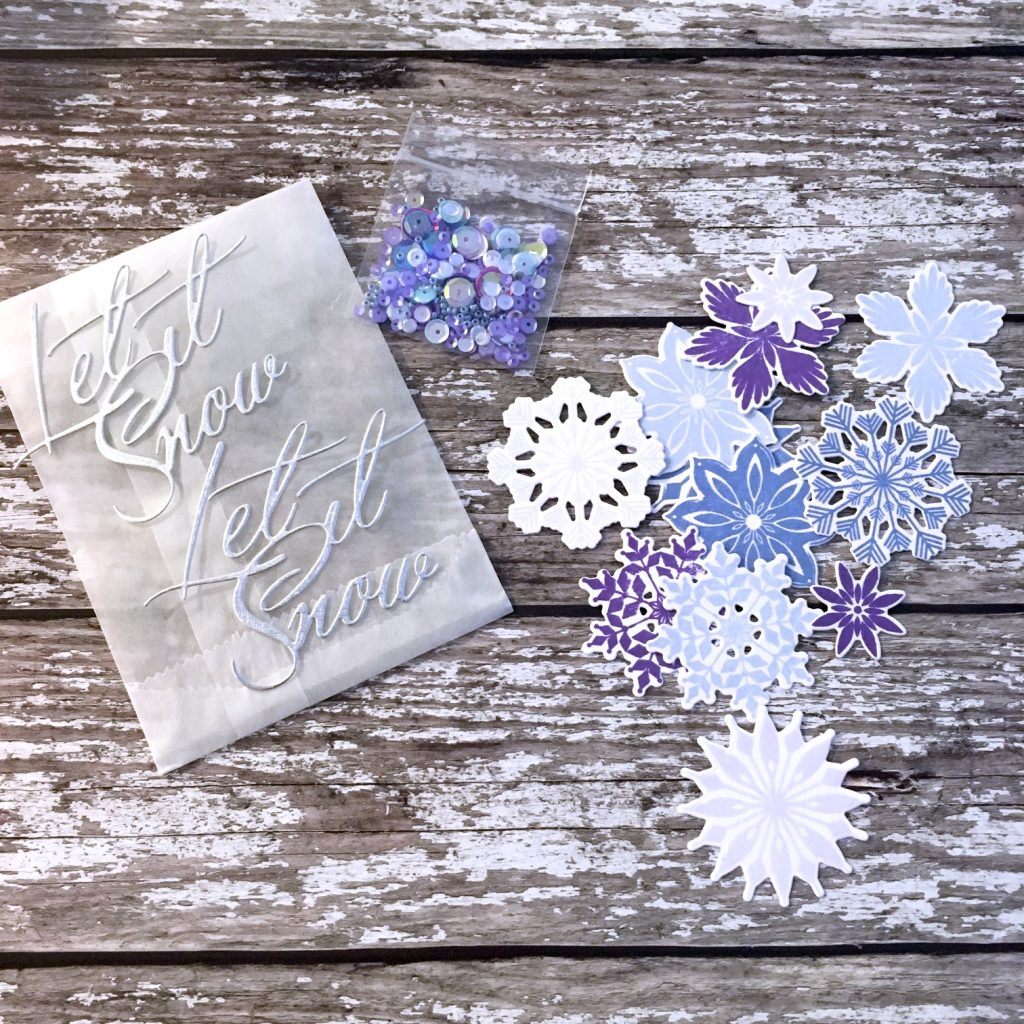 Here's what I created with my chosen items: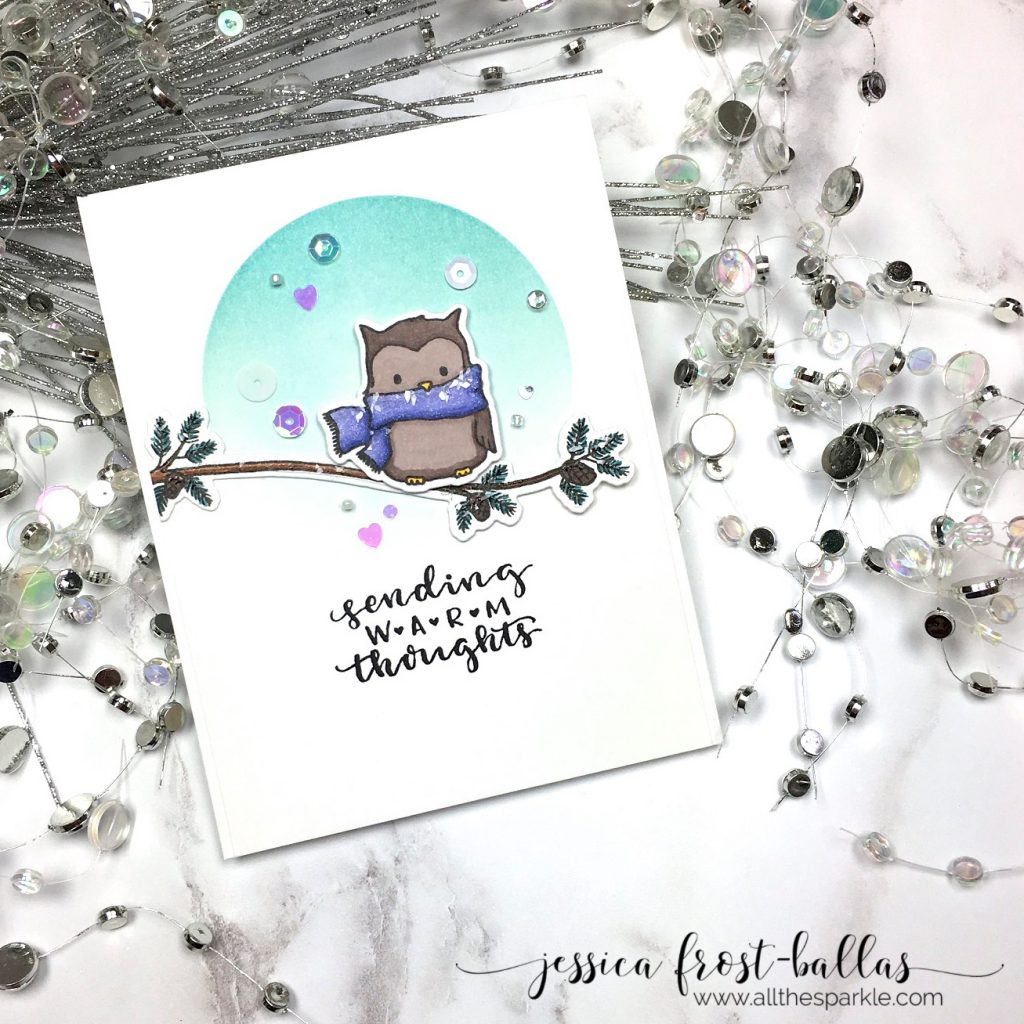 I started by die-cutting a circular mask and placed the negative over a piece of white cardstock.  Then I blended evergreen bough and peacock feathers distress ink onto the panel concentrating most of the color at the top of my circle.  I stamped the sentiment at the bottom with black ink.  Next I colored my owl and branch with copic markers and adhered them to the card.  I also added a little spectrum noir clear sparkle to the owl's scarf.  I adhered the embellishments with glossy accents and then added a thin layer of glossy accents to the owl's scarf and the branch.  I sprinkled the ice chips glitter over the glue to create icy sparkles!  I really love the effect it creates!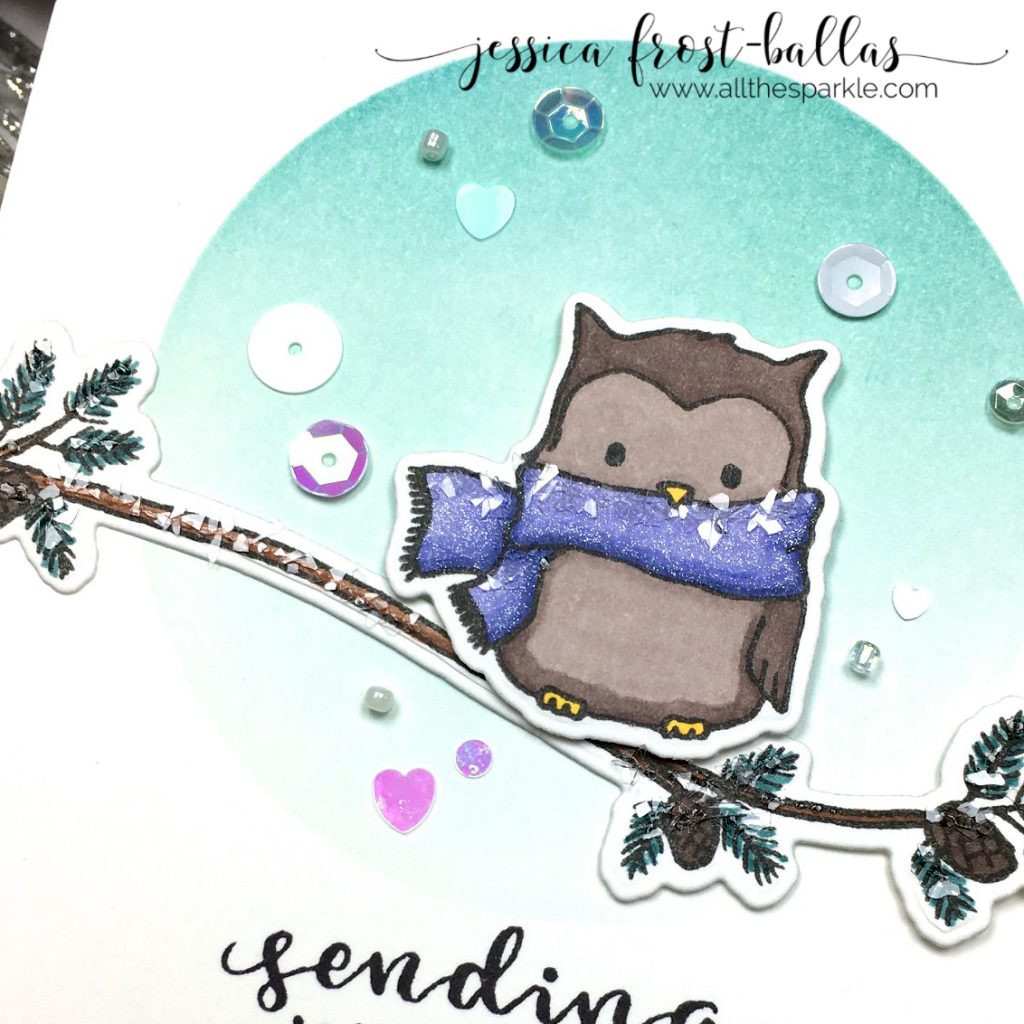 And this is what I created using the items that Emily sent me!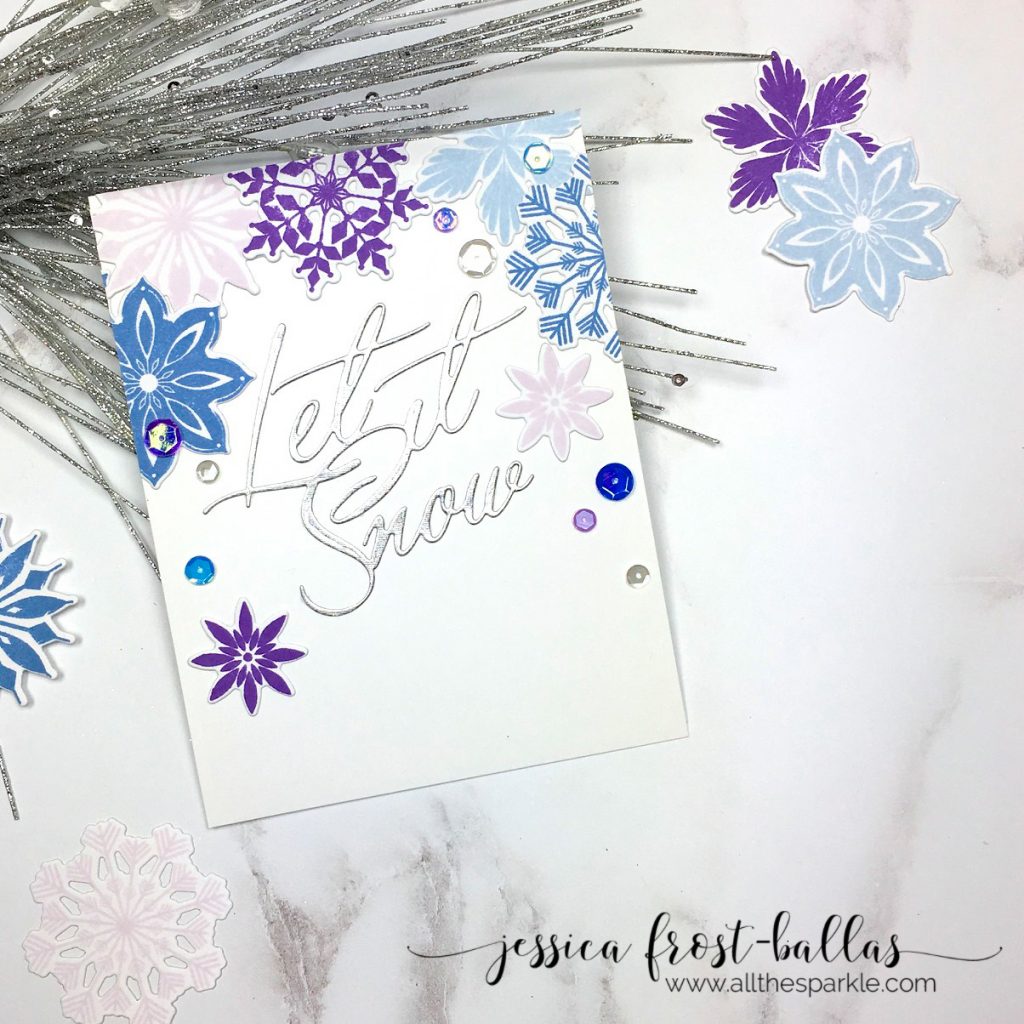 I love the snowflake dies she sent me and that sentiment die is gorgeous!  I decided to keep it CAS and adhered the sentiments across a panel of white cardstock and then trimmed the excess off the edges of the panel.  I adhered the sentiment to the card with glossy accents and then added a sprinkling of the iridescent sequins she sent!  She chose beautiful colors for the snowflakes and I decided to just let them shine!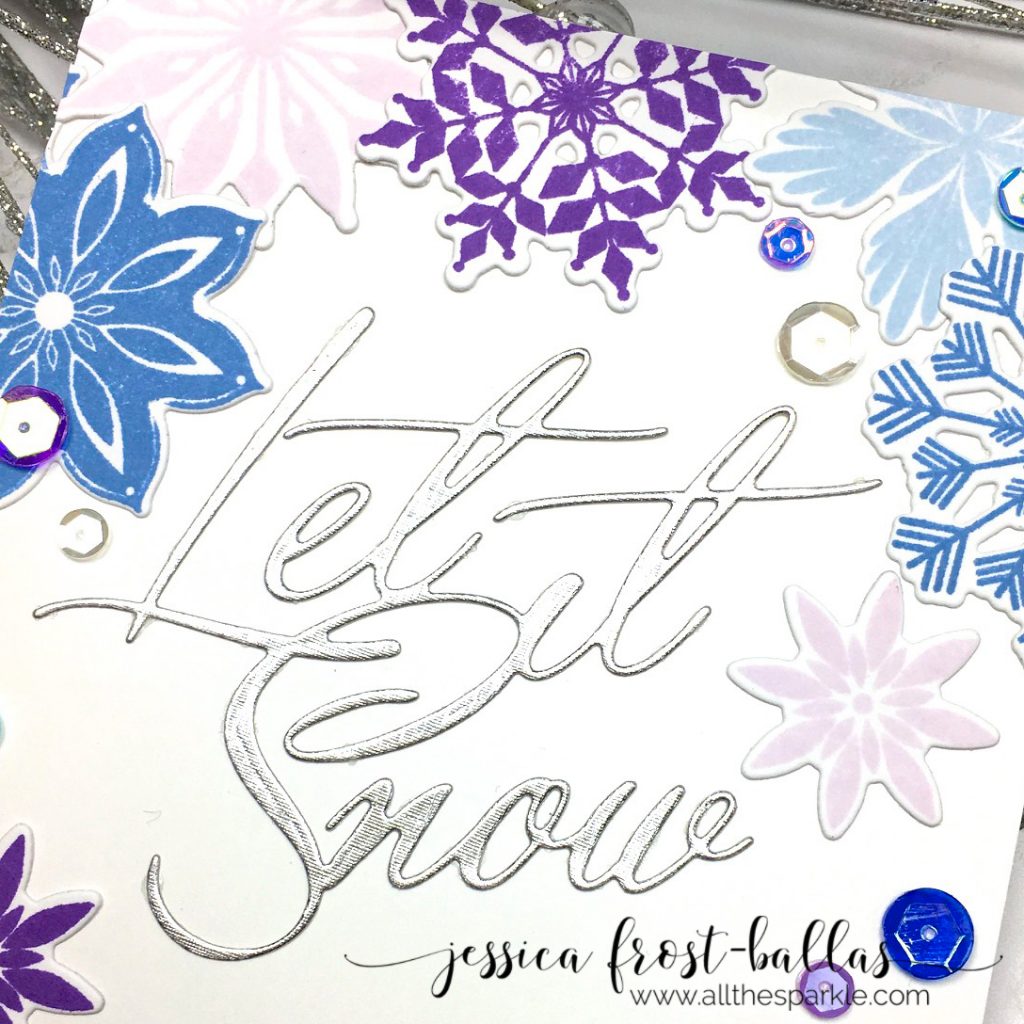 I had a few leftover snowflakes and owls so I actually created two more cards in a similar layout and design to add to my stash!  You can never have too many Christmas cards!
Lots of fun to mention with this new series…first, head over to Emily's blog to check out the gorgeous cards she created using both sets of items!  Her cards are amazing and so different from mine!  I love the way people can use the same items with totally different results!  Then check out the ways you can participate for the chance to win one of two giveaways below!
I wanted to find a way to include as many crafty friends as I could so I'm including a link-up that will last ALL year long!  Please use my cards or Emily's as your inspiration and link-up a holiday card!  You can use the color schemes, layouts, specific stamps and dies, or techniques for your inspiration.  Include the Crafty Christmas Collaboration badge at the top of this post in your post and link to the month you're using for inspiration for a chance to be included in the big Christmas giveaway.  After the final post on December 25th, 2017 one lucky entry will win a $100 gift card to the crafty store of their choice!
And each month I'll have a smaller giveaway featuring one of the companies I used on that month's card.  This month I'm giving away a $25 gift card for Winnie and Walter to one lucky commenter!  Please leave a comment on both my blog and Emily's blog for a chance to win the gift card to Winnie and Walter!  I'd love to know your thoughts on this series and if you'd like to see any specific companies featured!  Please leave your comment before 11:59 PM EST on January 31st, 2017!

Thanks so much for visiting and have a fantastic day!
Interested in the products I used?  To make them easy for you to find, I have listed them below. (Affiliate disclosure can be found here). Your purchases help keep my blog running and I thank you for the support!