Good afternoon!  I've had a few messages about my mystery destash boxes and I just wanted to pop in and say that I do have a few coming soon!  This time around I've decided to donate the entire sale amount to some of the current hurricane relief efforts in the U.S. but I'm still doing a little research to figure out where I want to send the money so that I can share that with you when I list the boxes.  Hopefully that'll happen sometime this week!  If you happen to have an organization that you recommend I'd love to know what it is (I am currently leaning towards animal rescue focused groups but I'd love to spread the love around!)!
In the meantime, for those of you who like to pick and choose your destash purchases individually a good friend of mine is doing a major craft room destash and has lots of stuff from The Ton for sale (as well as lots of other great companies).  The Ton never puts their products up for sale so this is a great opportunity to get their stuff at a cheaper rate! 😉 You can find her destash here!
Finally, it's October 1st which means Kathy Rac's coloring challenge is over!  Unfortunately I wasn't able to color everyday but if you're not on instagram here's what I worked on last month:

















If you've never participated in the coloring challenge I highly recommend checking out it out!  It's a fabulous way to practice your coloring skills and just give yourself a little time to destress everyday!  This time around I challenged myself to use my copics to practice shading and different color combinations.  I still have a long way to go but I can see improvement each time and that's the most important part! 😉 Just for fun…here's one of my very first attempts at using copic markers back in 2014 and I remember being SO excited that I had "shaded" my image… 😉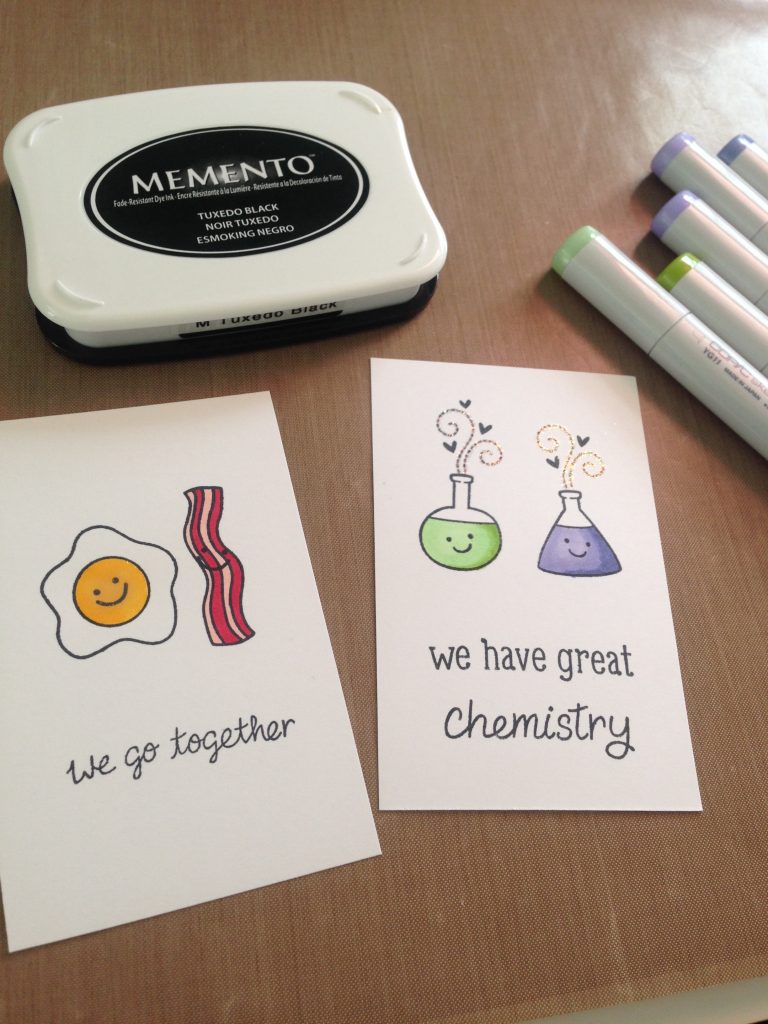 Just goes to show that practice is REALLY important! 😉
Anyway, I'll include links to the sets I colored below if anyone is interested and I'll be back tomorrow with a bunch of exciting new releases and challenges! Thanks so much for stopping by and have a wonderful Sunday!

Interested in the products I used?  To make them easy for you to find, I have listed them below. (Affiliate disclosure can be found here). Your purchases help keep my blog running and I thank you for the support!!
Happy Day Stamp Set

WATCH THAT CATITUDE – Planner Street

Newton's Nook Designs FALL-ING FOR…

Stamping Bella Cling Stamp THE…

Essentials by Ellen Clear Stamps,…

The Greeting Farm SCAREDY CATS Clear…

Neat and Tangled MERRY KISSES Clear…

Lawn Fawn JUMP FOR JOY Clear Stamps…

Mama Elephant RAIN OR SHINE Clear…

Pretty Pink Posh HOLIDAY PALS Clear…

Lawn Fawn THANKS A BUSHEL Clear…

Blossoms & Banners Stamps – Lil'…

RESERVE Lawn Fawn WINTER OTTER Clear…

RESERVE Lawn Fawn PUMPKIN SPICE Clear…

RESERVE Lawn Fawn HERE WE GO…

United We Flourish Stamp & Die Combo,…

RESERVE Lawn Fawn CHRISTMAS DREAMS…