Good morning!  I'm in the long summer process of reorganizing my craft room and have decided that I need to cut down on my stamp hoardi— *cough* collecting… 😉 So, it was tough, but I have a lot of stamps, dies, stencils, and inks that are in need of new loving homes!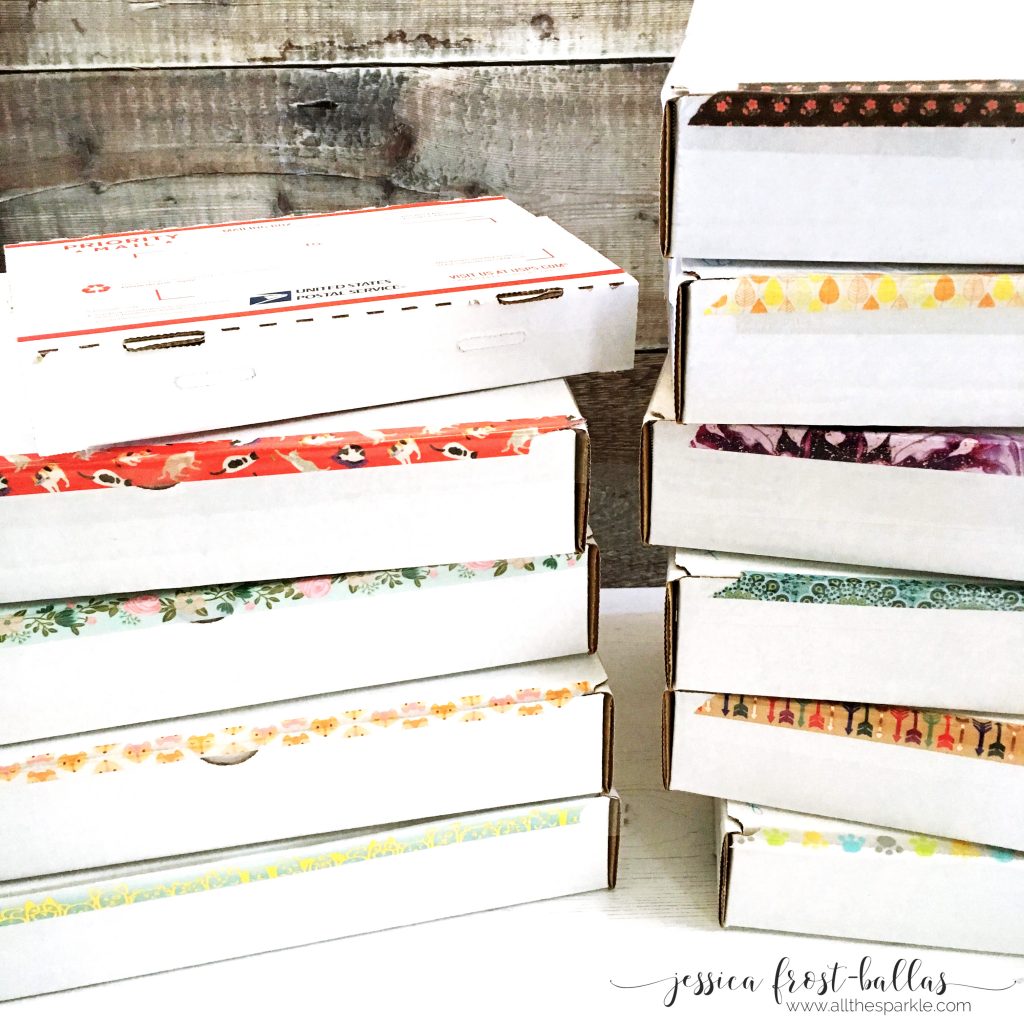 MYSTERY BOXES:
Each box has at least 20 very lightly used/new stamps, dies, and stencils and there's at least two brand new (still in original packaging) sets in each box.  Most of the time I immediately repackage stamps and dies into storage pockets but I didn't quite get to all of them over the last year so you'll notice that some stamps are in storage pockets but have very obviously never been used before.  These would be great starter boxes for a new stamper, RAK/giveaway stash boxes, or just boxes to supplement your current collection!  You'll find products from almost all of the major companies (WPlus9, Lawn Fawn, Altenew, My Favorite Things, Simon Says Stamp, Ellen Hutson, Hero Arts, Papertrey Ink, Avery Elle, etc.) and I deliberately mixed up the contents of each box so that there's a good mix of themes and styles in each box!  The majority of stamps in each box have been released within the last 12-18 months though there are also a handful of Papertrey Ink vault sets and discontinued Simon Says Stamp/Lawn Fawn/Hero Arts stamps scattered amongst the boxes.
The value of each box ranges from $300-350* and I'm asking for $150 (which will include shipping anywhere in the US).  I am also accepting international buyers but you will be responsible for shipping costs to your country (each box is approximately 2lbs and so far shipping appears to be somewhere between $20-30 depending on where it's going).  There are 7 boxes available.  All items are 'as is' and all sales are final.
INK PADS:
I'm selling collections of dye and pigment inks.  They will be sold as sets, please do not ask me to break up sets.  I am selling the following sets (includes shipping to the US, international shipping is dependent on where it is being shipped):
$42 Ranger Dye Ink (12 pads)– Lemon twist, Electric lime, Lily pad, Caribbean coast, Blue ribbon, Wild orchid, Java bean, Black tie, Cheese puff, Pink gumball, Classic cherry, Grape soda
$108 Memento Luxe Pigment Ink (24 pads)– Morocco, Pear tart, Olive grove, Bahama blue, Teal zeal, Northern pine, Tuxedo black, Wedding dress, Nautical blue, Danube blue, Love letter, Angel pink, Rose bud, Gray flannel, Rich cocoa, Rhubarb stalk, Peanut brittle, Sweet plum, Elderberry, Espresso truffle, Lilac posies, Dandelion, Toffee crunch, Pistachio
$68 Avery Elle Pigment Ink (15 pads)– Fizz, Mimosa, Pixie, Sugar plum, Aquamarine, Sea glass, Pure white, Sapphire, Fog, Orchid, Raspberry, Cherry, Lemon grass, Celery, Mint to be
$36 Brilliance Pearlescent Ink (6 pads)– Lime, Coral, Red gold, Jade, Purple, Poppy
$63 Studio Calico Dye Ink (18 pads)– Blush crush, Flamingo, Well red, Coral bay, Orange county, Sunny day, Going green, Mint hint, Emerald city, Lime light, Yes peas, Glass slipper, Something blue, Deja blue, Purple rain, Doc brown, Clean slate, Inky black
$20 The Ton Ink (4 pads)– Rose quartz, Soft garnet, Cosmopolitan pink, Red sangria
$25 Catherine Pooler Designs Dye Ink (5 pads)– Fiesta blue, Midnight, Rockin' red, Grass skirt, Orange twist
$6 Gina K Mini Dye Ink Cubes (4 cubes)– Jellybean green, Passionate pink, Wild lilac, Turquoise sea
If you're interested in a box or ink or have any questions, please leave a comment here or send me an email at JessicaAFrost@gmail.com.  Let me know what country you're from and what you would like.  I will send an invoice via Paypal and it must be paid within 24 hours or I will move to the next person in line.  I am also advertising them on Instagram and will check time stamps to make sure that everything is fair.  Thanks for your interest!
*NOTE FOR DESIGN TEAM STAMPS:  The stamps that I am selling are ones that I purchased/won, not stamps that were provided to me as a design team member for any company – any provided stamps are just added into the boxes as a bonus, since I'm not using them and would like them to have loving homes. 😉 (Many thanks to Clare for allowing me to use the wording from her destash sale posts!)