Good morning!  If you follow me on instagram you've seen my recent alcohol ink experiments but I thought I'd share them here along with a list of my favorite alcohol ink art supplies in case you'd like to give them a try!  I also have two quick time-lapse videos that you can watch below or at my YouTube channel!
In the first video I use copic refills with copic blending solution, an air puffer, and a synthetic paintbrush.  My basic technique is to apply blending solution to the yupo paper first, then a few dots of copic refills, and move it around with the air puffer.
The second video uses a technique that's a little newer to me.  I add copic refills and pinata brass ink to a cheap palette and then use pipettes to apply color to the yupo.  I start with a drop of paper, then add a little metallic ink, and then surround the ink with isopropyl alcohol (91%).  Then I use the air puffer to move the ink around same as before.  I really love the pinata metallic inks because they really add gorgeous slivers of metallic sparkle to your art!  And I'm so excited because Simon Says Stamp is now carrying all the Jacquard Pinata metallics!  The brass is my favorite and is currently sold out but should be back soon!
Here's a few of the pieces I created using a combination of ranger alcohol inks, pinata metallic inks, alcohol pearls, and copic refills!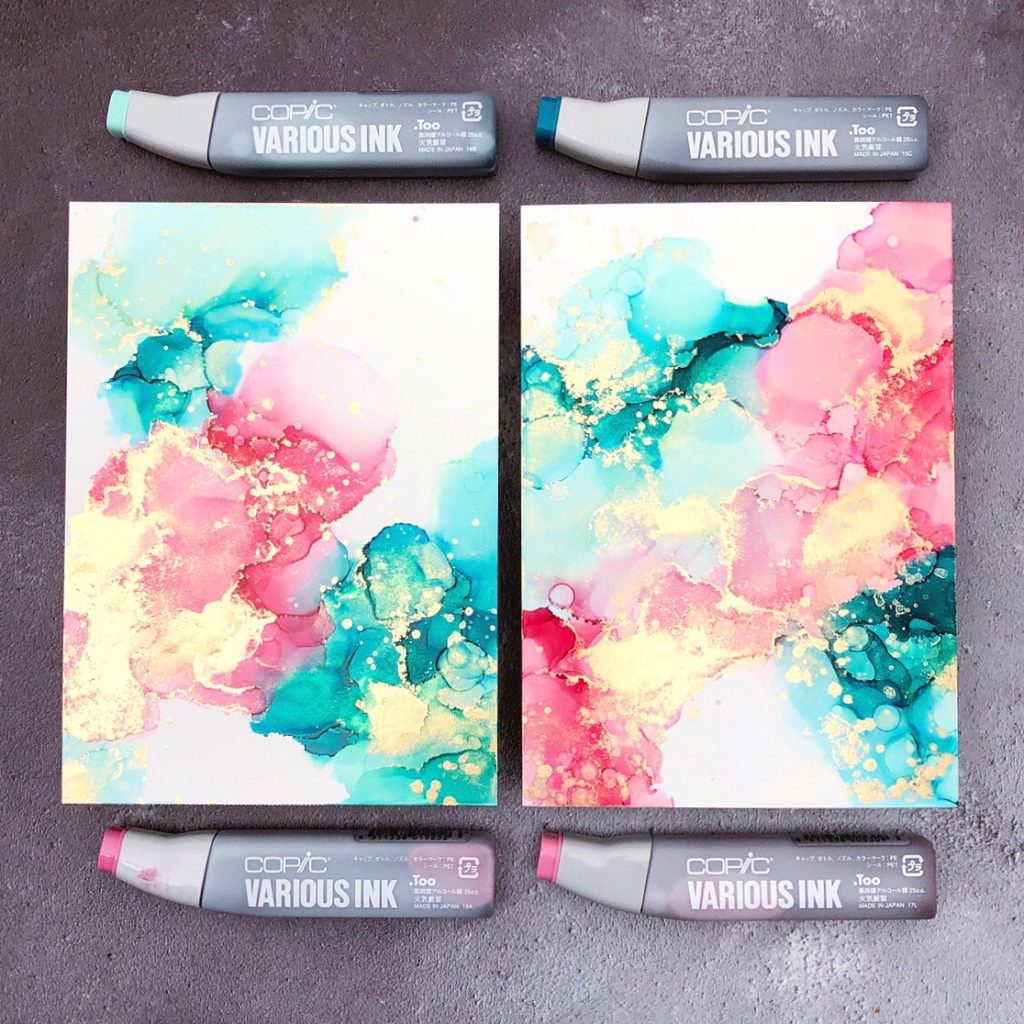 Copic refills in BG49, BG11, RV11, and R85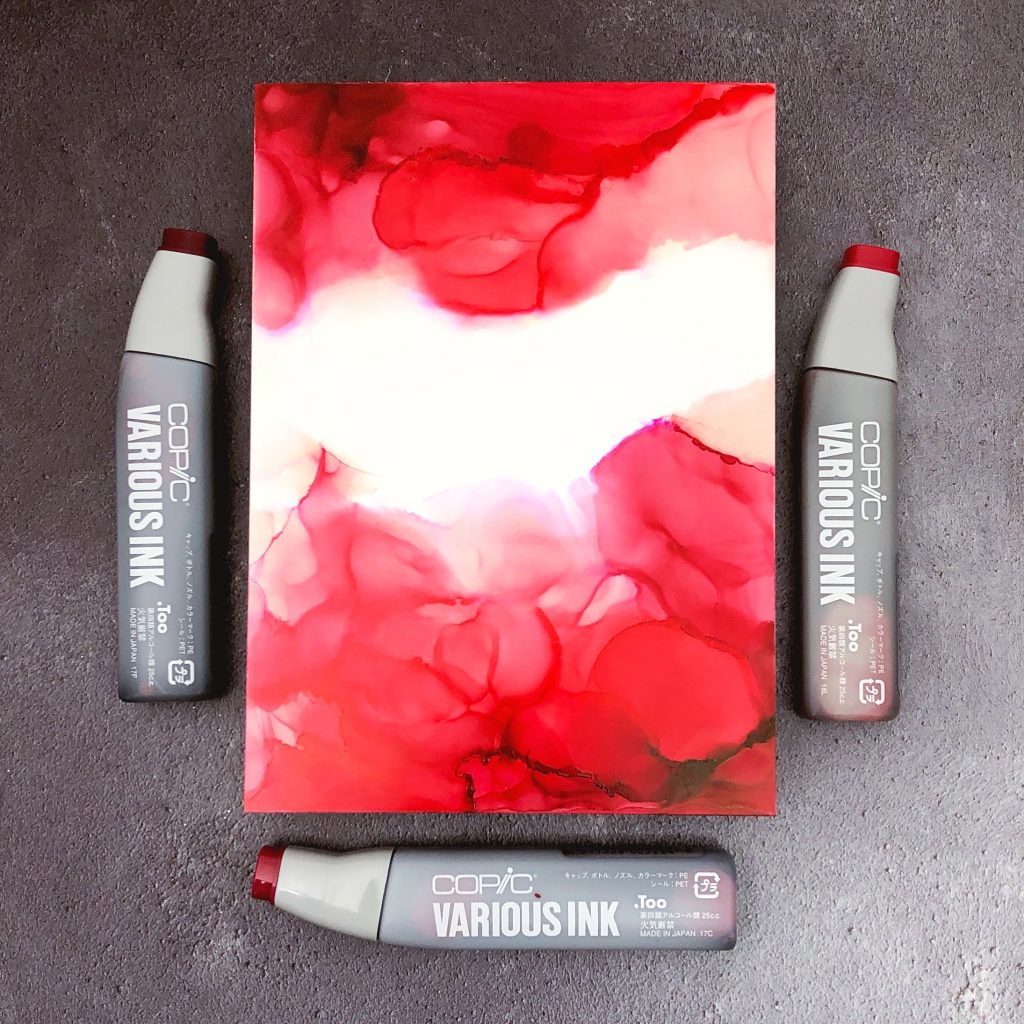 Copic refills in R35, R37, and R59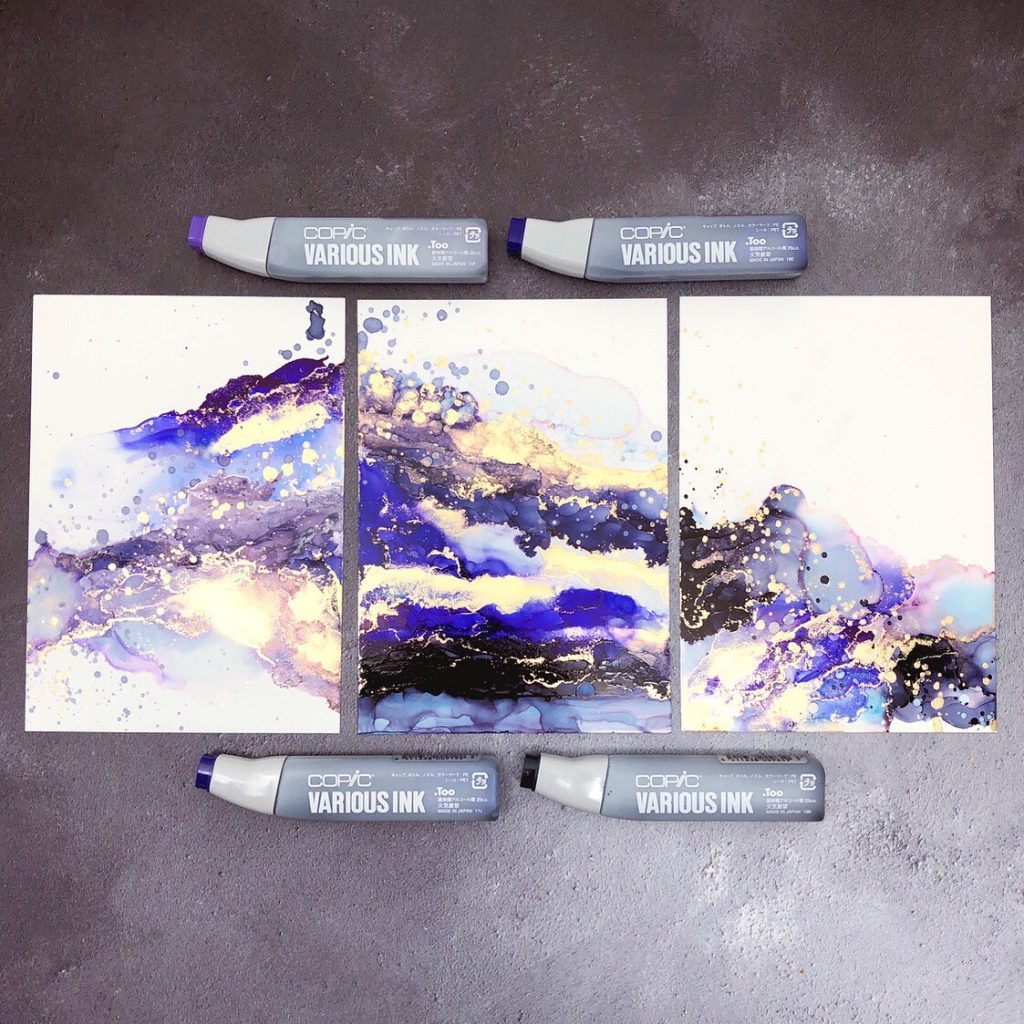 Copic refills in V95 and V99 with pinata brass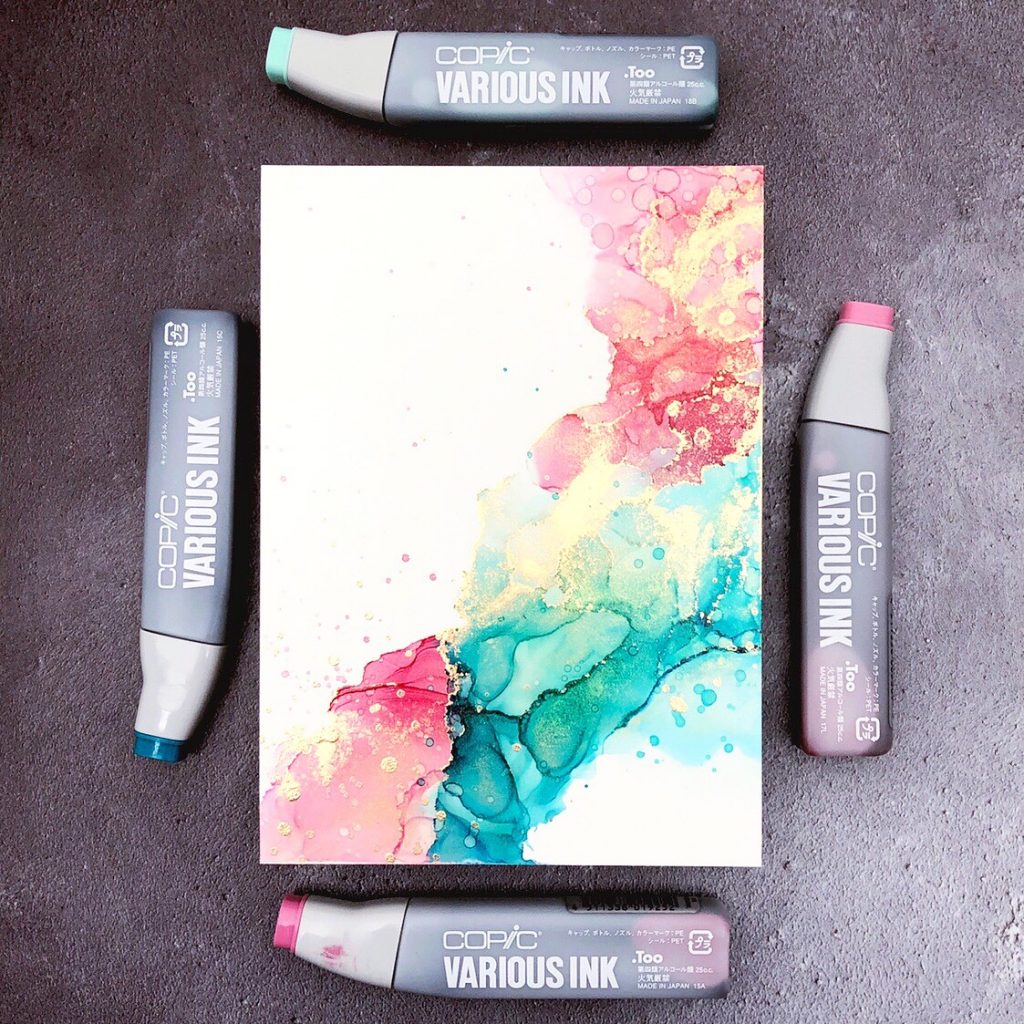 Copic refills in BG49, BG11, RV11, and R85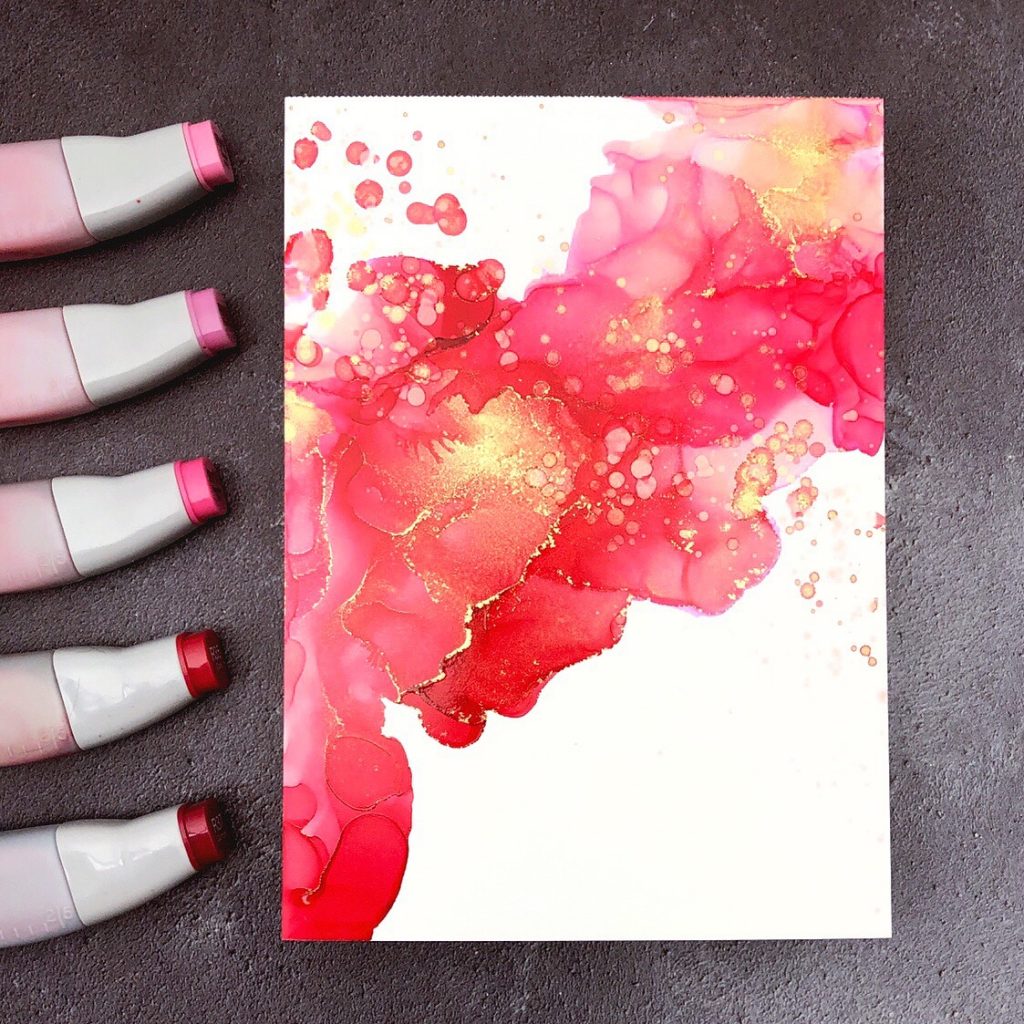 Copic refills in RV13, RV14, RV23, R35, and R37 with pinata rich gold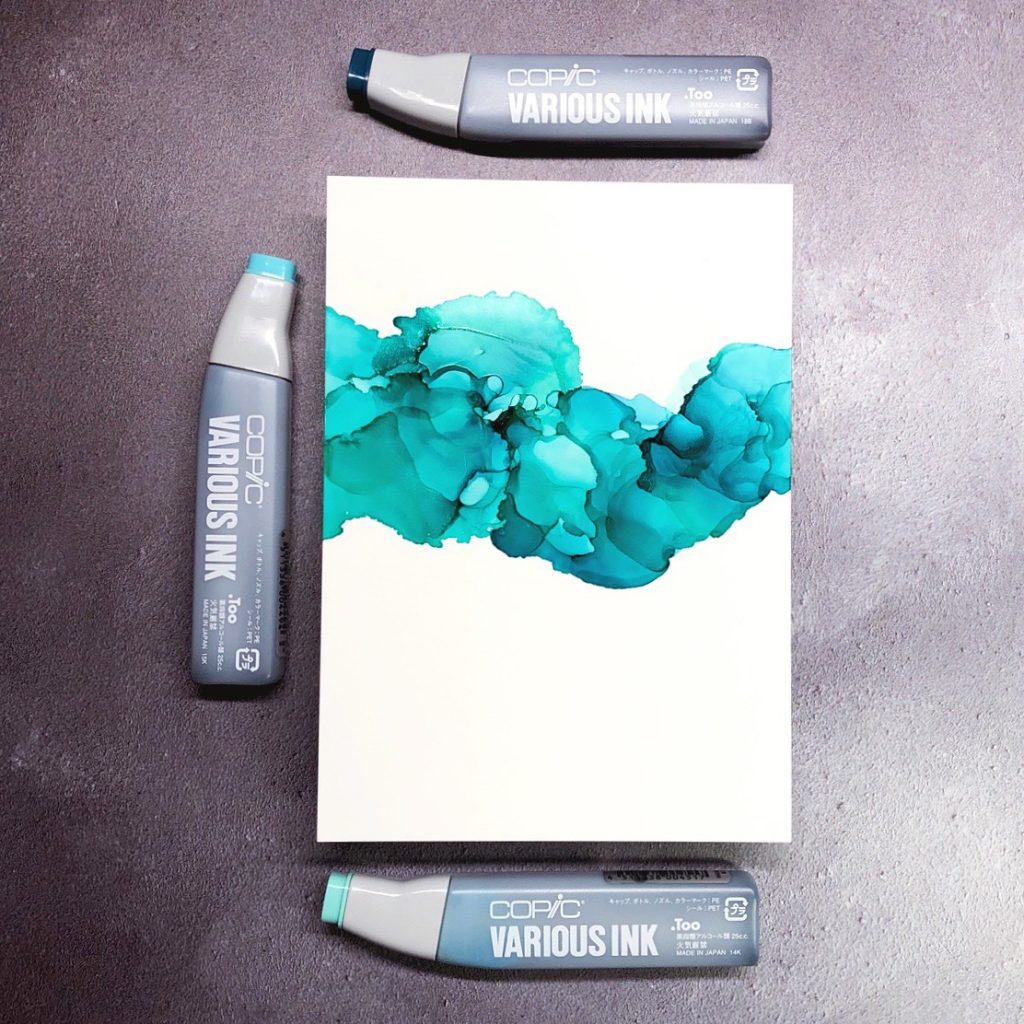 Copic refills in BV09, BV15, and BV32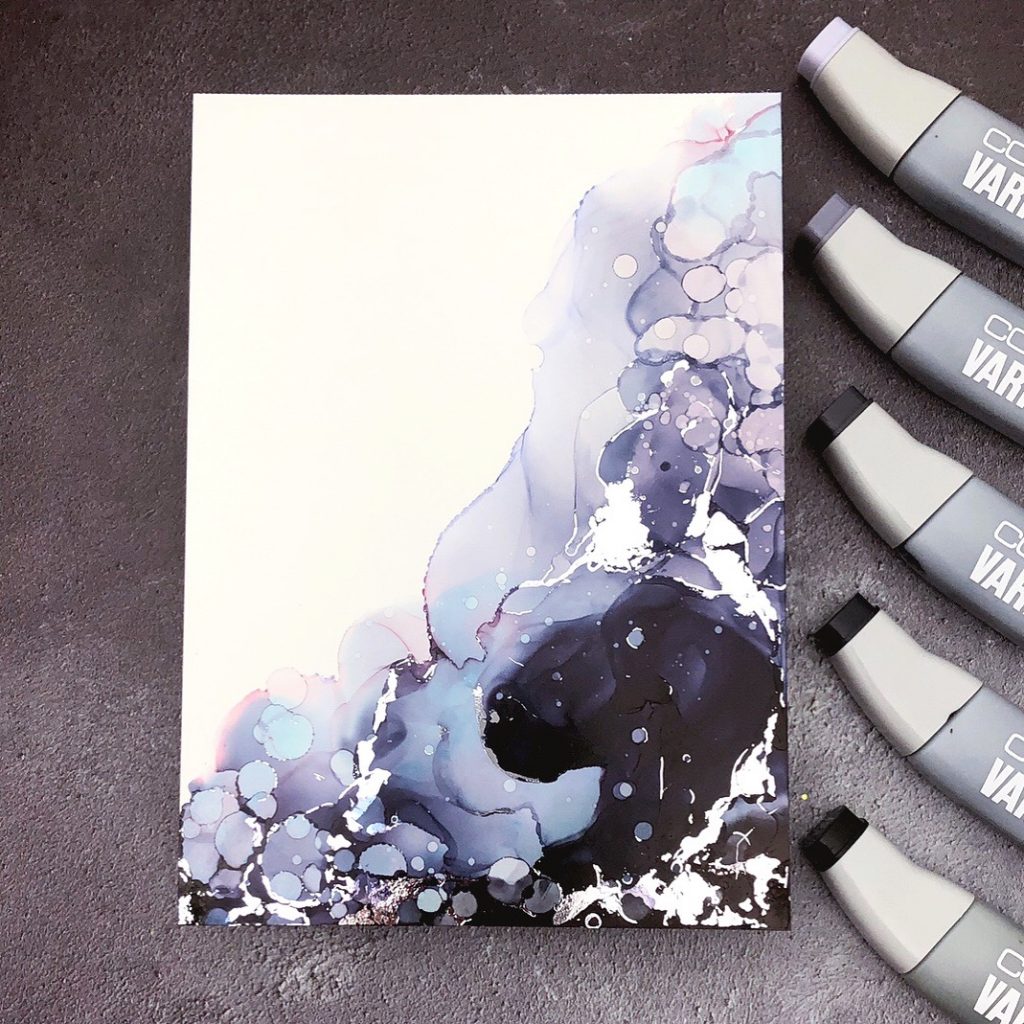 Copic refills in BV20, BV23, BV25, BV29, and 100 with silver foil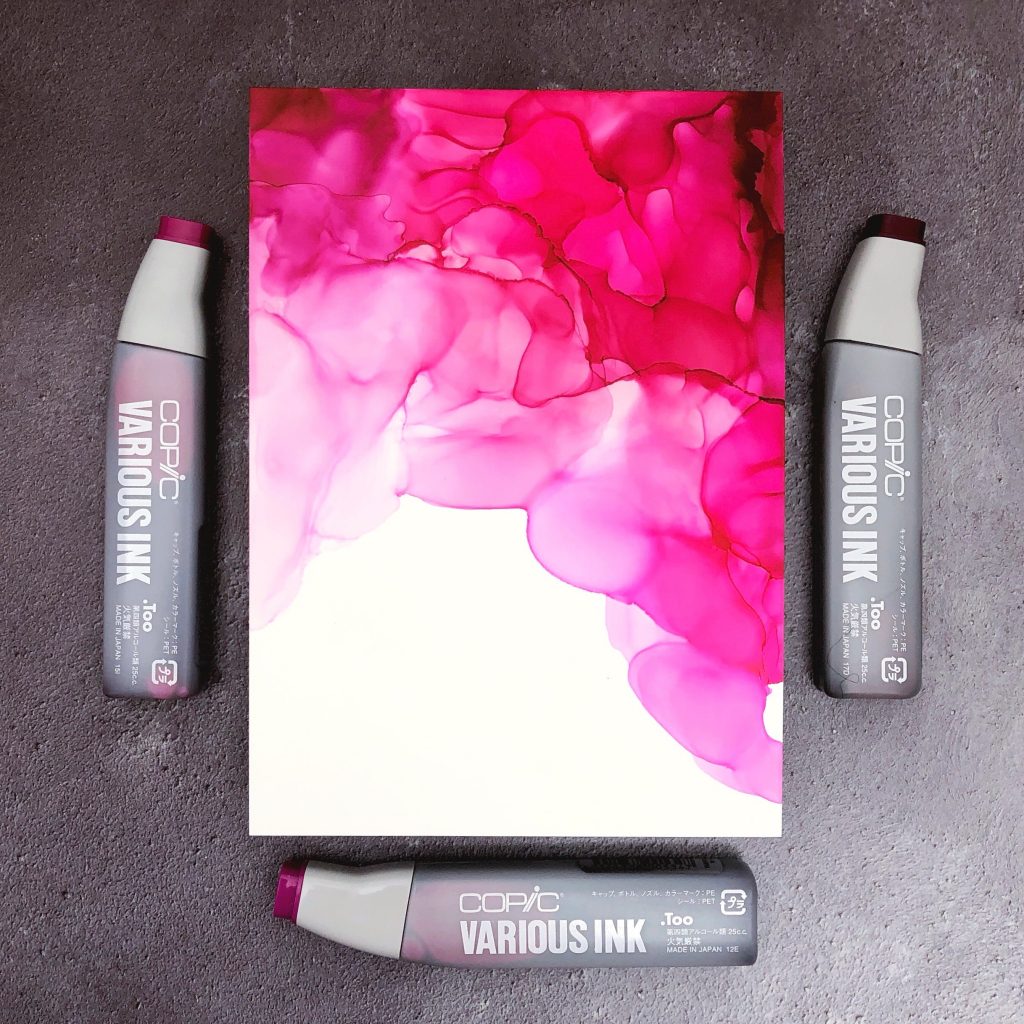 Copic refills in RV09, RV19, and RV69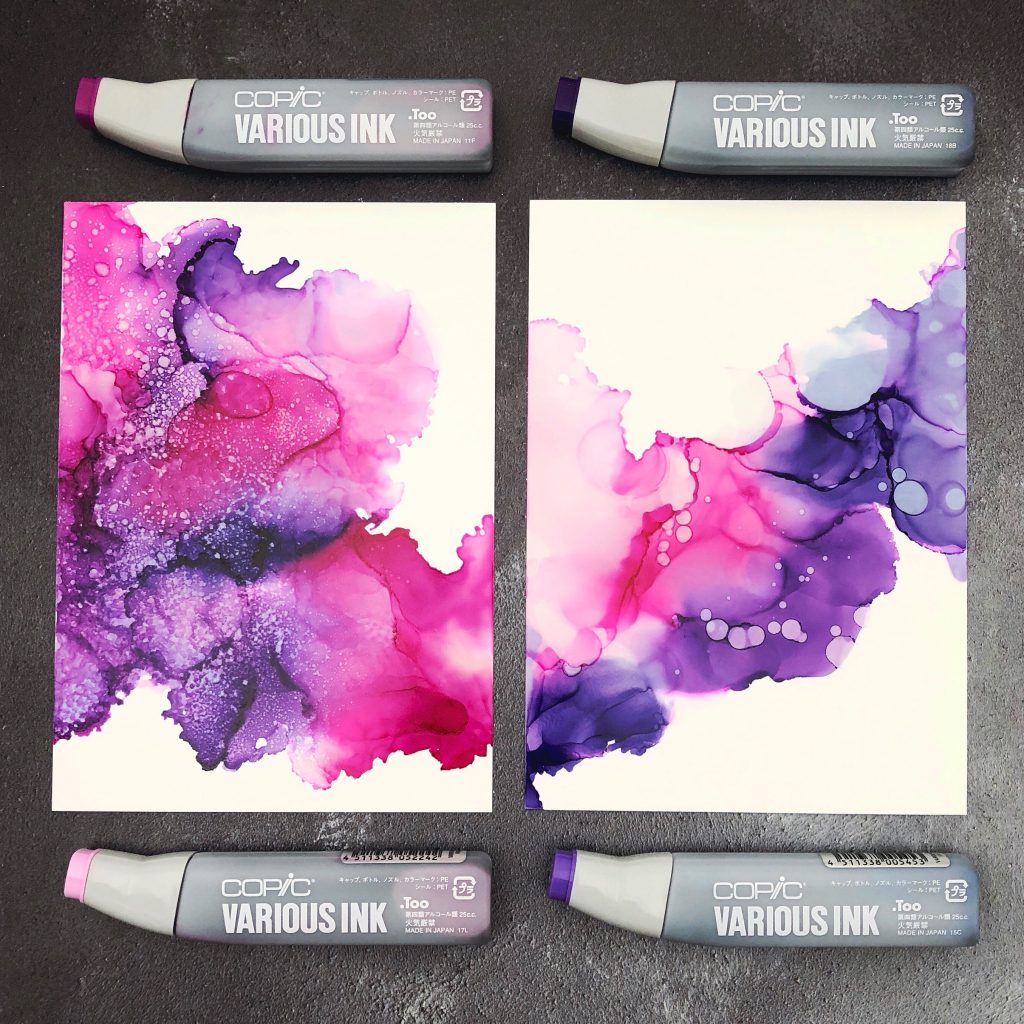 Copic refills in RV63, RV66, V17, and BV08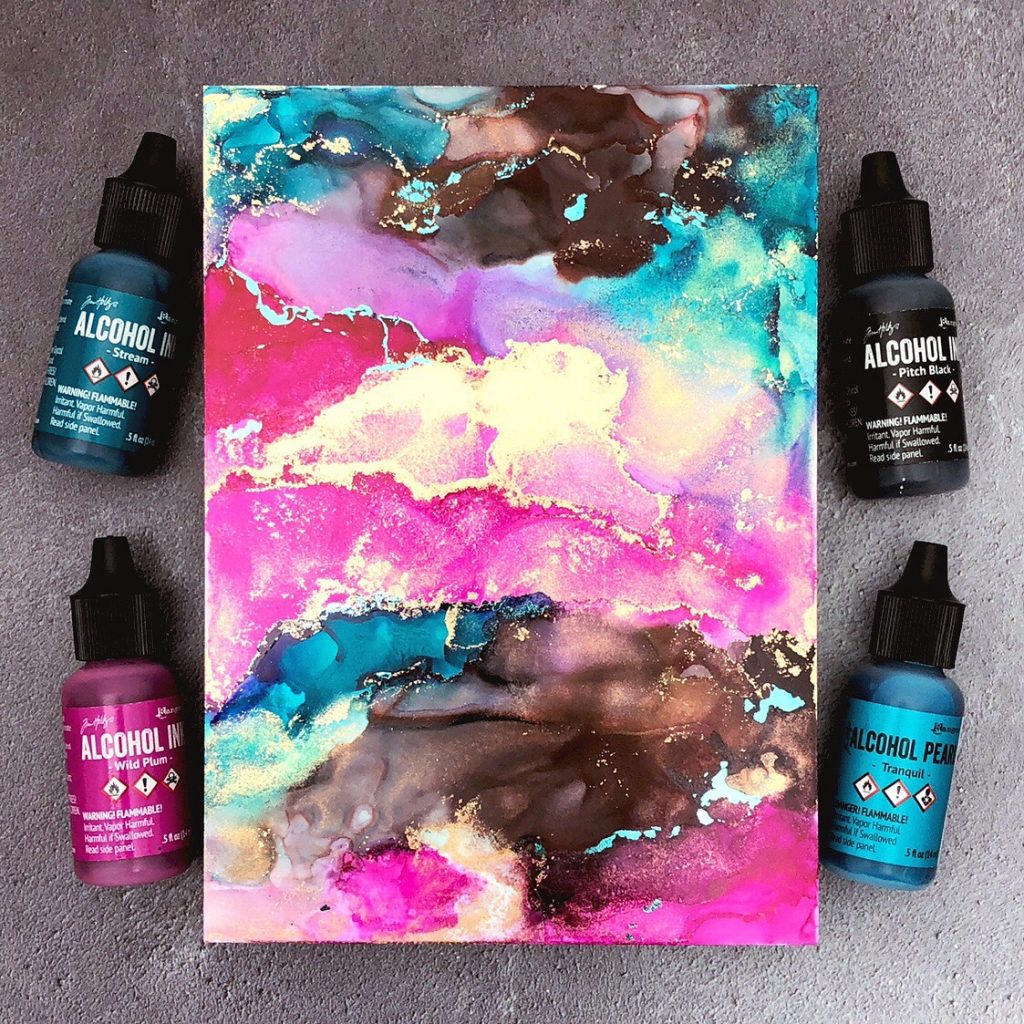 Pinata brass, copic refill in V28, ranger alcohol inks in stream, wild plum, pitch black, and alcohol pearl ink in tranquil with themoweb turquoise foil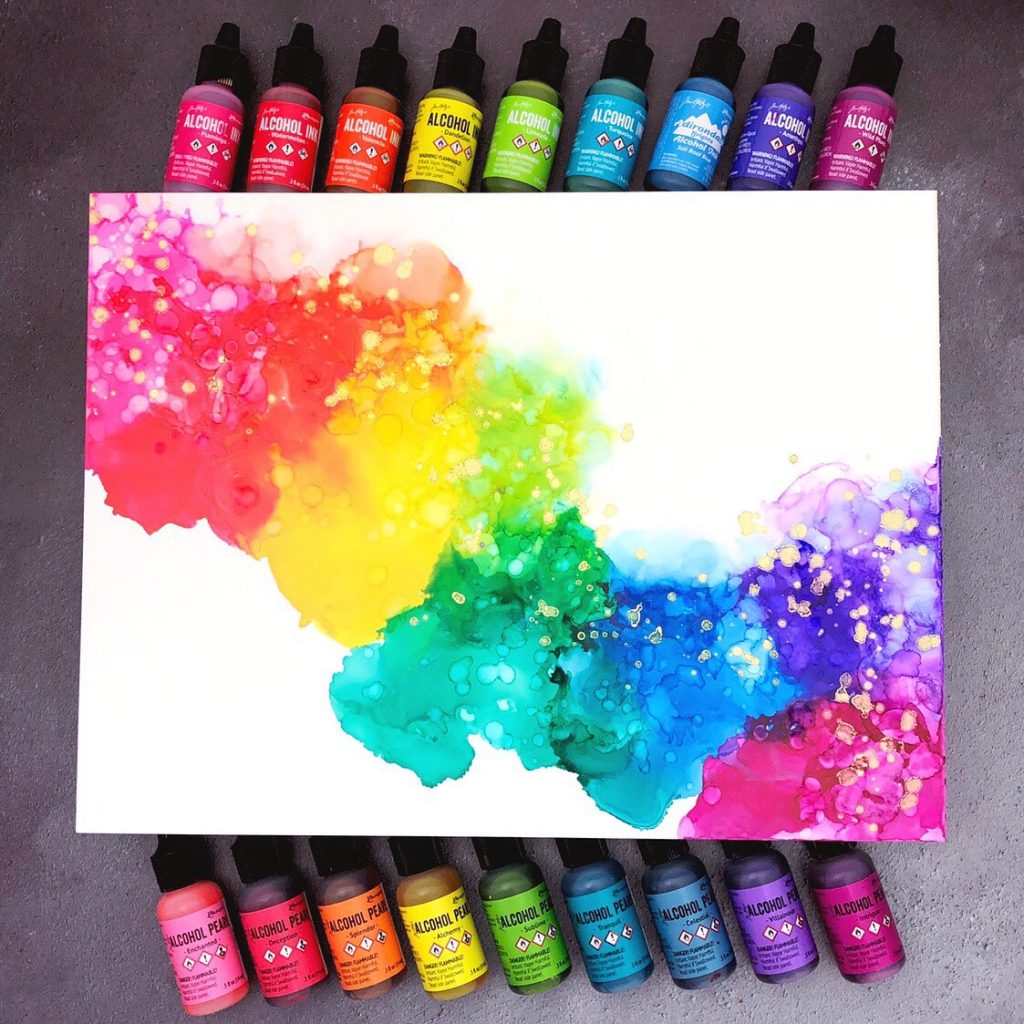 I love varying the speed and force of the puffs to get different effects or varying the amount of isopropyl alcohol or blending solution to get hard or soft edges.  You can also see the difference when you leave white space or cover the entire panel.  I love how splatter can really change the look of a panel you might not initially like! 😉 If you've never used alcohol inks I hope this inspires you to give them a try and if you have used them I hope this gives you some new ideas!  Thanks so much for stopping by and have an amazing day!!

Interested in the products I used?  To make them easy for you to find, I have listed them below. (Affiliate disclosure can be found here). Your purchases help keep my blog running and I thank you for the support!!

Ranger Inkssentials PIPETTE…

Darice 10 WELL PALETTE 97784

Tim Holtz ALCOHOL INK PALETTE Ranger…

Tim Holtz ALCOHOL INK TOOL SET Ranger…

Tim Holtz ALCOHOL INK STORAGE TIN…

Tim Holtz Alcohol Ink BLENDING PEN…

Tim Holtz Ranger MINI ALCOHOL…

Copic Colorless BLENDER SOLUTION…

RESERVE Tim Holtz ALCOHOL PEARLS INK…

Ranger SET OF 66 ALCOHOL INKS…

Copic Refills at Simon Says Stamp

Jacquard BRASS Pinata Color Alcohol…

Jacquard COPPER Pinata Color Alcohol…

Jacquard PEARL Pinata Color Alcohol…

Jacquard SILVER Pinata Color Alcohol…

Jacquard RICH GOLD Pinata Color…

Tim Holtz Alcohol Pearls KIT 1 Ranger…

Tim Holtz Alcohol Pearls KIT 2 Ranger…

Tim Holtz Alcohol Pearls KIT 3 Ranger…

Tim Holtz Alcohol Pearls KIT 4 Ranger…

Tim Holtz Alcohol Pearls Ink…

Tim Holtz Alcohol Pearls Ink…

Tim Holtz Alcohol Pearls Ink SPLENDOR…

Tim Holtz Alcohol Pearls Ink ALCHEMY…

Tim Holtz Alcohol Pearls Ink SUBLIME…

Tim Holtz Alcohol Pearls Ink ENVY…

Tim Holtz Alcohol Pearls Ink TRANQUIL…

Tim Holtz Alcohol Pearls Ink…

Tim Holtz Alcohol Pearls Ink INTRIGUE…

Tim Holtz Alcohol Pearls Ink…

Tim Holtz Alcohol Pearls Ink SMOLDER…

Tim Holtz Alcohol Pearls Ink MINERAL…

Simon Says Stamp WHITE ALCOHOL INK…

Tim Holtz ALCOHOL INK CARDSTOCK…

Tim Holtz ALCOHOL INK CARDSTOCK Matte…

Tim Holtz ALCOHOL INK CARDSTOCK…

Tim Holtz 5 X 7 WHITE ALCOHOL INK…

Tim Holtz 8 X 10 WHITE ALCOHOL INK…

Tim Holtz ALCOHOL INK 6 x 12 FOIL…

Tim Holtz ALCOHOL INK 4.25 x 5.5 FOIL…

Tim Holtz WHITE ALCOHOL INK YUPO…

Tim Holtz TRANSLUCENT ALCOHOL INK…

Tim Holtz Alcohol Ink MINI APPLICATOR…

Tim Holtz ALCOHOL INK CARDSTOCK…

Tim Holtz Alcohol Ink CORAL Ranger…

Yupo TRANSLUCENT 104lb MIXED MEDIA…

Yupo TRANSLUCENT 104lb MIXED MEDIA…

Yupo WHITE MIXED MEDIA 9×12 144lb…

Yupo WHITE MIXED MEDIA 5×7 144lb…

Yupo WHITE MIXED MEDIA 9×12 74lb…

Yupo WHITE MIXED MEDIA 5×7 74lb Paper…

Tim Holtz Alcohol Ink Set BEACH DECO…

Tim Holtz Alcohol Ink Set MARINER…

Tim Holtz Alcohol Ink DANDELION…

Tim Holtz Alcohol Ink TURQUOISE…

Tim Holtz Alcohol Ink AMETHYST Ranger…

Tim Holtz Alcohol Ink PATINA Ranger…

Tim Holtz Alcohol Ink FLAMINGO Ranger…

Tim Holtz Alcohol Ink MERMAID Ranger…

Tim Holtz Alcohol Ink INDIGO Ranger…

Tim Holtz Alcohol Ink WATERMELON…

Tim Holtz Alcohol Ink STREAM Ranger…

Therm O Web RAINBOW SHATTERED Deco…

Therm O Web ROSE QUARTZ Deco Foil…

Heidi Swapp PINK RAINBOW MINC…

Heidi Swapp RAINBOW MINC Reactive…

Therm O Web GOLD 25 FOOT ROLL Deco…

Therm O Web ROSE GOLD 25 FOOT Deco…