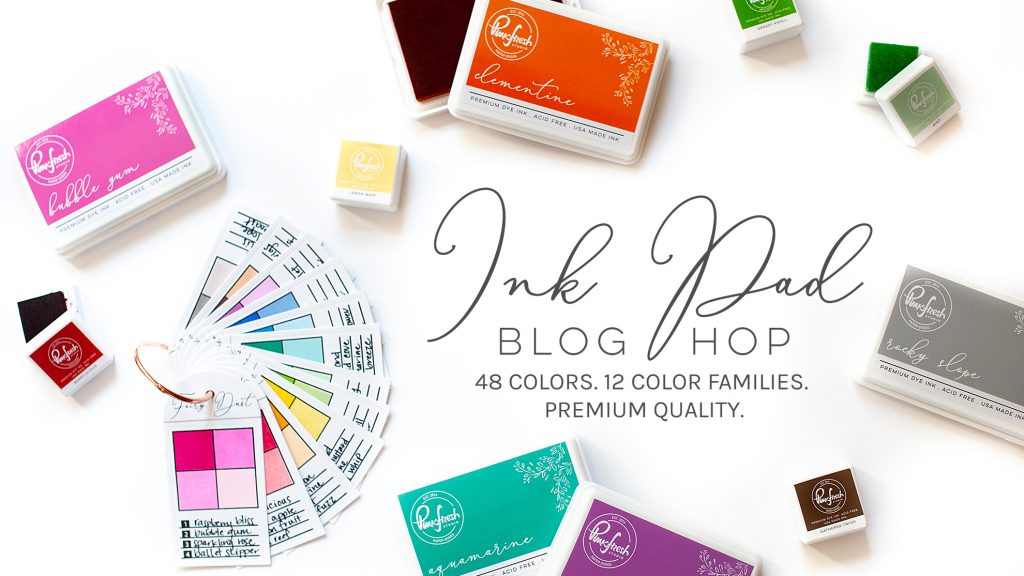 Good morning!  I am so excited to be a stop on the hop for the Pinkfresh Studio Ink Pad Release!  If you follow me on social media you already know that I'm a bit of an ink hoarder but these inks are truly incredible!  The colors are gorgeous, and quite different in shade from most of the ink pads I own.  They're been curated into sets of four that work together beautifully for layering stamps or just if you want to stay within the same color family.  They're dye inks and, as you'll see below, they blend beautifully and react with water just a little bit which is always a fun perk!  Mini cubes and full-sized pads are available and you can purchase the inks as mini ink cube sets or individual full-sized pads!  All sets and pads are linked below! 🙂
To start off I've swatched all 48 Pinkfresh Studio inks onto 2-inch squares that fit perfectly in my swatch binder. You can click on any photo for a closer look at the colors.
Here are the swatch charts I created: Pinkfresh Studio Ink Labels 1, Pinkfresh Studio Ink Labels 2, Pinkfresh Studio Ink Labels 3. (You may need to click on them twice to bring up the PDFs).
I print them on 80lb cardstock, trim 1/2″ off the top and bottom, and 1/4″ inch off the sides.  Then I simply trim them down to 2-inch squares.  They fit perfectly into the Simple Stories Insta Pocket Pages for a 6×8 binder!  Here are all the new inks releasing today!

| | | |
| --- | --- | --- |
| Fairy Dust Mini Ink Cube Set | Ballet Slipper | Sparkling Rose |
| Bubble Gum | Raspberry Bliss | Heartbeat Mini Ink Cube Set |
| Coral Reef | Passion Fruit | Berrylicious |
| Candy Apple | Indian Summer Mini Ink Cube Set | Peach Fuzz |
| Apricot | Clementine | Persimmon |
| Rise and Shine Mini Ink Cube Set | Lemon Whip | Sunshine |
| Sweet Mustard | Marigold | Over the Hills Mini Ink Cube Set |
| Fresh Pear | Grassy Knoll | Key Lime |
| Olive | Garden Stroll Mini Ink Cube Set | Mint |
| Meadow | Emerald City | Evergreen |
| Island Oasis Mini Ink Cube Set | Ocean Breeze | Aquamarine |
| Mermaid Cove | Tidal Pond | Morning Sky Mini Ink Cube Set |
| Sky Blue | Summer Shower | Seaside |
| Storm | Starry Night Mini Ink Cube Set | Slumber |
| Blue Jay | Sapphire | Stargazer |
| Soul of Provence Mini Ink Cube Set | Soft Lilac | Lavender |
| Candy Violet | Regal Kiss | Wild Truffles Mini Ink Cube Set |
| Warm Buff | Doe | Gathered Twigs |
| Espresso | Urban Raincoat Mini Ink Cube Set | Misty Coast |
| Rocky Slope | Metropolis | Licorice |

And here's what I created using Coral Reef, Passion Fruit, and Raspberry Bliss ink (and yes I did mix and match my color families!) 😉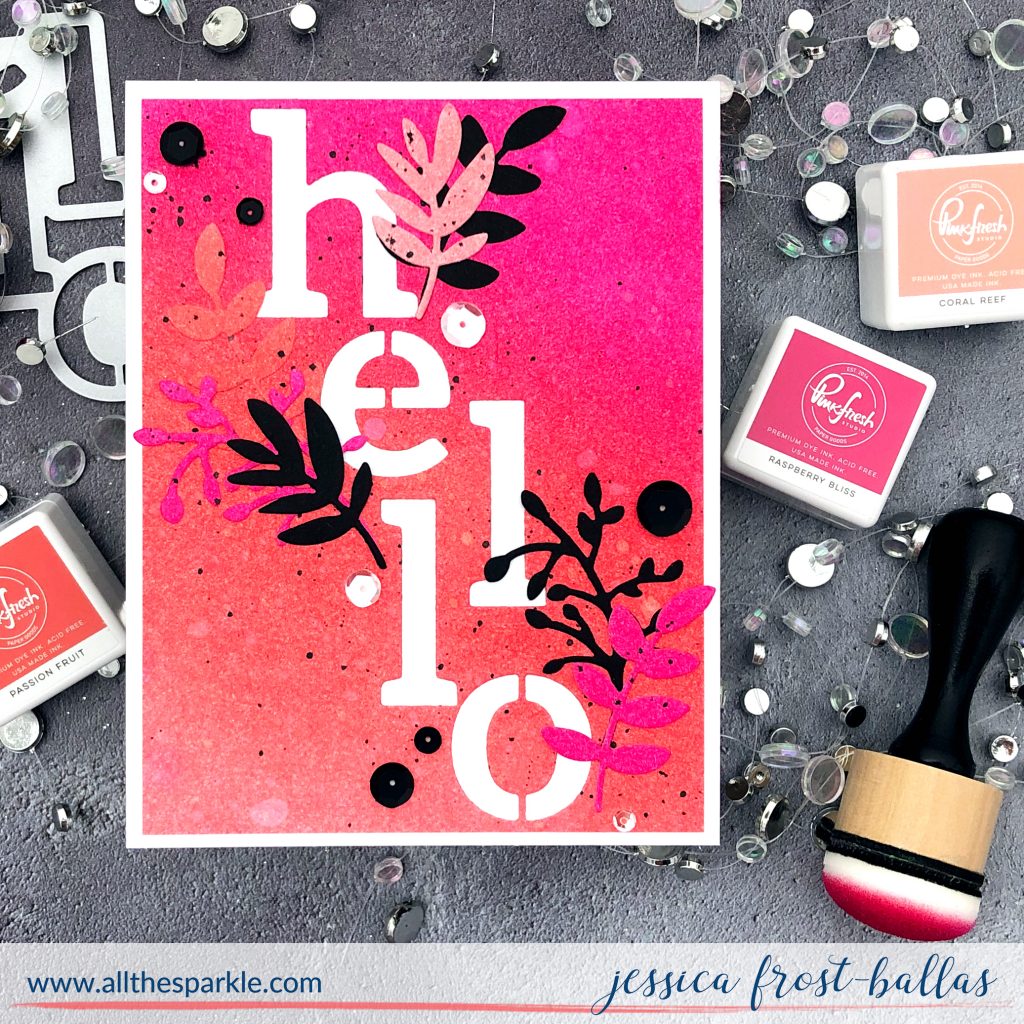 After completing my swatches I knew the inks stamped beautifully so I wanted to test them out in other ways.  I love ink blending and I wanted to see how these dye inks would blend with each other, especially if I mixed color families!  So I started by blending Coral Reef, Passion Fruit, and Raspberry Bliss inks onto a panel of strathmore bristol cardstock.  I've recently started converting my ink blending foams over to these domed pads because they're simply amazing!  They give you such a smooth blend with no harsh lines whatsoever!  They fit on a regular Tim Holtz blending tool so you don't have to get new tools if you already have those.  Since dye inks don't always blend as smoothly as oxides or pigment inks I decided to use these foams to make sure I wouldn't have any harsh lines as the colors met.  As it was I didn't need to worry about that because the ink pads were nice and juicy and the colors blended so nicely!  And if you're interested in trying these new foams they're currently on sale! 😉
After I finished blending I splattered the panel with water and was pleasantly surprised to discover that they're a little water reactive and you can see some soft ink lifting on the panel.  I also sprayed it with shimmer spray and splattered it with black paint.  Once the panel was totally dry I die-cut it with the Hello with Botanicals die.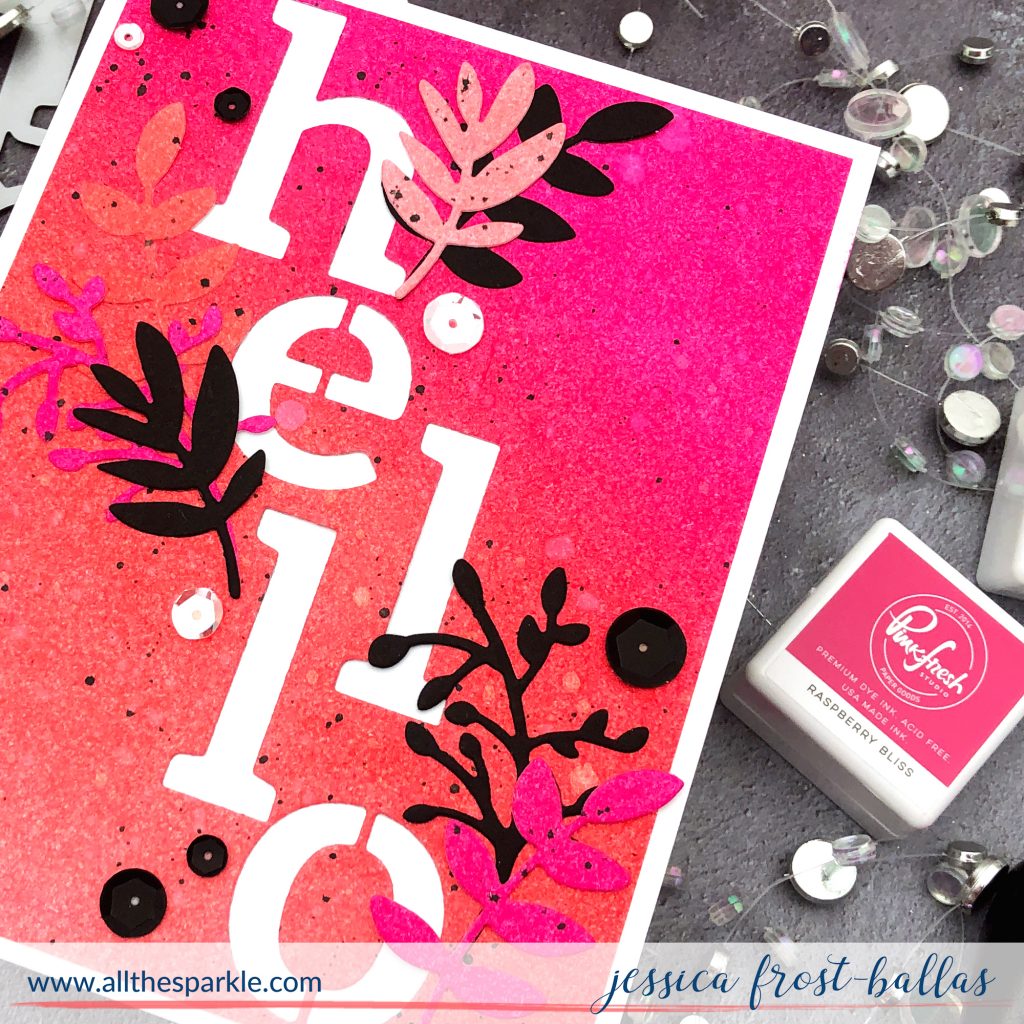 I also blended a few scraps of paper with the same three inks and die-cut the sprigs from Hello with Botanicals using my blended panels and black cardstock.  I trimmed my blended panel down to 4″ by 5.25″ and adhered it to a white card base.  Then I layered and adhered my accent sprigs.  Finally I added a few black and sparkling clear sequins to finish my card!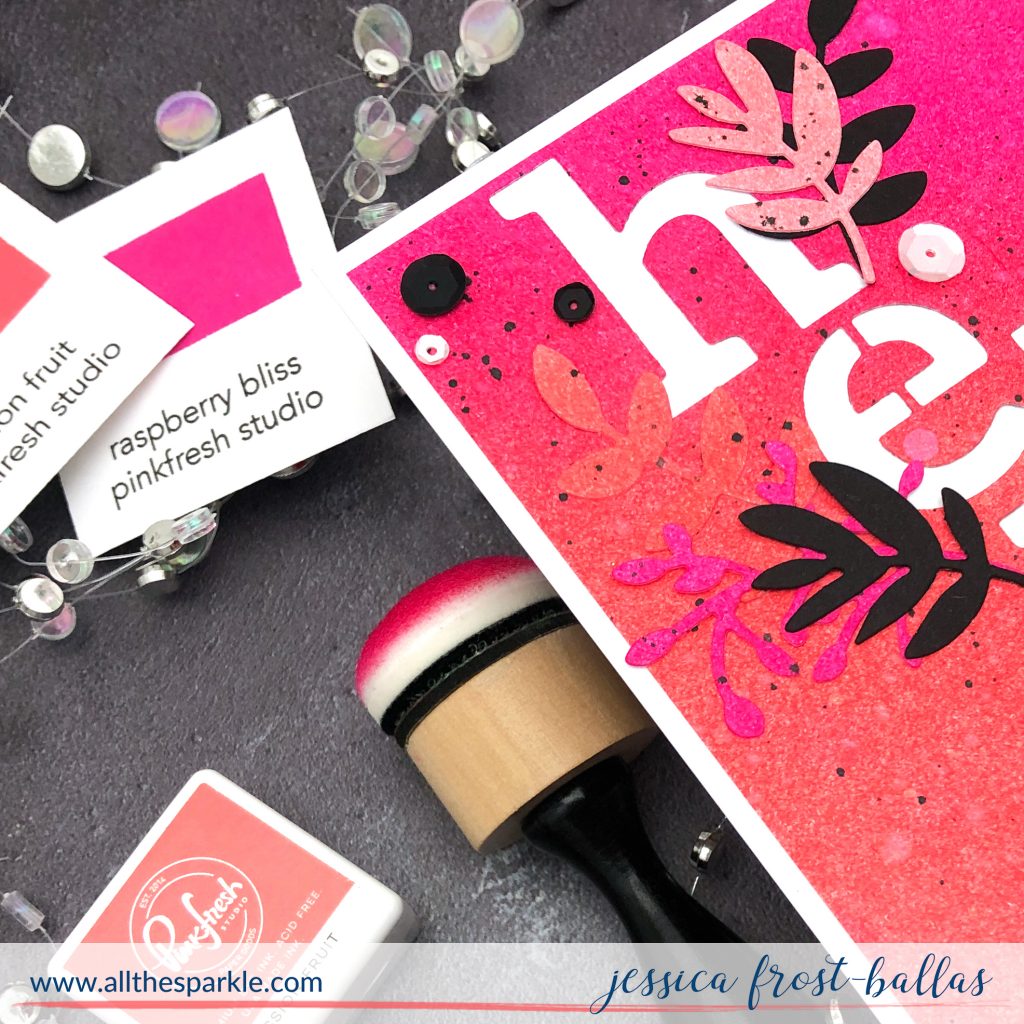 If you're interesting in trying the new inks, there's no better time than right now!  All Pinkfresh Studio orders over $100+ will receive free shipping within the United States without a code.  The discount will be applied automatically!

To celebrate the ink pad release, Pinkfresh Studio is giving away the full sized ink pad release over on the Pinkfresh blog, and the full mini cube release on the Pinkfresh Studio Instagram feed!!
Each hop stop is also giving away a $25 gift card!  Leave a comment letting me know your favorite color for your chance to win!  Winners will be chosen randomly from the comments and posted on the Pinkfresh Studio Giveaway page on Monday, October 21st.  You must check that page and claim your prize within two weeks.
Remember, every hop stop is giving away a gift card so hop along with us and be inspired!
If you've gotten all the way to the end of my super long post, thanks so much for visiting and enjoy the hop!  If this is your first time at my blog I hope you'll consider subscribing via the sidebar on the right or visiting me on Youtube or Instagram!  Have a fabulous crafty week, friends! 🙂

Interested in the products I used?  To make them easy for you to find, I have listed them below. (Affiliate disclosure can be found here). Your purchases through my links help keep my blog running with no additional cost to you and I thank you so much for the support!!

Coral Reef

Passion Fruit

Raspberry Bliss

Heartbeat

Fairy Dust

Hello & Flowers Die Set | Die Cut Set…

Simple Stories SNAP Studio Insta…

Amazon.com: Simple Stories Snatp!…

Simple Stories Teal 6 x 8 Faux…

Amazon.com: Simple Stories Faux…

Ink Blending Tool Replacement Domed…

Ink Blending Tool Replacement Domed…

Ink Blending Tool Replacement Domed…

Ink Blending Tool with Domed Foam…

Ink Blending Tools with Domed Foam…

Ink Blending Tool with Extra Domed…

Ink Blending Tool with 2 Packs of…

Ink Blending Tools with 6 Packs of…

Strathmore Bristol Smooth Paper Pad,…

Altenew – Watercolor – Brush Marker…

Avery Elle – Clear Shimmer Spray

Studio Katia JET BLACK Fusion Sequins…

Sparkling Clear Mix (4mm, 6mm, 8mm…

Tonic LIGHT MIST SPRAY BOTTLE Nuvo 2…

Ranger 2 oz MISTER BOTTLE MIS30676 at…

Connect Glue – Gina K Designs

3M Scotch PINK ATG ADVANCED TAPE…

Rotatrim RC RCM12 12-Inch Cut…

Crafter's Companion GEMINI JUNIOR…