This week the CASology Challenge cue is Tropical and after this long, cold winter I really wanted to play along!  I looked through my stamps and I didn't really have anything that would fit the theme…which meant improvisation time!  Ha.
To me, tropical ALWAYS means the beach so I created a little textured beach scene with a hopeful sentiment! 😉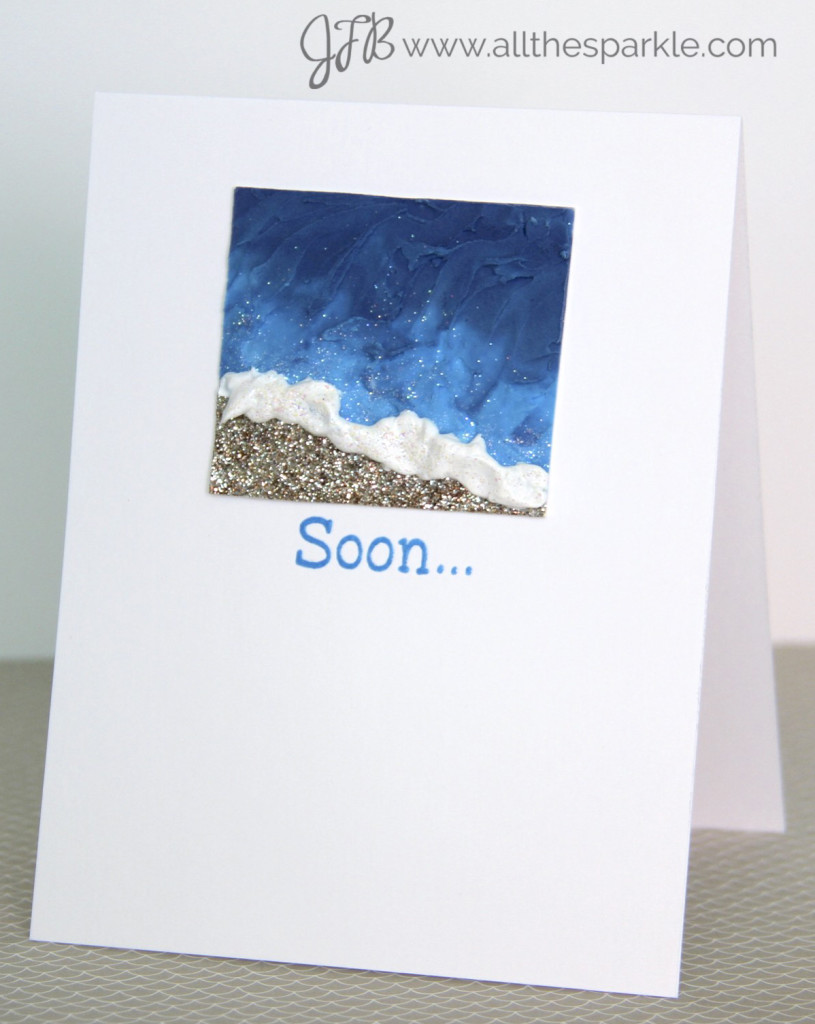 I started off by taping a top-folding card to my craft sheet.  I used post-it tape to mask off a rectangle on the top third of the card.  Then I smushed a little Chipped Sapphire and Salty Ocean distress ink onto the craft sheet and mixed a little texture paste into each individual color.  Working quickly, I used a palette knife to add the Salty Ocean distress paste to the rectangle leaving room at the bottom for the "sand."  I deliberately put it on a little thick and made sure that it wasn't too smooth.  I added the Chipped Sapphire paste working from the top of the rectangle down so that I didn't overly blend the colors.  I also made sure to clean my palette knife frequently so that I wasn't getting any unwanted mixing.  I used the knife to put some sharp edges in the waves and and dragged a little of the darker color up to the shoreline to give it more shadows and texture.  Finally I sprinkled a little rock candy stickles onto the texture paste for a little sparkle.
Next I took a piece of double-sided tape and cut it to fit against the water.  It didn't have to be perfect because I planned to cover it with the puffy paint.  I sprinkled gold and brown glitter on the tape and burnished it so that it wouldn't go anywhere.  I peeled off the backing and wedged it up against the texture paste.  Then I removed the post-it tape while the paste was still a little wet so it wouldn't harden and break.  After the paste was dried I squeezed on some white puffy fabric paint and varied the thickness and depth of the paint.  I sprinkled a little more rock candy stickles on the paint.  I let it air dry for 5 minutes and then I blasted it with the heat gun briefly.  The heat helped to puff the paint and create the swash (and yes, I looked up that technical term on Wikipedia)!
Finally, I spelled out and stamped the sentiment using letters from Lawn Fawn's Smitty's ABCs.  I stamped it in Memento Luxe Bahama Blue pigment ink from and heat-embossed it with clear powder.  I'm hoping it'll fit the criteria for CAS.  It didn't actually take me that long, there's plenty of white space, and it's almost a one-layer card!
Now, I'm ready for summer! 😉 Thanks for visiting!