So a few months ago when Hero Arts released their new catalog I saw this stamp and fell head over heels for it!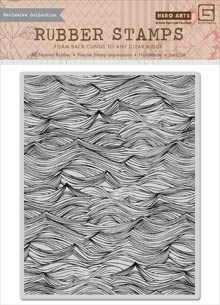 I've been eagerly waiting for it to be released; but when it finally arrived, it just sat on my craft desk because I couldn't figure out what to do with it.  I love the style of the waves but I wasn't seeing how to incorporate it into a card.  So when I was considering what stamp set to use for my second stamp study (here's the first if you're interested!) I decided that I would challenge myself to come up with different ways to use this stamp.  In the end I have five cards that I think are quite different in style: a shaker card (of course), a spinner card, a masculine card, a playful card, and a card that's not really aquatic-themed.  I also tried to use different methods for inking/using the stamp…some more successfully than others… 😉
Here we go…
Card 1: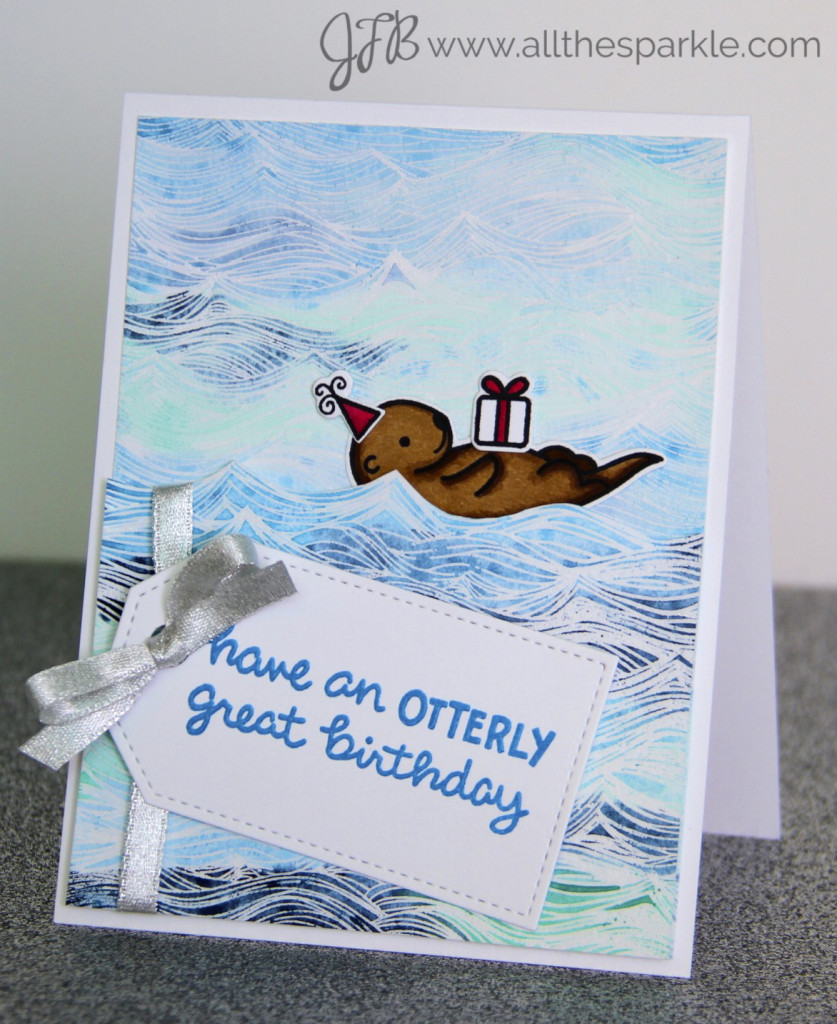 For this card I heat-embossed the waves stamp with clear embossing powder and painted it with Kuretake Gansai Tambi watercolors.  I actually painted two panels and cut one panel in half following the line of the waves and adhered it with foam mounting tape in front of the otter for a little dimension.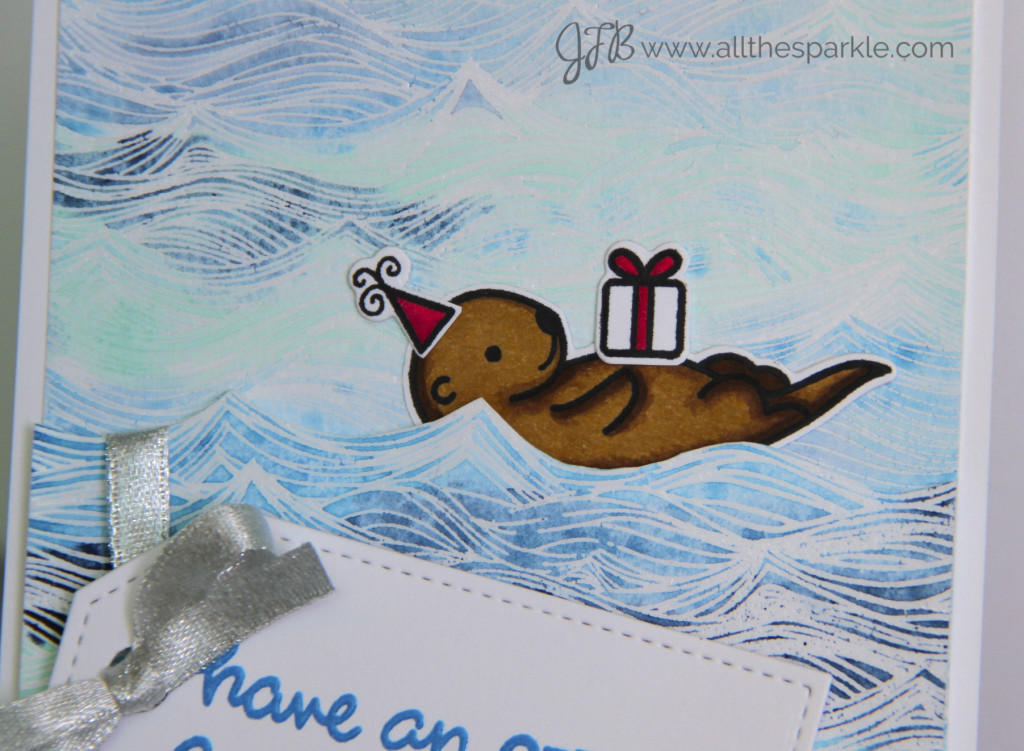 I'm using this card as today's coloring for #thedailymarker30day Coloring Challenge hosted by the amazingly talented, Kathy Racoosin!  I'm also entering this card into Virginia's View Challenge #13: Embossing!
Card 2:
I smooshed Peacock Feathers, Salty Ocean, and Faded Jeans distress inks onto a craft sheet and spritzed them with water for this card.  This card took several tries and I realized that I needed to use A LOT of distress ink in order to cover the entire stamp…even then some didn't really stamp well which is why I trimmed it down (make it work moment #1…)!  The sentiment is from Memory Box and I embellished the card with a little navy blue thread and Glass Slippers sequins from The Ton!
Card 3:
So I showed this card to several of my students…and they looked at it and said…that's an interesting-looking sun…but I had something a little different in mind! 😉
I used the dolphin from the Lawn Fawn Critters in the Sea stamp set and created a spinner card.  I wanted the dolphin to go "beneath" the waves so I adhered the waves panel with foam mounting tape so it would sit above the spinner.  I won't lie…this is quite a thick card with the spinner element and not one that I would try mailing.  I swiped different dye ink pads onto the stamp for these waves.  The sentiment is from Mama Elephant.
I created my first Flipagram to show you the dolphin spinning…hopefully it'll work here!

I'm entering this card in the Simon Says Stamp Wednesday Challenge: Things That Fly as I think that dolphin is certainly trying his hardest to fly! 😉
Card 4: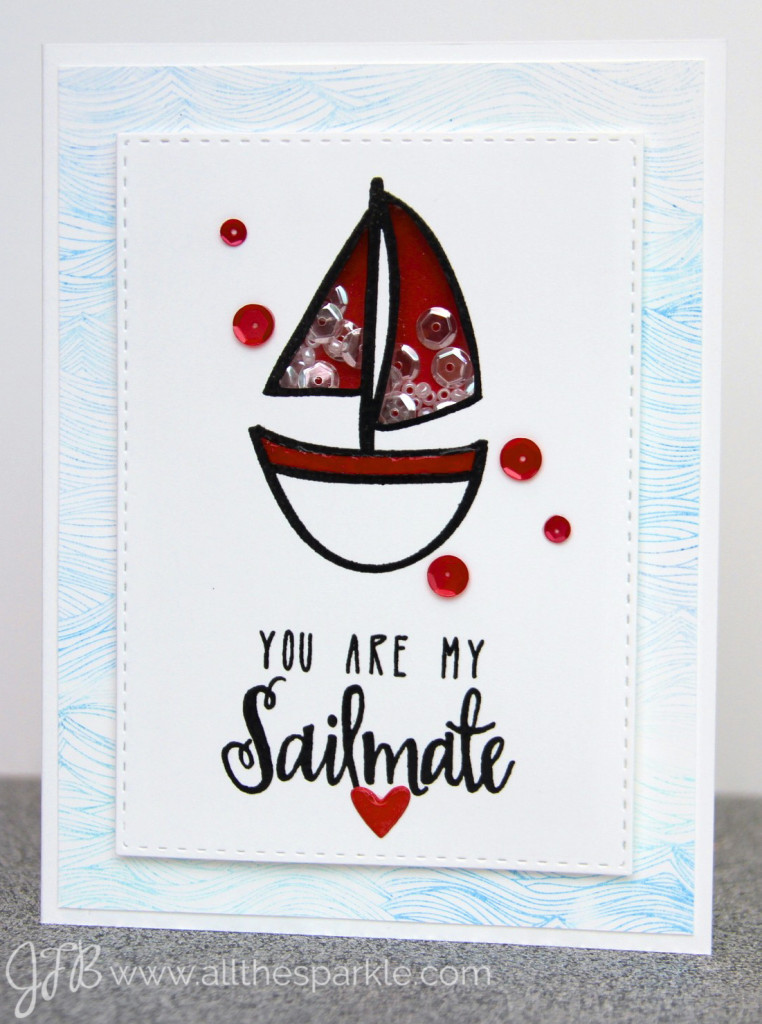 Of course I HAD to have a shaker card… 😉 I recently picked up this stamp set during a Neat and Tangled instagram flash sale and it's SO cute!  I stamped and heat-embossed the sailboat and sentiment and then used a craft knife to cut out the sails.  I filled the sails with Glass Slipper sequins from The Ton and white sparkling seed beads.  The red sequins on the card front are Call Me Maybe sequins from The Ton.  For this card I swiped pigment ink onto the stamp and heat-embossed it with clear embossing powder.
I'm entering this card into the Little Tangles Challenge #54: Anything Goes and the Simon Says Stamp Monday Challenge: B is for…(boat)!
And finally,
Card 5: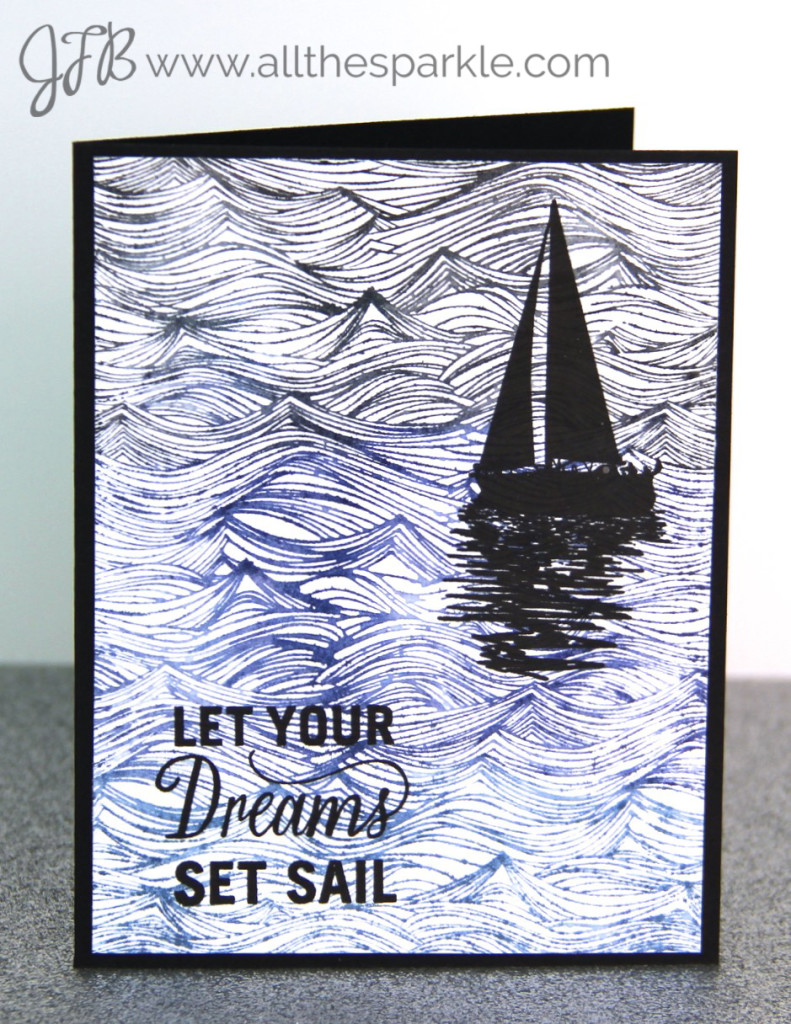 I created this card by inking the stamp with Stormy Sky, Chipped Sapphire, and Black Soot distress ink and spritzing the stamp with water.  I love this stamp set from Dark Room Door and thought it would create a great masculine card!  I think it actually might be my favorite followed closely by the otter…
I'm entering these cards into the Hero Arts Nature Challenge!
What do you think?  Do you have a favorite?  Or another idea for that stamp? 🙂
And as always, many thanks to Virginia Lu for the idea!!  Thanks for visiting!