I apologize for the delayed post….that's what happens when I get busy watching Grey's Anatomy (#byeDerek) and coloring in my new Hex Chart!
Anyway, Happy Apple Blossom!  For those of you who don't live near Winchester, VA our area has a huge annual festival in early May.  There are parades, a carnival, craft show, car show, fireworks, circus, wine festival, etc. lasting for about 10 days.  I tend to avoid most of it now (ha, I'm so old…) with the exception of the craft show and a quick run into the carnival for a bag of cotton candy!  However, this year I had several commissions for Apple Blossom cards and invites so I thought I'd share a couple!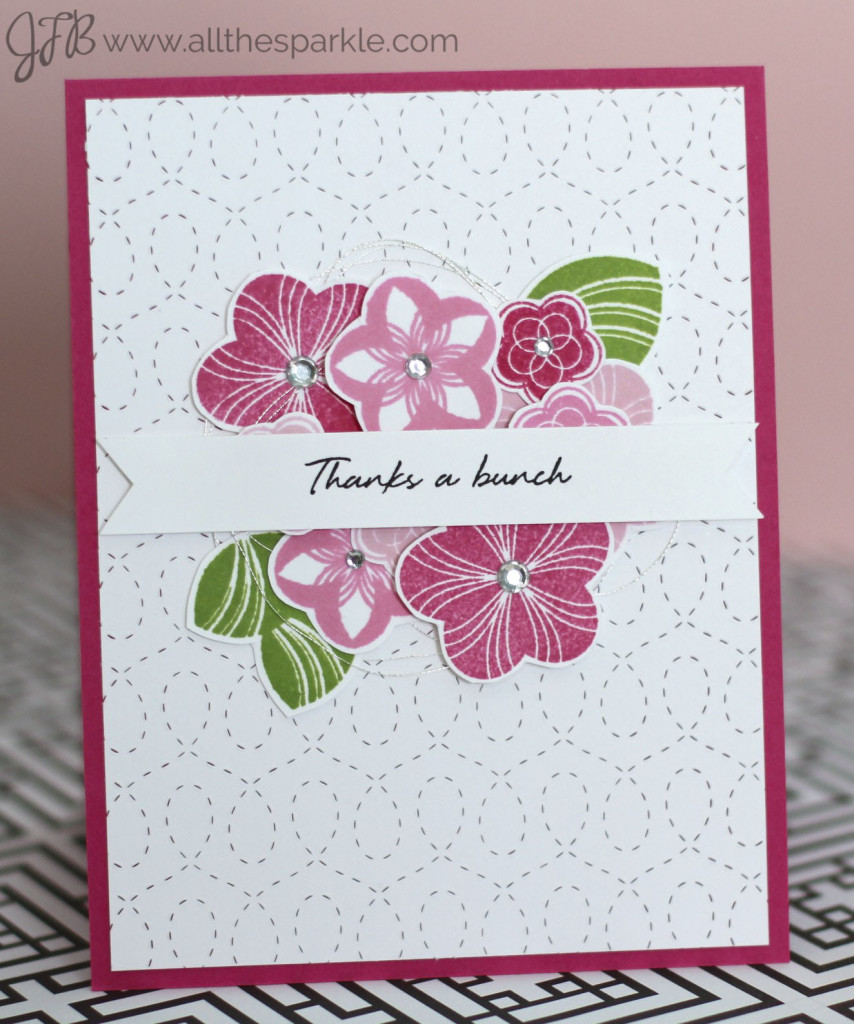 Last year I was buying old Stampin' Up inks on eBay and this Ruby Reprise stamp set from Papertrey Ink popped up on my 'things you might like' window.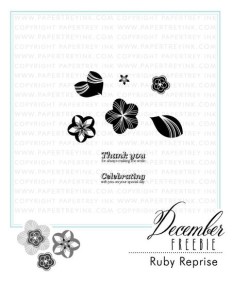 It looked interesting so I did a little research and realized that it was an incentive set released by Papertrey Ink to coordinate with their Ruby Roses set and was actually never sold on their site.  It was ridiculously cheap on eBay so I went ahead and added it to my purchase…and then it sat in my stamp box for over a year.  Last week when I was looking for stamps that might look like apple blossoms I came across this set and remembered how much I liked it.  I actually am not a fan, at all, of the Ruby Roses set but I LOVE the look of this Ruby Reprise set and I'm so happy I "rediscovered" it.  In fact, I like it so much that you just might see it pop up again sometime very soon… 😉
I used ink from Studio Calico Color Theory and WPlus9 to stamp the flowers and leaves and then fussy cut them.  I actually stamped and cut like twice the number I actually used to give me some room to play around with the arrangement.  They were adhered over some sparkly silver thread onto a card base that was die-cut with a Lil' Inker die.  I popped some of the flowers up with foam mounting tape for a little extra interest and then added the gem centers and a little clear wink of stella glitter for a little sparkle.  The sentiment is from Altenew's Many Thanks set and was the perfect delicate script that I was looking for!  I fussy cut a fishtail banner and adhered it with foam mounting tape.  The panel was attached to a card base of WPlus9 Sweet Gelato cardstock!
Thanks for visiting today and make sure to check out (and comment) on the Light It Up Blue Mini Blog Hop for a chance to win a prize from The Ton, Lawn Fawn, Your Next Stamp, and more!  See you tomorrow for Shaker Saturday and National Scrapbooking Day!