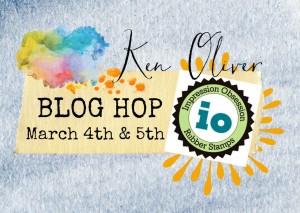 Good morning!  I'm really excited to be part of a blog hop for Ken Oliver Crafts and Impression Obsession!  You should have arrived from Vicki Garrett's blog but if not check out the bottom of my post for the full hop roster so you can find your way to everyone's blog!  We have some great prizes and projects to share so you'll definitely want to hop along! 😉
And here's what I created using Colorburst powders and stamps from Impression Obsession!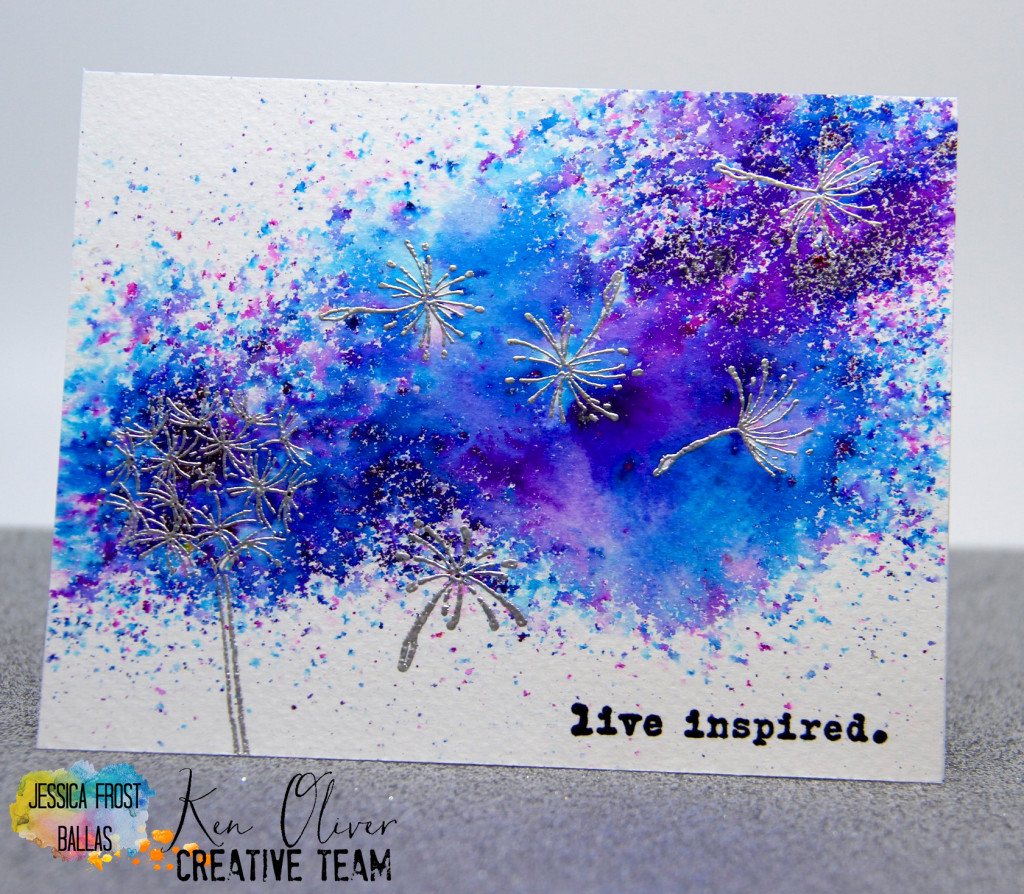 I really loved these dandelion stamps and the implied movement in their shape.  My first inclination was to try to visually create wind and the colorburst powders were the perfect medium to convey that feeling!  To create my card I stamped the dandelions in versamark and heat-embossed them with silver embossing powder.  Then it was time to get messy!! 😉
I started by using a wet paintbrush to sketch a general shape for my "wind."  Then I sprinkled Ultramarine Blue and Violet colorburst powders over the card and let them spread naturally.  Next I took a water bottle and spritzed it over my card to get the color to spread and then let it dry.  After it was totally dry I sprinkled more powder over the dry surface and spritzed it with my water bottle again to get more splatter.  One of my favorite aspects of the colorburst powders is that there are so many colors within each bottle…look at all of the shades of blue and purple that showed up! 😉  I actually made three cards using this design and I love how each one is totally different!
Anyway, that's enough from me! 😉 This hop is so big that it's going to run for TWO days with new hoppers each day!  And of course, what's a hop without prizes!?  Each day Ken Oliver is giving away a set of colorburst powders and Impression Obsession is giving away a $25 gift certificate to one lucky winner!  To enter, leave a comment on each blog stop.  Winners will be randomly chosen from all blog comments so the more blogs you visit, the better your chance to win!  You can leave comments until 9pm EST on Sunday, March 6th and winners will be announced on Monday, March 7th!  Good luck!
Thanks so much for visiting and enjoy the rest of the hop!
FRIDAY HOP