Hi and welcome to another Shaker Saturday!  I'll admit that this week's card really gave me a hard time.  I knew what I wanted to do but the execution eluded me for quite awhile.  I did end up finding an adequate solution but I think I'm going to have to break down and figure out how to use my sewing machine on cards….that probably would have given me more of the look that I was going for.  Anyway, with that disclaimer (ha), here's my card!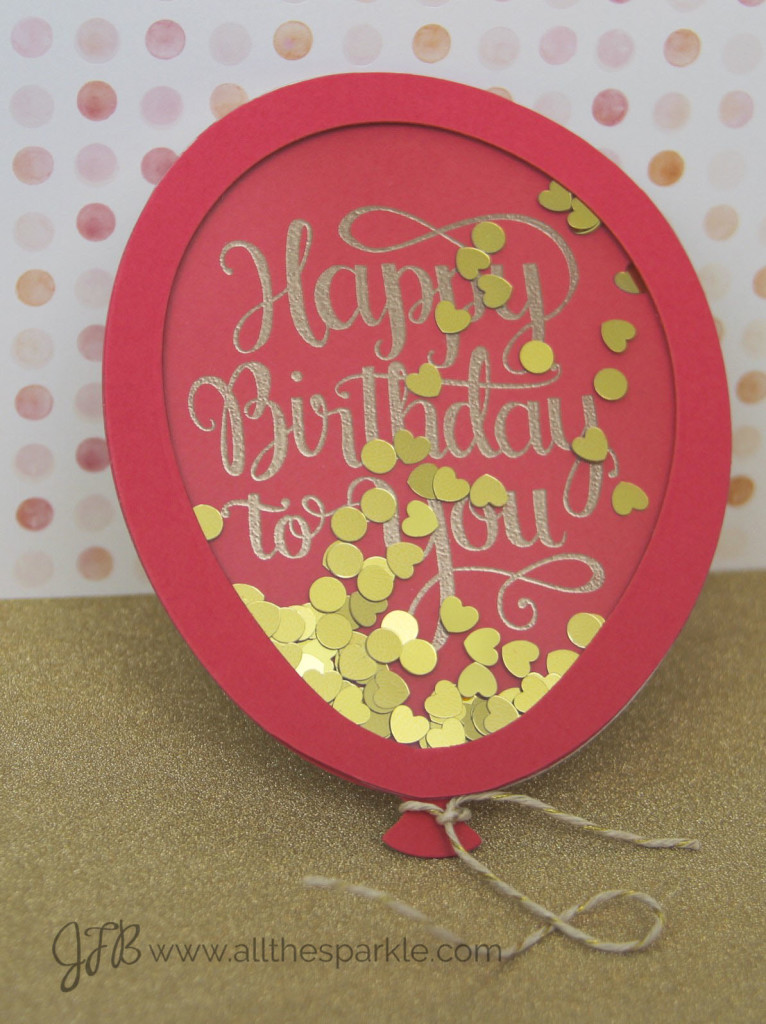 I knew I wanted to make a shaped shaker card and I thought the balloon would make a fun and playful birthday card!  I started off by die-cutting the Simon Says Stamp Balloon dies from Bazzill Candy Hearts cardstock.  Then I stamped the sentiment from Mama Elephant with versamark before heat-embossing it with Ranger Liquid Platinum embossing powder.
That's when I realized I didn't know what to do next.  I didn't know how to create a border for the shaker as the die set isn't really a nesting set.  Each die also has the little bottom tail too and I wanted a smooth border all the way around.  I considered a more organic looking shaker using my Fuse to create a pocket but knew I really didn't want that type of border showing.  I also tried to see if there'd be a way to curve the acetate over the edge of the cardstock…not at all possible.  So I die-cut another large balloon from the same cardstock and tried to freehand cut a border…also not possible.  Finally I die-cut another balloon, placed the next smaller sized balloon die in the middle of the cardstock, taped it in place with washi tape, and used a craft knife to cut a border using the die as a guide.  When I got to the bottom of the balloon I removed the die and freehand the last section.
After mentally smacking myself for taking that long to figure it out I filled the shaker with round and heart-shaped confetti from the Ton and sealed up the shaker.  To make it into a card I took a side-folding piece of Neenah Solar White cardstock, scored and folded it and placed the die over it.  I offset the die slightly to the left so that part of the die hung off the cardstock.  That meant that the die wouldn't cut completely through the cardstock so I'd have a folded edge for the card (I hope that makes sense…it's 2 AM as I'm writing this post and I'm having issues finding the words I'm looking for…) 😉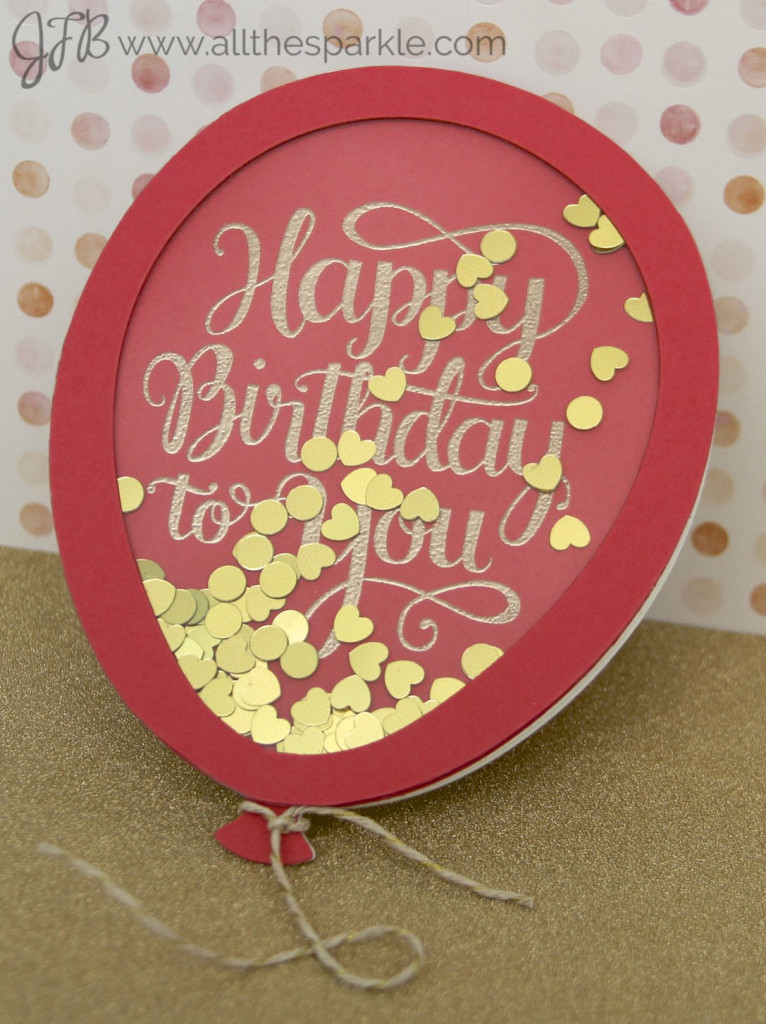 To finish the card I tied a little piece of gold and natural twine around the bottom of the balloon.  And there you have it…the fairly simple card that took me WAY too long to finish…ha ha, I think it's time for bed! 😉
Thanks for visiting and have a fabulous weekend!