Good morning and Happy Friday!!  If you're a regular follower you know that I adore my distress inks, right?  Like…if my house was on fire, after I saved my husband, four-footed herd, and harp…my distress inks would be next! 😉  So when I saw Tim Holtz's announcement about the DIY distress ink pads a few weeks ago I immediately started a dream list of possible combinations for ink pads.  I spent WAY too much time thinking about what colors would blend together.  A week ago I literally woke up at 2 AM and wrote an email to myself with an idea for a combination (which you'll see in this post).  Needless to say, I was just a little excited about them!
Two DIY distress ink pads arrived unexpectedly Thursday afternoon and I had to narrow my list fast so I could play…I decided to go with my all-time favorite combination and my 2 AM inspiration!
My very favorite distress ink combination is Spun Sugar, Dried Marigold, and Picked Raspberry.  The lighter shades blend to a beautiful peachy shade and the darker shades blend to a gorgeous deep pink.  And my 2 am inspiration was Cracked Pistachio, Mermaid Lagoon, and Peacock Feathers!  Here's how they turned out!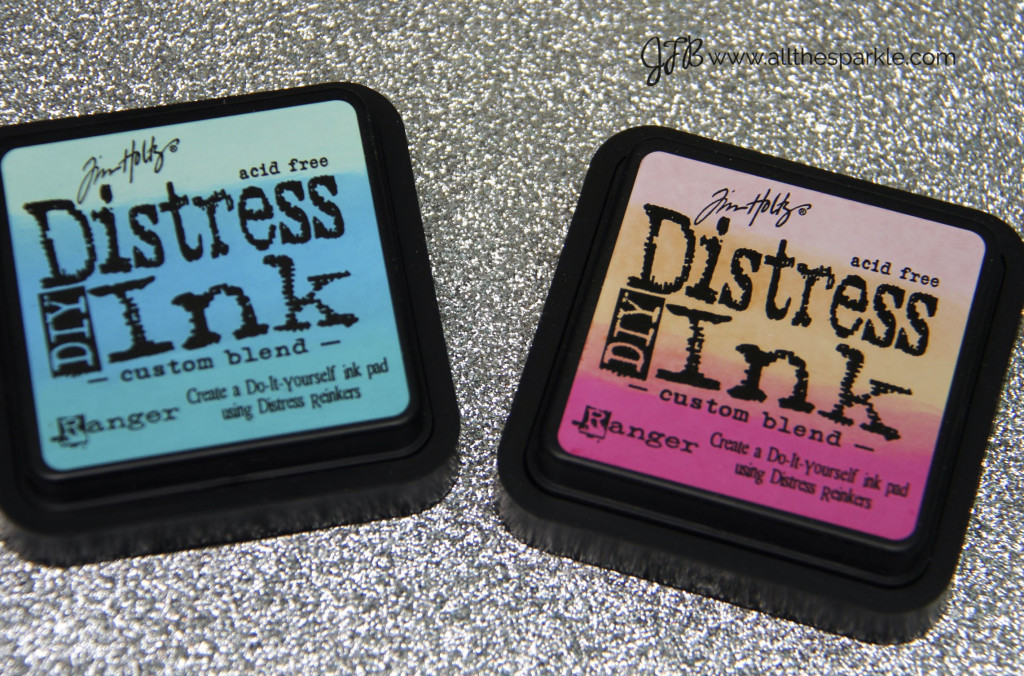 I tried out the blue pad by inking the new Hero Arts Garden Tile background stamp and stamping it on Neenah Solar White cardstock.  I really like how it turned out and I'll definitely spend more time with it later but I mostly focused on the pink pad today.  Ha, I had to finish quickly enough to have time to watch Grey's Anatomy and Scandal! #tgit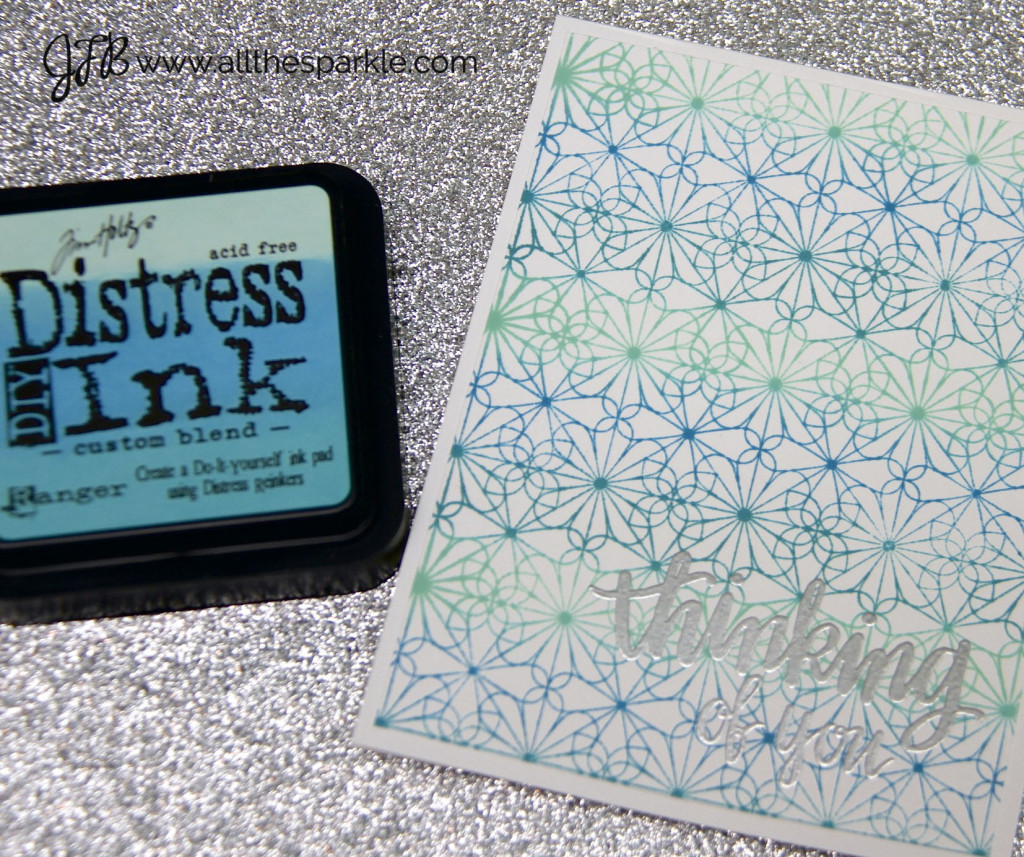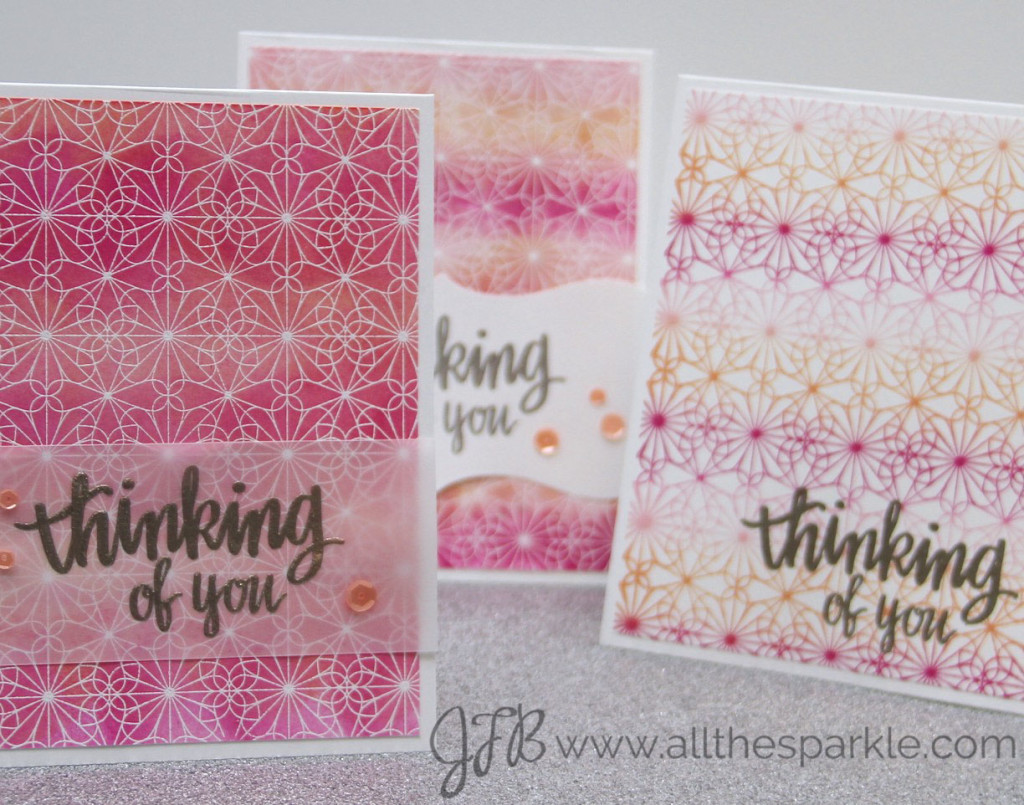 For the first card I followed the same style as the blue card…I inked up the Garden Tile background stamp with the DIY pad and stamped it on Neenan Solar White cardstock.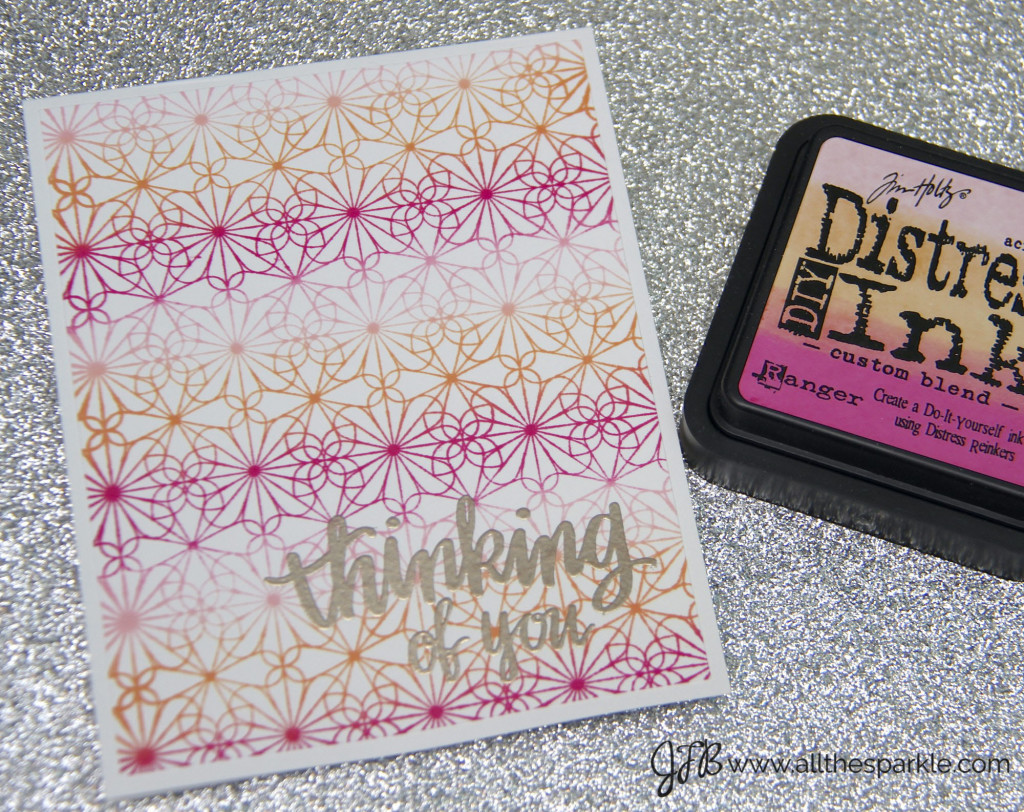 For the second and third cards I stamped the image with Versamark and heat-embossed it with white embossing powder.  On one card I took the DIY ink pad and swiped it across the paper.  Instead of blending the distress ink by hand I let water do the work!  I sprayed the panel liberally with WPlus9 Shimmer Mist until the ink started to blend.  Then I set it aside to dry naturally as drying it with the heat gun would have caused harsher lines.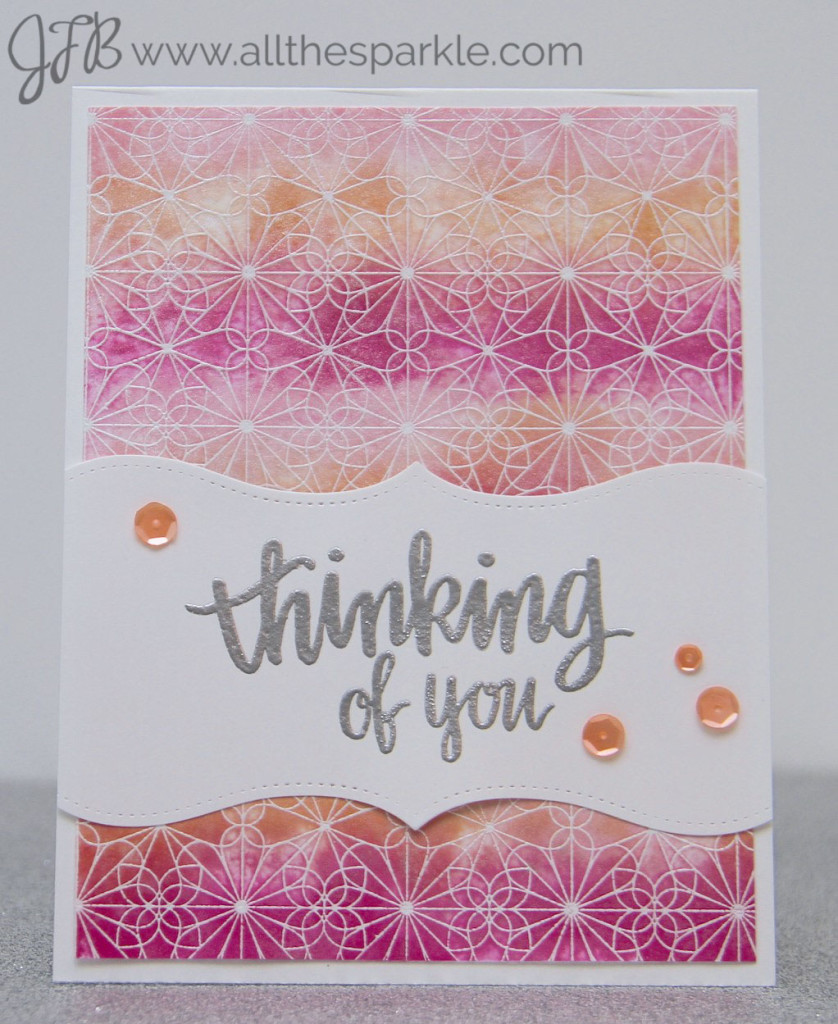 For the last card I went the more traditional route and blended the ink by hand.  I alternated blending picked raspberry and spun sugar onto the center of the large flowers and then filled in the holes with dried marigold.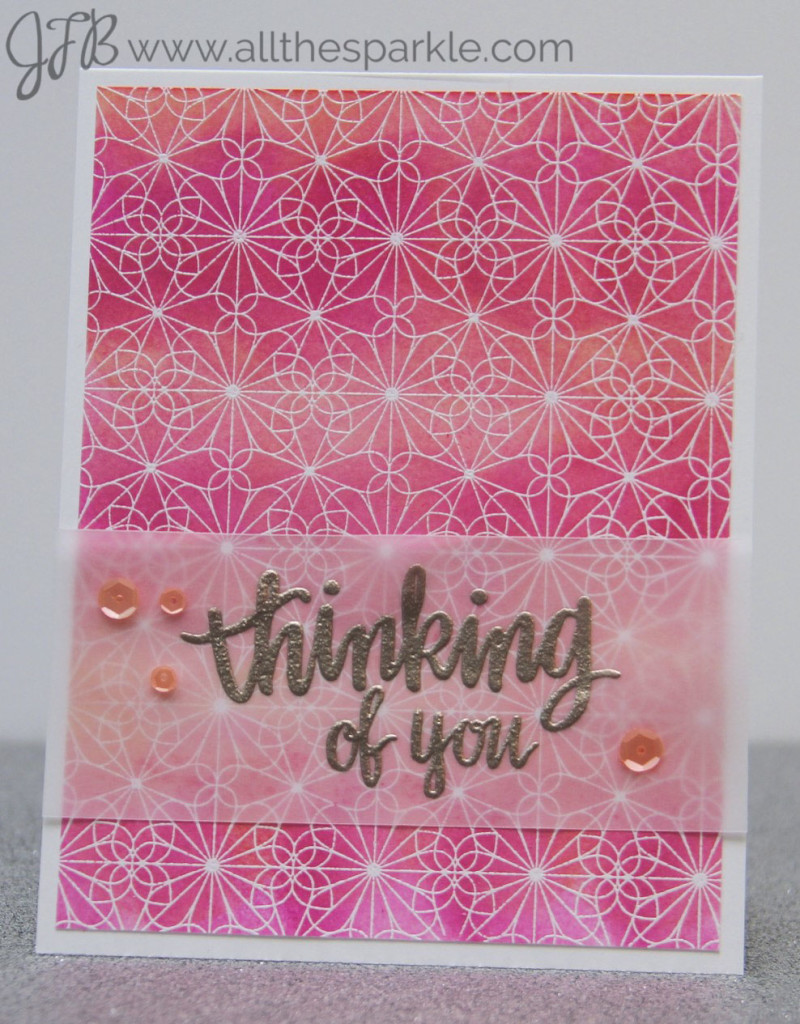 To finish the cards I stamped the sentiment with versamark and heat-embossed it with Ranger Silver or Liquid Platinum embossing powder.  I stamped the sentiment directly on some of the cards, used vellum for one, and then on the other I used a border die from Mama Elephant to create a panel for the sentiment.  I added a sprinkling of sequins from The Ton on some of the cards to add a little extra sparkle!
…I cannot wait to get my hands on more blank pads… 😉
Anyway, thanks to everyone who left such sweet comments on my blogiversary post last week!  I let random.org choose the winner of my $25 giveaway and the winning number is #7: Mateja!! 🙂  If you didn't win today, you might head over and check out my IG (@JessicaAFrost)!  I'm giving away a stamp set from Neat and Tangled and that giveaway ends in a few days!
Thanks so much for visiting and see you tomorrow for Shaker Saturday!