This is my second post of the day.  If you're looking for my 5 for 5 Easter post, please scroll down or click here!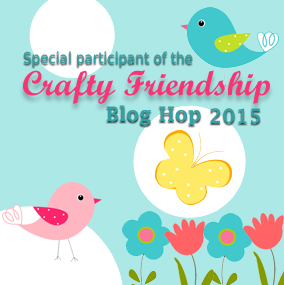 sponsored by:

I am SO excited to be representing The Ton in the 2015 Crafty Friendship Blog Hop!  This year's hop celebrates Esther Rovira from Arcadia de Papel because of her support to so many blogs in Spain, the USA, and the rest of the blogging community!  We chose March 20th because it is her blog's anniversary!
You should have arrived from Mayra and your next stop will be Monica.  A full list of participants is at the bottom of my post!
In the spirit of the blog hop theme, my card is dedicated to my family and friends who put up with all of my crafting talk, my faithful and kind readers who leave such sweet comments, and my fellow design team members at The Ton, A Blog Named Hero, Jessica Lynn Original, Craft Storage Ideas, and Christmas Card Challenges for your friendship and support!
And many thanks to our amazing sponsors who have lined up some fantastic prizes and discounts (plus I have a special giveaway of my own)!!  You can find more information on all of that below!
The 2015 Crafty Friendship Blog Hop came at a wonderful time for The Ton because we're gearing up for our second release with lots of sneak peeks at the new stamp sets…and I convinced Effie to let me show a whole card using some of our new stamps and sentiments!!  You'll have to keep visiting The Ton's blog to see the rest of the sets! 😉
Here's my card: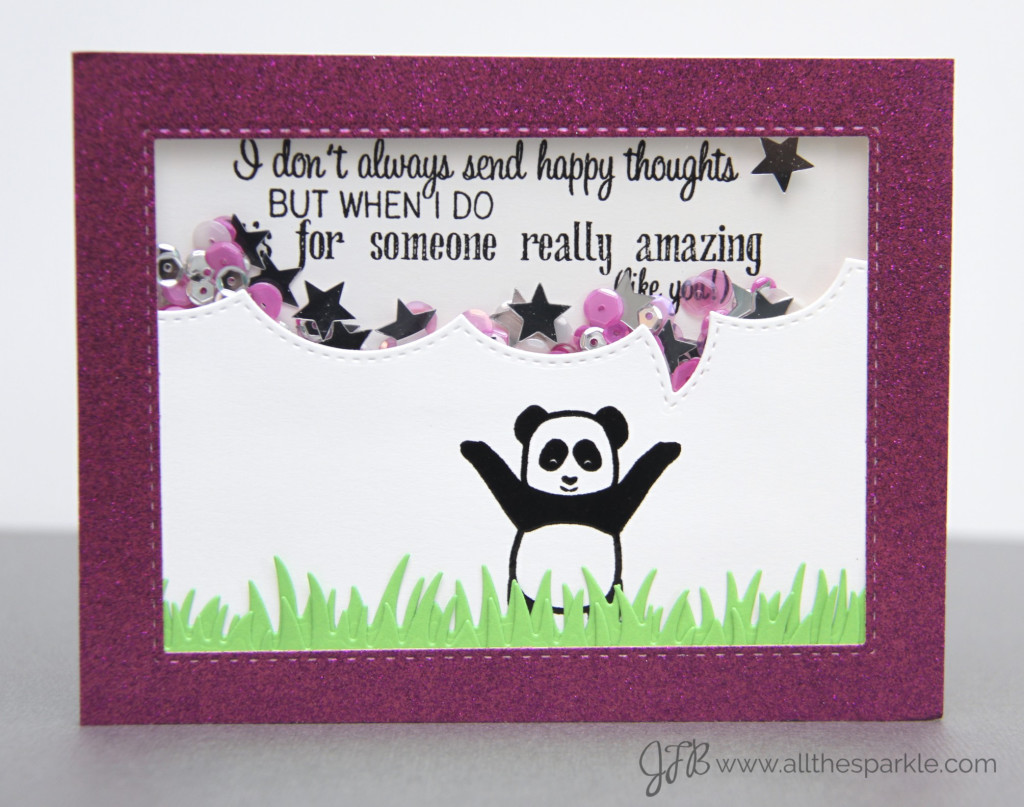 If you're a regular reader I bet you're not the least bit surprised that it's a shaker card!
I started off by stamping that adorable panda onto an A2 piece of white cardstock with Versafine Onyx Black pigment ink and heat-embossing it with clear powder.  I die-cut the Lawn Fawn Grassy Borders die twice on green cardstock, offset them, and adhered them to the bottom of the panel with my Tombow MONO Multi liquid glue.  Next, I die-cut the speech bubble from the top of the panel to create the shaker.  I used purple glitter paper to create a frame and adhered it to the panel with my Tombow stamp runner.  Then I turned the panel upside down and adhered a piece of acetate to the top of the panel.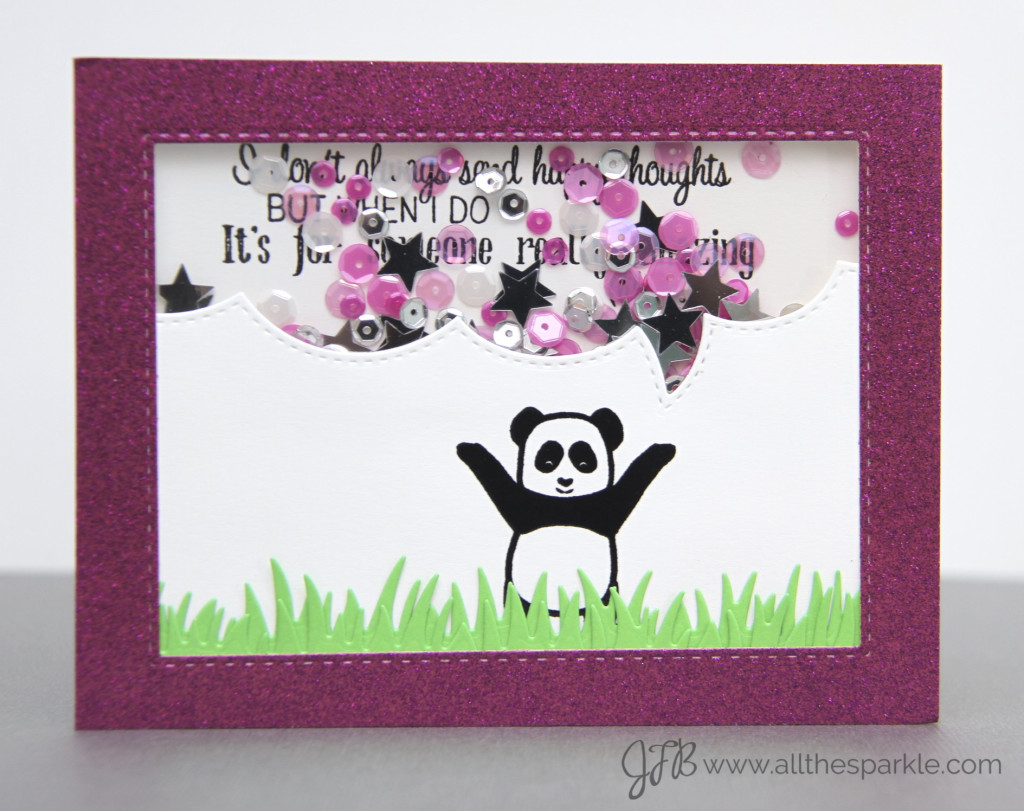 Huzzah…SEQUIN time!!  The Ton carries a gorgeous line of sequins, confetti, and couture mixes!  I decided to mix the Purple Ballgown Couture Mix with Silver Star Confetti for my shaker card and I might have gotten a little carried away and overfilled it just a bit!  But it's so bright and cheerful!  *Sigh*…I just love sparkly sequins!
To finish my card I stamped that fun sentiment from one of our new sets with Memento Tuxedo Black ink and adhered the panel to my shaker.  Finally I adhered the completed shaker to a top-folding A2 card and gave it a good shake to mix up those sequins and confetti!!
And now for all the nitty-gritty hop details!
DISCOUNT:
To celebrate your friendship, MarkerPOP is giving you $8.00 off your purchase of $80.00 or more!  Use the code FRIENDSHIP at checkout!  Also MarkerPOP offers FREE SHIPPING everyday on orders of $75* or $50* for gold members.
*after all discounts are applied
GIVEAWAY #1:
Be sure to check out all the participants in the 2015 Crafty Friendship Blog Hop. There are lots of amazing prizes to be won!  Leave a comment at each blog hop stop (before 11:59 PM EST on Sunday, March 22nd, 2015) for your chance to win!
We will pool all the comments and randomly pick the 10 winners (as MarkerPOP is giving two prizes).  Winners will be published on all the participant blogs on Wednesday, March 25th, 2015 so be sure to check back and see if you're a winner!
Prizes:
GIVEAWAY #2:
Of course there is the big giveaway for the hop, but I am also giving away one stamp set from The Ton's upcoming release!  To enter my giveaway, visit the sneak peek round-up post on The Ton's blog here and leave a comment telling me which sneak peek is your favorite so far!  I'll pick a random comment on Monday, March 23rd and you'll be able to choose your set when the new release pre-sale begins on March 30th!
GET HOPPING!
I hope you enjoyed my card and thanks so much for visiting!  If it's your first time, I hope you'll be back!