Good morning!  If you missed the first two parts of this series you can find them here and here!  I originally thought that I could wrap up this series with a third post but I think I might need to share one or two cards tomorrow.  This ended up being a little longer than I expected… 😉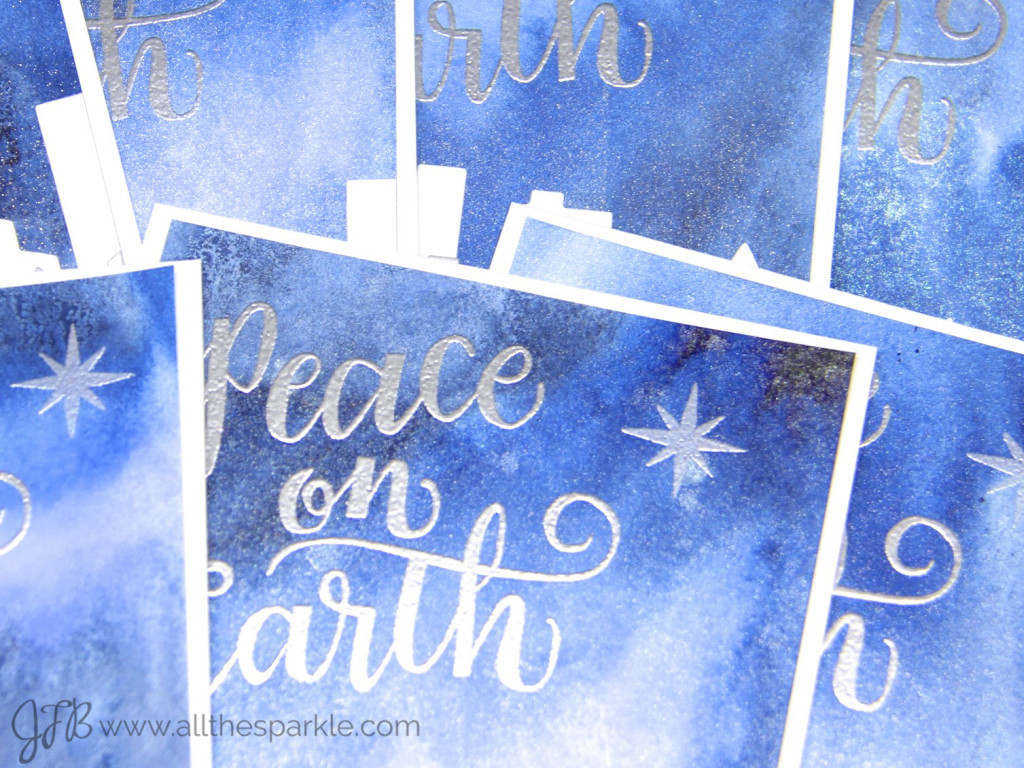 I decided to do a comparison of 6 different shimmer sprays on plain cardstock and on a watercolored background.  So here we go…
For the non-watercolored cards I took 7 pieces of dark blue cardstock and applied the following sprays to each panel: Tattered Angels Glimmer Mist, Perfect Pearls, Tsukineko Sparkle, Tsukineko Frost, Iridescent Medium, and WPlus9 Shimmer Spray.  I took a 7th piece of cardstock and left it blank.  For the iridescent medium I diluted it with water and then painted it onto the cardstock….the rest were sprayed on.  To be consistent (#sciencenerd4life) I sprayed each panel 5 times.  I let those air-dry while I worked on the watercolor backgrounds.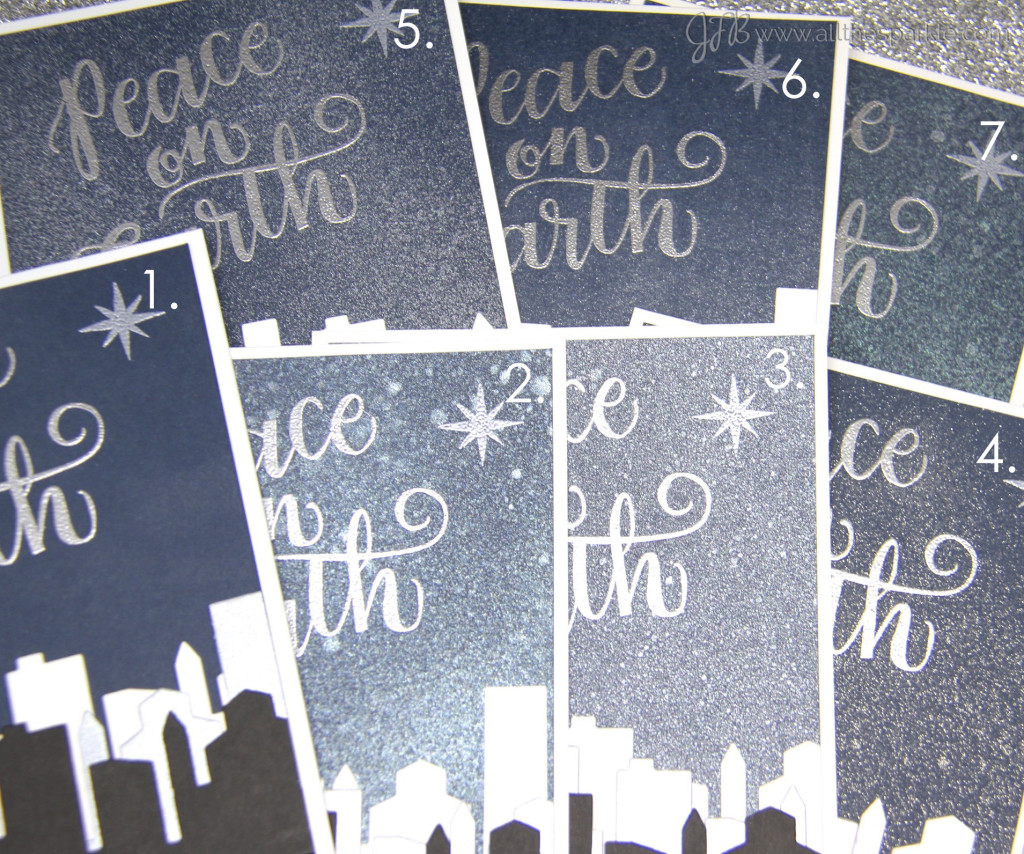 No shimmer
For the watercolored backgrounds I took 6 pieces of 4.75″ by 6 Canson watercolor paper and taped them to my work surface with post-it tape.  I wet each piece and then swirled on Gansai Tambi watercolors.  I used three different paint colors on each piece and when I was happy with the coverage I let them air dry.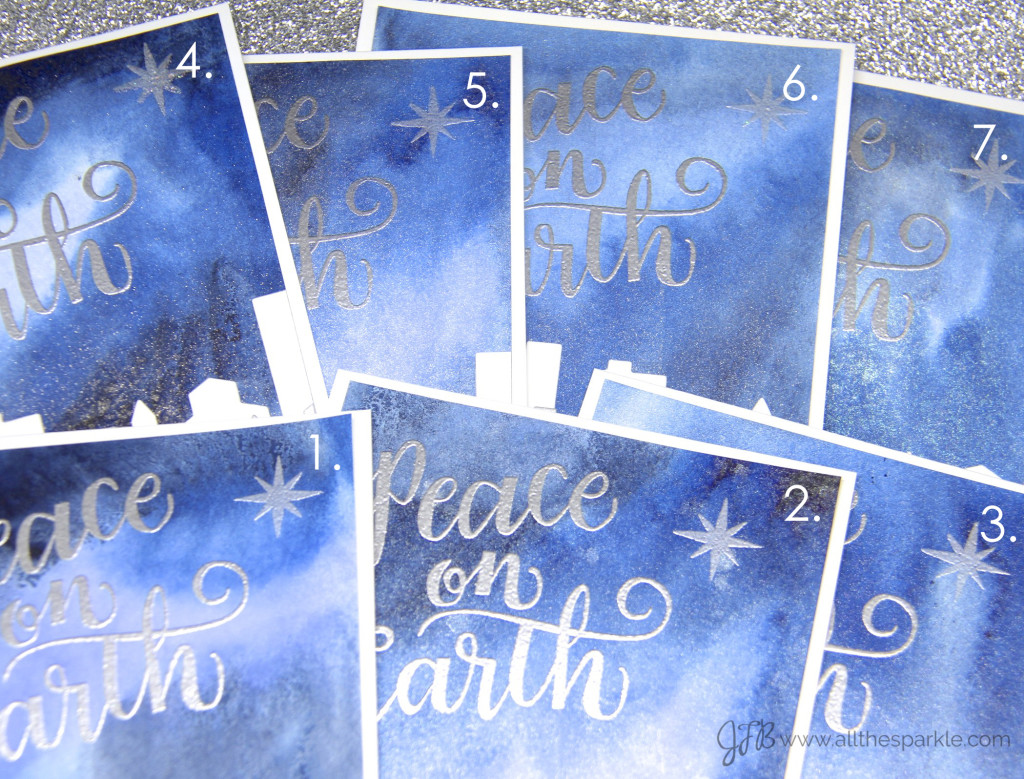 No shimmer
Once those were completely dry I added the various shimmer sprays the same way I did for the plain cardstock.  I also left one watercolored panel plain and then let them air dry.
To complete the cards I went over the panel with my embossing tool and then stamped the large sentiment from Mama Elephant and heat-embossed it with silver embossing powder.  I also stamped the star and embossed it with silver pearl embossing powder.  Next I die-cut the landscape silhouette from Memory Box with white, silver, and black cardstock.  I offset them and layered them together.  I trimmed them down to fit the background panel and then mounted the background panel on a white cardbase.  So here's a close-up look at each shimmer spray and finished card!  First up the plain cardstock and plain watercolored backgrounds: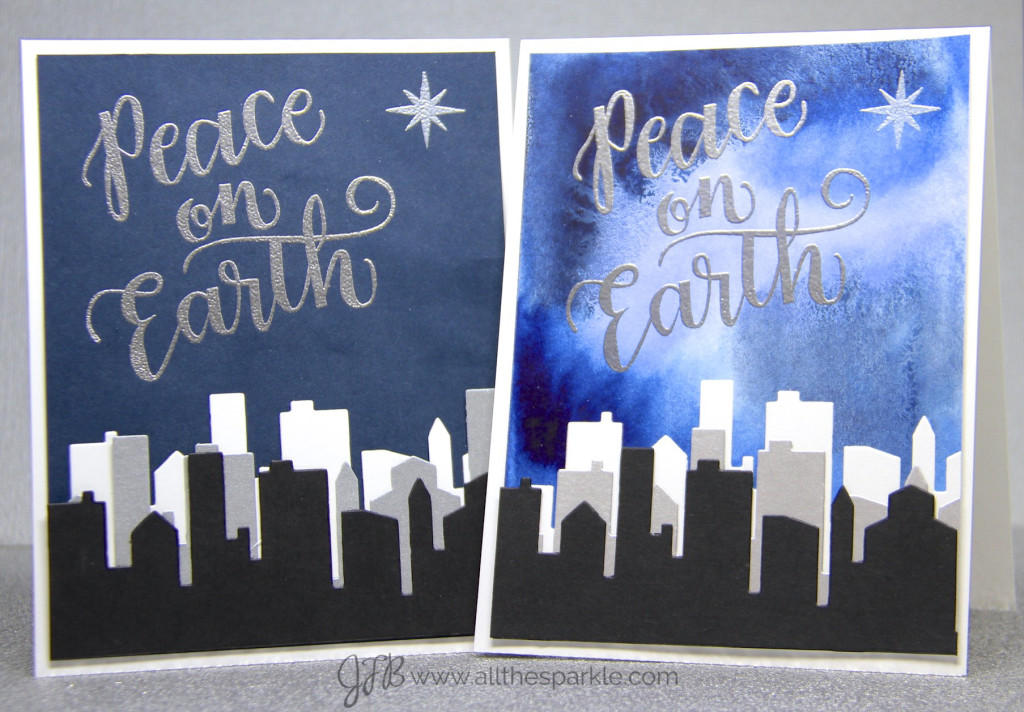 The first shimmer spray is the Tattered Angels Glimmer Mist…I picked this up at a local big box craft store a few months ago and I think this is the first time I've used it.  It was quite sparkly but sprayed very unevenly.  You can really see on the left side that there were big drops all over the place and uneven coverage on the bottom right.  It would definitely work if you wanted that specific look but it's probably not the best if you want a really even spray.  This one also has a bit of a blue-green sheen to it.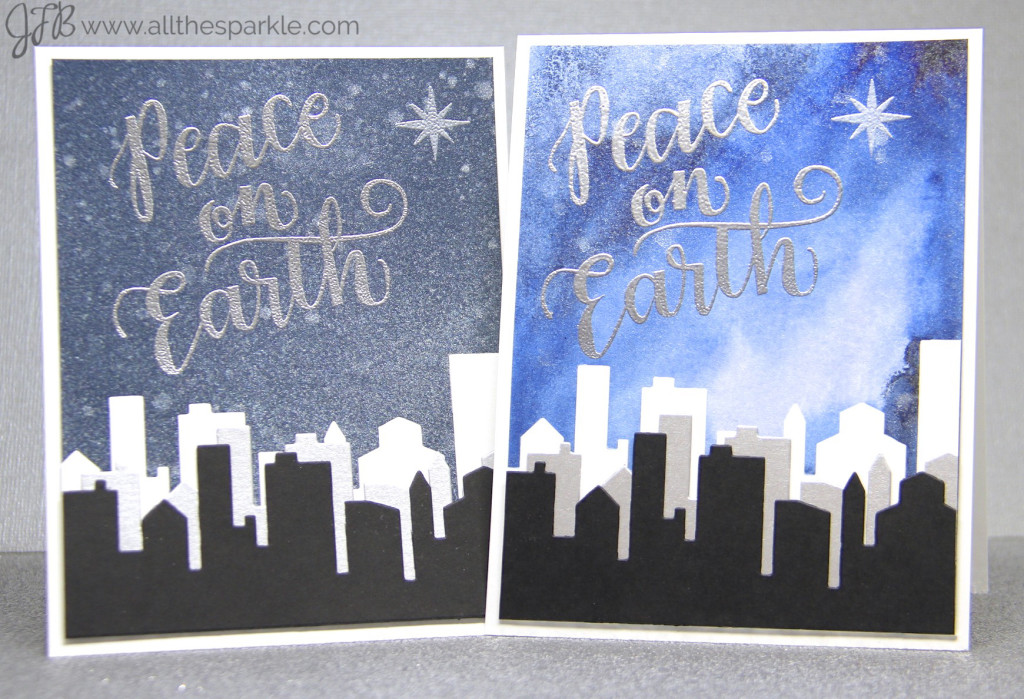 The next cards use a DIY Perfect Pearls spray.  I mixed a 1/4 tsp of Perfect Pearls with water in a mini-mister.  This spray gave a lot of coverage but it was definitely shimmery and not sparkly.  If you look at the little jar of Perfect Pearls it's not sparkly so much as shimmery so it makes sense that it would turn out shimmery.  It's definitely the most subtle shimmer although it puts on the most coverage.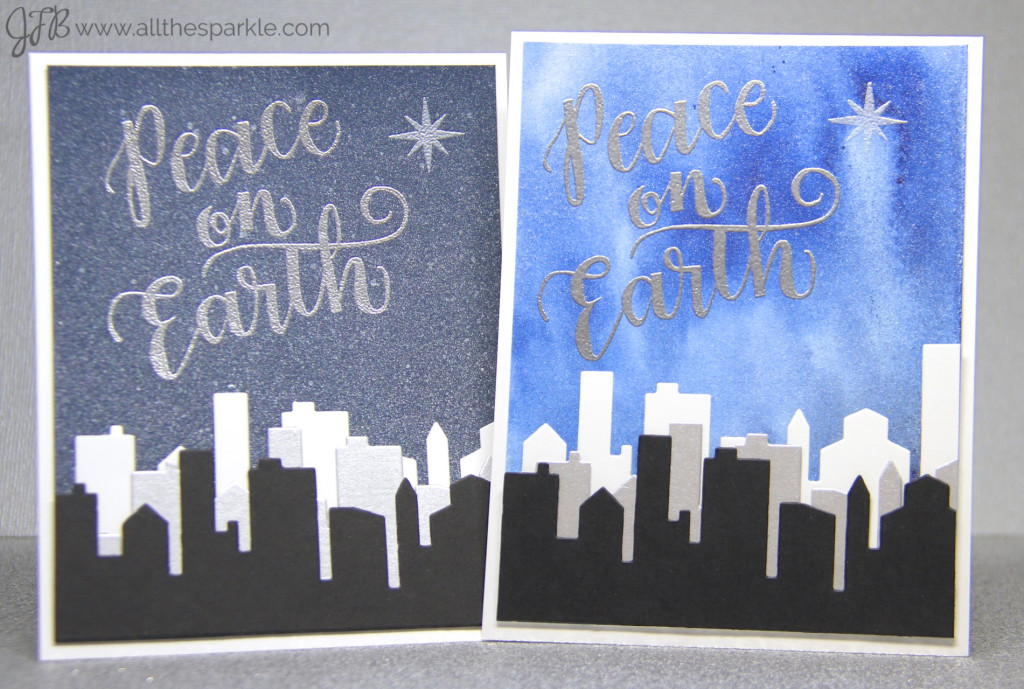 The next two sets of cards use Tsukineko sprays.  First up is the Sparkle spray…this puts down a really bright sparkle.  It's definitely contains the largest pieces of glitter and is quite eye-catching. Coverage was good although it also tends to spray larger dots.  I'm also wondering if it might be my mister…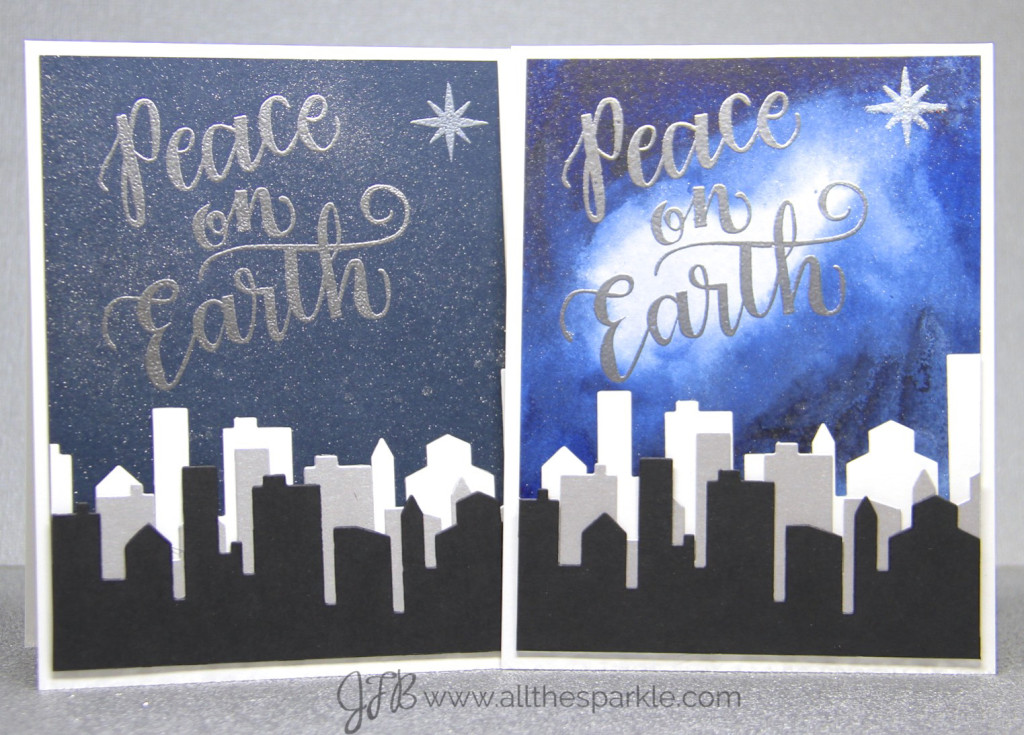 The Tsukineko Frost spray also contains larger pieces of glitter but they're not quite as large and not quite as bright as the Sparkle spray.  It also seems to be a little less sparkly…but WAY more iridescent.  Of all the sprays, this was hands-down the most even coverage.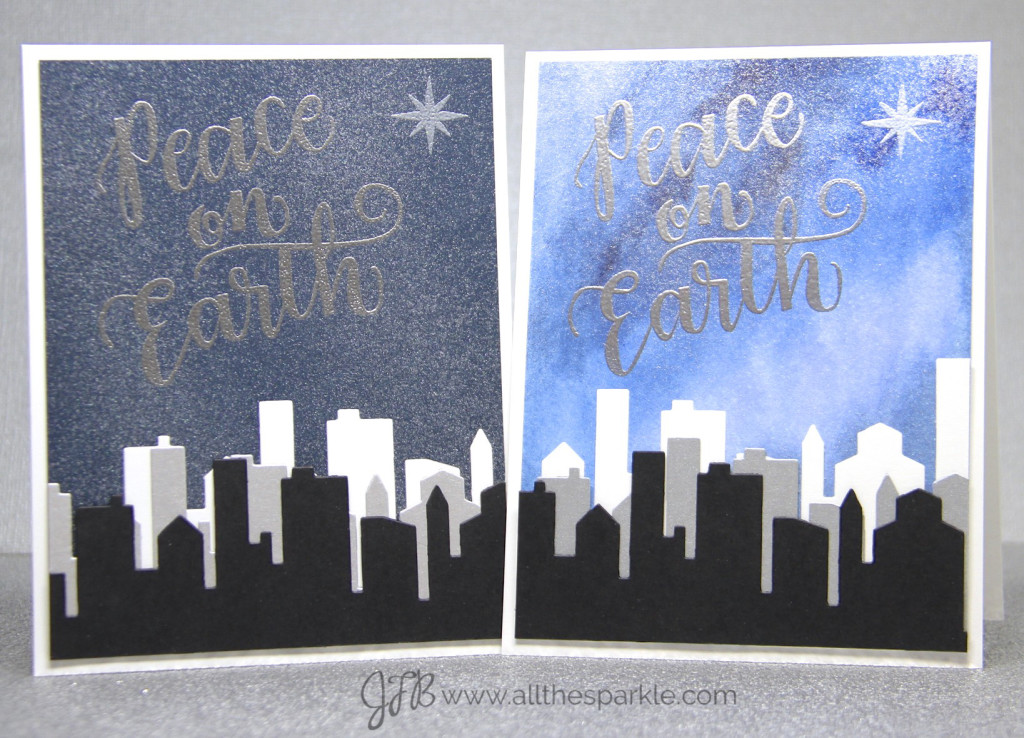 Next up is iridescent medium!  Of course this was painted on so you can't really compare the coverage to the other sprays.  It's still my favorite way to add sparkle to cards…it's a super fine glitter but it's SO sparkly.  Seriously, if you don't own iridescent medium yet, you need to stop what you're doing and buy it!  It's relatively cheap and will last you for a LONG time!
And last but not least, here's the WPlus9 Shimmer spray…again, some coverage issues but it might be my nozzle.  I don't remember having these problems with it before.  Anyway, this is another one that's definitely more shimmery than sparkly (which makes sense since it's called a shimmer spray…) 😉 It's more eye-catching than the Perfect Pearls but after this experiment I've realized I'm definitely more a fan of sparkle than shimmer.  Also, depending on how the light hits, it has a slight green cast.  You can't see it as much in the photo below as you can the group photo at the top of the post.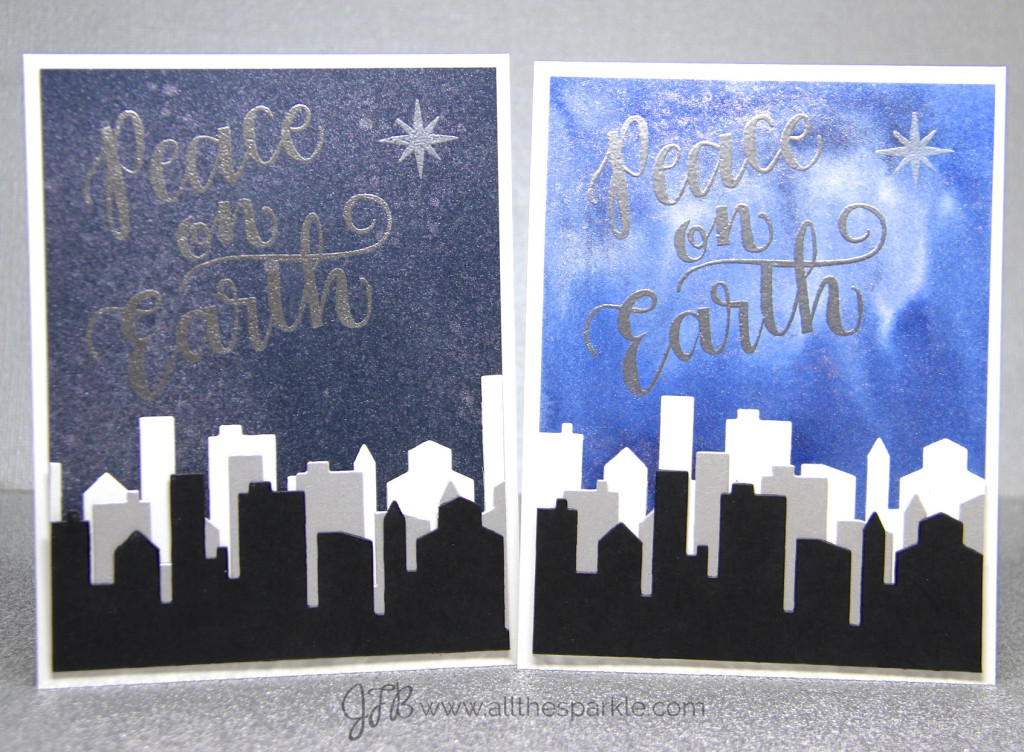 There you have it…that's a lot of sparkle and shimmer!  And I still didn't get to two methods…so I guess those will come tomorrow!  But in the meantime, I decided to have a little giveaway for those of you who are patiently reading through all of these long posts! 😉  Thanks so much for visiting and I hope I inspired you to add some sparkle to your cards!!
Giveaway:
Leave a comment on any of my sparkle posts (the first two can be found here and here) by 11:59PM EST on Sunday, September 27th and I'll pick one lucky commenter who will receive a bottle of iridescent medium and a container of clear hologram sparkle embossing powder to add sparkle to their own creations!  You don't have to comment on all the posts but you'll increase your chances with additional comments!  If you've already commented on the first two posts those comments will be included in the drawing!
Supplies:
Interested in the products I used?  To make them easy for you to find, I have listed them below. (Affiliate disclosure can be found here). Your purchases help keep my blog running and I thank you for the support!)