Good morning!  Whew, this is my final post in my sparkle series!  You can find the first three posts here, here, and here!  Today I'm using two more conventional methods of adding sparkle to cards and one old but not so well-known technique using an everyday household item!
For my first card I CASEd this gorgeous snowflake card from Lisa Addesa.  I put a little twist on it by arranging the stripes on a diagonal pattern and added A LOT of sparkle with loose glitter!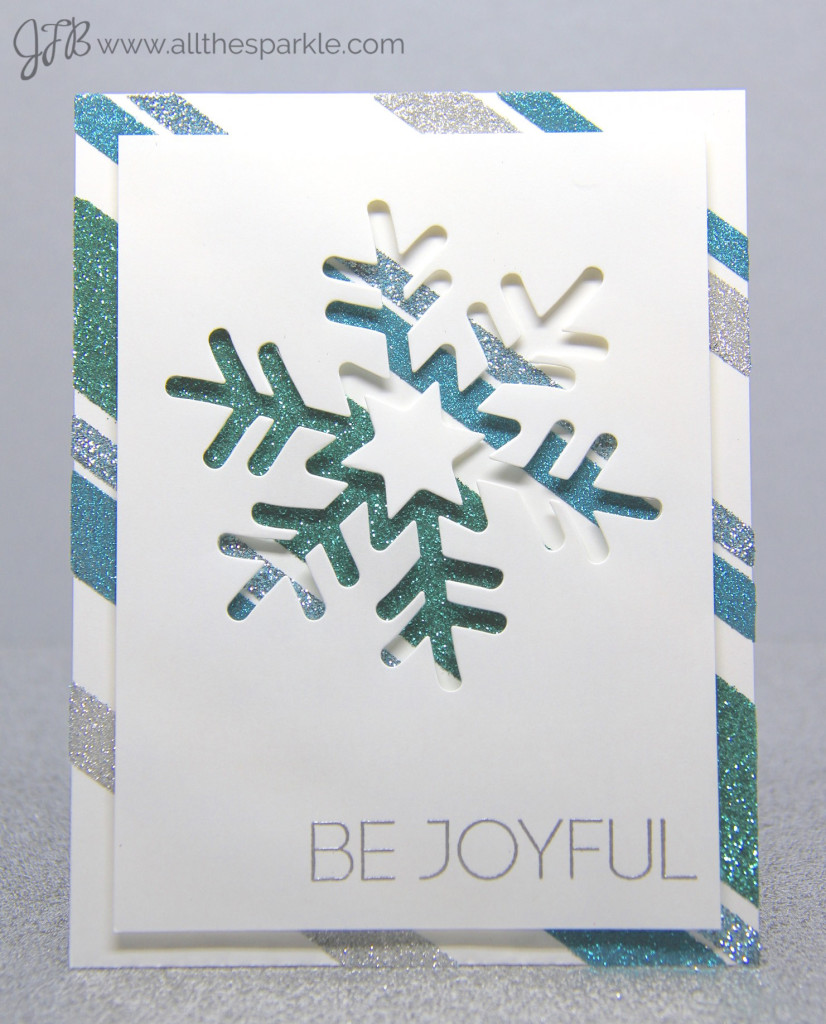 I used Stick-It double-sided adhesive sheets to adhere the glitter to my card.  I cut stripes of varying sizes and adhered one side to a white card base.  Then I removed the backing from the adhesive, one stripe at a time, and sprinkled it with glitter.  After each color, I placed a piece of typing paper over the glitter and used my bone folder to burnish the glitter to the adhesive.  Once it's burnished the glitter won't budge!  Next I tapped off the excess, put it back in the container, and then moved onto the next color.  Just for experimental purposes I used two different types of glitter…Glitter Ritz microfine glitter and Martha Stewart glitter.  The Martha Stewart glitter is the light aqua and light blue color.  You can see that the individual flecks of the Martha Stewart glitter are much larger than the Glitter Ritz but both types stuck to the adhesive just fine.  Slightly unconventional holiday colors but I think the blues and teals are quite wintery!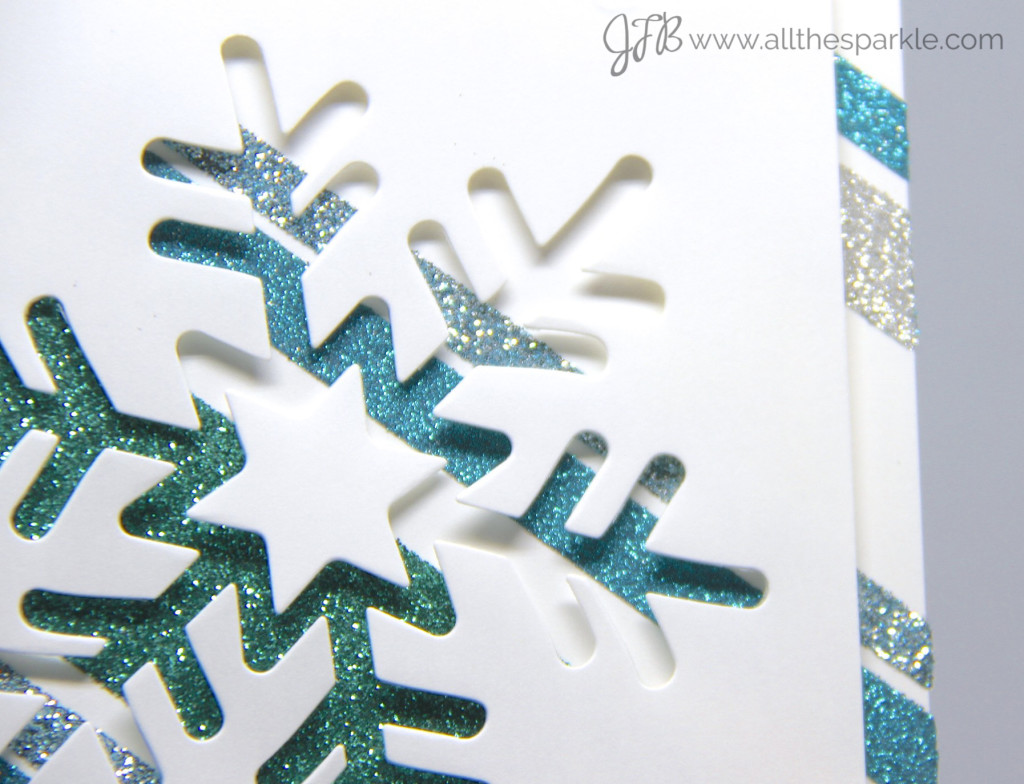 The next card uses sticky embossing powder!  I often forget I have this powder which is sad because it's a super easy way to add sparkle to a card.  Sticky embossing powder works similarly to regular embossing powder; however, when heated it becomes sticky and can hold glitter (or foil!).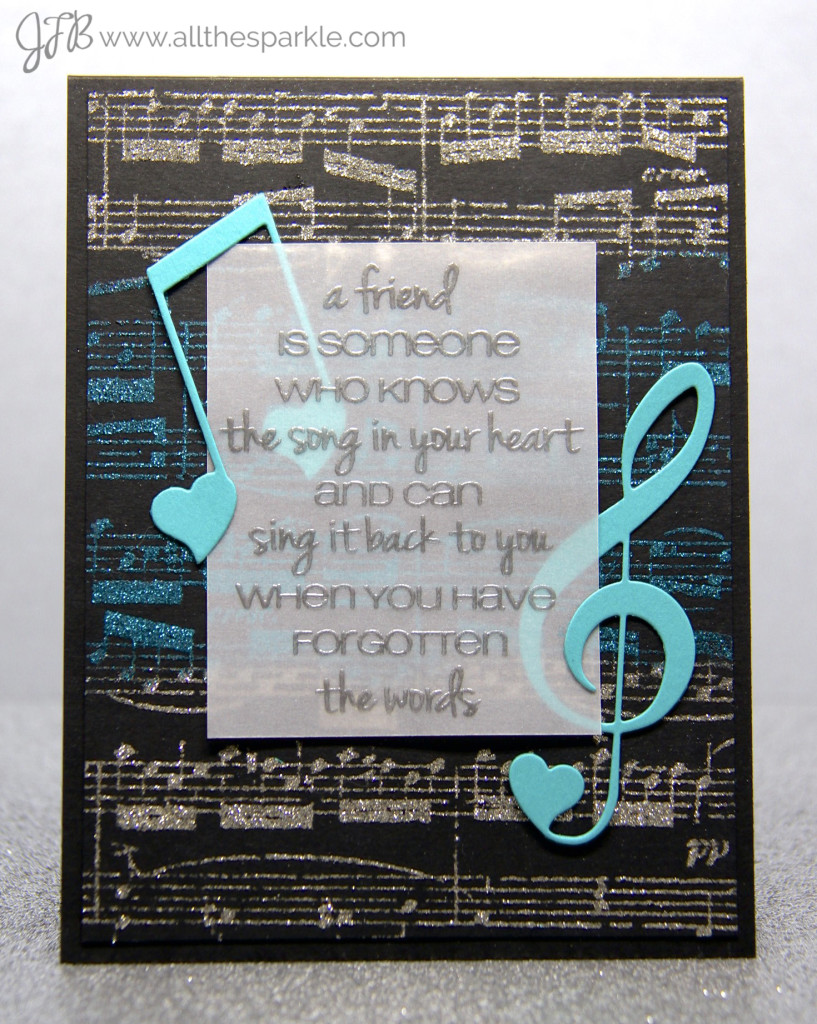 Sticky embossing powder is not a superfine powder so it's not quite as detailed as other powders but it still does a really nice job.  This background stamp from Hero Arts has a lot of very fine lines and little details and the embossing powder got them!  After heating the embossing powder I sprinkled Glitter Ritz microfine glitter over the powder and then placed a piece of typing paper over the glitter before burnishing it with my bone folder.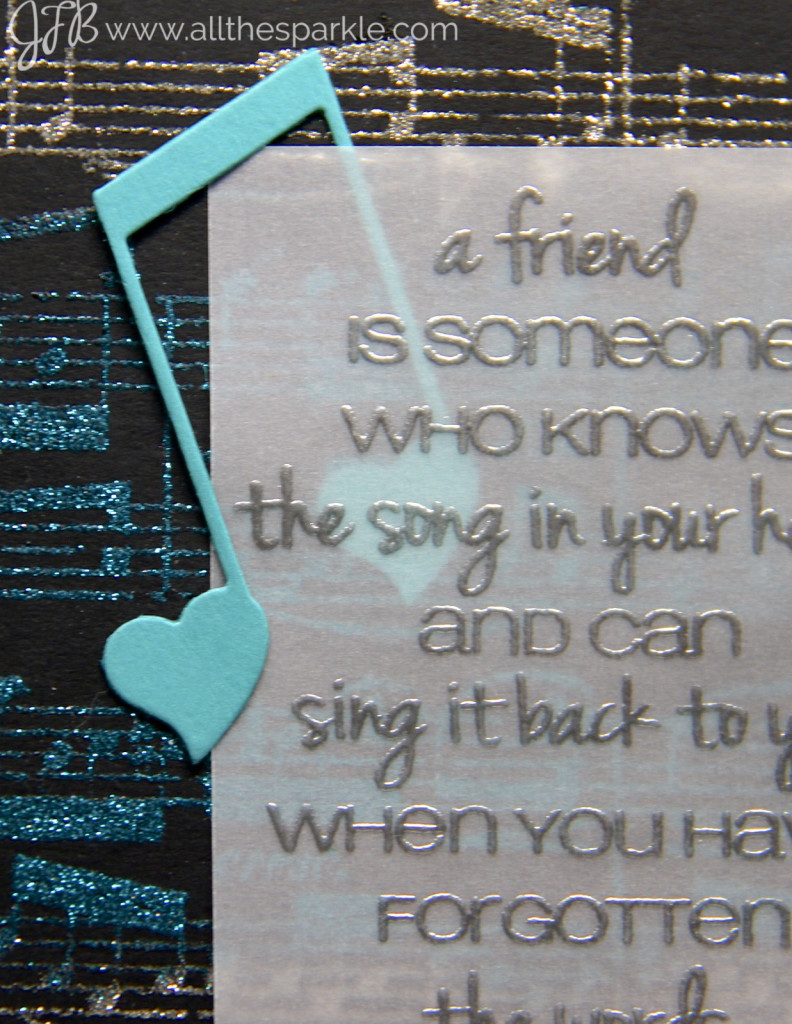 Next I die-cut the two musical shapes from CAS-ual Friday stamps with teal cardstock and stamped the sentiment from CAS-ual Fridays onto vellum and heat-embossed it with silver embossing powder.  I used strong adhesive on the music notes and treble clef and tucked the vellum between the shapes to hold it in place.
The final card uses a technique that I thought was straight-up magic the first time I heard about it!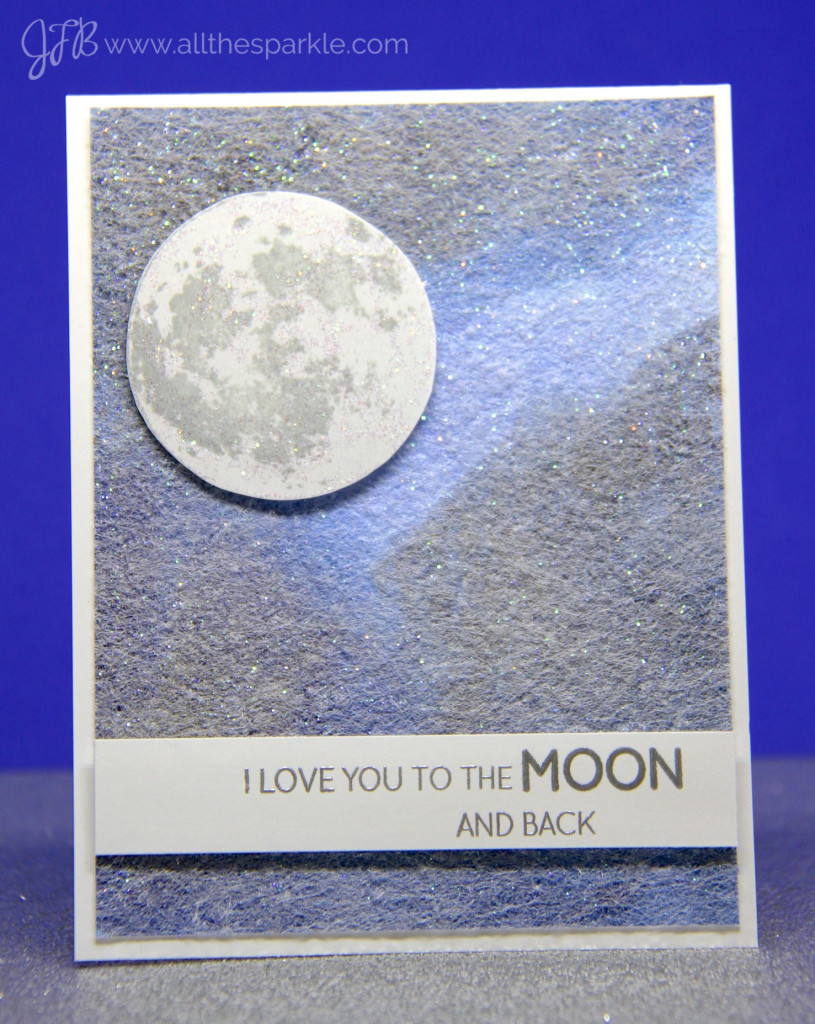 Yesterday I had one leftover watercolored background and I decided to save it to use on today's card.  I sprayed the background with a spray adhesive and then pressed a used dryer sheet over the background and smoothed it out.  While it was still wet I sprinkled it with glitter, pressed it in with my fingers, and then tapped off the excess.  As the background was drying I stamped the moon from Altenew onto Neenah cardstock.  I used a second generation stamping of Hero Arts dye ink for the first layer, the first generation stamping for the second layer, and then embossed the top layer with clear hologram embossing glitter.  I stamped the sentiment with versamark and embossed it with Ranger silver powder.
 I love the shimmer and texture you get from this dryer sheet technique!  The dryer sheet traps the glitter and create a really interesting effect!
I really hope these posts have given you some ideas and inspiration for how to add a little sparkle to your cards!  I'd love to hear what your favorite technique or product was and if you have any ideas to add!
Here's a photo recap of all the cards I made for this series!
Thanks so much for all your kind comments and thanks for visiting!
Giveaway:
Leave a comment on this post for a chance to win my two favorite sparkly mediums: Wow Clear Hologram Sparkle Embossing Glitter and Iridescent Medium!  You can comment on my first three posts for an extra chance to win!  The giveaway will close at 11:59PM EST on Sunday, September 27th!
Supplies:
Interested in the products I used?  To make them easy for you to find, I have listed them below. (Affiliate disclosure can be found here). Your purchases help keep my blog running and I thank you for the support!)