Good evening!  Now that you're stuffed with turkey and pie are you ready to get started on your online holiday shopping?  There are TONS of crafty sales all over the internet but here are a few of my faves! Happy shopping!! Go forth and be enabled! 😉  And make sure to check back on Monday…I'll be adding to my Crafty Destash items and will have a fun Cyber Monday deal for you! 🙂
Early Bird Savings sale of 20% off every in-stock item for 9 hours from 12:00 AM PST Friday through 9:00 AM PST – code "early2015"
After 9:00 AM PST save 15% off on all in-stock items from Friday to Monday – code "anniv2015"
On Monday from 12 AM PST to 9 AM PST save 20% off all remaining in-stock items – code "cyber2015"
Save 20% off all in-stock merchandise Thursday through Monday – code "GRATEFUL20"
Save 20% off store-wide Friday through Monday!  All orders will receive a free hand-painted stamp set that can be seen below – code "SMALLBIZ"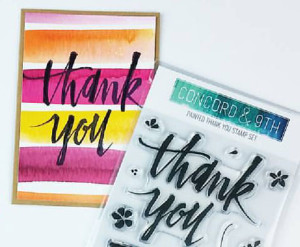 All items 25% & 50% off of Friday and Saturday – No coupon code needed
15% off store-wide Friday through Monday – code "bfcm15"
Various sales on supplies can be found here!  If you're taking the Modern Calligraphy Summit this is your chance to stock up on some class supplies!
And finally Amazon has a bunch of crafty essentials on sale!  Here are a few of my favorites:
-Disclosure: I am affiliated with Ellen Hutson and Amazon which means I receive a small commission (at no additional cost to you!!) when you click on my links and make a purchase.  Any commission I receive is put towards the running of my blog and I greatly appreciate your support!