Good morning!  Purple Onion Designs has a brand new collection from Stacey Yacula available today and I am thankful that I've been given the opportunity to play with it!  I just love these cute little wintery critters and I've created two cards using different mediums for today!
First up is a copic colored and ink blended card featuring the Frozen Pond Horizon and the Bianca Snowman from the Pine Cone Collection!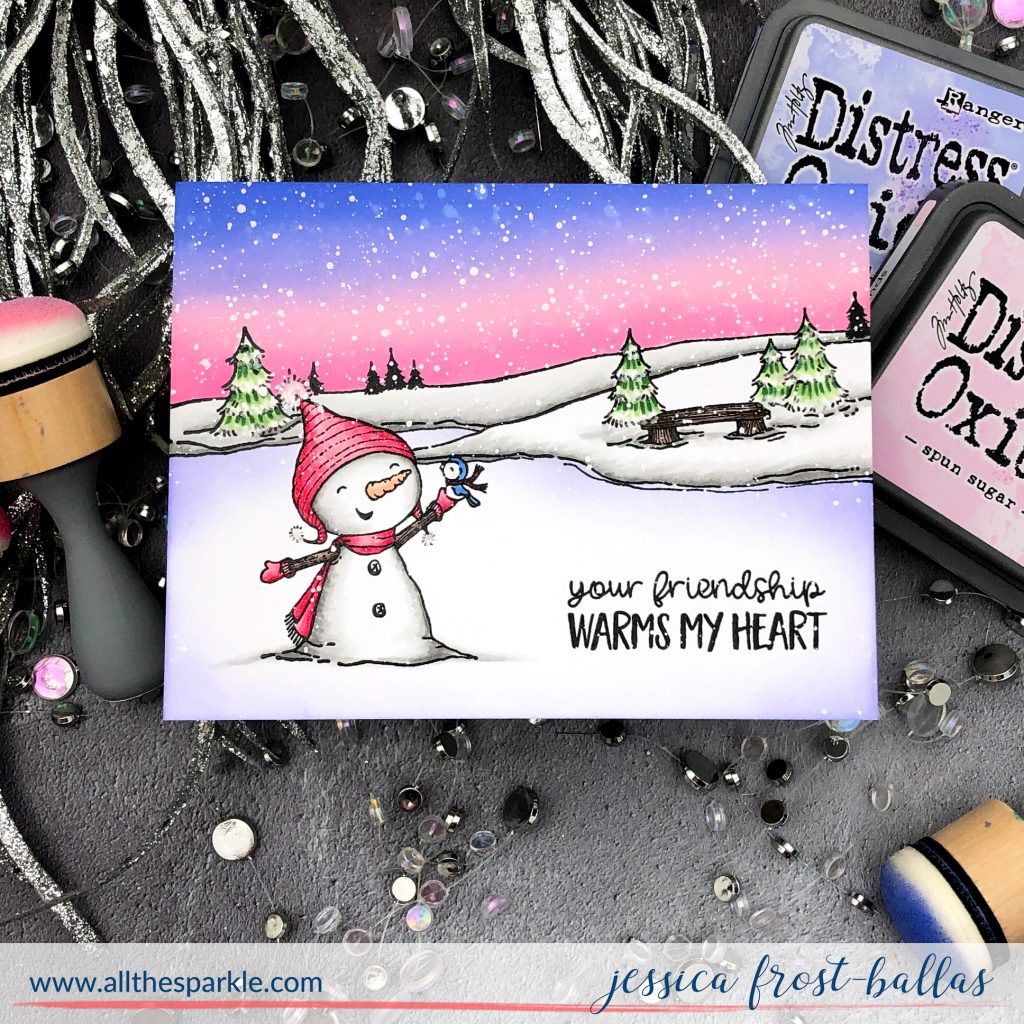 I love playing with non-traditional colors for Christmas cards and these pastel pinks and purples were so fun!  I started by stamping the snowman with versafine and heat-embossed it with clear embossing powder.  Then I masked off the snowman and stamped the Frozen Pond Horizon with versafine and also heat-embossed it with clear embossing powder.  Next I masked the pond and blended picked raspberry, spun sugar, shaded lilac, and blueprint sketch distress oxide ink to create my sky.
I mentioned this in an earlier post this month but I have fallen head over heels for the new domed ink blending foams from Scrapbook.com!  I'm in the process of transitioning the new foams to all of my ink blending tools.  They are a little pricier than the original blending foams but if you ever struggle with getting lines or smudges in your blending I cannot recommend these enough!  I've also had an issue with the quality of the original foams recently…they seem to separate more easily when you remove them from the velcro of the tool rendering them useless.  These new foams have a much sturdier bottom that removes very easily and in one piece!
Anyway, back to my card!  I left the masks in place and blended a tiny bit of shaded lilac and blueprint sketch distress oxide ink to my pond.  Once I was done blending I splattered the panel with water and and blotted off the excess.
Next I colored the scene with copic markers.  I used the following colors:
Snowman: T0, T1, T2, T4, RV21, RV23, RV25, RV29, R01, R11, R12, E71, E74, E77
Bird: B21, B24, B26
Bench: E71, E74, E77
Trees: G20, G21, G24, G28
Snow: T0, T1, T2, T4
Once I was done coloring I stamped the sentiment with versafine and heat-embossed it with clear embossing powder.  Then I added splatters of white paint to create a snowy scene!  Finally I added accents with my spectrum noir clear sparkle pen and added touches of sparkle with nuvo crystal glaze and icicle pure white glitter.  The icicle glitter is totally clear with no iridescence and lends a more subtle sparkle to the card than my usual prisma and chunky combo (that you'll see below)!
Next up is a watercolored card using Daniel Smith watercolors!  I also have a video you can watch below or over at my YouTube channel!
To start I stamped the Winter Trail Background and Ember Bunny onto arches cold press watercolor paper with no-line ink.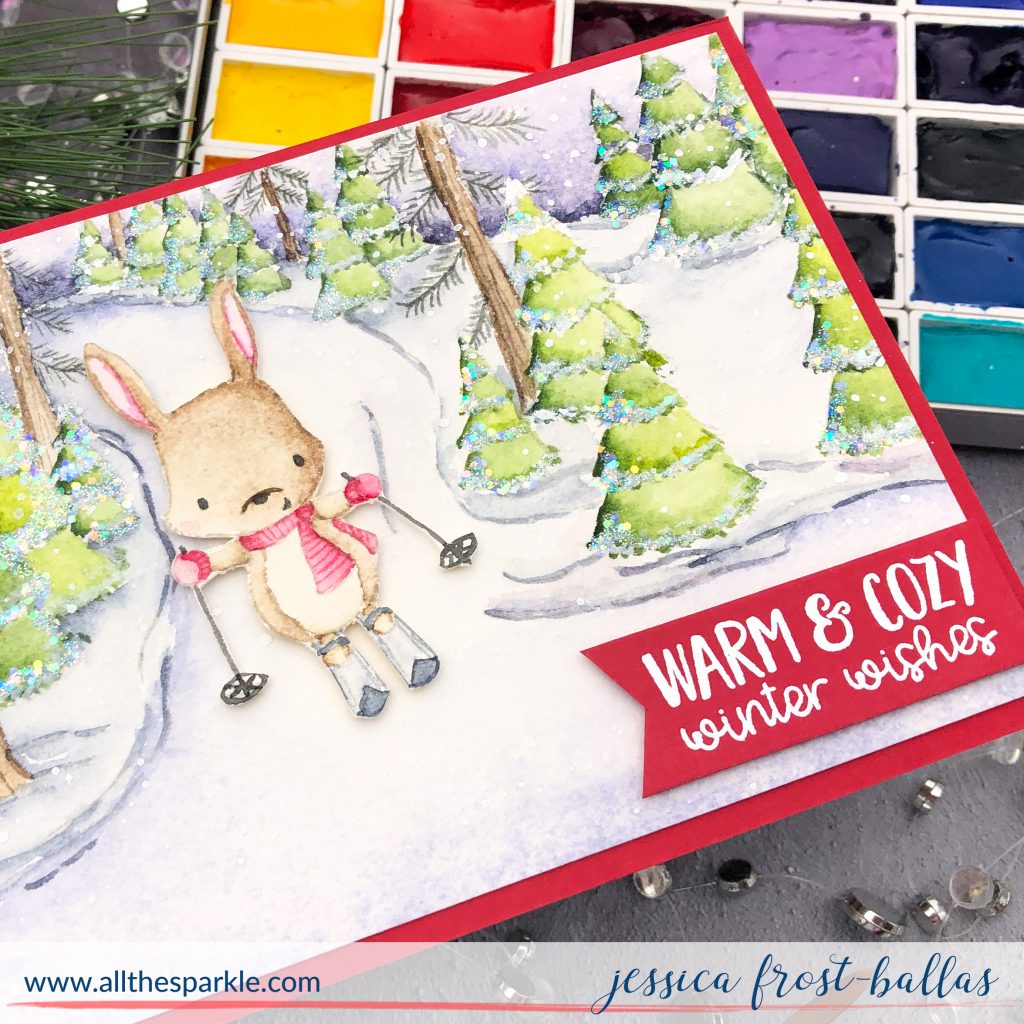 It's easiest to see in the video but I added a little color to the bottom left corner of my trees and then blended it out with clean water to create a little shading.  I continued that process throughout the panel. You can find the exact colors I used in the supply list below!  After I finished watercoloring the panel I added splatters of white paint.  I also used a flat paintbrush to add white to the bottoms of my trees to resemble snow.  I watercolored my bunny and then fussy-cut him!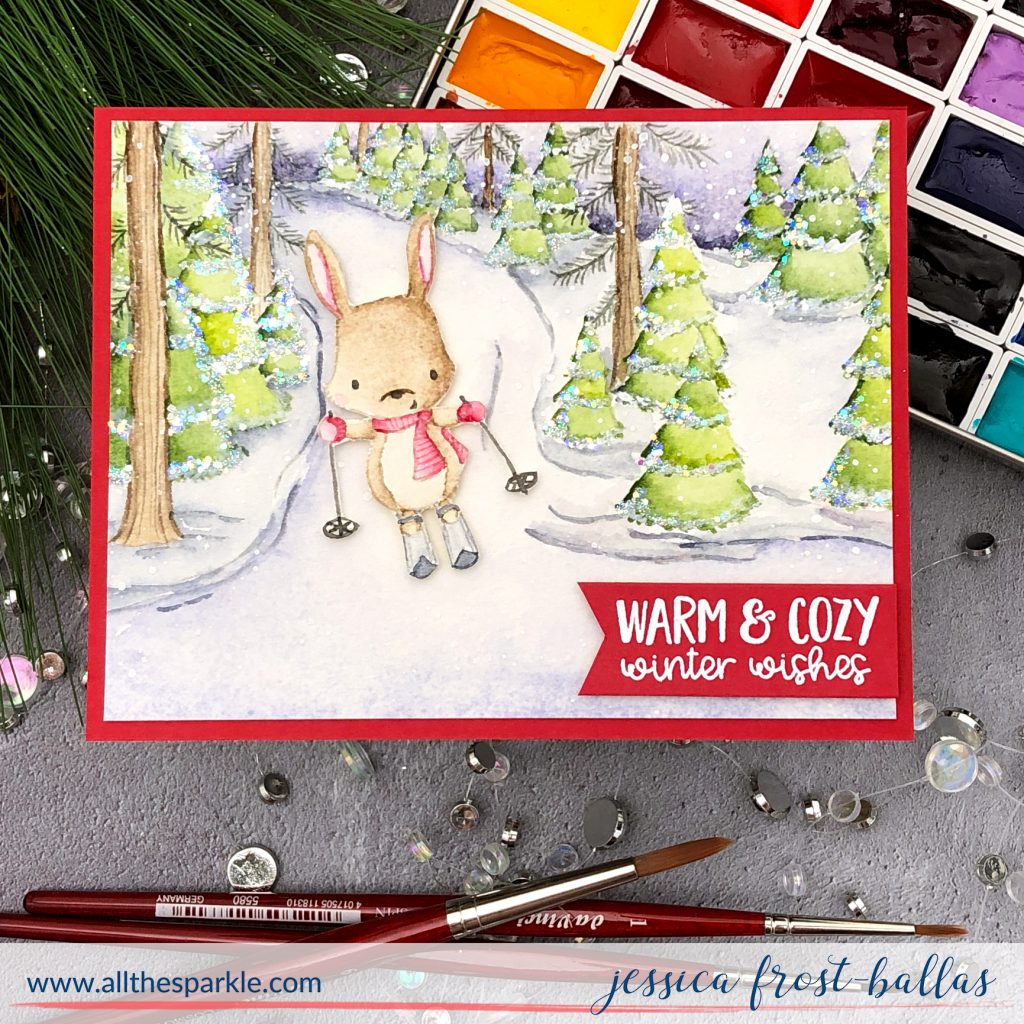 Once my panel was dry I trimmed it down to 4″x5.25″ and adhered it to a panel of cherry cardstock.  I stamped the sentiment onto the same cardstock and heat-embossed it with white embossing powder before trimming it down to a fishtail banner.  I adhered the sentiment and bunny to my scene with foam mounting tape for a little dimension.  Then I finished the card by (of course) adding a little nuvo crystal glaze and chunky and prisma glitter to the trees for a little extra sparkle!  I've gotten a few messages recently about how I apply the glitter.  As you can see in the video I put down a thin layer of crystal glaze first.  Then I take a small pinch of the chunky glitter and sprinkle it lightly over the glaze making sure to leave open space.  Then I take a pinch of the prisma glitter and fill in the open areas.  I have a separate container that I use to store any leftover mix of prisma and chunky glitter for later use!
And that's it!  I hope you'll head over and check out the adorable Pine Cone Collection at Purple Onion Designs!  I only used a small fraction of the new collection today but will be sharing more soon! 🙂
Thanks so much for stopping by and have a fantastic day!

Interested in the products I used?  To make them easy for you to find, I have listed them below. (Affiliate disclosure can be found here). Your purchases through my links help keep my blog running with no additional cost to you and I thank you so much for the support!!

| | | |
| --- | --- | --- |
| Pine Cone Collection – Purple Onion… | Winter Trail Background | Ember Skiing Bunny |
| Frozen Pond Horizon | Bianca Snowman with Winter Bird | Clear Mounting Stamp – 6 x 6 – Purple… |
| da Vinci CosmoTop Spin Brush Round,… | da Vinci CosmoTop Spin Brush Round,… | da Vinci CosmoTop Spin Brush Round,… |
| da Vinci CosmoTop Spin Brush Round,… | da Vinci CosmoTop Spin Brush Round,… | da Vinci CosmoTop Spin Brush Round,… |
| Silver Black Velvet Flat Brush 1/4″ | Green Gold, DANIEL SMITH Extra Fine… | Daniel Smith EF Watercolor – Sap… |
| Deep Sap Green, DANIEL SMITH Extra… | Daniel Smith EF Watercolor – Cobalt… | Moonglow, DANIEL SMITH Extra Fine… |
| Daniel Smith EF Watercolor – Indigo,… | Quinacridone Red, DANIEL SMITH Extra… | Pyrrol Scarlet, DANIEL SMITH Extra… |
| French Ochre, DANIEL SMITH Extra Fine… | Quinacridone Gold, DANIEL SMITH Extra… | Roasted French Ochre, DANIEL SMITH… |
| Sepia, DANIEL SMITH Extra Fine… | Payne's Gray, DANIEL SMITH Extra Fine… | Amazon.com: Arches 140 Lb CP… |
| Ranger Ink – Tim Holtz – Distress… | Ranger Ink – Tim Holtz – Distress… | Ranger Ink – Tim Holtz – Distress… |
| Ranger Ink – Tim Holtz – Distress… | Hero Hues Cherry | Fadeout No Line Coloring, Ink On 3… |
| Scrapbook.com – Ink Blending Tool… | Scrapbook.com – Ink Blending Tools… | Scrapbook.com – (3) Domed Foam… |
| Scrapbook.com – (5) Domed Foam… | Copic Markers | Crafter's Companion CLEAR OVERLAY… |
| Tonic CRYSTAL GLAZE Nuvo 947N at… | Lawn Fawn PRISMA GLITTER LF1535 at… | Lawn Fawn CHUNKY GLITTER LF1536 at… |
| PW129 Icicle Pure White Glitter -… | Copic OPAQUE WHITE WITH BRUSH… | Tonic LIGHT MIST SPRAY BOTTLE Nuvo 2… |
| Ranger 2 oz MISTER BOTTLE MIS30676 at… | Connect Glue – Gina K Designs | Amazon.com: Scotch 1/2-Inch by… |
| 3M Scotch PINK ATG ADVANCED TAPE… | Purple Tape – 1/2″ – Gina K Designs | Gina K. Designs Masking Magic Sheets… |
| MT100 Original MISTI Laser Etched… | Rotatrim RC RCM12 12-Inch Cut… | Crafter's Companion GEMINI JUNIOR… |