Good morning!!  I'm about three weeks late with this post (oops) but I'm excited to celebrate my 2nd blogiversary today!  My blog has technically existed since 2012 but I blogged my very first cards on May 5th, 2014 and that was really the start of my blog heading more in the direction of cards and papercrafting.  My first cards were based on lessons taught at OnlineCardClasses and yikes…I don't know what was worse: the cards or the photos of the cards! 😉
It's been a great year!  I have had the extreme pleasure of continuing on the design teams for The Ton Stamps, A Blog Named Hero, and Christmas Card Challenges and I continue to adore the teams I am so very lucky to work with!  Over the last year I also joined the design teams for Coffee Loving Cardmakers, Ken Oliver Crafts, and the Lawnscaping Challenge.  Lawnscaping, in particular, was a dream of mine when I first began crafting and I constantly pinch myself to make sure I'm not dreaming!  I work with amazing crafters on all of my teams and I am so fortunate to be inspired daily by some fabulous talent!!
The other big milestone in my crafting journey was the creation of my YouTube channel this past summer!  I am still easily intimidated by the process of creating crafting video tutorials but they are getting a little easier and I am encouraged by your wonderful comments and constructive critiques!  I have also recently updated my Videos and Card Gallery pages on my blog so that my past cards and videos are more easily accessible so I hope you'll check them out!
But, anyway, I digress on the true point of this post: I am so happy to have had the opportunity to join this wonderful community of crafters and I am so thankful for the friendships I have made over the last two years!  Of course, I love to craft and create cards; but most importantly, I love the supportive network of crafters I have met all over the world!  It is a little unbelievable to realize how many amazing friendships I have made with people I have never actually met in person!  So my card today is dedicated to all of you: my faithful readers, commenters, and friends via my blog, Facebook, Instagram, Flickr, YouTube, and Twitter!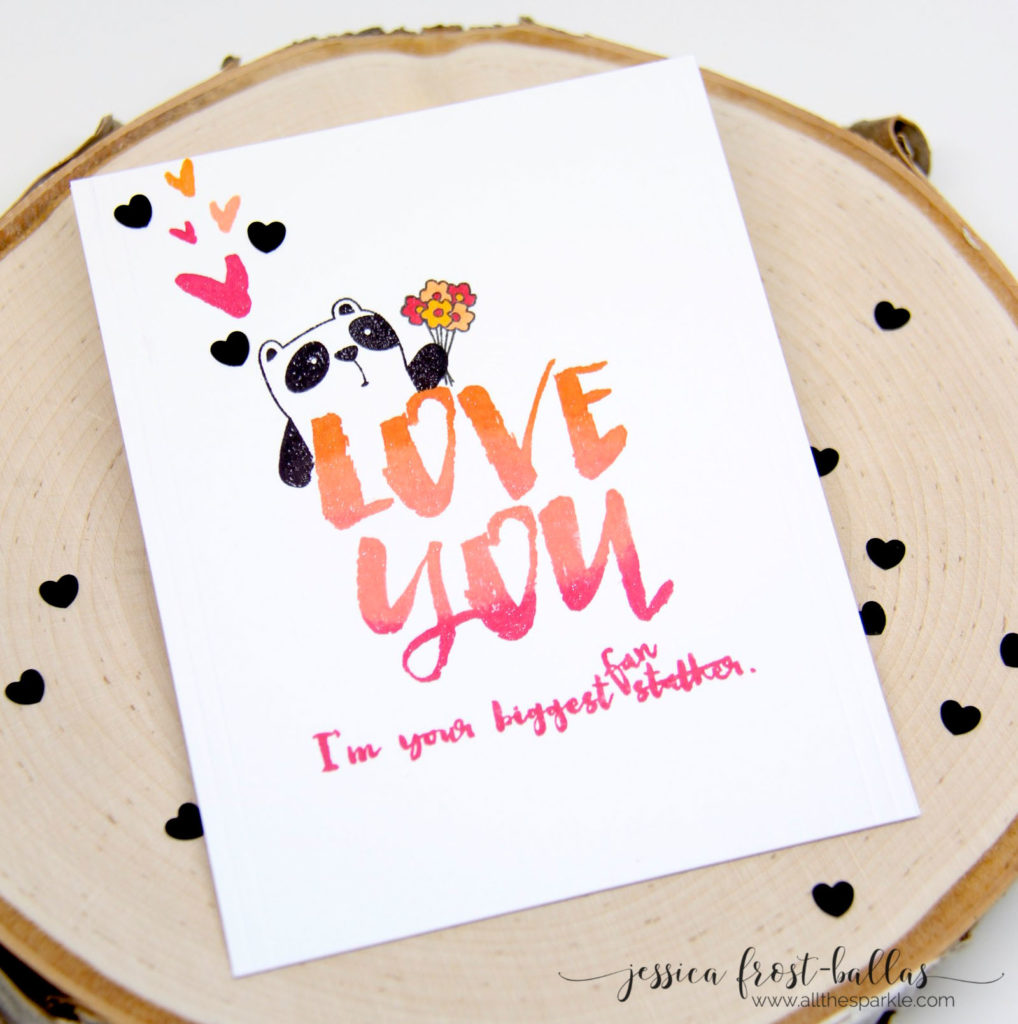 Isn't that panda adorable?!  I wish I could give you all flowers and cards but I'll have to settle for sharing my card with you today!  I purchased the Biggest Fan and Friends for All Seasons: Spring stamp sets from WPlus9 at the same time and I immediately had the idea of altering my panda to fit with the sentiment set!  I inked the top of my sentiment with Miami Spice ink and used my mini-MISTI to stamp it on a piece of white cardstock.  Then I inked the sentiment a second time with Sweet Nectar ink but cleaned the ink off the top and bottom of my sentiment before stamping.  Finally I inked the sentiment a third time with Sweet Gelato ink and cleaned the ink off the top and middle of my sentiment before stamping to create an ombre look.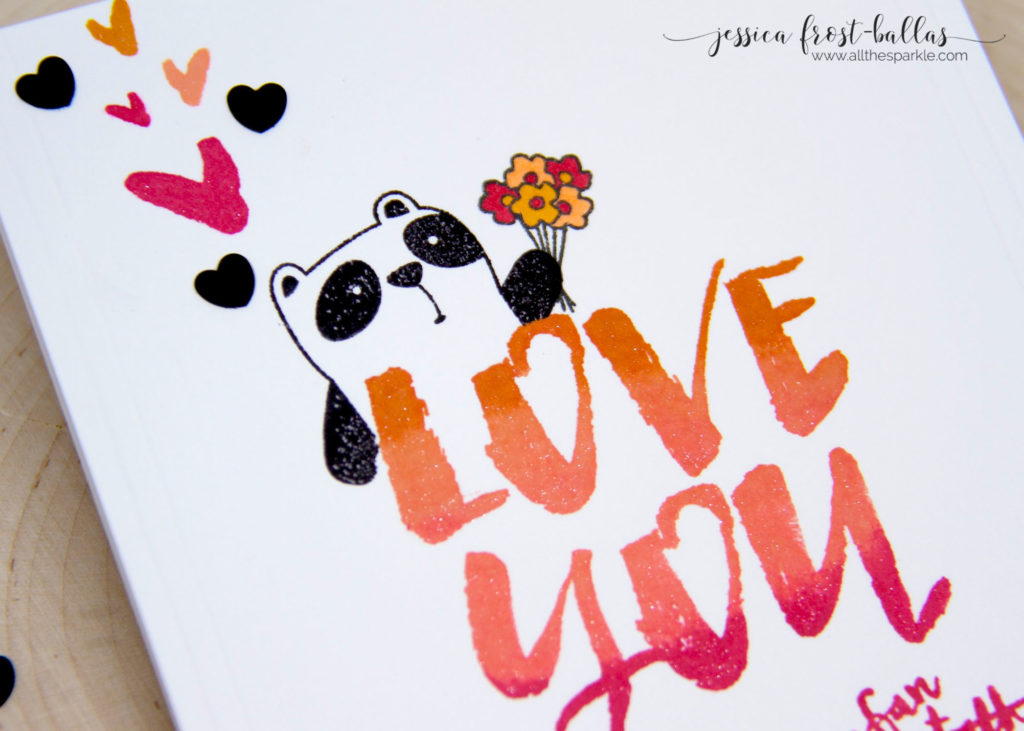 Next I took a post-it note and masked off the sentiment before stamping my panda.  Masking allows the panda to look like he's hiding behind the sentiment.  I stamped the flower arrangement from the same set and colored it with copics to match the inks.  I used the same inks to stamp a few hearts and then went over the hearts, sentiment, and flowers with my spectrum noir sparkle marker.  Finally I added a few black confetti hearts from The Ton, scored two lines along the side of my card panel, and adhered it to a card base!
To all of you: I love you and I am your biggest stalker fan!  Thank you so much for your continued support and I cannot wait to see what the next year brings! 🙂
Giveaway!
I wish (SO MUCH!) that I could give something to each of you but unfortunately that's not quite possible. 😉 However, I do have a small giveaway to celebrate two years!  One lucky commenter will win a $50 gift certificate to the crafting store of their choice!  To enter just leave a comment on my blog! 🙂  For additional entries you can do any of the following and comment separately to let me know what you have done:
follow me on Instagram
subscribe to my YouTube channel
subscribe to my blog via email (sign up via the column on the right side of my blog)
The giveaway is open through midnight EST on Friday, June 10th and the winner will be announced on Saturday, June 11th!
Finally, one of my crafting goals for 2016 is to continue to send happy mail on a weekly basis!  If you'd like to receive a card from me, please head here to give me your snail mail address!  I can't promise when your card will be mailed but I will continue to work through my list until I get to everyone! 🙂
Thanks so much for visiting today and have a wonderful holiday weekend!
Interested in the products I used?  To make them easy for you to find, I have listed them below. (Affiliate disclosure can be found here). Your purchases help keep my blog running and I thank you for the support!)