I am super excited to be participating in the Creative Blog Hop!  I was nominated by the very talented Alanna Moses (who's also my design team leader for Christmas Card Challenges!)
Here's how it works…you are nominated to join the hop and all you have to do is answer four craft-related questions and nominate two crafty friends to participate the following week!
The four questions are:
1. What are you working on right now?
Well, I design for A Blog Named Hero and Jessica Lynn Original and I've got several projects coming up featuring Hero Arts and JLO products.  I also design for Christmas Card Challenges where I create weekly Christmas cards (a great way to prepare for next year!) and I contribute to Craft Storage Ideas where I have an awesome surprise guest craft room tour coming at the end of the month!
Maybe I should just show you a sneak peek of one of my upcoming cards!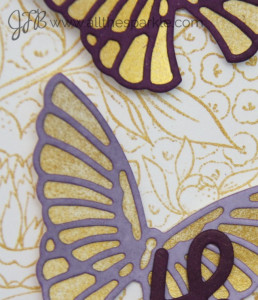 Actually I've also got two somewhat secret projects in the work…one is a definite and the other is a hopeful.  So cross your fingers for me and I'll share when I can!
2. How does your work differ from others in your genre?
I don't know that my work really differs from everyone else; however I do try to keep my own voice amidst all the trends.  The greatest compliment I can receive from another crafter is that they recognize my work before they see my name on it.  Generally I like to experiment with techniques and my favorite (and most versatile) item in my craft room are my distress inks!  I also can't resist adding a little extra sparkle or shine to almost everything I make!  Sparkles make everything better!!
3. Why do you create what you do?
Hmm, good question!  I do love to create bright and cheerful cards that will bring a smile to someone's face; but I really appreciate the creative outlet that card-making provides to me.  I LOVE teaching music lessons but the main emphasis of my work is helping others to find their voice in music and encouraging them to not just copy what they hear.  Card-making lets ME express MY creative voice and I find myself really craving that opportunity these days!
4. How does your creative process work?
It varies from project to project…sometimes I start out planning to use a particular stamp set, technique, or color scheme; other times I just sit down and see what happens!  I don't always have a lot of time to spare in my craft room so I will find myself brainstorming a card while I'm driving in the car, filling the bird feeders, or eating breakfast.  For example, my harp shaker cards were completely thought out and planned while in the car and then the following morning it took me very little time to actually put them together.
I also take a lot of mental "inspiration photos" from things that I see and then I try to figure out how I can interpret that into a card.  One of the cards I'm currently working on was inspired by a dress that one of my students wore into a lesson.  I loved the color and pattern and immediately thought of a stamp set that I could use to recreate the pattern.  Ha…and I can tell my obsession with distress inks is a little scary when I immediately think to myself…'hey that looks like mowed lawn, chipped sapphire, and peacock feathers!'
So that's it for me!  I've nominated the following two ladies to join in next Monday:
I've gotten to know them both over the past few months through A Blog Named Hero and I LOVE their creations!  Mateja plays with lots of different techniques and there is so much variety to her work!  And Bhavana, I'm always very inspired by her colorful creations!  I look forward to seeing their answers!