This is my second post for today!  If you're looking for The Ton sneak peek please scroll down or click here!

Hi there, readers!  Thanks for hopping along on the Craft Storage Ideas Planner Blog Hop!  You should have arrived from Hazel's blog.
We are so excited to share some great ideas for keeping your planner both organized and fun along the way.  But first, I want to share some FANTASTIC PRIZES we will be sharing with lucky commenters along the route!
To win, simply comment at each stop along the way. You do not have to comment on every stop to win, but it sure increases your chances!  Also, we apologize, but winners must live in the United States, as international shipping is just too pricey.
Planning with "Scheduled" from The Ton
Today I'll be talking about a stamp set that I use for my planner and how I store my planner supplies!  I'll freely admit, I think I enjoy decorating a planner more than actually using it (I know I'm not the only one!) but I love how so many amazing stamp companies are making it easier to make planners functional AND fun!
I've tried many different planner stamp sets and I do tend to mix and match my sets as needed for various words or images but today I'm focusing on Scheduled* from The Ton!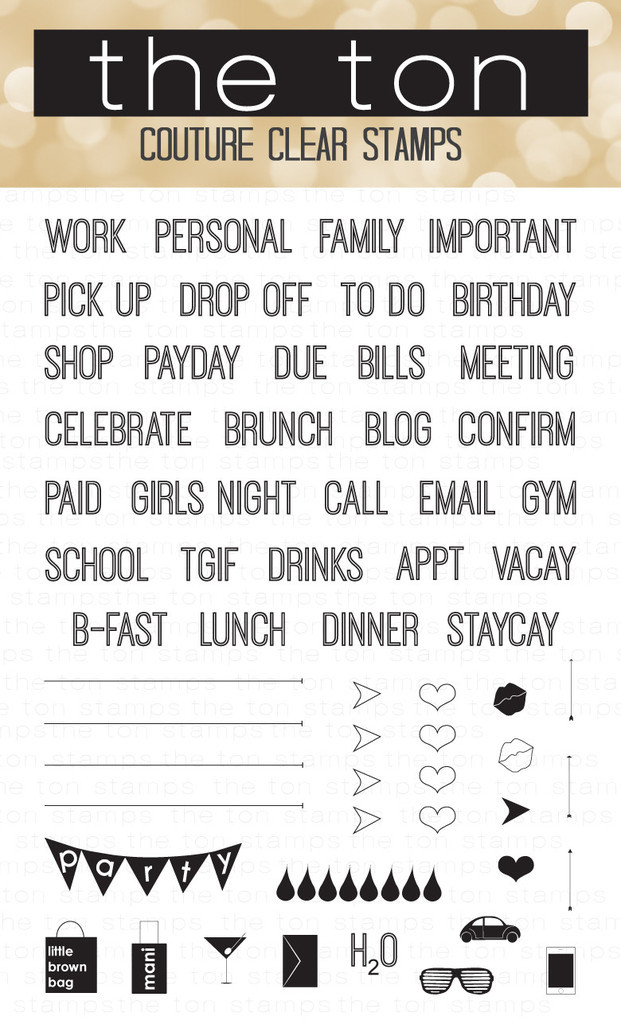 This is a great set with lots of fun options!  These days my life is not nearly exciting enough to need some of the vacay, drinks, and girls night stamps but I love that there's a good balance of "work" and "play" stamps to fit any lifestyle!  I used this set last week in my Erin Condren Life Planner and I thought I'd show you how I use my planner!
I'm a big fan of colorful things so I tend to try to color coordinate my weekly pages based on that month's color scheme.  I love Jennifer McGuire's idea for using removable labels to further customize your planner.  The morning, afternoon, evening categories don't really work well for me and I much prefer being able to change my categories to suit my lifestyle!  I use copic markers to color-code these labels and then I stamp my categories in Memento Tuxedo Black Ink.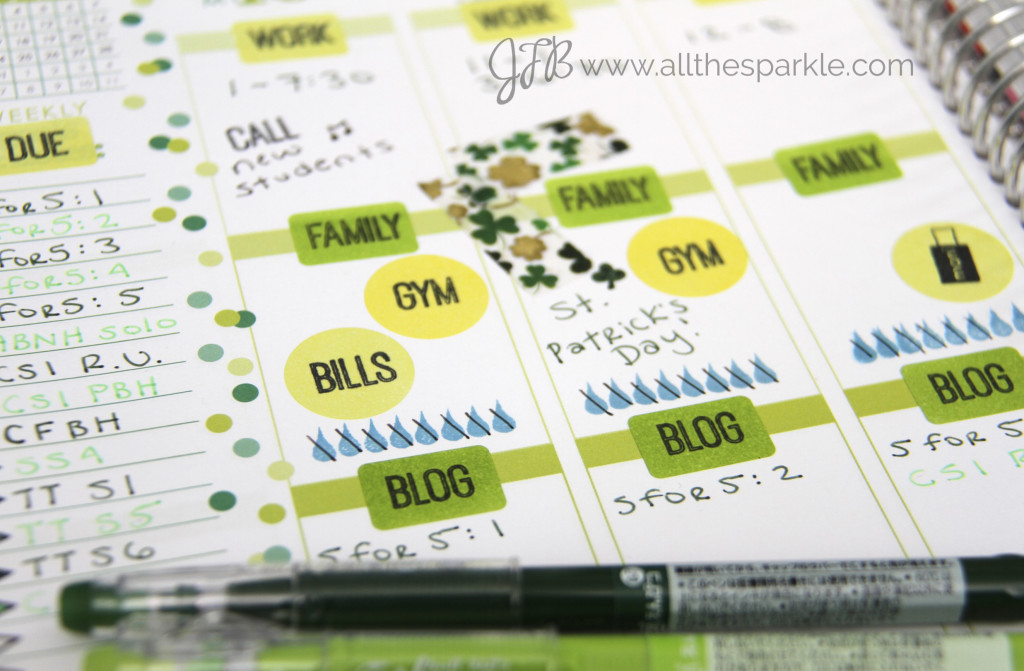 I use these circular labels for daily events, things like a reminder to pay bills or go to the gym!  I love that there's a water intake stamp included in this set and I tick off my glasses of water throughout the day!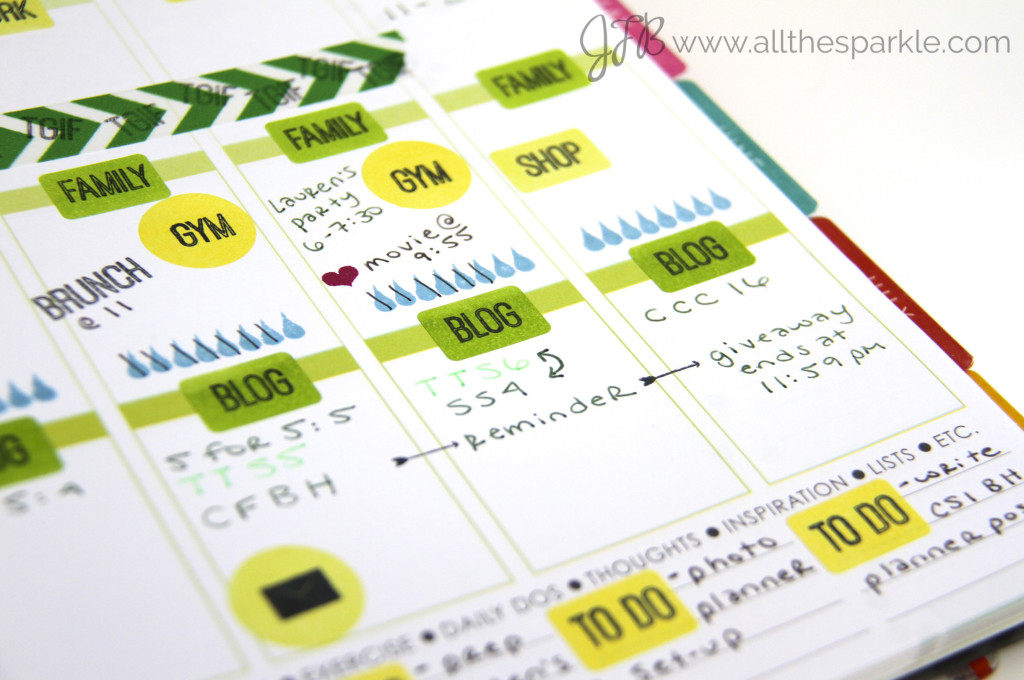 I also use the cute little heart for anything that relates to my husband…date night, anniversary, etc and I stamp it in red ink so it'll stand out and catch my attention!  And I tend to add little bits of color-coordinated washi tape to my planner for fun!
As you can see in this post, the cute little images in the stamp set can be used for more than just planning!  I love finding ways to stretch my stamps!
Storing Planner Supplies
And finally, a little bit on my storage system!  I tend to reserve Sunday afternoons for my weekly planner "decorating" time and I like to keep everything together so that it's easy to get to work!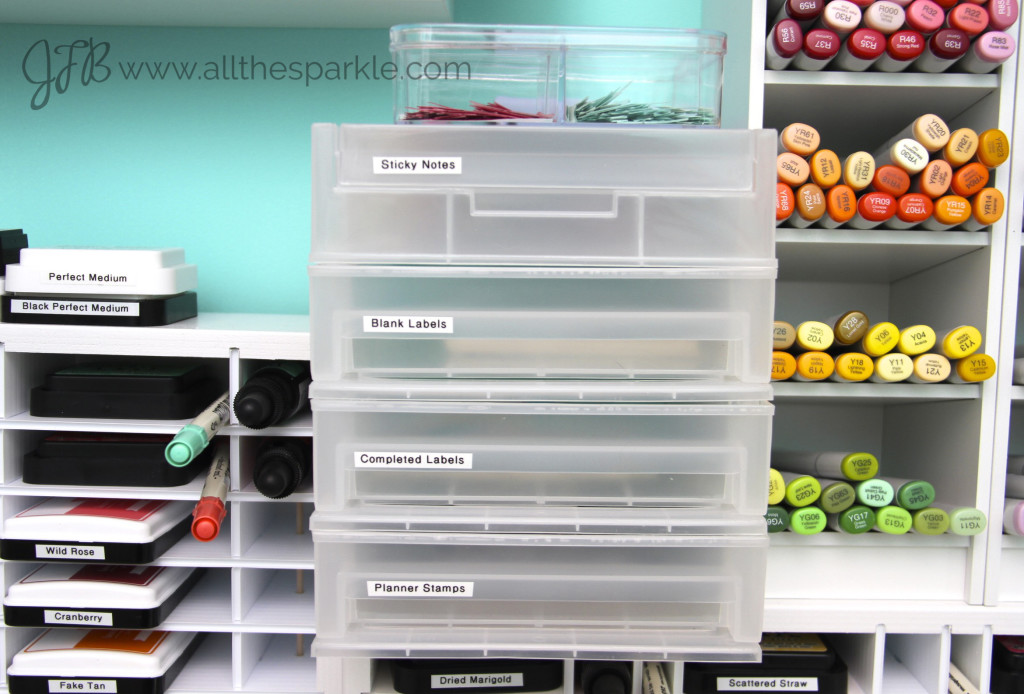 I found this cute organizer on my last trip to The Container Store and it is PERFECT for storing all of my planner supplies!  When I have extra time I tend to color a bunch of additional label sheets for the following month and stamp them in advance so that if I have a busy Sunday, I can simply go into my 'completed labels' drawer to find stamped labels ready to go!  I also love collecting fun sticky notes like these or these from the Etsy store, Stationary Supplies and I keep those on hand to help decorate my planner!
I bought that small clear box from the Target dollar bins a few weeks ago and use it to store blank planner banners from the Papertrey Ink Memories Inked Planner Banner die set that was released recently.  I took these labels, colored them with copics, and then die-cut the banners.  I use them mostly in my planner; but since they're removable, they're perfect for adding notes to my students' music during lessons! 😉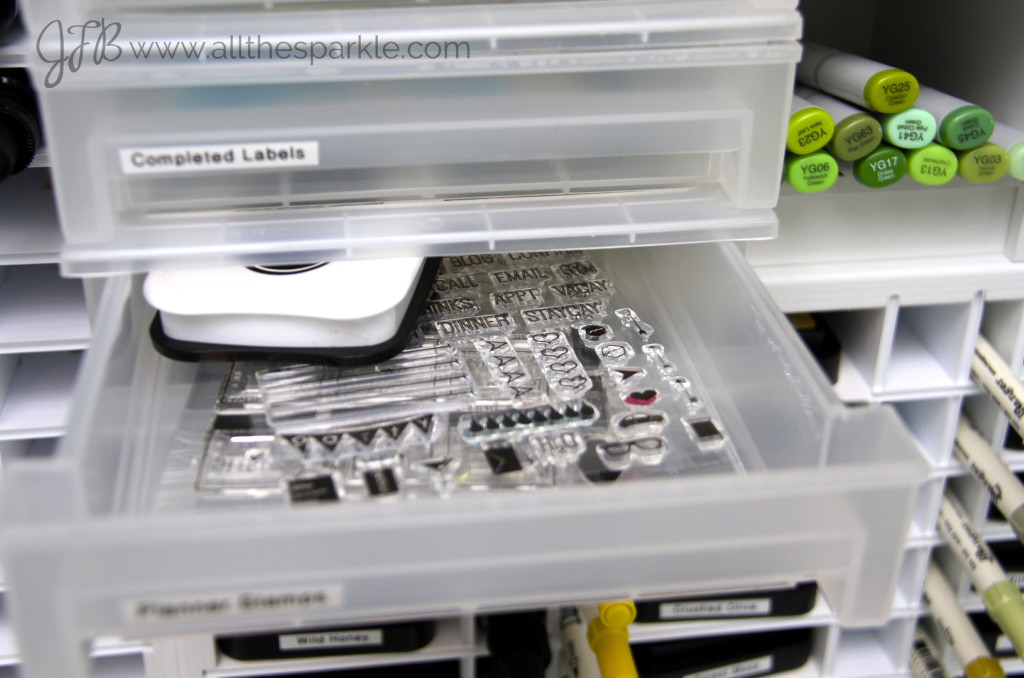 The organizer is the perfect size for storing standard 4×6 stamp sets, a small acrylic block, and an ink pad.  I think I've got 4 stamp sets in that drawer and you could probably fit at least two more if you didn't store your ink pad and block inside!
On the other side of the copic markers I have an organizer filled with erasable pens and erasable highlighters that are also essential to my planner decorating.  And above my organizer I have a dowel rod attached to a shelf that stores all of my washi tape.  It's helpful to me to have everything I need right at my fingertips and it definitely encourages me to be more efficient overall!  I hope my post gives you some new ideas for planner stamps or storage!
Thanks so much for stopping by!  Don't forget to leave a comment for a chance to win one of our fabulous prizes!  This is the end of our hop but if you didn't start at Craft Storage Ideas you can head here for the beginning!  I hope you enjoyed the hop and if you're a first time reader, I hope you'll come back! 🙂
*The stamp set, Scheduled, was provided by The Ton for this blog hop; however, all opinions are my very own! 🙂