With a houseful of rescued pets we tend to celebrate adoption days rather than pet birthdays…but that's primarily because we don't actually know the birthdays of our dogs or rabbit.  We still don't know the exact date for Rogue but we've got a much firmer idea.  We adopted her on June 20th and was told that she was between 8 and 9 weeks old so we've decided that her birthday was some time this week!  Ha ha, I know…real scientific, right?
Anyway, I thought it would be fun to share a little of her adoption story today!  If that's not your thing, just scroll on down past the cute cat photos…there's a card!  But it also has a cat…just so you know… 😉
So my husband has been wanting a cat for YEARS…but with two dogs and two rabbits, a cat just seemed to be too much.  But we had talked and decided that a cat would be the next addition.  In January of 2014 we had to say goodbye to our first "joint" pet, our rabbit Nestle.  We took several months to grieve but began talking about looking for a kitten over the summer.  My husband is a public school teacher so we wanted to get a kitten over the summer where he'd have the most time to bond with it.  In our area there are two animal shelters…a few weeks before school ended we visited one but weren't really wowed by anything we saw.  We decided we'd start our search in earnest on his last day of school, June 20th.
Steve had his heart set on finding a female tortoiseshell or russian grey kitten.  He was hoping to name her Rogue after the character from the X-Men comics and was thinking it would be cool if she had a streak of white fur like her namesake.  I know…getting a little specific here…
So a week before the last week of school we took Merlin to the vet for an unusual bump on his skin and got the news that it could be cancerous and would have to be removed as soon as possible.  We could tell that it was potentially a very serious problem and that our vet was quite concerned.  At that point we put our cat plans on hold.  However, as the days went by and I thought about what it was like to lose Nestle earlier that year I decided that maybe we should reconsider.  At that point Steve was too worried about Merlin and wasn't interested in looking for a kitten.
On the last day of school I went in and helped Steve close up his classroom and on the way home I convinced him just to stop by the second shelter in our area.  Since his requirements were so specific we were pretty sure there wouldn't be a kitten that would entice us to adopt that day and we could just look around.  By the time we got there, the shelter had less than an hour until closing and it was practically empty.  The kitten room is fronted with big glass windows and is right in front of the main entrance so it was the first thing we saw.  As we walked in, literally EVERY kitten was against the other side of the cage except for one kitten who was watching us intently.  And it was a tortoiseshell…
We walked into the room and she was in a cage with 4 littermates.  She was the only tortoiseshell in the entire room.  Of the five kittens in that cage she was the only one who was really interested in us.  She was pushing her nose through the bars, reaching her paw out, and purring like crazy…(at the time we didn't know that all tortoiseshell cats are female) so we asked the shelter attendant if we could take her out thinking that there'd be no way she was female.  Oops…
But of course, she wouldn't have a white spot of fur…except she did…a little patch right under her chin.  *Sigh*….and the moment Steve held her, I was positive she'd be coming home with us.  To his credit, he did try to stick to his resolve and actually put her back in the cage after a few minutes.  But she was determined to come home with us…she kept doing everything she could to keep us entertained.  When we found out that we didn't need any proof of home ownership or anything on hand to adopt her we were sold!  We signed all the papers, paid the adoption fee, and they handed us a box with a kitten inside…
We really hadn't actually expected to adopt a cat that day…so we literally had NOTHING prepared.  So Steve sat in the air-conditioned car with the box while I ran into PetCo and bought everything.  Ha, not quite…but it certainly felt like it.
This is the first non-iPhone photo I took of Rogue about 5 minutes after we got home…she was a whopping 1.5 lbs.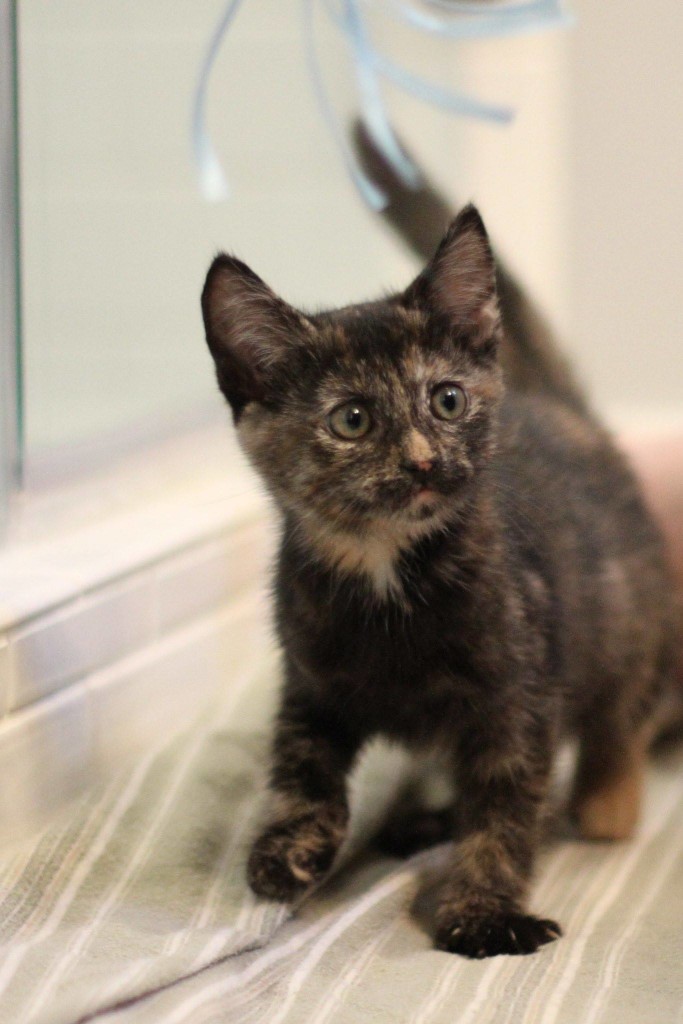 So that's how Rogue joined our family!  Merlin had his surgery 4 days later – his surgery went exceedingly smoothly and the bump wasn't cancerous!  He did need several days of recuperation and Rogue was happy to be his personal heating blanket…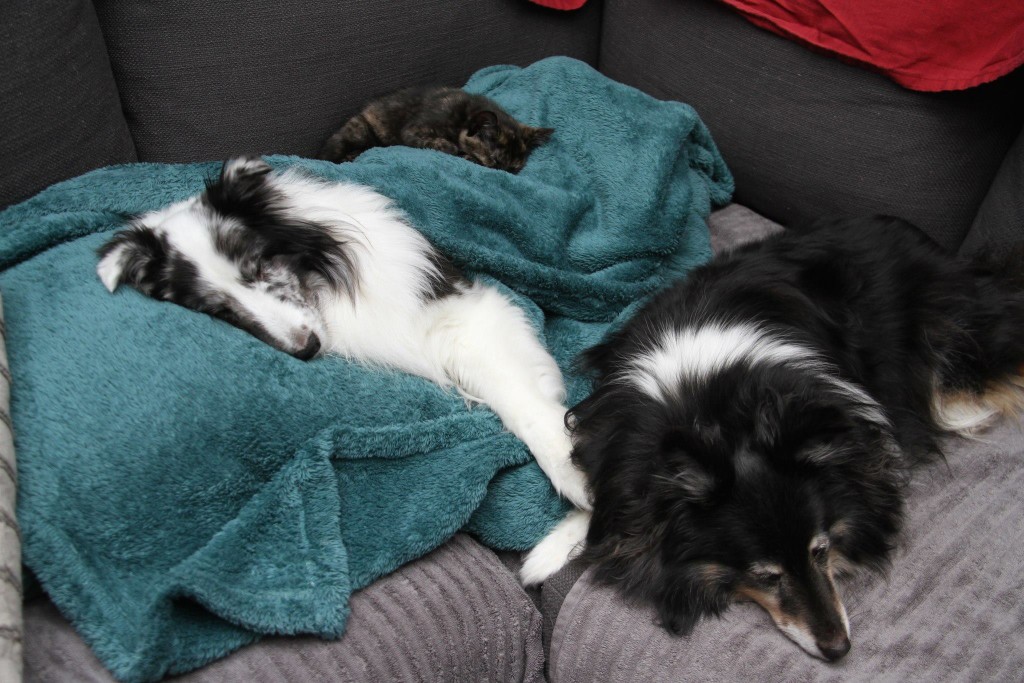 Rogue's still not sure about Archimedes and she's afraid of Cookie but she immediately took to Merlin!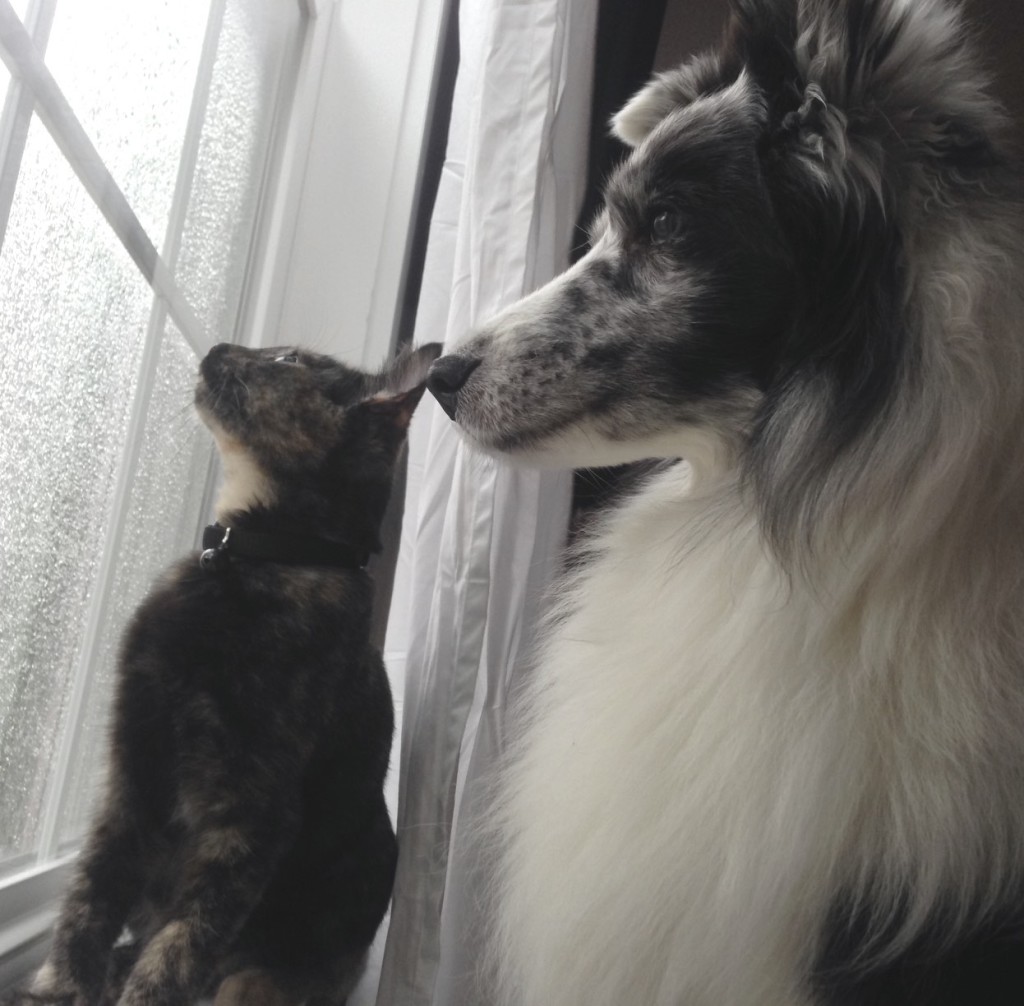 So, Happy Birthday Rogue!  We are SOOOO thrilled to have found you and I know it was fate…she was meant to be ours!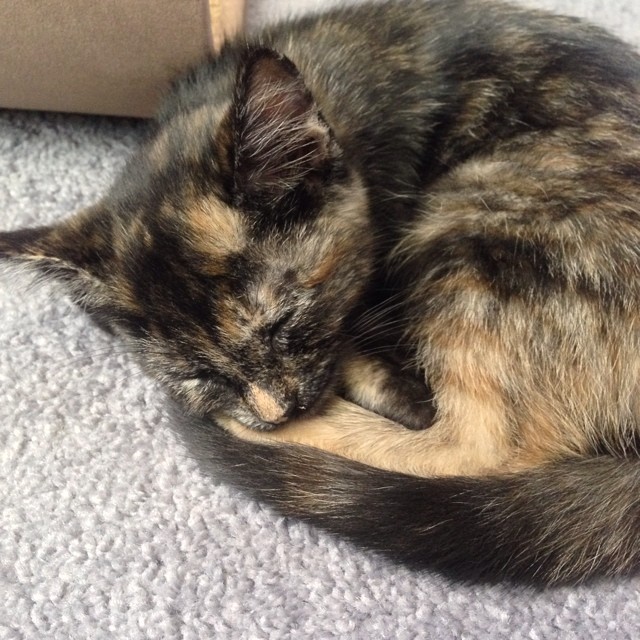 Despite having a gorgeous model, I still can't color tortoiseshell cats; however, I am getting more comfortable with tabbies! 😉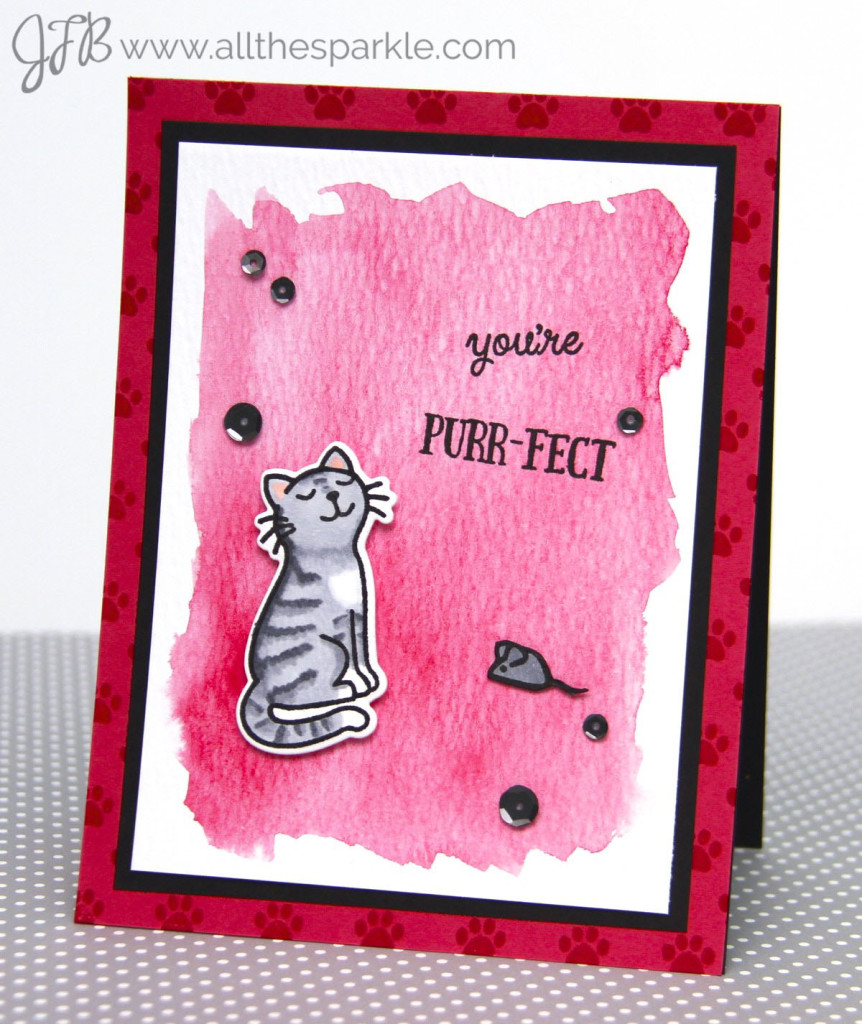 I love the Furry Friends stamp set from Avery Elle.  The cat is so cute and that pose is one I see from Rogue on a daily basis… 😉  I colored the cat and mouse with copic markers and watercolored the white panel with Kuretake Gansai Tambi watercolors.  The pink panel was stamped with the pawprint background stamp from My Favorite Things and heat-embossed with clear powder for a tone on tone look.  A sprinkling of shotgun grey sequins from The Ton completed my card!
Thanks for visiting and have a fabulous Friday!