For the Hero Arts 2017 Spring Catalog Blog Hop please click here!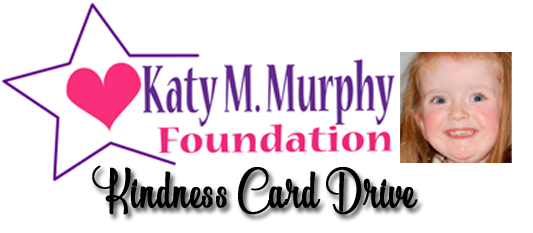 Good morning!  Today I have the honor of participating in a blog hop for the Katy M. Murphy Foundation's Kindness Card Drive.  You can find all the details on Michelle's blog but here is the general idea:
The Katy M. Murphy Foundation is a nonprofit organization founded by Katy's mom, Amiee.  Katy was born with a congenital heart defect and lost her life at the tender age of 6.  Amiee started the Foundation to honor her daughter's memory. Here is a small excerpt from the foundation's website:
"Katy's foundation is not about a sad story of a young child that died. It's about honoring her memory by helping other families that are on similar journeys. We have been in their shoes and would like to help ease their load in ways that we feel would be beneficial."
The Katy M. Murphy Foundation would like to start sending out Kindness Kits to these families.  Katy's Kindness Kits will be delivered to inpatient patients at Boston Children's Hospital specifically on the cardiac floors.  (Other floors and hospitals may be added at a future date!)
The purpose of a Katy's Kindness Kit is to share a bit of happiness with a child, and their families, who are stuck in the hospital.  Each kit will contain items that brought Katy happiness during her many hospitalizations.
We would like to add a handmade card to each kit and that is where YOU come in. We will need many cards and are turning to the card-making community for help.
Card Drive Details:
The Katy's Kindness Kit Card Drive will start on February 14, 2017 and will end on April 15, 2017.
We would like to ask that you send in happy, uplifting cards. They do not have to be geared only towards children.  Some will go to the parents of patients and some to teenage patients.  We request that you do NOT send in Get Well cards.  Hello, thinking of you, have a nice day, etc are all great themes!
Please send an envelope for each card you send in!
Please, include nothing sharp on your cards.
Please sign the cards and add where you are from!
Please do not seal envelopes!
Please mail your cards to:  Katy M. Murphy Foundation, P.O Box 73, Jackson, NH 03846
We have some AMAZING SPONSORS for this drive, with lots of incredible prizes to giveaway to the people who send in cards. Each card you send in gives you an entry to the giveaways.  Cards must be postmarked by April 15th, 2017 to qualify for prizes.  You can find the submission form for prize entry on Michelle's blog here!
Thanks to the following companies for sponsoring the Card Drive with their generous prizes: Lawn Fawn, Jennifer McGuire Ink, Paper Smooches, Hero Arts, Simon Says Stamp, Online Card Classes, WPlus9, and My Favorite Things!
And to kick off the card drive we're holding a blog hop to get you inspired and ready to create!  You should have arrived from Vera's blog and Kelly is your next stop!  You can find the full hop list at the bottom of this post!
So my card is one I created a few months ago but never got around to sharing.  I actually made it at a crafty retreat where I had the pleasure of meeting Michelle (and some of these other lovely hoppers) in person for the first time and thought it would be perfect for this hop!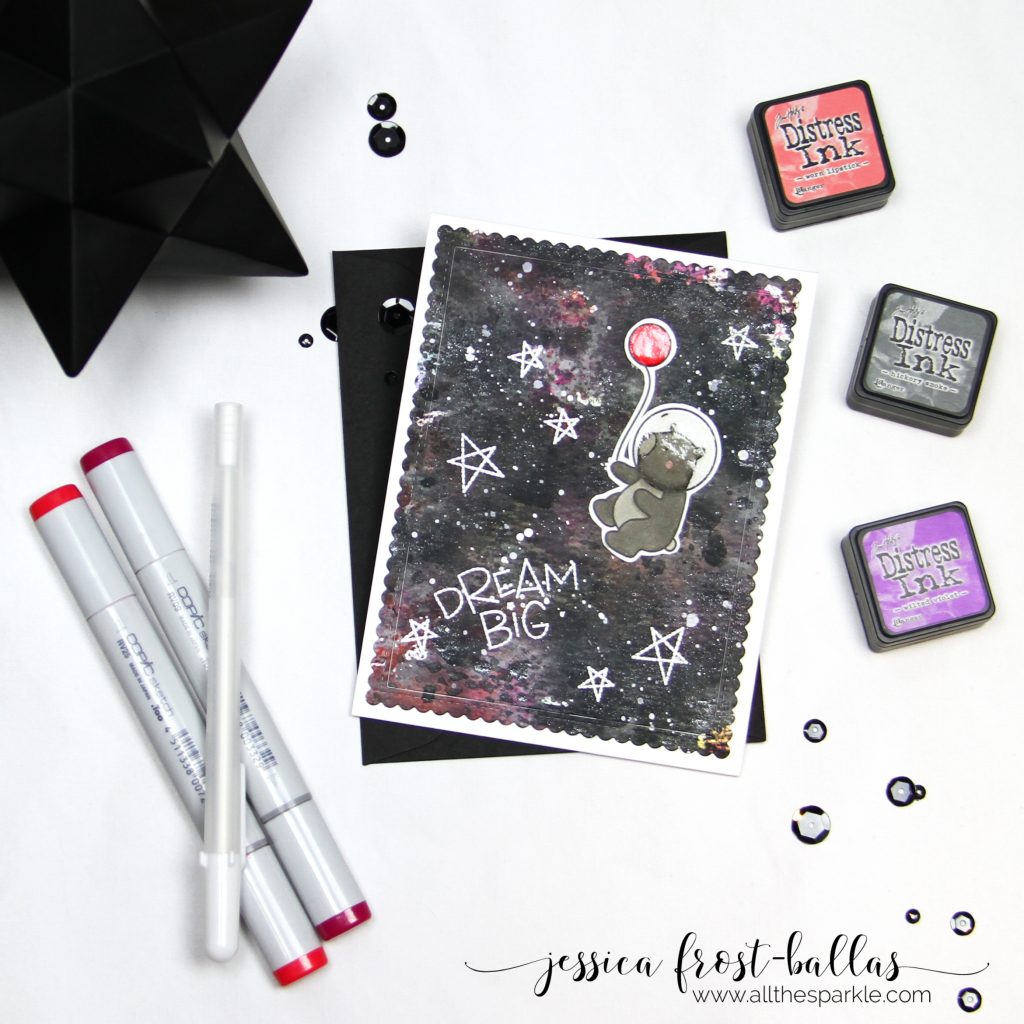 I actually had the pleasure of sitting next to Jenn Shurkus who let me borrow supplies to create this card 😉 after watching her create a galaxy card!  I started by smooshing distress inks onto a craft mat, spritzing them with water, and mixing them around with my finger tip.  Then I dipped my watercolor paper into the distress ink a few times until I had a nice mix of color on the paper.  And honestly, your paper will look kinda awful at this point but don't give up!  I have a video of this process for another card that you can find here if you'd like more information.  I let that dry and then repeated the process using hickory smoke and black soot distress inks.  Once that dried I flicked on white paint and shimmer spray.  I let the background dry while I worked on the rest of the card.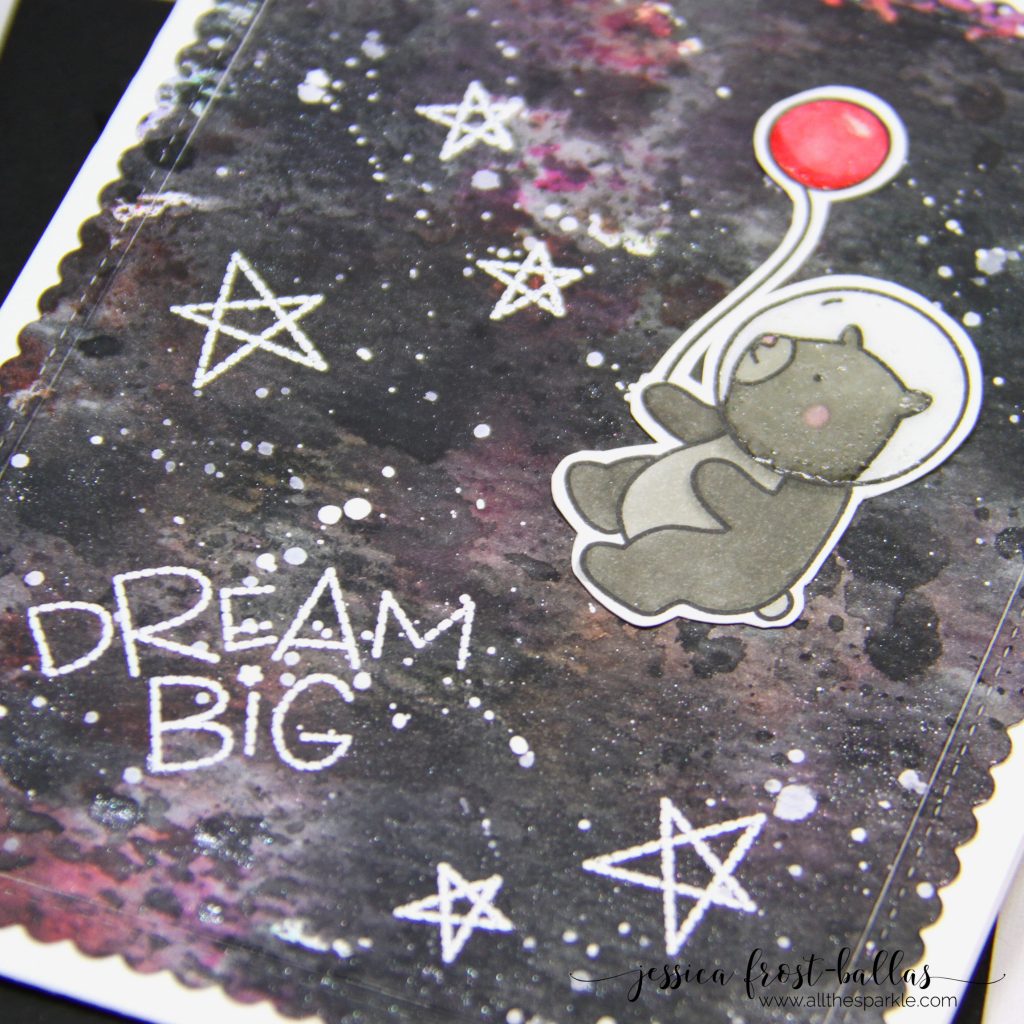 I stamped the bear and balloon from Mama Elephant's Space Bears onto white cardstock and colored them with copics.  I used the coordinating die-cuts to die cut them and then added glossy accents to the balloon and the bear's space helmet.  Unfortunately I forgot to pop the air bubbles in the glossy accents so his helmet is a little blotchy!
Once the background was dry I die-cut it with a pretty scalloped die and then adhered it to a white card base.  I stamped the sentiment and stars from Space Bears onto the background with versamark and heat-embossed it with white embossing powder.  To finish the card I adhered the bear and his floating balloon!
Here's a list of all the stops on the hop!  Happy hopping! 🙂
I hope the hop inspires you to create lots of cards for this card drive!  It's a truly wonderful cause and I know I will be sending in lots of cards over the next few weeks!  Thanks so much for visiting today and have a fabulous day!