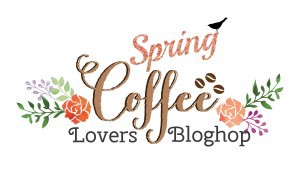 We're in the home stretch now! 🙂  Many thanks to everyone who has been commenting this week!  I read all of them and greatly appreciate your kind words!  I mentioned a giveaway yesterday of a $10 Starbucks card to help get through the Wednesday slump and the winner is Sylvia!
"I think this card, is my favorite of yours, Jess, I am partial to kitties!, just purrfect! Have a lovely day!"
Thanks Sylvia!  I'll be in touch!!
Here's my card for today!  I decided to push myself out of my comfort zone and use chipboard and washi tape on a card for the very first time!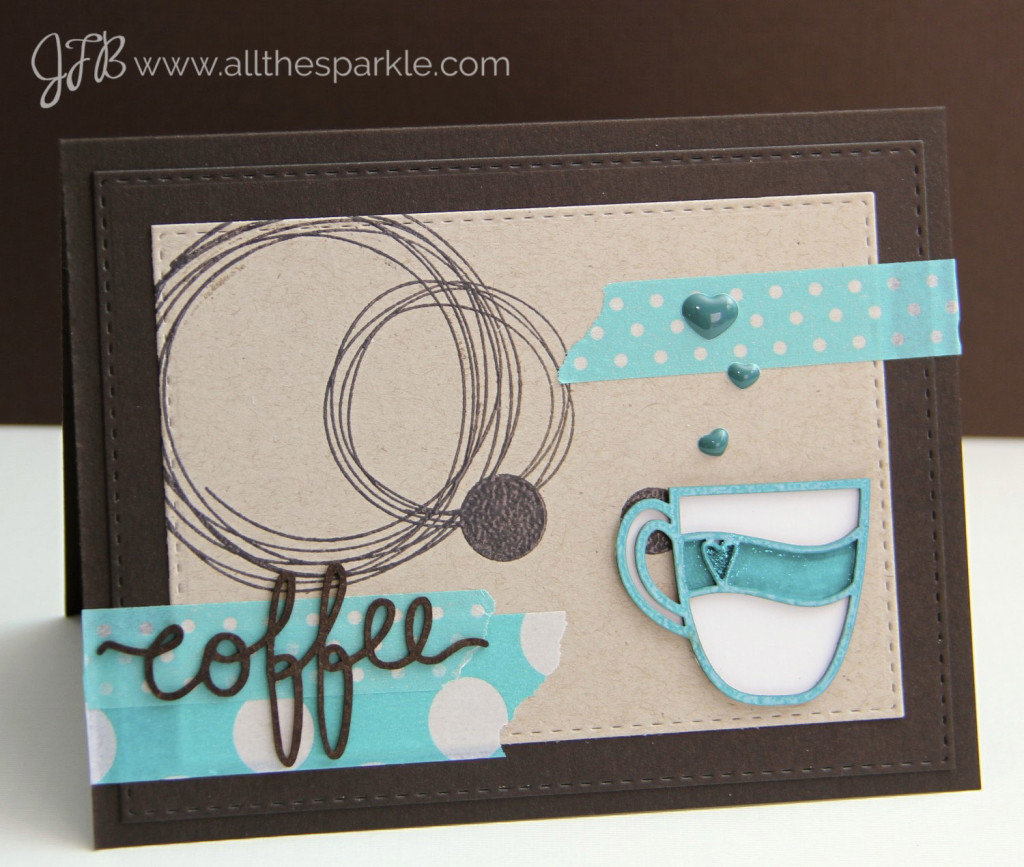 I recently placed an order at Create a Smile Stamps and Christine kindly included the cute mug and coffee chipboard as a gift!  How did she know I'd need them this week!? 😉
I used the Bokeh Dots set from Ellen Hutson to create a (very) loose interpretation of coffee stains and drips from a mug in one corner of the card.  Then I used Mama Elephant Ocean pigment ink to color the chipboard mug and I heat-embossed it to give it a shiny look.  I backed the chipboard mug with white cardstock and colored the accent line and heart with a matching copic marker.  I colored the coffee sentiment from Simon Says Stamp Dark Chocolate dye ink.  I used the Stitched Rectangle dies from Simon Says Stamp to create the mats for the card and added a couple pieces of washi tape for a colorful accent.  To finish the card I added enamel hearts for the steam!
I enjoyed making this card although it's totally different from anything else I've made.  I was adding it to my card gallery and laughed because it looks like it's made by a different cardmaker.  Oh well…it's always good to learn new things! 😉
Thanks for visiting and I hope you'll come play along at the Spring Coffee Lovers Blog Hop.  It runs through March 6th so you've still some time left!!  Many thanks to Amy for putting this all together!
GIVEAWAY
I will be selecting one random commenter to win a $25 gift card to My Favorite Things to pick up one of their fun stamp or die sets!  I will be posting several times during the Hop…each post you comment on will get you another chance to win!  If you missed a previous day you can find my cards here, here, here, here, here, and here!  Also, subscribing to my blog via the button on your right will also get you another chance (and if you're already a subscriber, I'll count that as an entry, too!)!