Good afternoon and welcome back to part two of my 2020 Craft Room Tour!  I'm so excited to share the rest of my craftroom with you today!  And I'm super thankful to two of my favorite organizational companies: Organize More and Lotsa Style for providing exclusive discount codes for you!  And today I'll be announcing the winners of the Organize More and Lotsa Style giveaways and announcing TWO MORE giveaways!  I'll share more about those at the end of this post! 😉
You can watch part two of the tour below or over on my Youtube channel:
And if you missed part one you can find it below or over on my Youtube channel:
Today I'm focusing on everything in the room that's not located right around my main work desk which includes my giant 5×5 kallax, cardstock storage kallax, and my second desk!
I also share a look at some of my newer organizational changes like my yarn/roving and cardstock storage!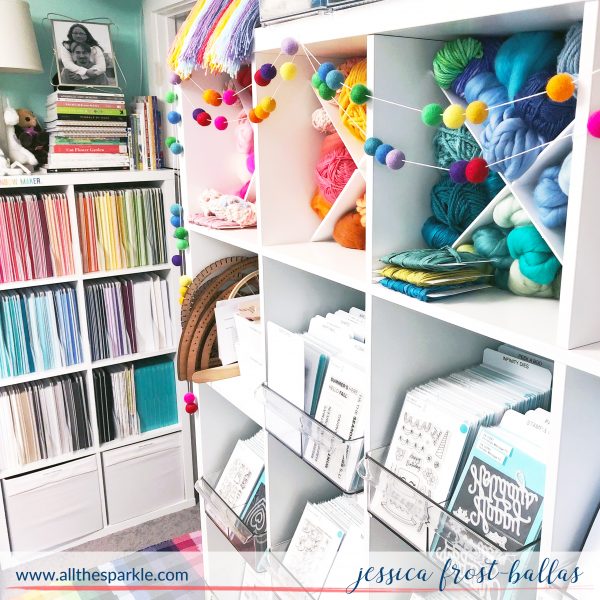 And a few furry friends pop up for some assistance! 😉
Also I mentioned including links to some of the crafty tutorials or crafty friends who've inspired some of my organizational ideas and you can find them below:
I hope these tours have given you some ideas for your craft space!  I've linked as many items as I could below but if you're looking for something specific please leave a comment and I'll try to help you source it!  There are a few things that have been redesigned, discontinued, or retired but most of the important items are linked!
And on a final note I just want to remind you that crafting is my job so I do have a lot of products.  Products that have been given to me for work and also products I've budgeted and saved for over the last 7 years to help me with my work (your support by shopping through my affiliate links always helps with this and I am so very grateful for that!).  If you're a regular subscriber or viewer you know that the items I'm sharing are items I love that you see me use regularly; but I also think it's really important that no one ever feels like they need all or even most of these products to create and do what they love!  Find what works for you and your budget…but always try to make sure you include a few things that just make you smile (like a Bob Ross Funko or an otter enamel pin)! 🙂

I have two more fantastic giveaways and exclusive discounts to share with you today!  But first up we have two winners from the first part of my craft room tour!  The winner of the $75 gift certificate to Organize More is: 

And the winner of the Lotsa Style Make Up Organizer is:

Ladies, please send me an email at JessicaAFrost@gmail.com to claim your prize!
This time I thought I'd offer more creative rather than organizational giveaways!  I'm giving away a $25 gift card to The Gray Muse shop where you can stock up on gorgeous enamel pins or her fun stamp sets and a $75 gift card to Etsy where you can find tons of beautiful art prints, art work, enamel pins, and more to decorate your crafty space!  And if that's not really your thing you can also find lots of great organizers on Etsy, too! 😉 
And just a reminder that Organize More is still offering 10% off the entire shop through the month of August with the code SPARKLE10! Shop Organize More here!
Lotsa Style is offering a generous 30% discount on the Make Up Organizer through the month of August with the code 30JESSICA30 and 30% off their Magnetic Rack that's perfect for Raskog and Recollections carts through the month of August with the code 30MAGNET!  Shop Lotsa Style here!
To enter to win the giveaways, head over to my video and like, subscribe, and comment on the video with your favorite crafting product!  You can also share my video for an extra chance to win.  If you share it please leave a comment letting me know where you shared it! 🙂  I always appreciate blog comments but I'll be choosing the winner from the video comments so make sure to comment over there!  Like, subscribe, and comment before 11:59pm EST on Friday, September 4th, 2020 for a chance to win!
Thanks so much for visiting and have an amazing day! 😉

Interested in the products I used?  To make them easy for you to find, I have listed them below. (Affiliate disclosure can be found here). Your purchases help keep my blog running and I thank you for the support!
KALLAX Shelf unit, white, 71 5/8×71…

KALLAX Shelf unit, white, 30 3/8×57…

KALLAX Shelf unit, white, 30 3/8×30…

KALLAX Insert with 2 drawers, white,…

ALEX Drawer unit, white, 14 1/8×27…

ALEX Add-on unit, white, 47 1/4×3…

LINNMON Tabletop, white, 39 3/8×23…

KUGGIS Box with lid, white, Width: 10…

KUGGIS Box with lid, white, Width: 10…

DRÖNA Box, white, 13x15x13″ – IKEA

Standard Marker Organizer – Save 10%…

Standard Marker 3 Value Pack – Save…

36 Ink Pad Organizer – Save 10% with…

4 Cubby Drawer Caddy – Save 10% with…

6 Cubby Drawer Caddy – Save 10% with…

8 Cubby Drawer Caddy – Save 10% with…

Lotsa Style Make-Up Organizer – Save…

Lotsa Style Original Mini Countertop…

Lotsa Style Magnetic Storage Shelf -…

Luminos Adjustable Lamp Grey/White -…

OttLite LED Extra Wide Area Clamp…

Amazon.com: iDesign Divided Plastic…

Amazon.com: iDesign Linus Plastic…

Amazon.com: mDesign Deep Plastic…

Amazon.com: Break-Resistant Plastic…

Amazon.com: Unni Premium Quality…

Three Drawer Washi Organizer

Amazon.com: iDesign Linus Plastic…

Amazon.com – iDesign Linus Plastic…

Amazon.com: InterDesign Linus Kitchen…

Amazon.com: Molshine 2 Pack…

Amazon.com: BCW 1-MD Magazine…

Amazon.com: Square Deal Recordings &…

Perfect Match Hawaiian Shores…

Like-it Magazine Holders | The…

Clear Like-it Wide Magazine Holder |…

Amazon.com : Samsill 200 Non-Glare…

Essentials by Ellen Magnetic Die…

Essentials by Ellen Magnetic Die…

Avery Elle – Stamp and Die Storage…

Extra Large -50 pk, Avery Elle Stamp…

Amazon.com : UCreate Foam Board,…

Amazon.com: Avery Elle Zippered Vinyl…

Amazon.com : EOOUT 16pcs Mesh Zipper…

Black Capped Chickadees Art Print by…

Original — Yao Cheng Design

Alcohol Ink Art – Jessica Young

Magic of Beginnings FOIL PRINT | Etsy

Wall Art by Nina Stajner | Society6

Fox Print Nursery Art Fox Art Nursery…

Fox Art PrintFox Painting Fox Print…

Passionately hand painted art and…

70's sunset planter with GOLD (6) —…

Products – TinySupply

Felt Ball Garlands Pom Bouquets &…

Plan It Out Loud by PlanItOutLoud on…

Large enamel pin display banner Pin…

Amazon.com: We R Memory Keepers…

Amazon.com: We R Memory Keepers…

Amazon.com: Simple Stories Snatp!…

Amazon.com: Simple Stories Faux…

Amazon.com: Elizabeth Ward Bead…

Amazon.com: One Box of 50 Plastic…

Amazon.com: Creative Options…

Amazon.com: Deconovo Blackout…

Amazon.com : LimoStudio Photo Video…

Photo Boards® – Photo Boards for…