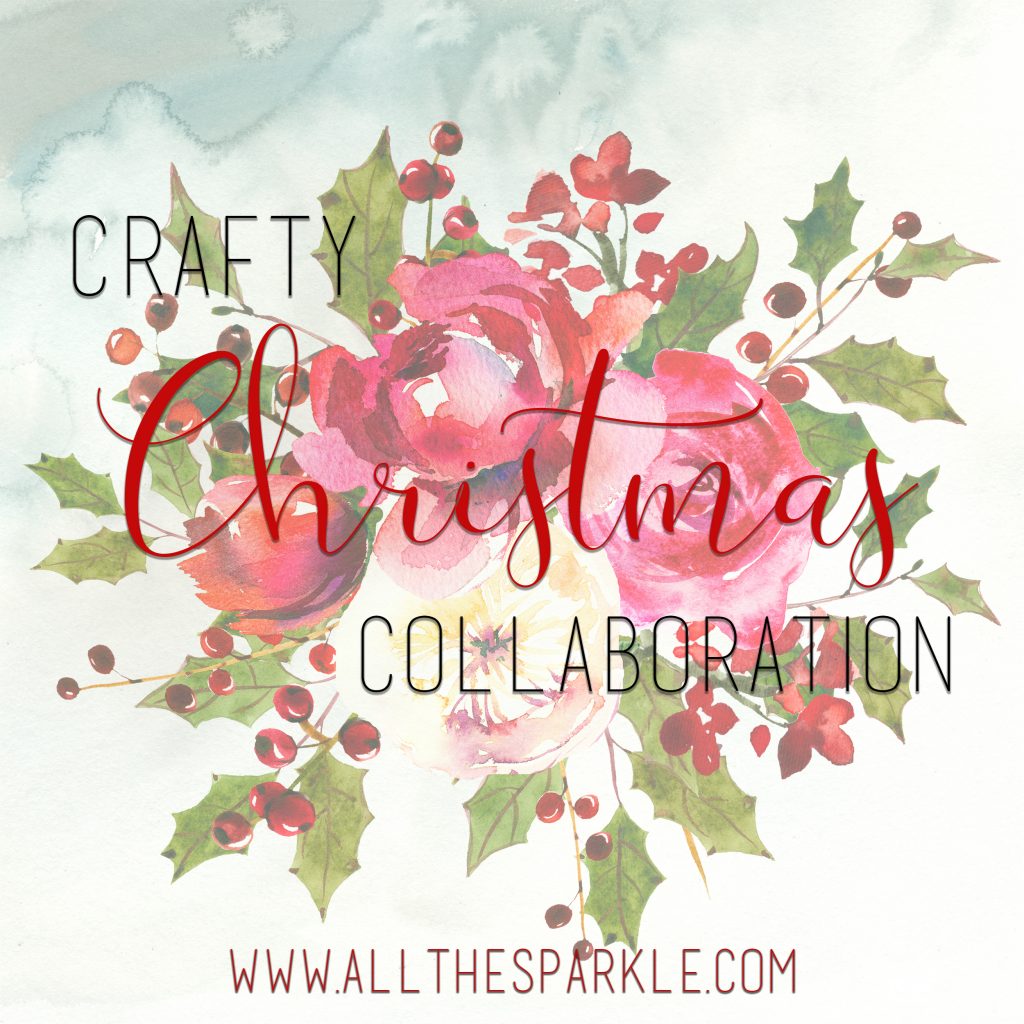 Good morning and welcome to the next month of my Crafty Christmas Collaboration series!  If you missed my first Crafty Christmas Collaboration you can find it here!  Basically the idea is that I know I need to start working on Christmas cards pretty early in the year in order to be ready with enough cards by late November…but I wanted to find a way to make it more interesting! 😉
Each month a crafty friend and I will send each other something to help make a Christmas card…it might be a watercolored panel, a few die-cut images, a few stamped images, embellishments, etc.  At the same time we will use the same items to create our own card and we won't share what we've created with each other until after the cards are finished.  And don't forget to check out the bottom of my post for details on how you can join in the fun and enter two giveaways!   My February guest is the fabulous Christy Reuling!!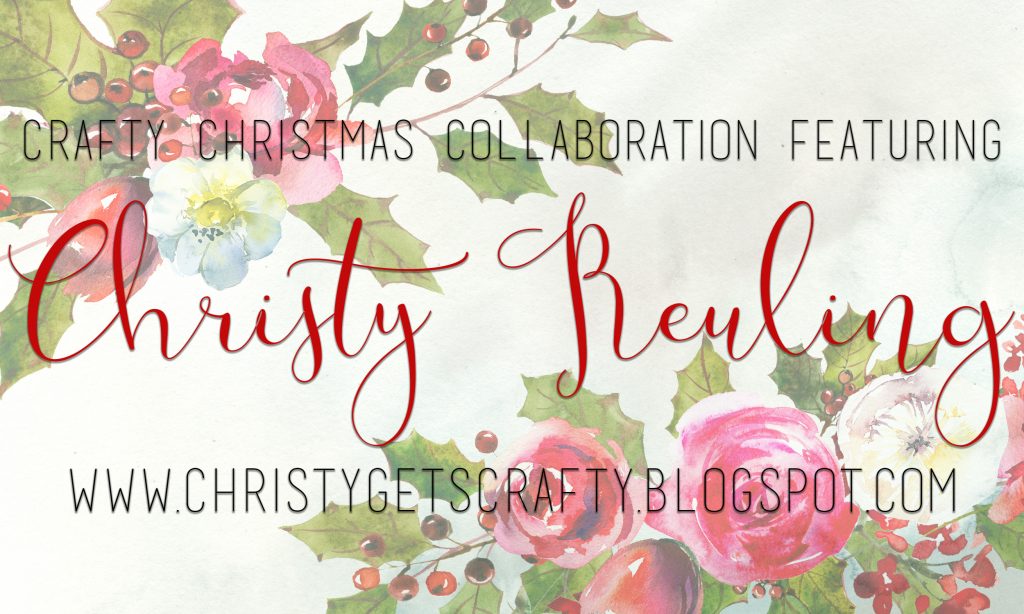 I'd had the pleasure of working with Christy on the Lawnscaping Challenge blog and I have always been stunned by her amazing coloring skills and use of patterned paper!  I had made my decision about what I wanted to use this month but realized (after I sent it) that it was kinda limited…so I'm anxious to see how she used it!  This was what I sent to Christy:
And this is what Christy sent to me: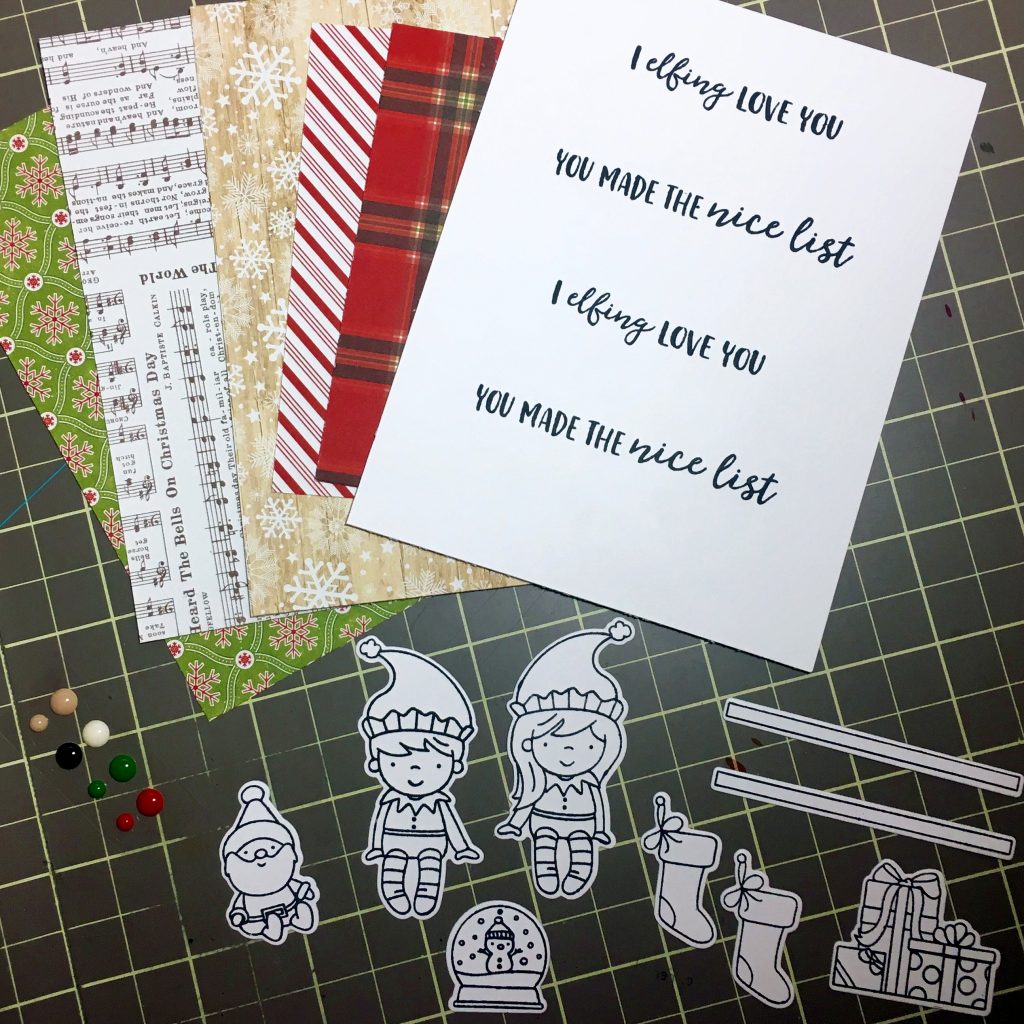 She definitely did a much better job giving me lots of options to play with.  Oops.  Though I'm sure Christy rocked what I sent her! 😉
Here's the CAS card I created with my items: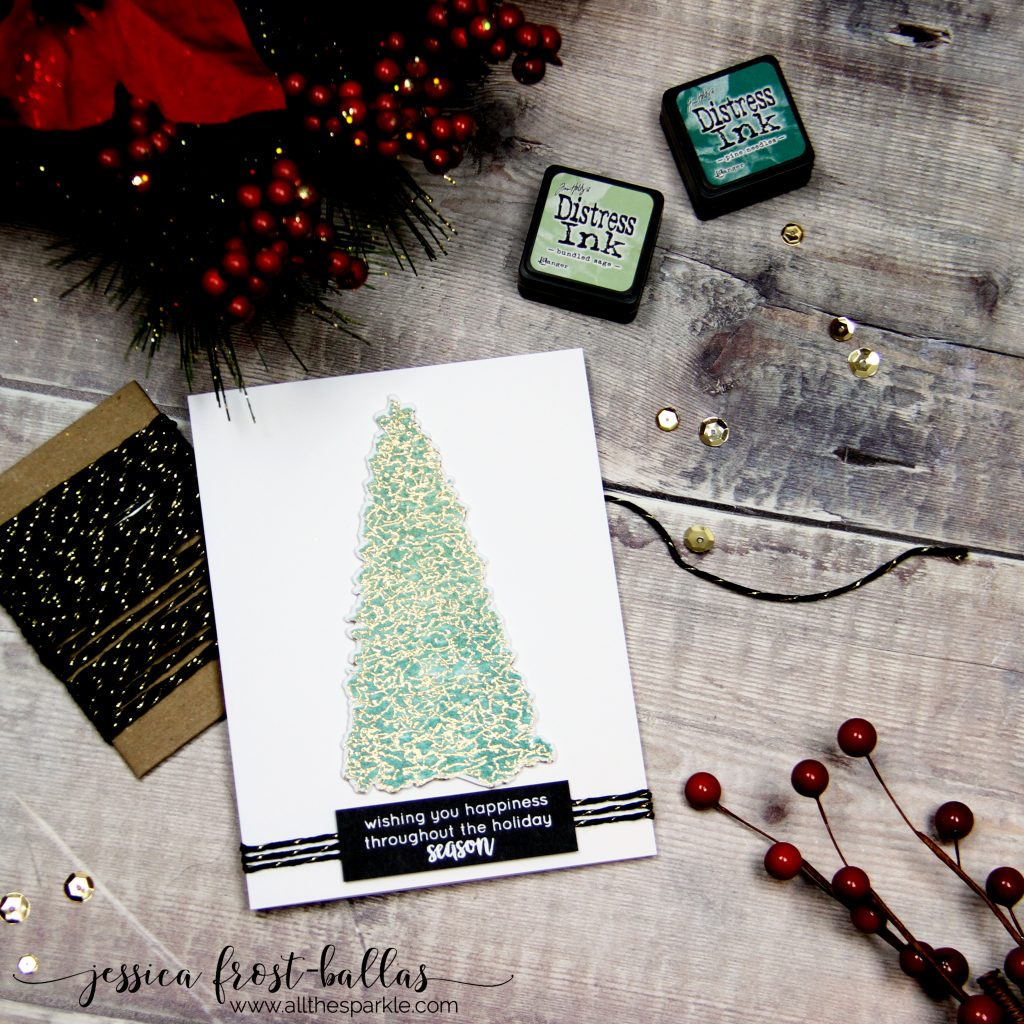 Again I kinda limited myself this time but I like the card I ended up with!  I started by inking that pretty tree from Altenew's Sketched Evergreen with a mix of evergreen bough and pine needles distress ink and spritzing it with water before stamping it on watercolor paper.  I pressed the stamp to the paper for a few extra seconds to make sure it really soaked in.  Then I quickly dried it with my heat gun.  I prepped it with a powder tool and then stamped the top layer with versamark before heat-embossing it with gold tinsel embossing powder.  I used the coordinating die to die-cut the tree and then attached it to my card with foam mounting tape.  I wound black and metallic gold twine around the bottom of my card for a little extra sparkle.  Next I stamped the sentiment from Altenew's Holiday Wishes onto black cardstock and heat-embossed it with white embossing powder.  I trimmed the sentiment down to a label and adhered it to the panel with foam mounting tape.  Definitely more on the CAS side but I think it's a great masculine holiday card!
When I got my envelope from Christy I was so excited to play with that Neat and Tangled set that I forgot to take a photo of the envelope contents.  Thankfully Christy took the one that I shared above.  Here's what I created!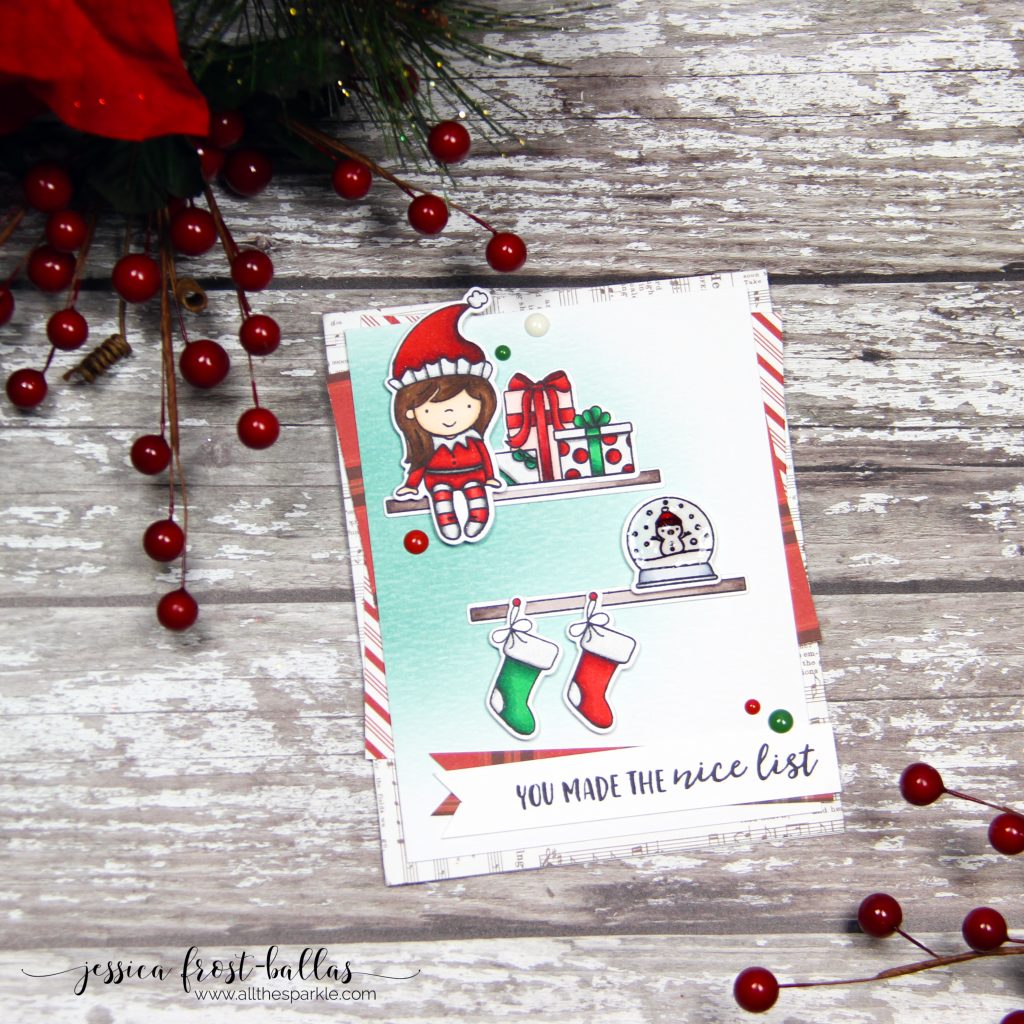 I've realized very quickly that this series is going to be a seriously enabling endeavor…that Neat and Tangled set immediately went on my wishlist!  It was so much fun to color!  I started by coloring all of the elements with copic markers.  Then I blended a little evergreen bough distress ink onto a piece of watercolor paper.  I trimmed some of the patterned paper down to smaller squares and then layered them onto a card base ending with the watercolor paper on top.  Next I laid out the shelves and then started adding my images.  I adhered some with foam mounting tape and some with regular ATG adhesive for a little extra dimension.  I also added a little clear spectrum noir sparkle to the ribbons and the snow globe and then added glossy accents to the snow globe.
Then I trimmed the sentiment down to a fishtail banner and layered it over a patterned paper fishtail banner.  Finally I added a few enamel dots to finish the card!  I don't know if Christy realized it went she sent them but this is only the 3rd time I've colored a human (elf, same thing) and shared a card online…I'm not really comfortable coloring skin or hair yet so this was definitely a bit of a challenge! 😉 But isn't this set adorable!?  I'm pretty sure it's now a must-have for me!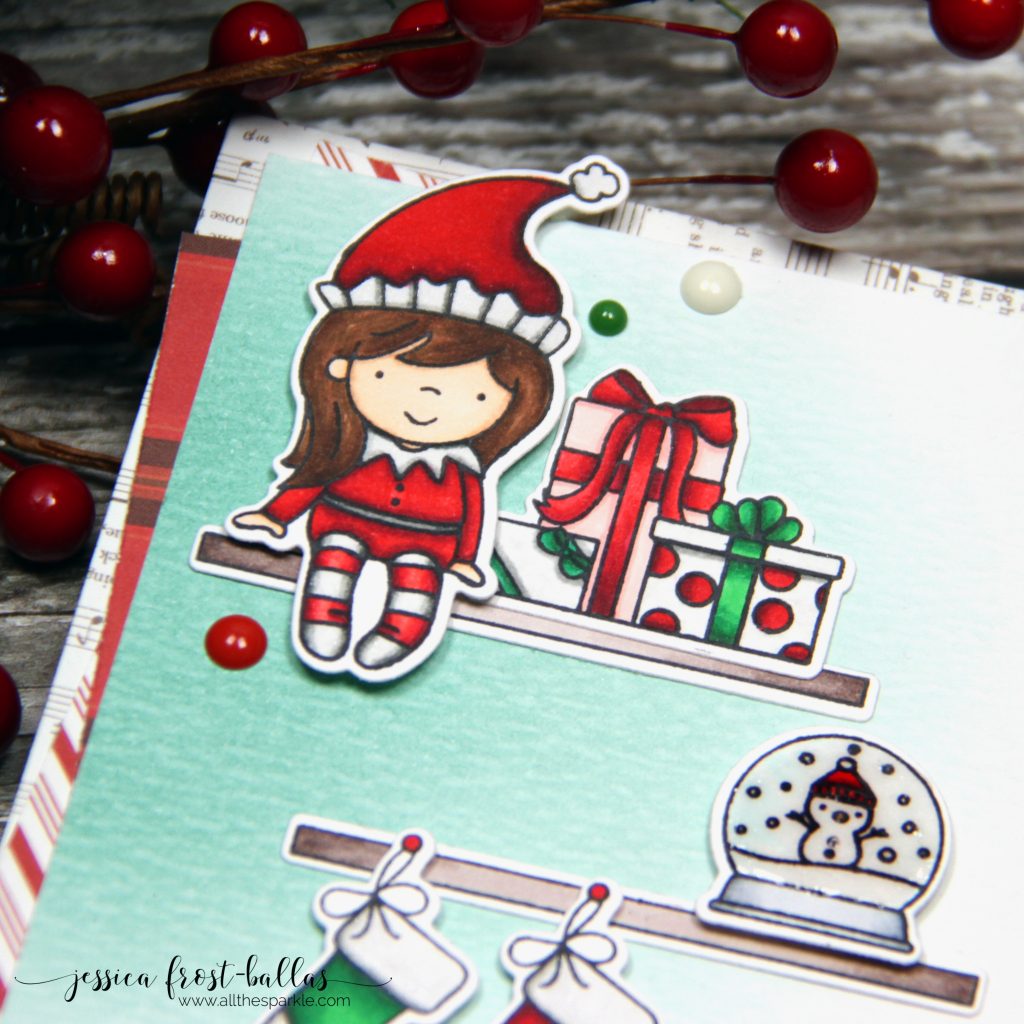 Lots of fun to mention with this new series…first, head over to Christy's blog to check out the awesome cards she created using both sets of items!  Then check out the ways you can participate for the chance to win one of two giveaways below!
I wanted to find a way to include as many crafty friends as I could so I'm including a link-up that will last ALL year long!  Please use my cards or Christy's as your inspiration and link-up a holiday card!  You can use the color schemes, layouts, specific stamps and dies, or techniques for your inspiration.  Include the Crafty Christmas Collaboration badge at the top of this post in your post and link to the month you're using for inspiration for a chance to be included in the big Christmas giveaway.  After the final post on December 25th, 2017 one lucky entry will win a $100 gift card to the crafty store of their choice!  To make it a little easier to play along I've added a page to the top menu of my blog so you can find all of the previous month's collaborations!

And each month I'll have a smaller giveaway featuring one of the companies I used on that month's card.  This month I'm giving away a $25 gift card to Neat and Tangled to one lucky commenter!  Please leave a comment on both my blog and Christy's blog for a chance to win!  I'd love to know your thoughts on this series and if you'd like to see any specific companies featured!  Please leave your comment before 11:59 PM EST on February 24th, 2017 and the winner will be announced during March's collaboration!
Finally, last month's winner of the $25 gift card to Winnie and Walter is:

Beth, please send me an email via the contact button in the menu above and I'll get that out to you ASAP!
Thanks so much for visiting and have a fantastic day!
Interested in the products I used?  To make them easy for you to find, I have listed them below. (Affiliate disclosure can be found here). Your purchases help keep my blog running and I thank you for the support!