CRAFTY DESTASH – I've updated my destash items.  You can see all of the items here and you can click on the individual photos to open up the photo in Instagram.  Alternatively you can follow my destash account on Instagram @jesscraftydestash!  Happy shopping!
NOTE – sorry for the extra emailed post to my blog subscribers.  I use those for place markers to get permalinks and I forgot to unschedule it!  Sorry!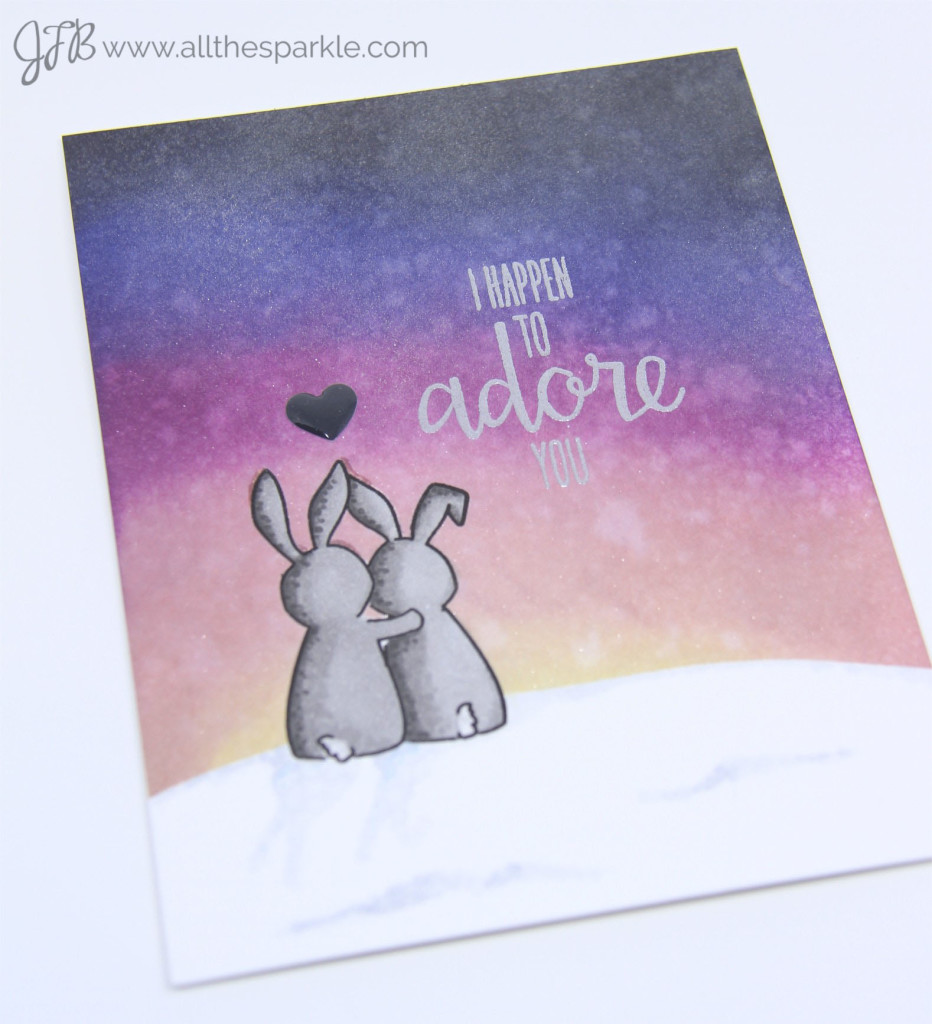 Good morning, Happy Monday, and Happy November!  Lots of fun stuff going on this month!  First off, you might have seen my post yesterday on Instagram but if you didn't, I'm planning on committing to NaBloPoMo by posting a card daily through the month of November!  I've been been able to post every single day of a month so I'm looking forward to the challenge.  Encouragement is always appreciated! 😉
Second, a few weeks ago I posted a photo on IG and FB requesting some crafty penpals…I was overwhelmed (in a good way) by the amazing response and I'm slowly but steadily working my way through the 90+ people who replied!  If you commented but haven't received a card yet please don't give up on me, I'm working on it!  However, I figured if I was already creating a card and posting daily this month I could also set a goal to mail a card (or 2!) everyday which would help me get through my list a little faster and allow me to join in the fun of #sharehandmadekindness!  If you haven't heard about this campaign head to Jennifer McGuire's blog Share Handmade Kindness for more info!  I encourage you to participate…sending and receiving happy mail is my favorite part of this crazy crafty adventure!
So, first off, I've got three cards headed into the mail today…one for yesterday and two for today!
November 2015 Total Cards Mailed: 3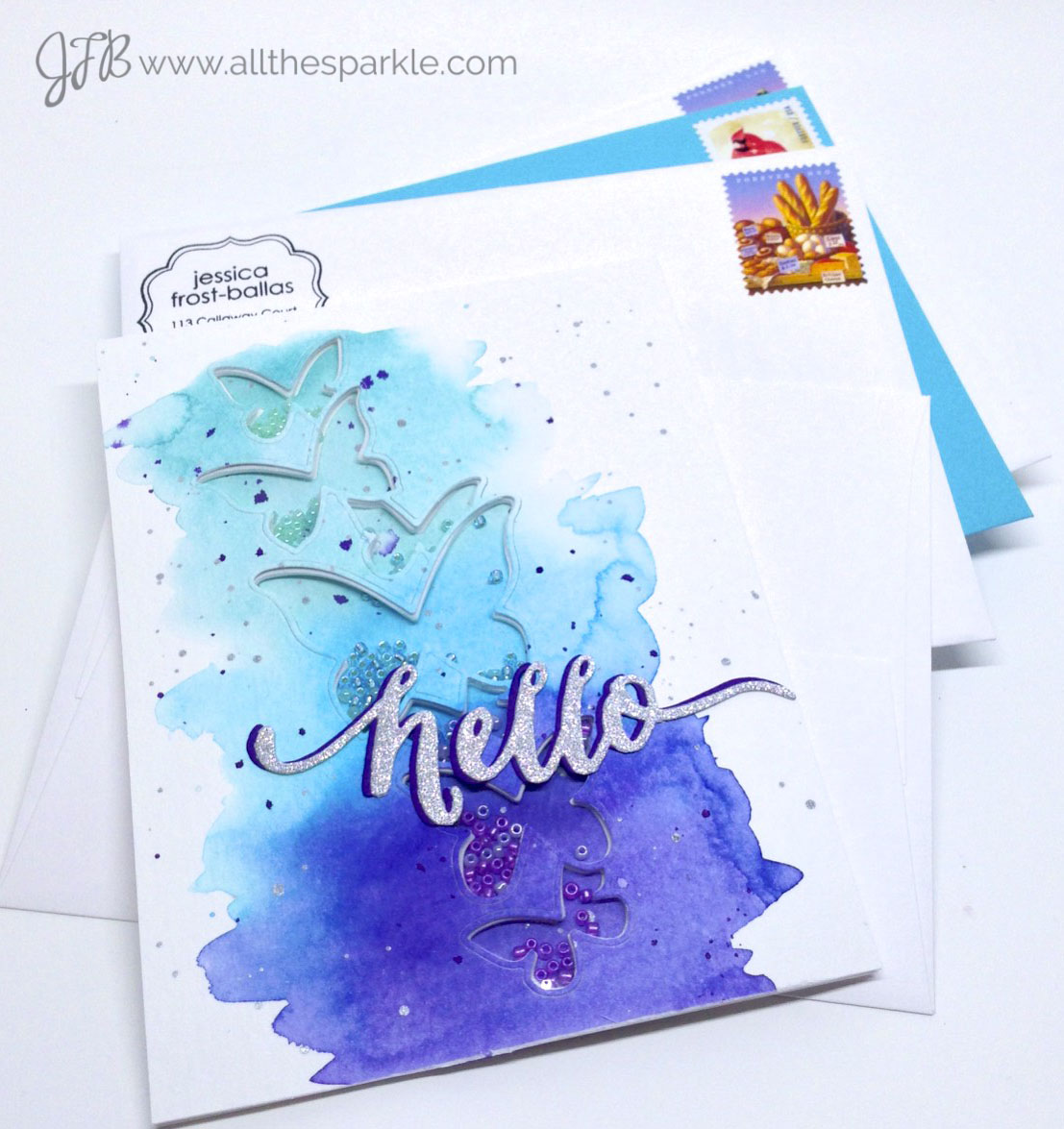 Oh, and before I forget…if any of my blog readers are interested in becoming crafty penpals please leave your email address in the comments and I'll add you to my list! 🙂
And here's my card creation for today!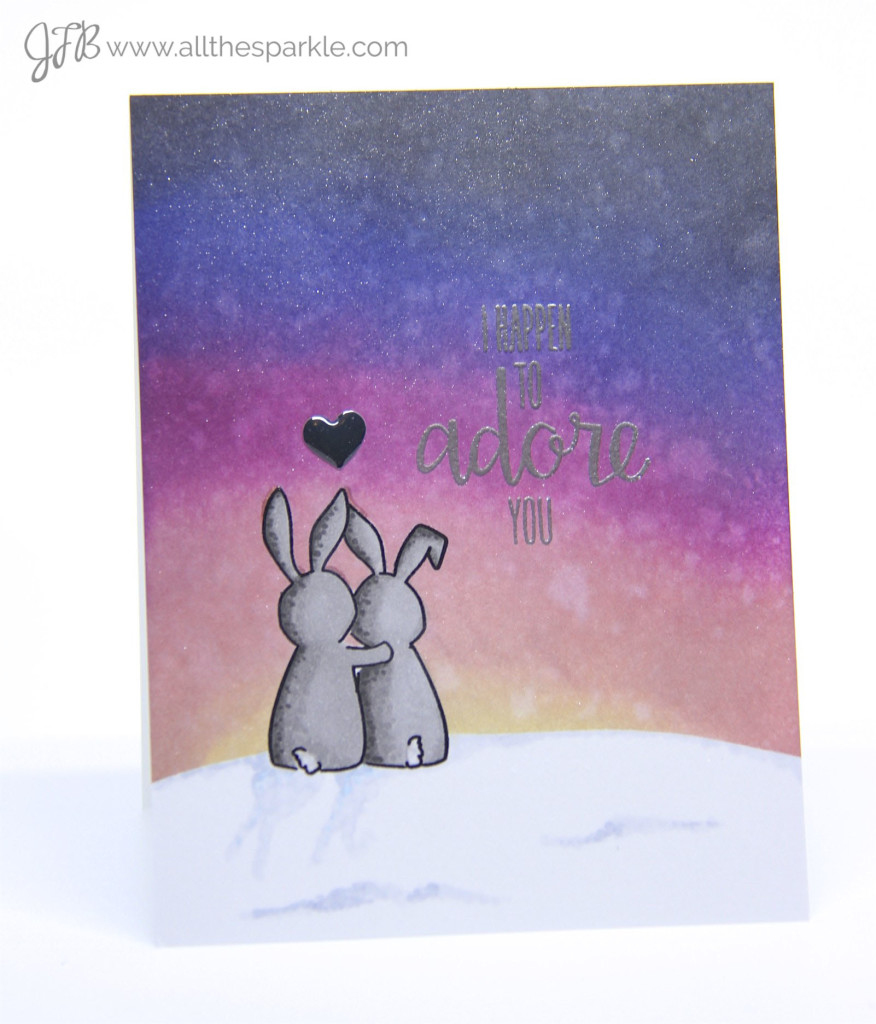 Oh. Em. Gee…I LOVE that sentiment!  I recently discovered Concord and 9th and picked up a few of their stamp sets!  They have some really fun designs and fabulous sentiments!  You'll see a few more cards this week featuring Concord and 9th!  And I've had that adorable stamp set from WPlus9 for a few months now but this is the first time I've used it…and now, for the life of me, I can't figure out why I waited so long!
Anyway, I started off by stamping the cute bunnies with versafine and then I heat-embossed them with clear embossing powder.  Then I stamped them on masking paper, fussy cut them, and placed the mask over the stamped bunnies.  I also cut a mask for the ground and placed that over the panel.  Next I blended distress inks onto the card to create a sunrise scene.  I used Antique Linen, Victorian Velvet, Seedless Preserves, Chipped Sapphire, and Black Soot.  After I finished blending I flicked some water over the distress inks and let it sit for 10 seconds before blotting it away.  The droplets created a nice soft, subtle effect over the distress inks.  Then I spritzed iridescent medium all over the distress inks and dried it with a heat gun.  You can really see the shimmer when the card catches the light!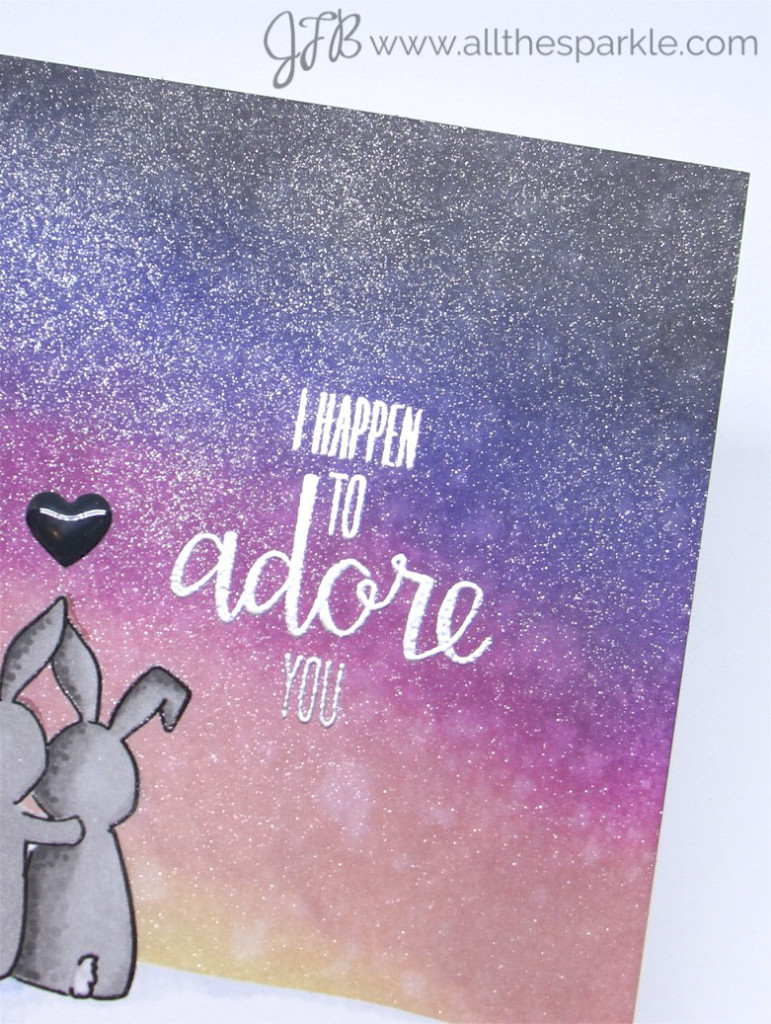 Next I removed the masks and used copic markers to color my bunnies and my snow.  I've been taking a Kit and Clowder online class and have been practicing my shading.  It's definitely challenging and please don't look too closely at my bunnies' shadows 😉 but I'm loving the classes and I'll keep working at it!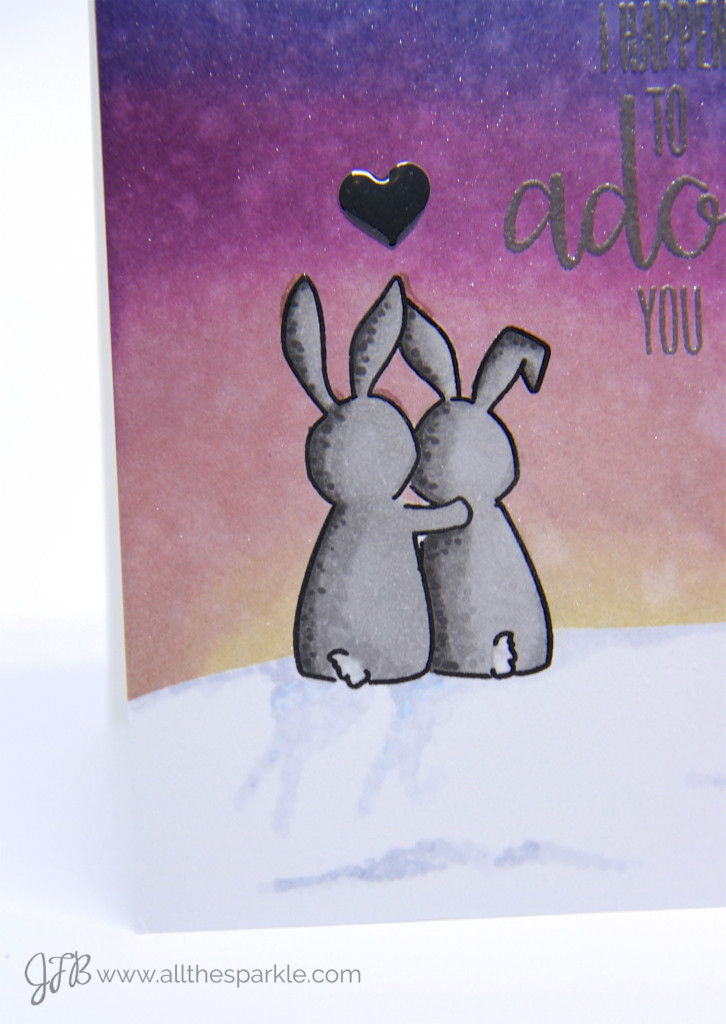 Next I stamped the sentiment from Concord and 9th onto the card with versamark and I heat-embossed it with silver embossing powder.  To finish the card I added a dark blue enamel heart and adhered the panel to a top-folding white card base!  I really like how it turned out and I'm looking forward to playing around with those bunnies more this month!
Thanks so much for visiting and I'll see you tomorrow! 🙂
Supplies:
Interested in the products I used?  To make them easy for you to find, I have listed them below. (Affiliate disclosure can be found here). Your purchases help keep my blog running and I thank you for the support!)