Good afternoon and Happy Friday!  Today I'm popping in to share a video tutorial using T-Rex alcohol inks on Nara Black paper!  I love playing with alcohol inks and I always mean to record a video but I always forget to turn my camera on when I get started.  But I've gotten several requests to put together an actual video and I finally remembered to film the process from beginning to end!
You can watch the video below or over on my YouTube channel here.
I've been meaning to try the nara black paper with alcohol inks for awhile and I can't believe it took me this long!  You do need an opaque white medium under the inks in order for the color to show through but it's definitely worth it because those colors just POP on black backgrounds! The Nara Black is a little on the pricy side but I think it's worth it because the synthetic paper can be cleaned completely using a little isopropyl alcohol so if you don't like how it turned out, you can erase it and start again.  That means you'll end up with ten quality paintings with no waste instead of needing to throw away five paintings you don't love just to end up with one you do love! 😉
I paired the rainbow with my favorite pinata brass gold metallic and added some splatters for a little extra sparkle!  I'm also using the T-Rex inks for the first time and I was really impressed with the vibrancy of the colors!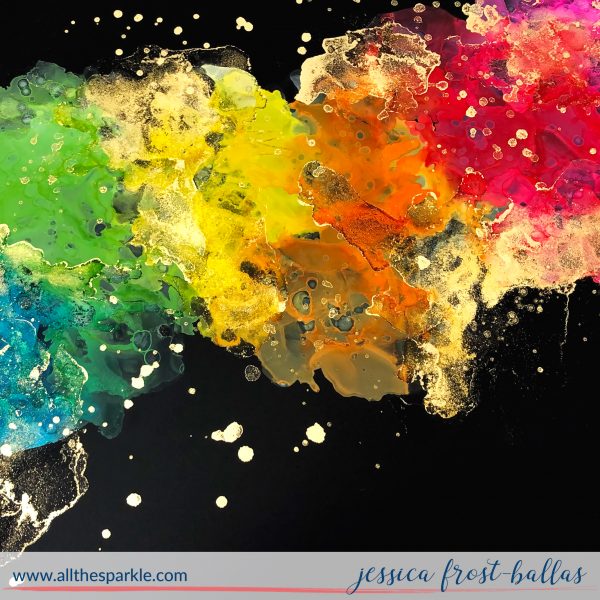 The T-Rex inks are very similar to some of the new brighter Ranger colors I used earlier in the week but almost seem a bit more opaque mixed with the blanco than the Ranger colors did.  The price point for the T-Rex alcohol inks is really good, $29.99 for eleven 20ml bottles of inks and the blending solution and I do recommend it if you're interested in trying out alcohol inks for the first time or looking for a very vibrant set to add to your other colors!

For a chance to win a set of T-Rex inks please head over and like my video, subscribe to my channel, and leave a comment here or over on my video letting me know if you've ever used alcohol inks before! Comments must be left before 11:59pm EST on Friday, August 14th and the random winner will be emailed the following week.
Thanks so much for visiting and have a fantastic weekend!

Interested in the products I used?  To make them easy for you to find, I have listed them below. (Affiliate disclosure can be found here). Your purchases help keep my blog running and I thank you for the support!
T-Rex Inks Alcohol Ink Set of 12…

Jacquard Pinata Colors – Blanco…

Jacquard Pinata Colors – Blanco…

Jacquard Pinata Colors – Brass, 4 oz…

Jacquard Pinata Colors – Brass, 0.5…

Ranger Tim Holtz Alcohol Ink – Snow…

NARA Black Paper, 8″ Circle

NARA Black Paper, 12×12

NARA Black Paper, 9×12

NARA Black Paper, 12×18

NARA Black Paper, 6″ Circle

Ranger Alcohol Ink Black Cardstock, 5×7

Tool Set – Brushes & Mister, Ranger…

Plastic Pipettes, 3ml

Plastic Pipettes, 0.5ml

Round Plastic Paint Palettes, 30 pack

Tim Holtz Ink Blower

Set of 2 Air Blowers with Short,…

Teflon Heat Resistant Sheet, 4 Pack,…