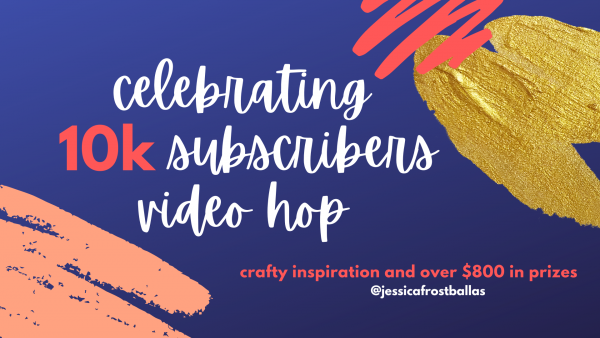 Good afternoon!!  Today I'm so ridiculously excited to be hosting a special video hop!  I started my crafty YouTube channel over five years ago and 10,000 subscribers was one of my earliest crafty goals.  And I finally reached that number on March 1st!!  To celebrate, I asked a bunch of my crafty friends to join me in a video hop and they have created some truly stunning and beautiful works of art!  There's literally something for everyone in this hop: copics, watercolors, colored pencils, clean and simple, alcohol inks, technique tips and tricks, critters, florals, rainbows, home decor projects…you are in for an absolutely inspiring hop!!  Some of these crafters are likely very well known to you and some may be new finds.  I really encourage you to support these crafters and subscribe to their channels!  You won't regret it!  The hop starts HERE and you'll find the full hop list below!
And what's a celebration without some prizes?  Some of my very favorite crafty companies are sponsoring today's hop with fantastic prizes totaling more than $800!!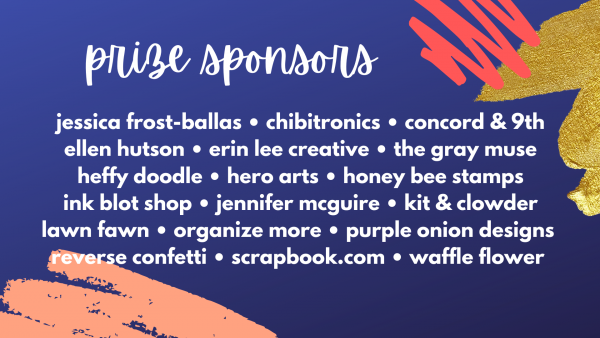 To enter, leave a comments on each hop stop!  Winners will be chosen randomly from stops all along the hop so the more comments you leave, the better your chances to win!  It's a long hop so you've got over a week to watch all the videos!  Leave your comments before 11:59PM ET on April 8th and the winners will be announced on April 9th!  Here's a list of all the prizes (and if you head to my Instagram you'll find one more special giveaway)!
And for my video today I wanted to combine two of my favorite crafty things: alcohol inks and cute critters!  And I wanted to share my newest alcohol ink discovery that helps you effortlessly create the most gorgeous wispy alcohol ink backgrounds (with NO warping)!  You can watch the video below or over on my YouTube channel HERE!
IF THE VIDEO IS NOT VISIBLE PLEASE CLICK HERE TO WATCH ON YOUTUBE!
I've always admired alcohol ink artists that create gorgeous wispy backgrounds with heat tools but every embossing heat gun I have is just too hot and warps even the heavyweight paper.  I asked around and several people told me that they use OLD blow dryers or travel blow dryers that aren't as strong.  So I tried those too…and nothing was quite right.  Either it was still too hot or the air flow wasn't strong enough to move the inks the way I wanted.  Finally, I was reading reviews on Amazon one day for something completely unrelated and saw a recommendation to use that product for alcohol inks. WHAT?!  I looked around a bit more and saw more reviews recommending it for use with alcohol inks; and then I realized it was the product I had seen a few artists use who would not share what they were using!  I don't think I've ever hit the 'add to cart' button quite so quickly!  It arrived a few weeks ago and I've been testing it out to make sure I really liked it and could recommend it to you.  And I can now say, with 100% conviction, I recommend this as the BEST tool for creating alcohol ink backgrounds! It easily creates those wispy backgrounds, the ripples and roses, and it's just a great way for moving the inks!  And do you know what it is?  It's a $20 ConAir Hot Air Curling Brush Combo and you just leave off the detachable brush head!  It has two heat settings and neither will warp your yupo paper!  Just for fun, I did try to see if it would heat-emboss and it will not.  It's just not that hot but it's PERFECT for alcohol inks!  If you've been struggling to create backgrounds I would definitely give this tool a try!
So anyway, this is what I created!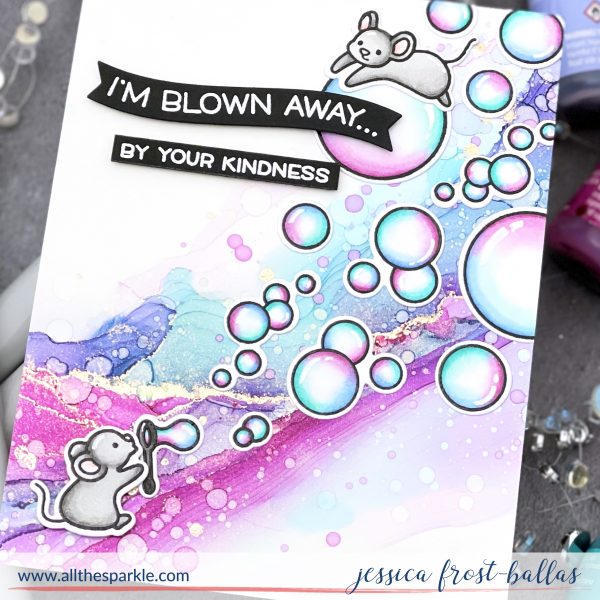 I wanted to use those cute mice from Bubbles of Joy and figured a soft, sparkly alcohol ink background would be the perfect pairing! I used wild plum, pool, and peri peri Ranger alcohol ink along with Pinata brass metallic ink and just a few hints of opal foil!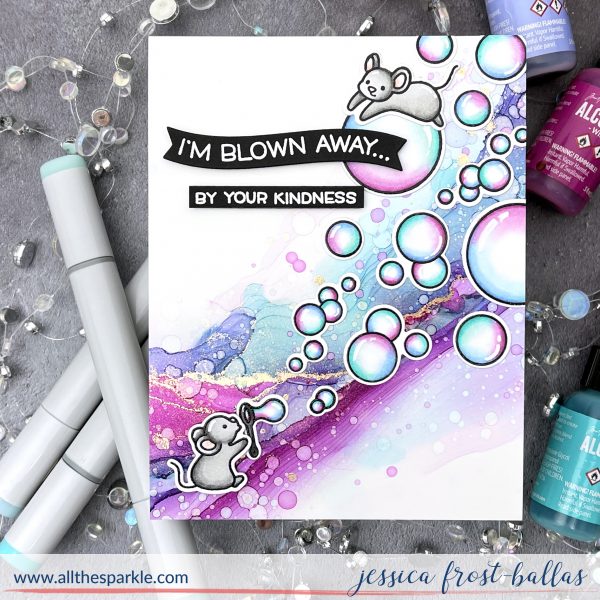 Then I stamped the mice and bubbles from Bubbles of Joy and Scripty Bubble Sentiments with versafine and heat-embossed them with clear embossing powder.  I colored the mice with toner greys and used the following copic markers for the three colors of the bubbles:
Pink – RV66, RV63, RV52
Teal – BG15, BG11, BG10
Blue – B45, B41, B000
I adhered all the bubbles to the card with liquid adhesive and then added the mice and sentiment with foam mounting tape.  The sentiment is from Bubbles of Joy and is die-cut with a banner die from Wavy Sentiments!  I finished the card with white gel pen accents and a little spectrum noir clear sparkle!  And that's it from me!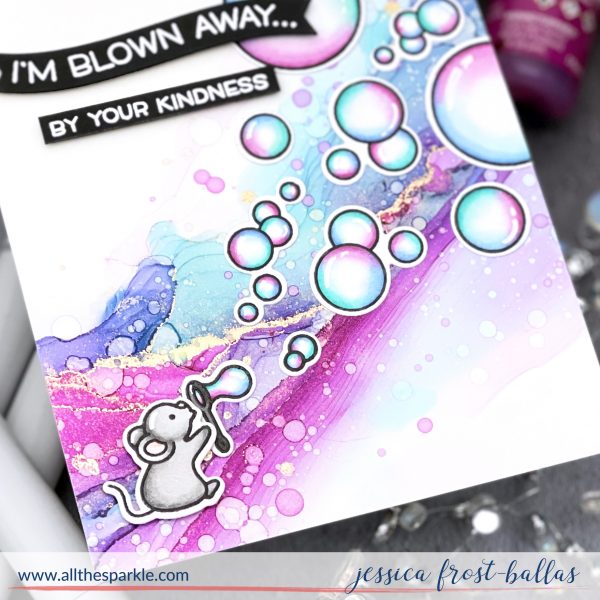 Thanks so much for your kindness all these years and, from the bottom of my heart, thank you for helping me to reach 10,000 subscribers!  Your support means the world to me!  I really hope you enjoy the hop and I'd love to know if you discovered any new crafters to follow!

Interested in the products I used?  To make them easy for you to find, I have listed them below. (Affiliate disclosure can be found here). Your purchases help keep my blog running and I thank you for the support!

Conair 2-in-1 Hot Air Curling Combo

15ml Needle Tip Plastic Bottle (30…

Plastic Dispensing Bottles (pack of 30)

Jacquard Pinata Colors – Brass, 0.5 oz

Jacquard Pinata Colors – Brass, 4 oz

Solimo 99% Isopropyl Alcohol (pack of…

Ranger Ink – Tim Holtz – Adirondack…

Ranger Ink – Tim Holtz – Adirondack…

Ranger Ink – Tim Holtz – Adirondack…

Therm O Web – iCraft – Deco Foil – 6…

Spellbinders – Glimmer Hot Foil -…

Legion Yupo Paper 9×12

50 Disposable Plastic Pipettes

11-well Plastic Palettes (pack of 15)

bubbles of joy | Lawn Fawn

bubbles of joy – lawn cuts | Lawn Fawn

scripty bubble sentiments | Lawn Fawn

scripty bubble sentiments – lawn cuts…

Copic Markers

Sparkle Pens Clear Overlay, Crafter's…

Amazon.com : Uni Posca Extra Fine…

AF419 Clear Embossing & Watermark Ink…

Tsukineko – VersaFine – Instant Dry…

PW122 White Detail Embossing Powder -…

PW111 Ultra Fine Embossing Powder -…

Enjoyed this post? Save this project by adding it to Pinterest!  You can also follow me on Pinterest for lots of daily crafty inspiration!