So, I'm squeaking in under the wire but I finished two more cards for the My Favorite Things Card Design Superstar contest and wanted to share them!  I entered two of my cat cards and a few other cards earlier this week but realized that the other cards used too many products from other companies so I decided to delete them and do something else!  I don't have a lot of stamp sets from My Favorite Things (I mostly have their background stamps, stencils, and coffee sets) so it was a challenge figuring out ways to mix things together.
Anyway, here's what I came up with!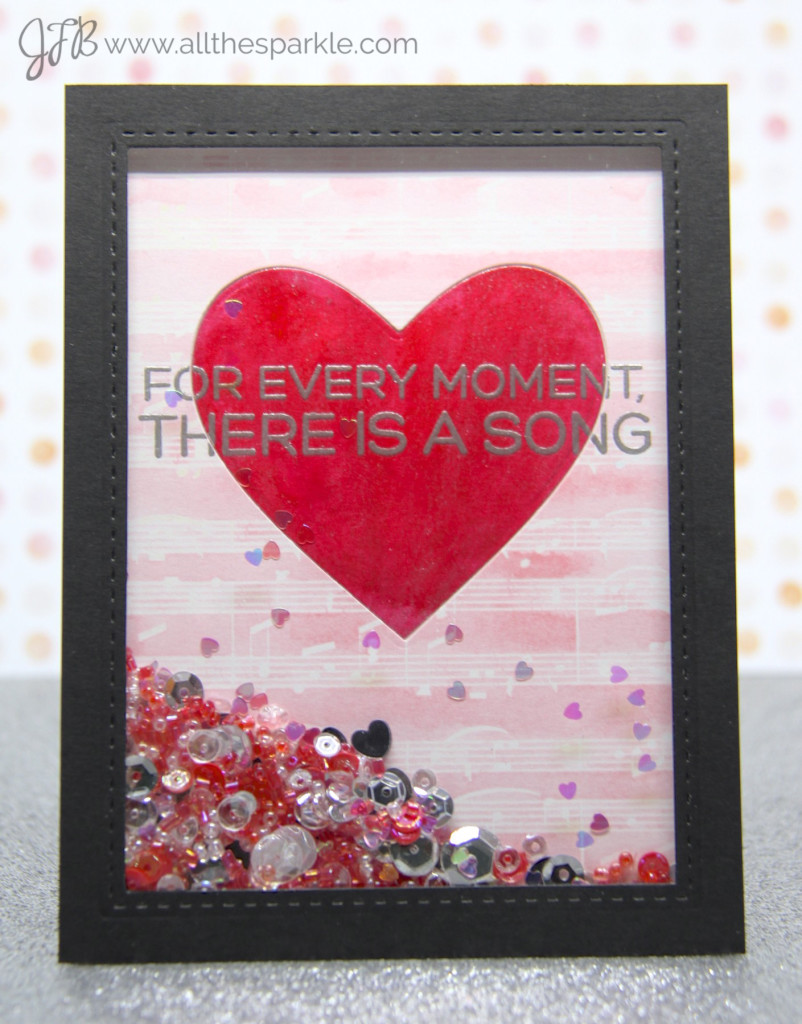 Of course I had to make a shaker card 😉 I started off by die-cutting a heart from the Heart STAX and then watercolored it with Gansai Tambi watercolors and iridescent medium.  I set that aside to dry while I worked on the rest of my card.  Next I stamped the Music background stamp with versamark and heat-embossed it with white embossing powder on watercolor paper.  I painted the background with Spun Sugar distress ink and then let that dry.  Once that dried I die-cut the same heart from the music background so I could inlay the pink heart inside.  I temporarily attached them together with post-it tape and used my Misti to stamp the sentiment from Keep on Rockin' over the heart.  I heat-embossed the sentiment with Ranger silver embossing powder.  Finally I cut the frame for my shaker from one of the Stitched Rectangle dies and then filled it with beads, sequins, and heart confetti in various shades of silver, iridescent clear, and pink!
My next card uses my favorite MFT background stamp!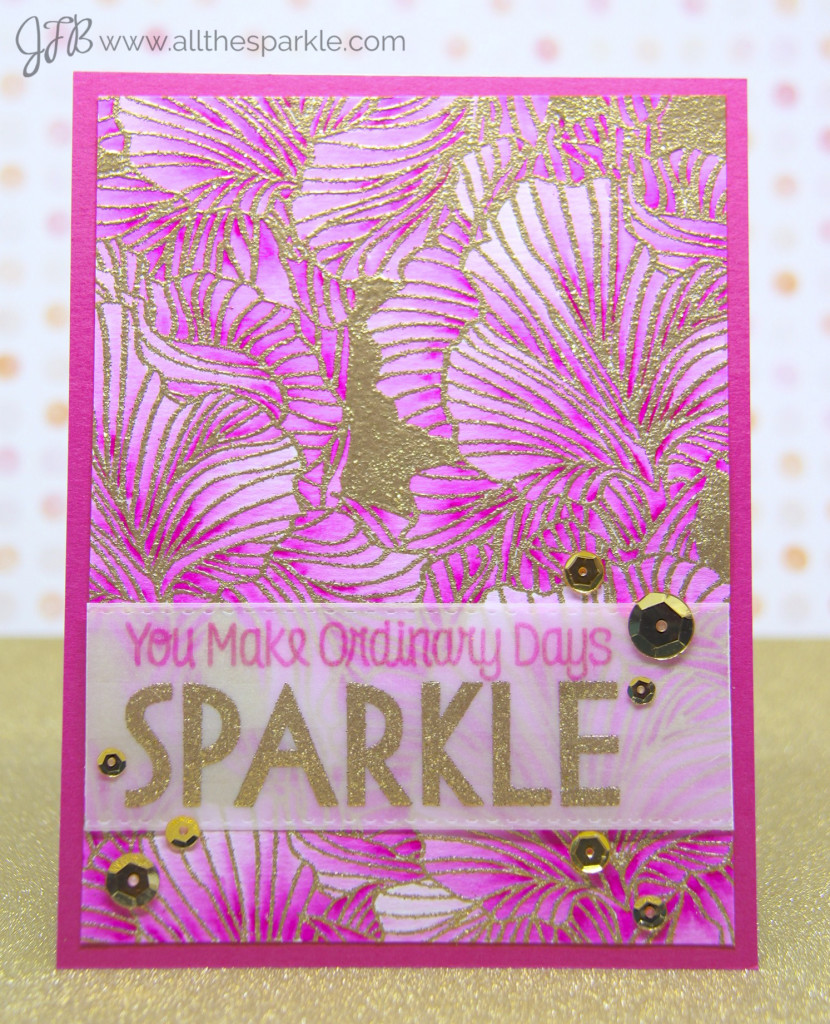 I made a similar card using zig markers and this background stamp last week but again used too much of another company's stamps so I redid it with a MFT focus! 🙂  I started off by heat-embossing the background stamp with gold tinsel embossing powder on watercolor paper.  Next I took my dark pink zig marker and a waterbrush to color the background.  I wanted an overall ombre effect as well as a ombre effect on each flower so the flowers get darker towards the bottom of the card.  After I finished coloring the flowers I took a versamark pen and painted in the solid areas before heat-embossing those with the same gold tinsel embossing powder.
I stamped the sentiment on vellum with pink pigment ink and versamark.  I embossed the top line with clear embossing powder and the bottom line with gold tinsel embossing powder.  I die-cut the sentiment with the fishtail banners die but trimmed off the sides of the banner so they'd fit the background panel.  I adhered the sentiment strip with vellum tape and then added a few medallion gold sequins for a little extra sparkle!
The contest ends tonight at midnight but if you haven't checked out the entries you should head here and browse through the collection…there are some AMAZING cards there!  I don't envy the judges their decision! 🙂
Supplies: