Good morning!  I apologize for the delay but my third post discussing methods of adding sparkle to cards will come next week…I'm waiting for one item to arrive 😉  But in the meantime if you'd like to catch up you can check out my first two installments here and here!  And be sure to stop by next week…I've decided to put together a little giveaway for the conclusion of my series and it's full of sparkle!! 😉
So anyway, today I'm sharing two cards that I'm entering in the So Suzy Stamps September Challenge!  They have a really fun stamp series where one stamp says "Happiness Is" and then there are a bunch of answering sentiment stamp options.  There are all kinds of answers…sweet, snarky, sappy…I liked a bunch of them but really loved two that reminded me of my two favorite seasons: fall and winter!  Here's what I came up with for fall: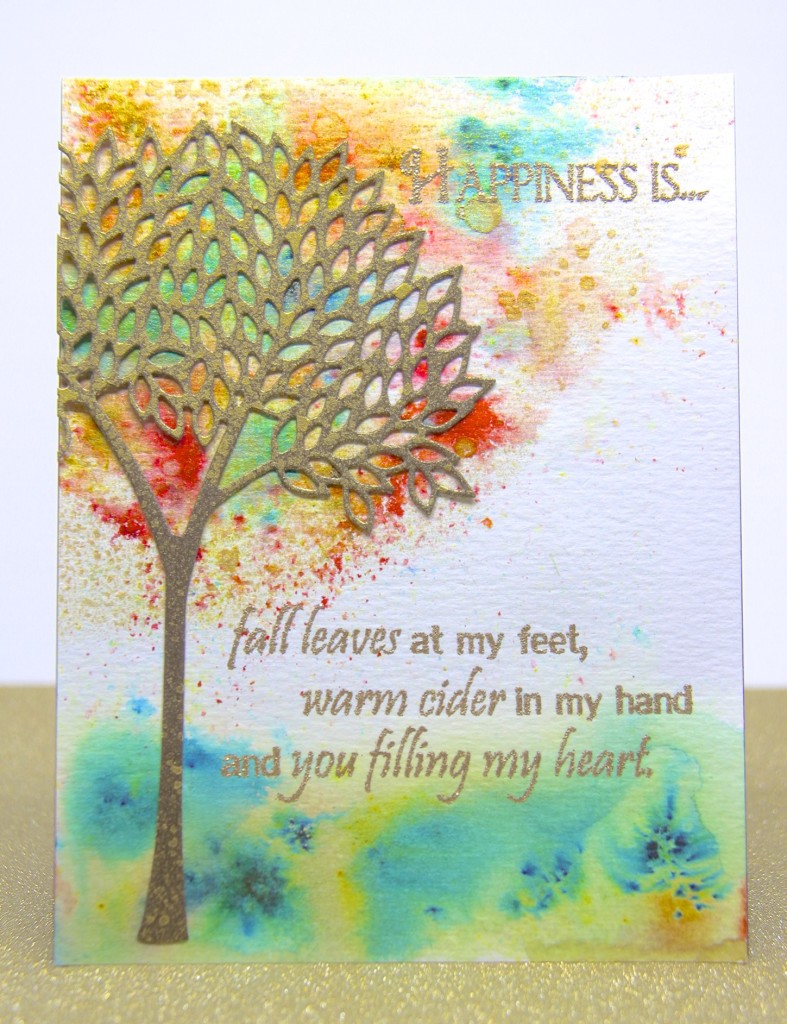 For this card I used Brushos and Hero Arts gold shimmer spray to create fall foliage colors!  I started off by die-cutting the Memory Box tree with dark brown cardstock and then spritzed it liberally with gold shimmer spray.  I set that aside to dry while I worked on the background.  I lined up my watercolor paper on my gridded work surface so I could use the lines to see where my tree would go.  I didn't want to use pencil marks because I can never seem to erase them well enough after watercoloring.  I sprinkled brushos in various shades of red, orange, yellow, and green on the watercolor paper in the area surrounding the leaves of the tree and then spritzed it lightly with water.  I didn't let it get too wet because I didn't want a lot of blending.  Instead I'd heat-set the paper and then repeat the process.  I think the tree part of the card took three layers.  Once I was happy with the leaves I took a paper towel, tore the shape of the tree, and placed the other side of the paper towel over my card front so only the area around the tree was exposed.  Then I spritzed the tree with the same gold shimmer spray…you could use masking paper or scrap cardstock for the masks…a paper towel was just the closest thing on hand!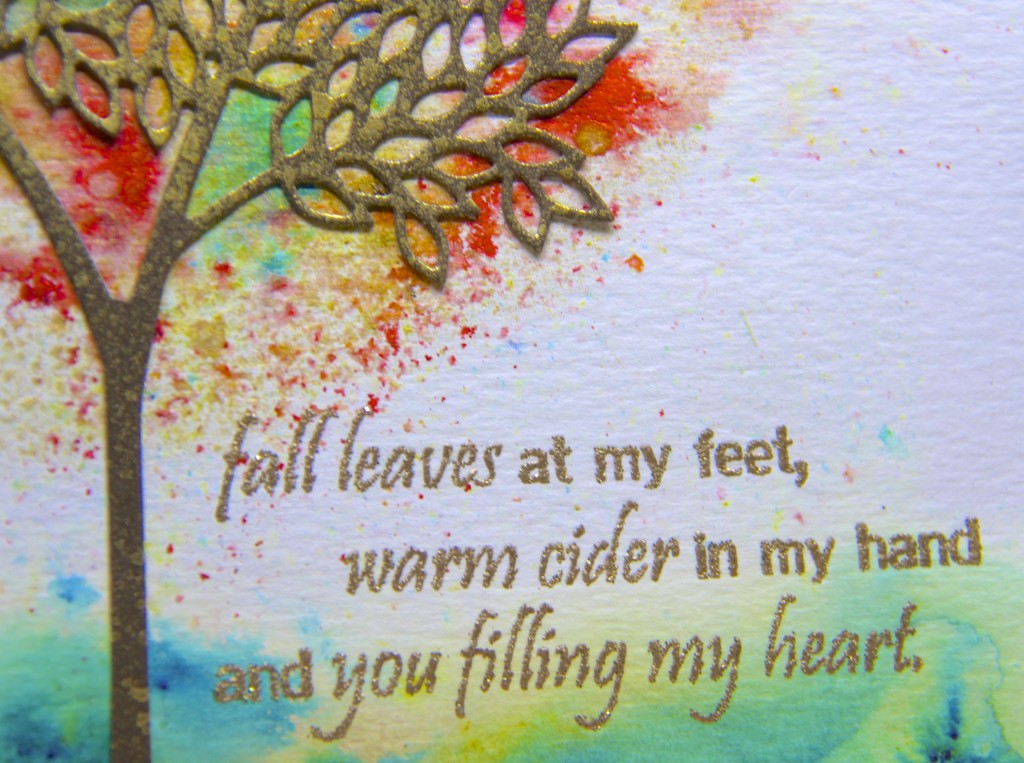 To create the ground cover I sprinkled more brusho powder onto the card and spritzed it with water.  For that area I used more water as I wanted a little more blending.  I mostly used shades of green and yellow with just a little orange.  Once all the watercoloring was dry I stamped the sentiments with versamark and then heat-embossed them with gold tinsel embossing powder.  I adhered the watercolor panel to a dark brown card base…perfect for an autumn card! 🙂
Then it was time for winter!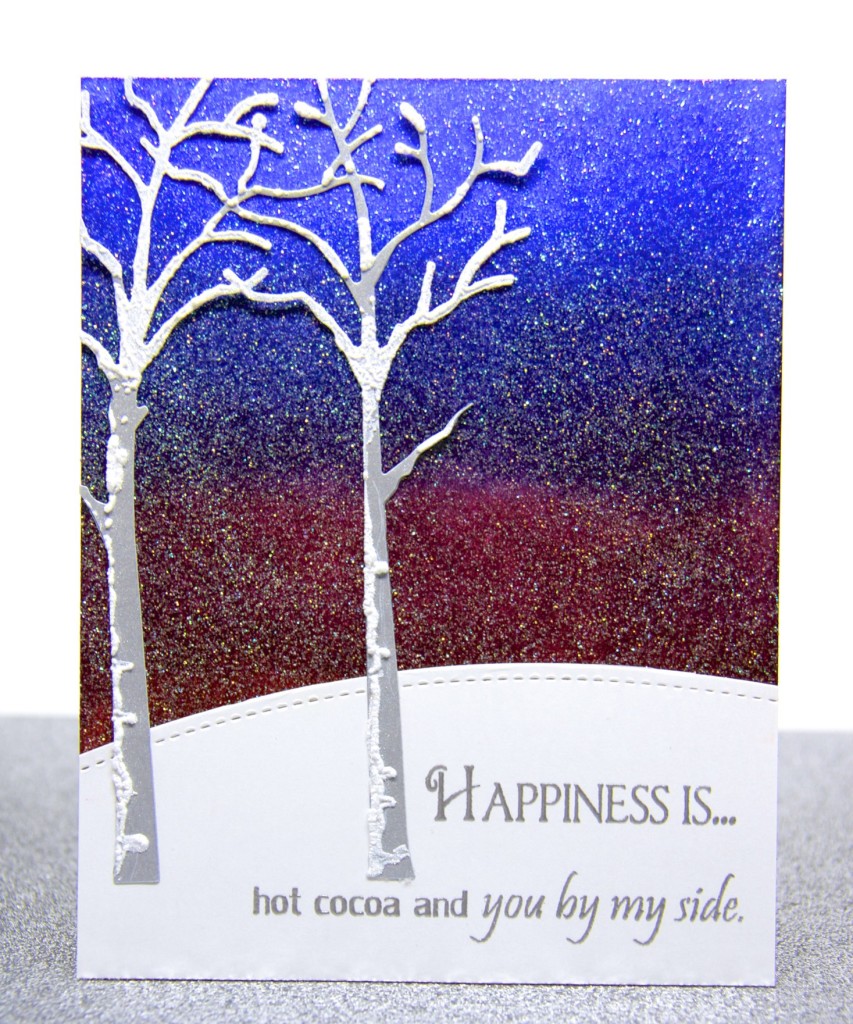 I was so enamored with my holographic embossing powder that I had to try it again but as a wintery scene!  I love how the glitter looks like a snowy sky and the sparkle is unbelievable!  For this card I blended Blueprint Sketch, Chipped Sapphire, Seedless Preserves, and Aged Mahogany distress ink onto a panel of watercolor paper and then let it dry.  Next I pressed my versamark pad all over the panel, sprinkled it with holographic embossing powder, and heat-set it!  Next I die-cut a snow-covered ground and stamped the sentiment with versamark before heat-embossing it with silver embossing powder.  To complete the card I die-cut the trees from metallic silver cardstock, added a little Amplify and heat-set it to resemble snow on the tree trunks and branches.  I adhered the trees to the panel and then mounted it to a white card base!  When the Amplify is heated it puffs up which creates a lot of texture!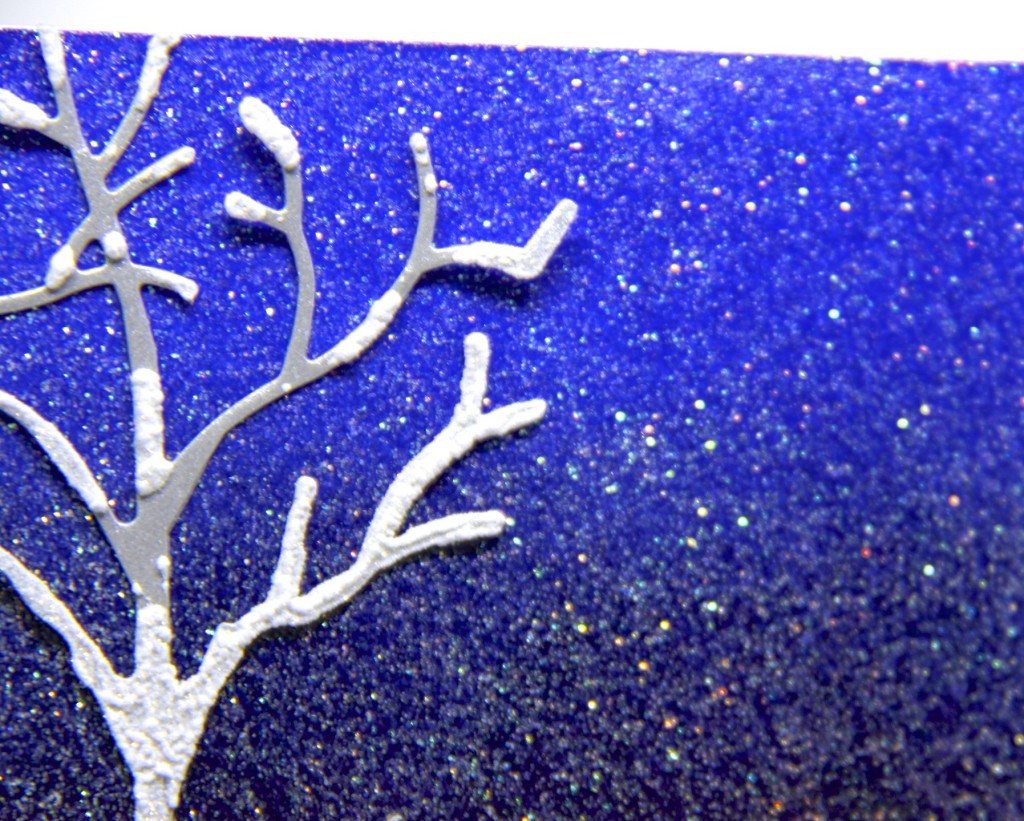 So those are my entries!  I've never entered this challenge before and thought it'd be fun to give it a try! 🙂  I hope you have a short Friday 😉 and a fabulous weekend!!
Supplies: