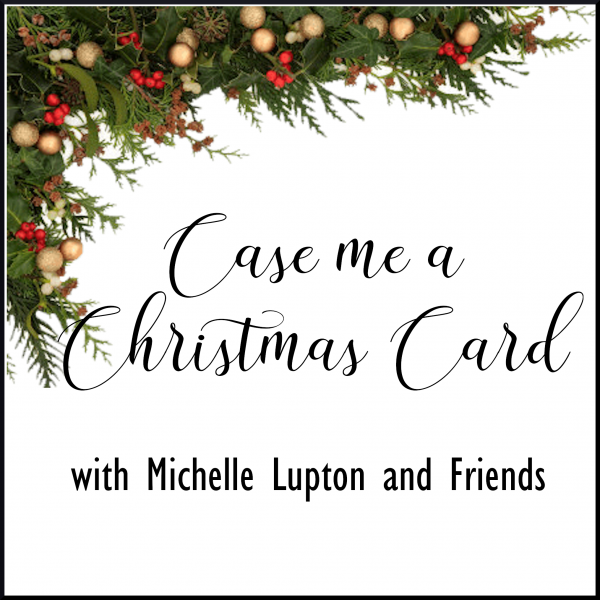 Good afternoon!  I'm excited to be joining my crafty friend, Michelle, for another year of her Christmas Card challenges!  This is my fifth year joining her and you can find the previous years here (2020, 2019, 2018, 2017)!  This year she challenged me to CASE one of her cards and she's CASE-ing one of mine!
If CASE is new to you it stands for Copy And Share Everything.  In literal terms it can be used to describe a card of someone else's that you copy to the exact detail.  But usually it's used more when you reference someone else's card as inspiration for your own.  You can use as many card elements for your inspiration as you'd like and I'll show how I used Michelle's card as my inspiration but added a few tweaks to make it my own!
This is my Christmas CASE of Michelle's beautiful butterfly card!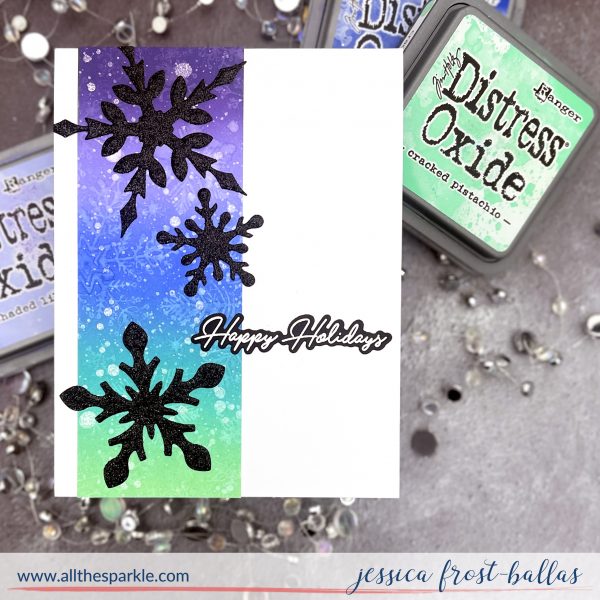 I loved her blended panels with the stark black butterflies and thought they'd make some fun, quirky Christmas cards!  I love my ink blending, of course, so I started by blending a panel with distress oxide inks in villainous potion, shaded lilac, blueprint sketch, peacock feathers, and cracked pistachio.  I splattered the panel with water and iridescent shimmer spray and then let it dry completely.  Once it was dry I spritzed my all-time favorite Hand-drawn Snowflakes Bold Prints cling stamp from Hero Arts with water and placed my blended panel onto the stamp and gently pressed it onto the stamp.  I lifted the panel carefully and let it dry.  The water reacts with the blended panel and leaves behind a faint image of the pattern!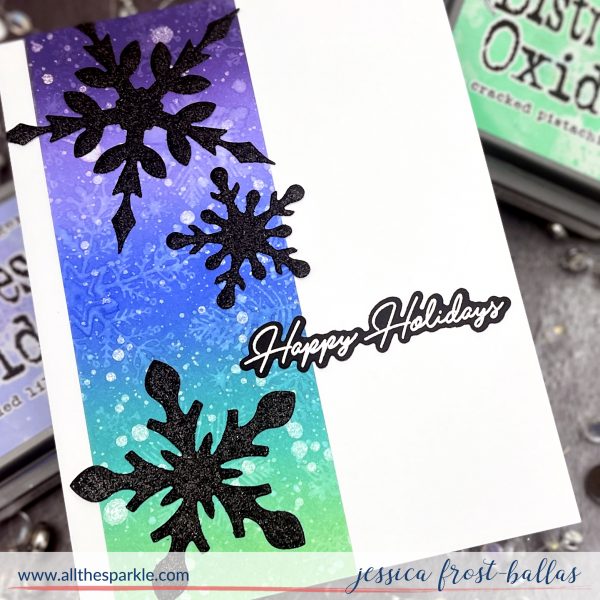 Next I die-cut the snowflakes from black glitter cardstock because I just had to add a little more sparkle!  I trimmed the blended panel down to 5.5×2 and adhered it to a card base.  I adhered the snowflakes and then added a sentiment from Honey Bee Stamps to finish the card!  I decided to offset the snowflakes on my design for a more organic snowy look and you know I had to find a way to add a little more sparkle!
Head over to see what Michelle created and make sure to check out the rest of her fun series! 
 Big thanks to Michelle for inviting me to join her and thanks to you for stopping by today!  Have an amazing day!