This is my second post today!  Head over to The Ton to see my first card!
Now I wish I had seen the CASology challenge earlier…I really enjoyed breaking out some of my music stamps I haven't used in forever! 😉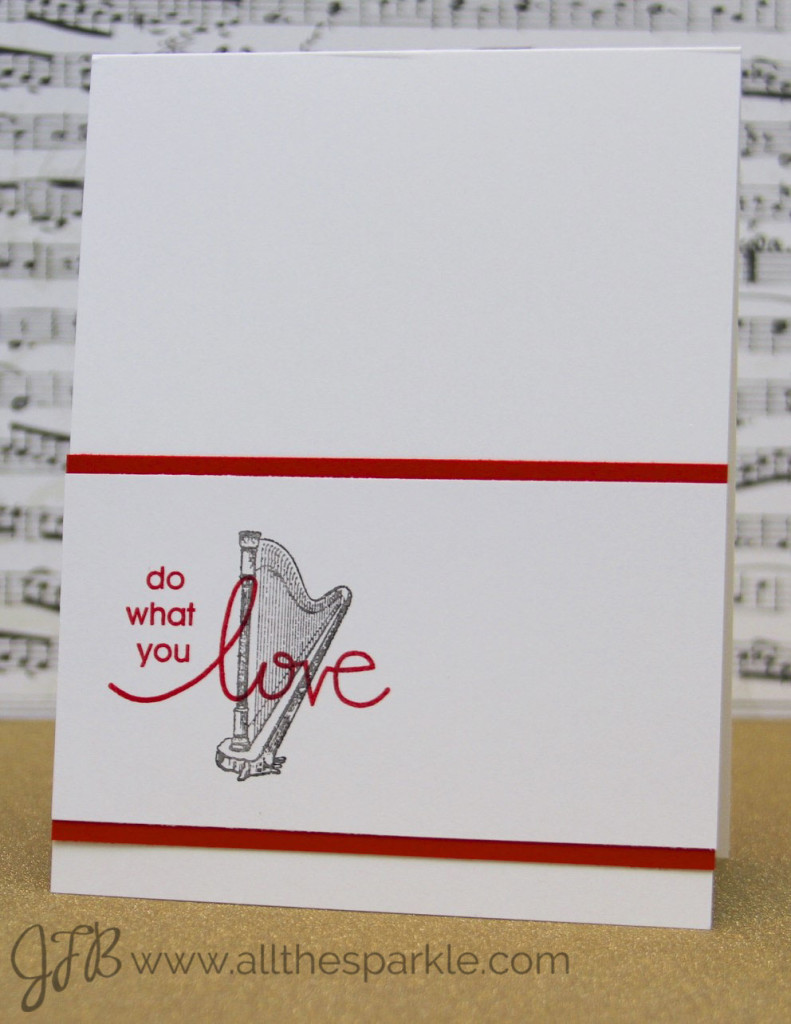 Since I did a piano card I had to make a harp card, too!  I have no idea where that harp stamp came from but I've had it since I was a child.  I inked it with Versafine and then stamped it off twice on scrap paper before stamping it onto my cardstock.  I stamped the sentiment from Paper Smooches 'Group Hugs' with Mama Elephant Apple ink and then heat-embossed the sentiment and image with clear embossing powder.
To finish the card I cut a piece of Simon Says Stamp Lipstick Red cardstock so that it would create a frame.  I adhered it behind the panel and then mounted it to a top-folding A2 card.  Since I have a bunch of harp friends I made several extra cards and they're up for sale at my store if you're interested! 😉
Then I had to break out the foiling and watercolored distress inks for my second card!  The bird stamp is another rubber-mounted stamp that I've had for a long time and I'm not sure where it came from.  I stamped the birds and the sentiment from Ranger Scribbly Birds onto a piece of scrap paper with Versafine and then copied it with my laser printer onto watercolor paper.  I ran it through my laminator with gold foil and then peeled it off.  Unfortunately since watercolor paper is textured the foil doesn't stick as well as it does on smooth cardstock but I kinda like the imperfect feel on this particular card.
I smooshed worn lipstick, shaded lilac, and seedless preserves distress ink onto my craft sheet and then watercolored the sunrise behind the birds.  I love that I can use my watercolors without messing up the foiling!  To complete the card I trimmed the watercolor panel and mounted it onto a card base of Bazzill Sugar Wafer cardstock.
Very different cards but I really like the way they both turned out…I may try the bird card again and use black foil and grey distress ink shades for a different feel.  Somewhere I think I have a stamp with the sentiment 'it's always darkest before the dawn'.  Wouldn't work for the music theme but I think it would make a nice card….hmm…*heads back down to craft room*….
Thanks for visiting!  I'm entering both cards into the CASology Challege #146: Music!