Good morning!  Don't forget that I have several giveaways going on to celebrate reaching 2000 followers on instagram!  You can find more details on how to enter or link up your card by clicking here!  I hope you'll join in the fun! ?
Good morning!  Today is the last day of Kathy Racoosin's 30 Day Coloring Challenge and I can't believe I managed to stick with it for a full 30 days!  I've tried several times and each time I didn't manage to make it more than a day or two.  I really enjoyed the challenge of coloring flowers everyday and I've been pleased with what I've learned about myself and my abilities as the month has gone by.  Here's a quick recap of my month!
After I finished my last flower yesterday I used my ScanNCut to cut out each flower and I've already started turning them into cards!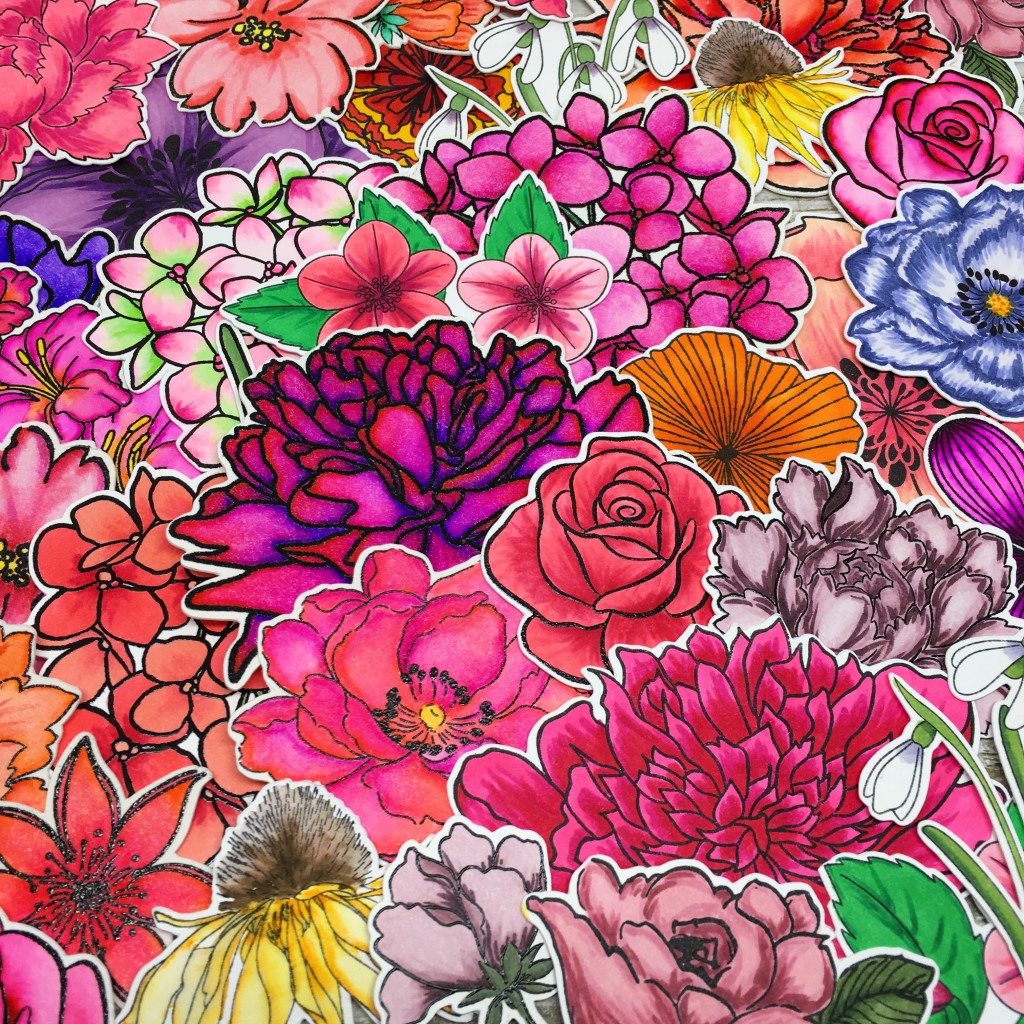 So, for the final day of the 30 Day Coloring Challenge I wanted to push myself to kinda put it all together and create something a little bit bigger than my usual card!  I started off with a lot of stamping, heat-embossing, and masking…
Then I started coloring…I decided to use my Zig Clean Color Real Brush markers as these ended up being my favorite medium of the challenge!  This was about halfway through the coloring process.  I apologize for the bad lighting…I took this photo around 11 pm with my iPhone and my lighting was atrocious.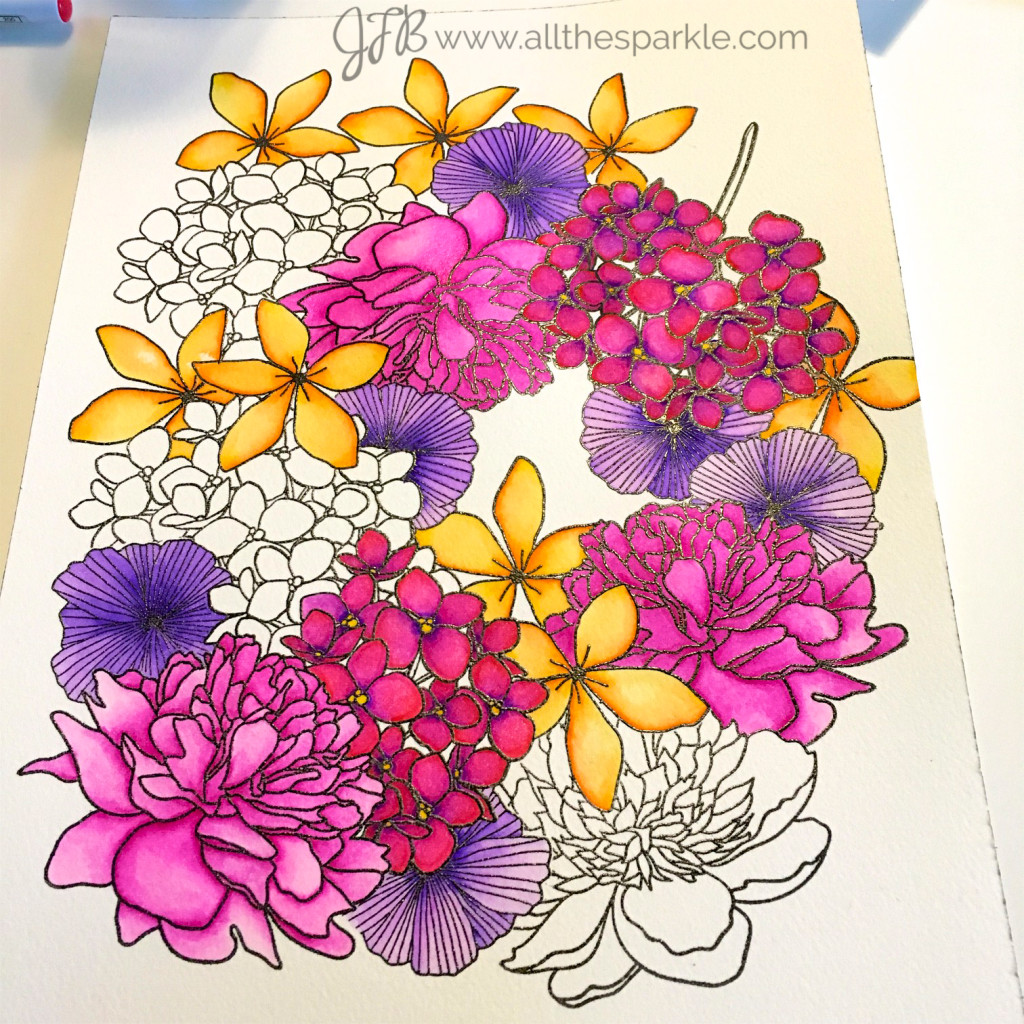 After I finished coloring these flowers I trimmed the panel down to 7.5″ by 8.5″ and mounted it on a black frame.  I was looking at the leftover scraps and decided that I didn't want to just throw them away.  I also realized that the scraps looked really nice arranged over my panel like an additional layer of flowers…and then it just got a little crazy.  I stamped, heat-embossed, colored, and fussy-cut 18 additional flowers.  Finally I started arranging them on my panel and adhered some with my ATG gun and some with foam mounting tape for more dimension.  And this is how it turned out!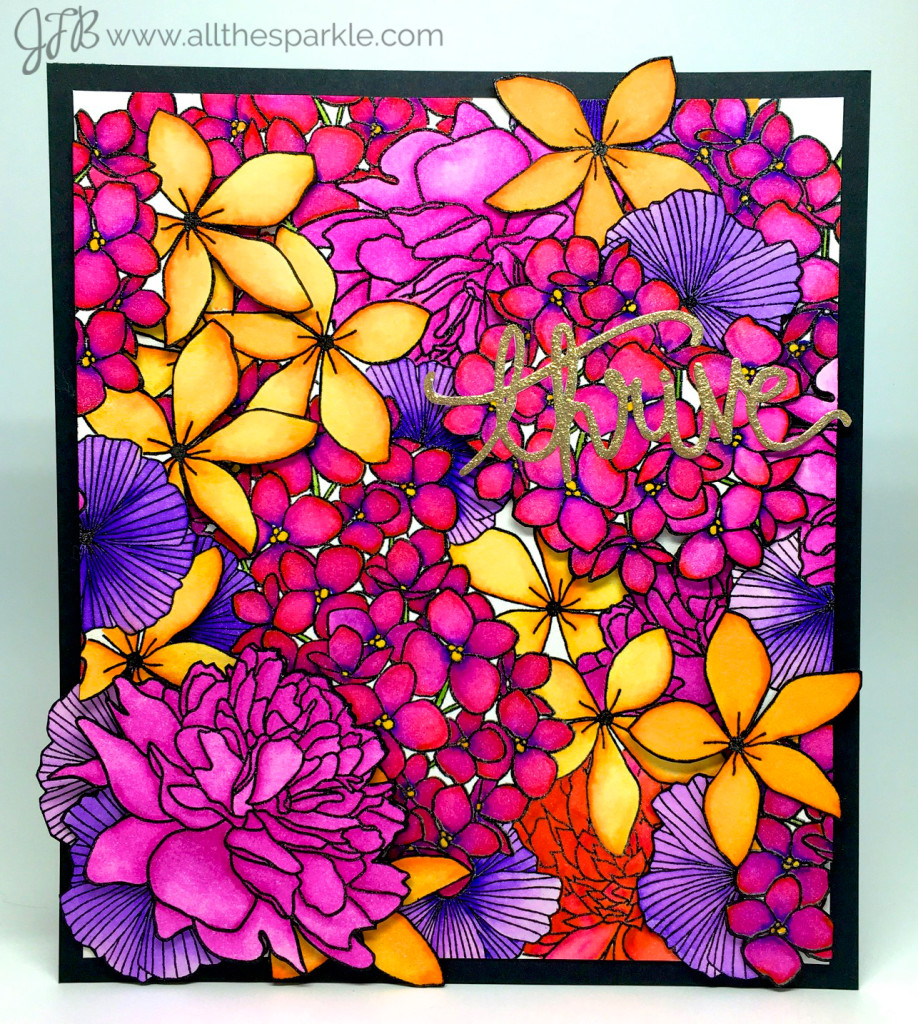 I am so happy with the way it turned out!  I used only 6 zig clean color real brush markers and a waterbrush to color all of the flowers and I'm glad I decided to limit the palette.  Originally I was thinking of using a whole rainbow of colors but I think this looks a little more realistic.  It actually makes me really eager to get into my garden this spring! 😉
Oh and you'll notice that there's a sentiment on the panel.  I used a versamark pen to write the word 'thrive' on a piece of vellum and heat-embossed it with gold tinsel embossing powder.  I used scissors and a craft knife to cut it out and then adhered it to my panel with multi medium matte.  'Thrive' was the inspiration and reflection word I chose for 2016 and I thought it was perfect for this floral piece and also a good daily reminder.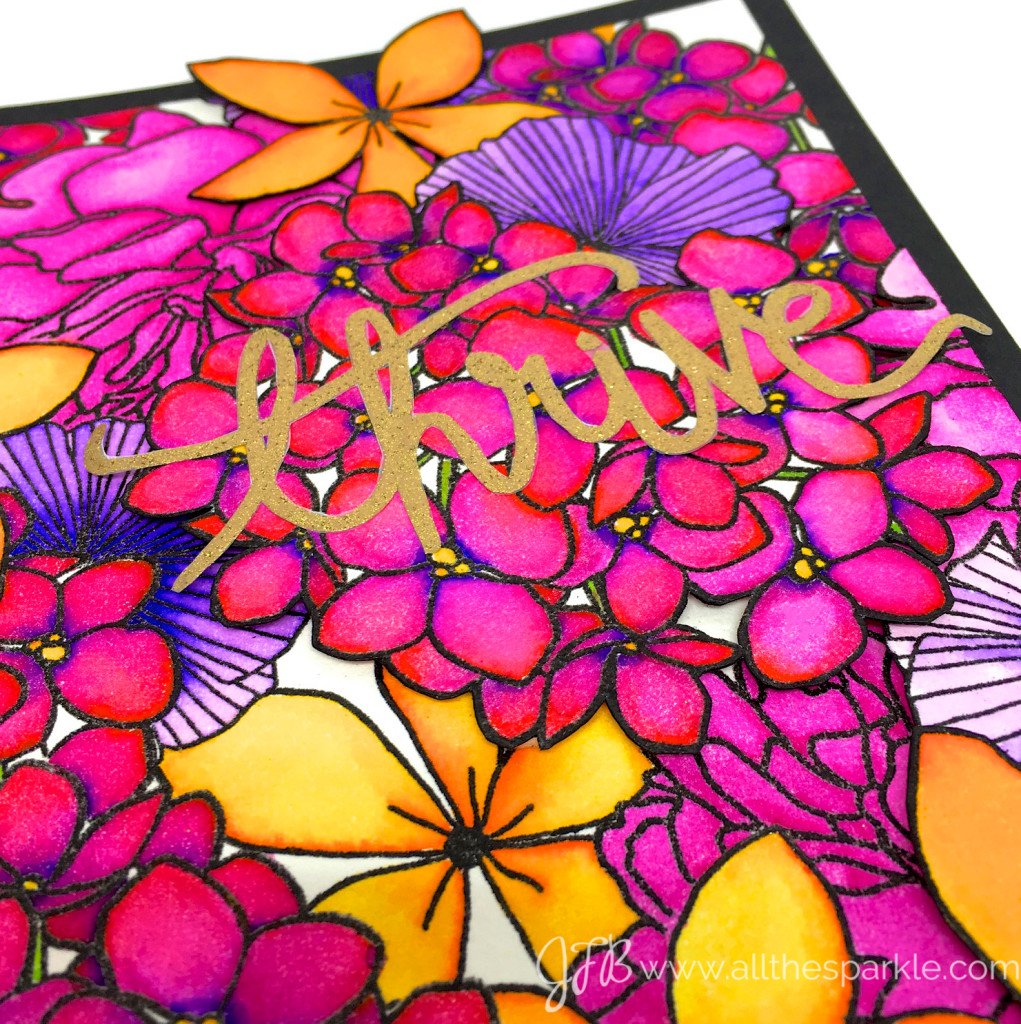 So there you have it…the end of the 30 Day Coloring Challenge!  I can't wait until the next one…I'm thinking I'll focus on critters and create a zoo next!! 😉 And if you didn't participate this time…I really recommend giving it a chance next time!  It was SO much fun and I really enjoyed finding new crafters to follow on social media and connecting with new crafty friends.  Thanks again to all of you for the sweet comments and support over the last month!  I really appreciate your feedback!
Thanks so much for visiting and have a fantastic day!!